Choosing hardwood flooring colors may seem daunting, but it's part of the fun the hardwood floor installation process! For the past few years, I have talked and talked and talked about wanting new hardwood flooring.
Well, that dream came true when I started working with Bona® Floors.
How to Choose Hardwood Flooring Colors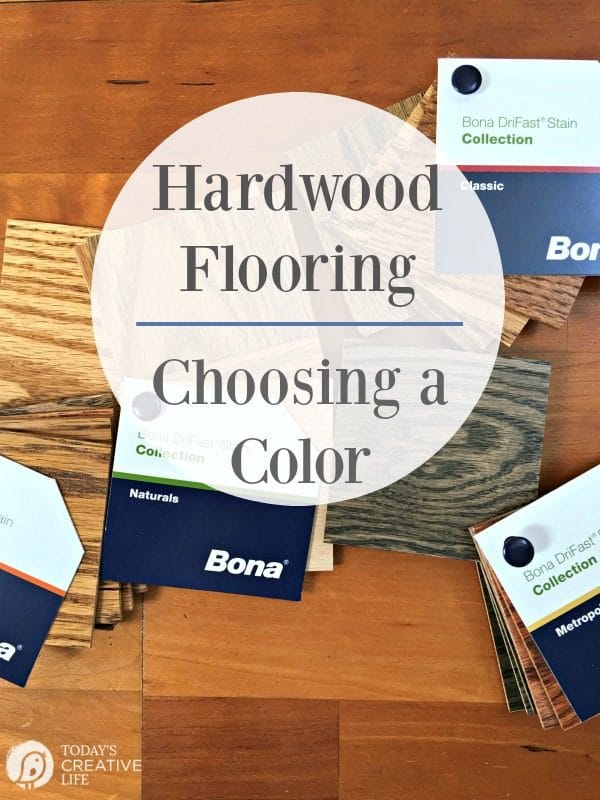 Living in the Pacific Northwest, we may be a bit more neurotic in wanting to use a less toxic method with almost everything we do. We are obsessed with recycling, ridding Portland of all plastic bags and you'll see at least 100 Prius' in a 100-mile radius. Ok….. I made that last one up, but there ARE a lot of them, I even drive one! However, I see people from all over the country taking important steps to eliminate toxins where they can!
A few years ago, we stained and etched our concrete floor in our basement and we had to be very careful! I'm so happy to have found safe method for the rest of our flooring. Refinishing your hardwood flooring can be extremely toxic and dangerous to the environment! But it doesn't have to be!
Less Toxic Water Based Finish
Many of the companies up in the Pacific Northwest use what is called "Conversion Varnish" or "Acid Cured" finishes. There was a time this was the best way to finish a floor as it had a high resilience factor. However, with today's technology and innovation around water-based finishes, there is no need to use this product as it is dangerous to the environment and the home.
Conversion varnish is extremely flammable, so all pilot lights, etc. must be off in the house. It is also highly toxic – any living being must be removed from the home during the finishing process (including plants and fish!) otherwise, they will perish.
The contractor must wear a full face respirator and some wear full face body suits to protect their skin due to the formaldehyde in the product. Having wood flooring installed brings up all kinds of questions, but one I didn't need to worry about was how toxic the process would be using the Bona products for staining and refinishing wood flooring. When you decide to go with Bona, you'll be directed to a certified Bona wood flooring contractor to ensure it's being done correctly, with the right products and proper equipment. Find a Bona Certified Craftsman here.
Choosing Hardwood Flooring Colors
I met with Eddie from Domino Hardwood Floors Inc., a Bona Certified Craftsman, to go over another important step…… choosing the hardwood flooring colors!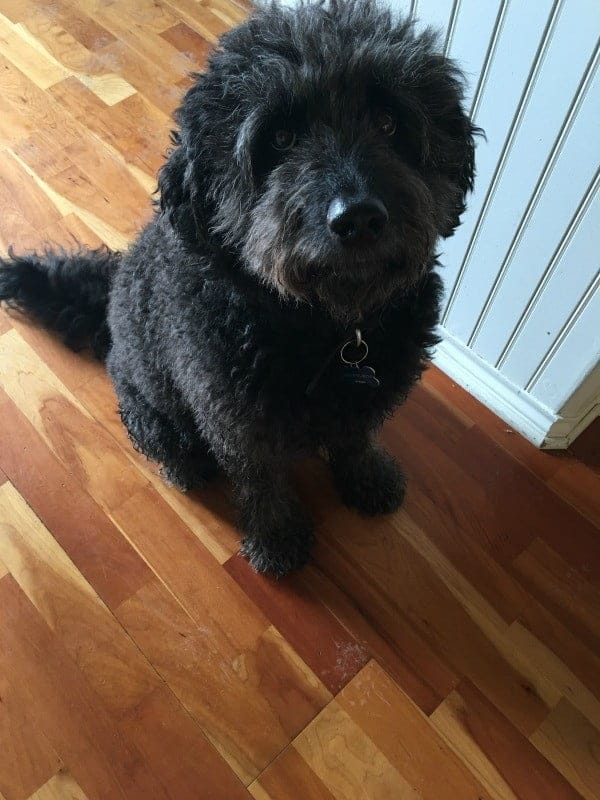 First, he gave me a handful of stain sample chips and I immediately chose a color named Driftwood.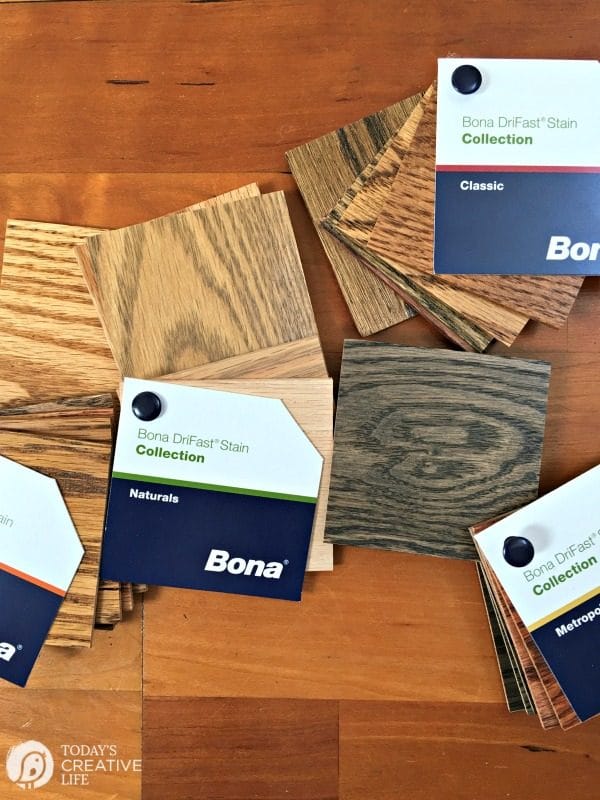 I wanted to get as far away from my orange colored flooring (shown above) as possible.
When choosing hardwood flooring colors, you'll want to take into account the color of your walls, and any existing carpet that you're keeping. Also, if you plan on having the hardwood flooring in your kitchen, you'll want it to blend well with your cabinet and counter colors. Your Bona Certified Craftsman will be able to help you if you get stuck.
I knew we would be painting our main floor to a softer gray. And with my white cabinets and white woodwork in the house, I wanted something less brown and more on the gray side. I kept going back to the Driftwood color over and over. Then I saw THIS on the Bona Instagram page. And they mentioned how they had mixed a couple of colors to create it! Brilliant!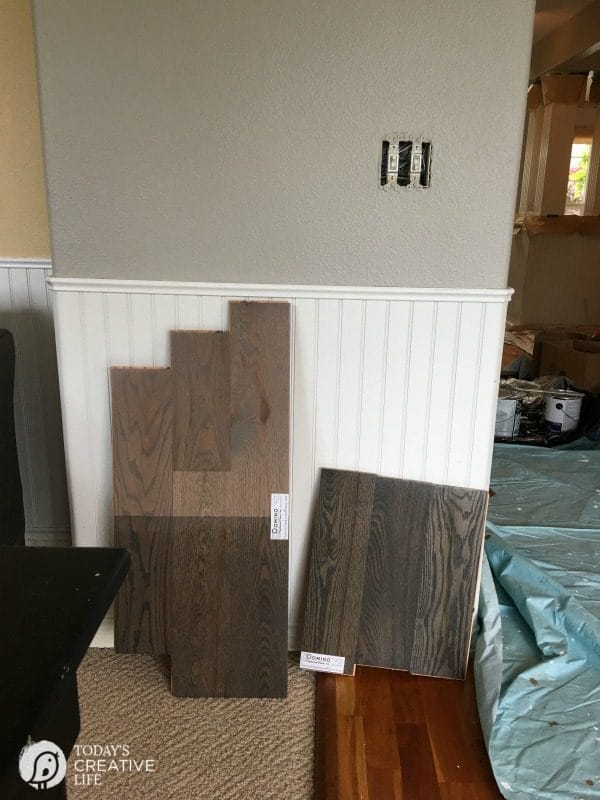 I considered mixing the Ebony and the Driftwood, but after seeing the larger color samples, I went with the Driftwood. The top left is the Gray stain, the bottom left I don't remember and then the gorgeous, amazing and perfect color on the Right is MINE! Driftwood. They gave me larger samples so I could really see it. I laid them out and didn't tell my husband or son which one I loved. Luckily it was hands down their favorite too! The upper left did wink at me a few times…. I love the gray in it, but there were pink overtones that kept showing and although it's stunning, I wanted something a bit darker with less brown.
Before I knew it, we were moving everything out of the main floor so the Bona Certified Craftsman crew could come in and start the demo.
Installation of Hardwood Flooring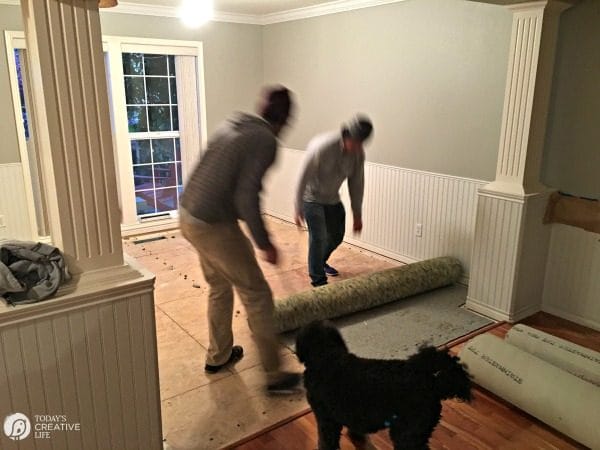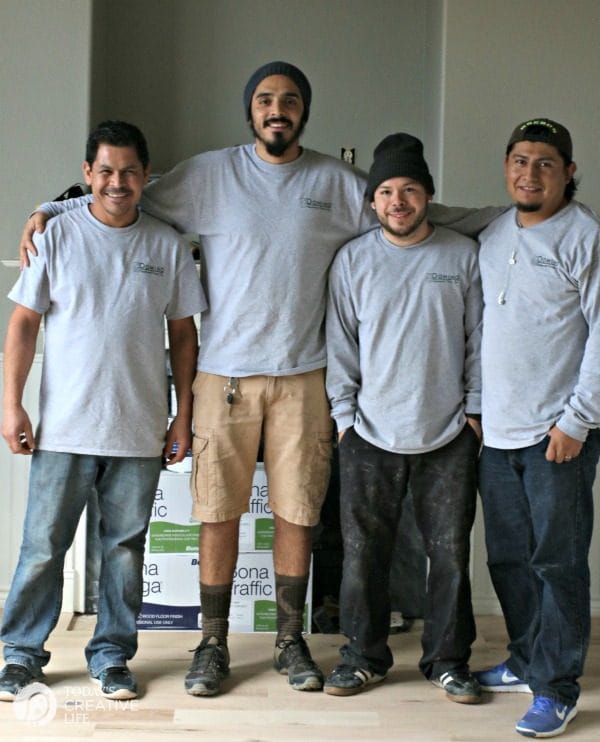 I love that I have the same crew from start to finish. They were the best guys. Very polite and hard working.
Once they tore everything out, in came the wood.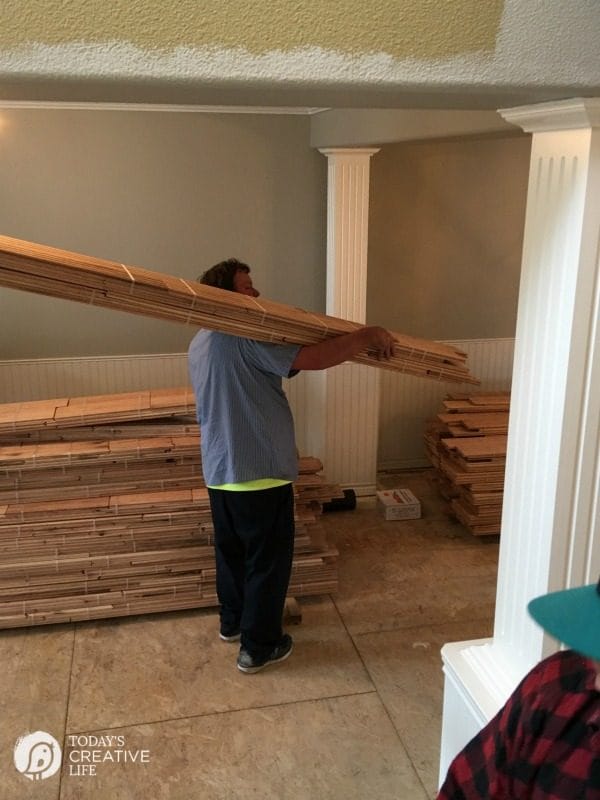 Moisture Testing Hardwood Flooring
Eddie told me that once they brought the wood in, it has to sit in your home for 3 to 5 days until it passes a moisture test. Once it passes, then it's full steam ahead!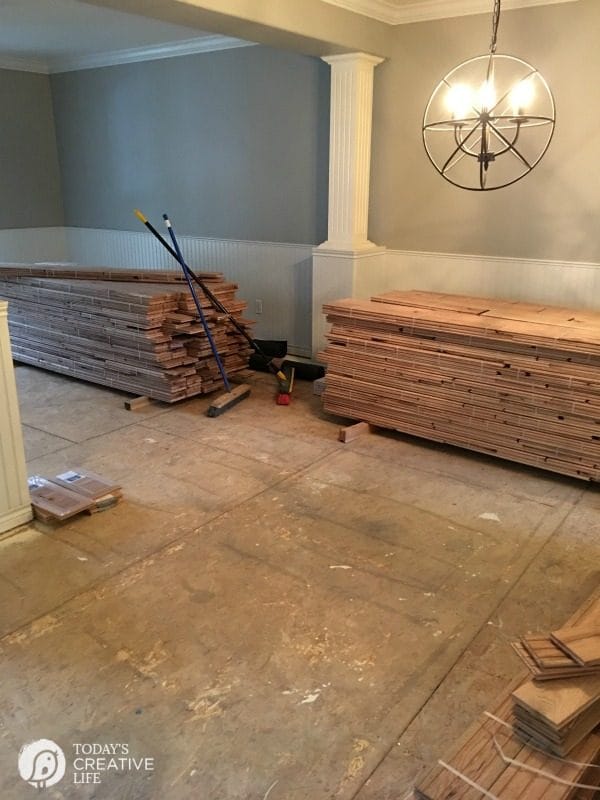 During this waiting period, my husband decided to finish the painting. YES!
As much as I loved the Mediterranean colors that we chose to paint the walls 12 years ago, it was overdue for an update! I updated to Mindful Gray by Sherwin Williams.
When my husband paints, he does not skimp on the prep work.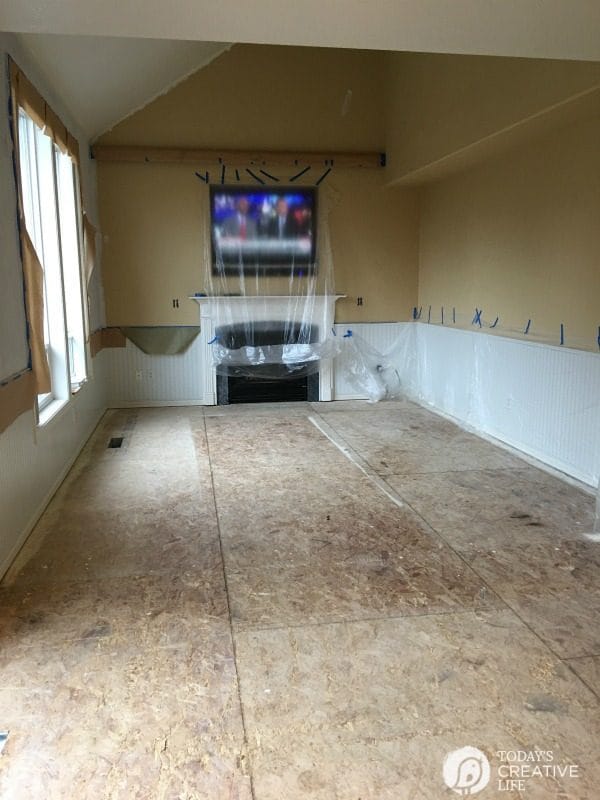 He was able to finish it up before all the equipment moved in.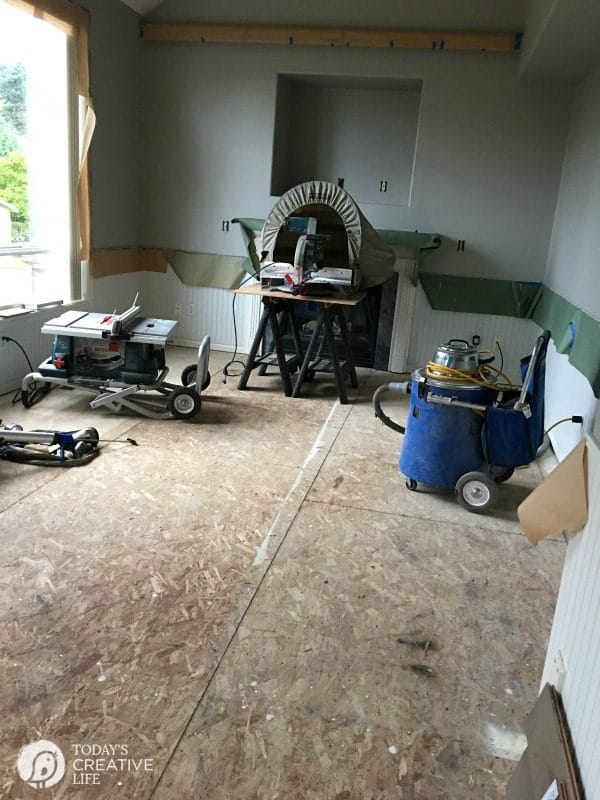 After a few days, the new floors were in! They are stunning! We went with a Red Oak that has lots of imperfections for the rustic character I want.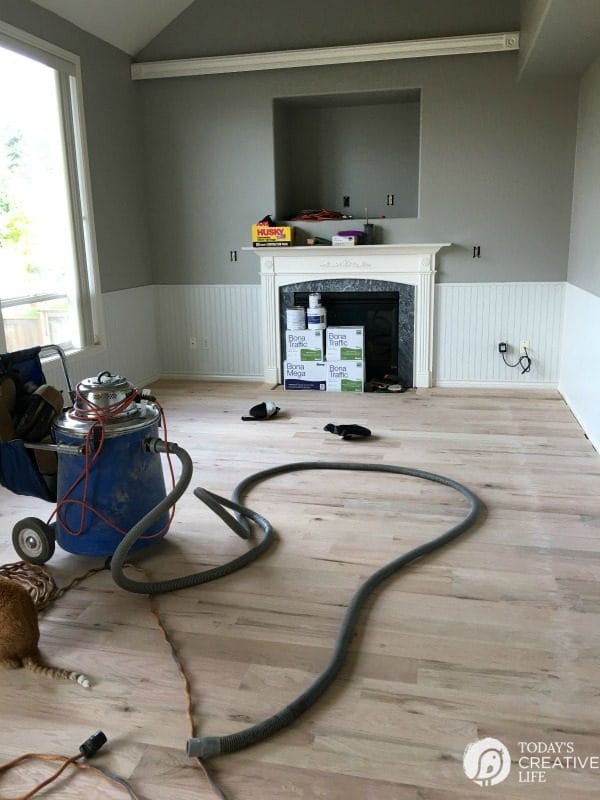 I got to sneak peek the stain color when they stained the section of flooring where the refrigerator goes. They do this first, so you're not hauling a heavy fridge over a freshly stained floor. We don't want to risk scratching it before it fully cures, which is about a week.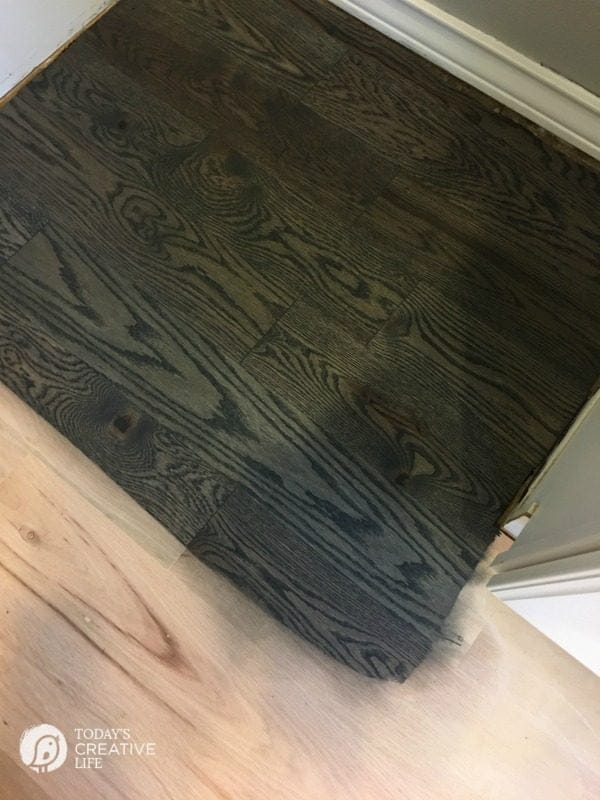 After the stain dries, the Waterborne Wood Floor Finish is applied. I didn't smell anything! I didn't notice any odors, which is unusual for me. I have the most sensitive nose in the world.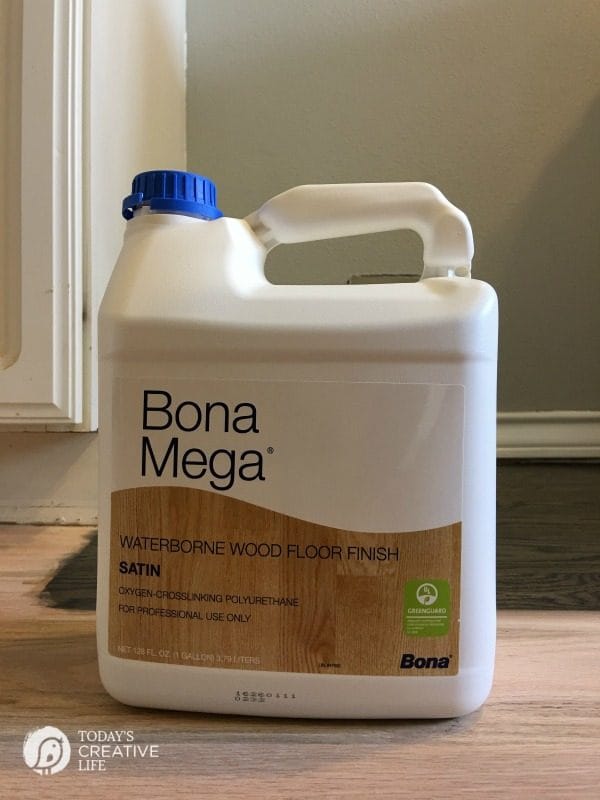 The rest of the product was brought in for the big day! I can't wait to see it.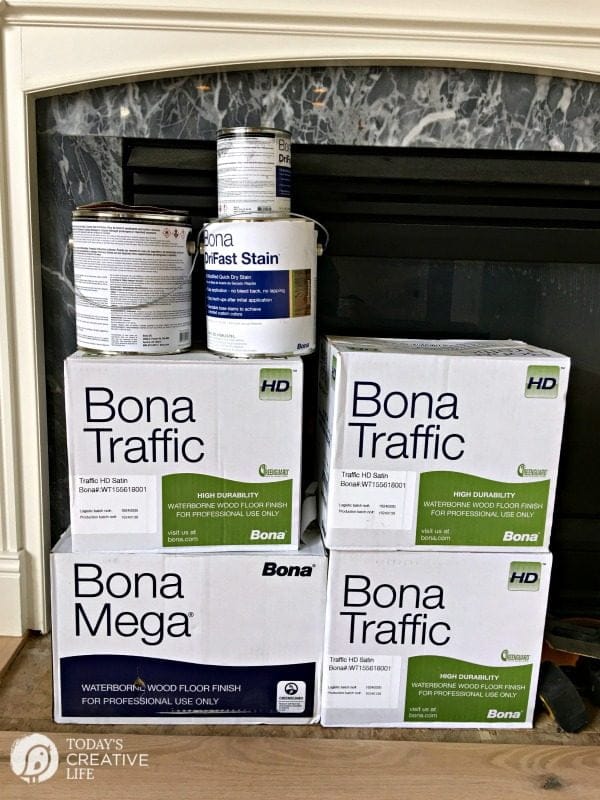 They have all the Bona® Certified equipment and products to give me GORGEOUS hardwood flooring with much fewer toxins. We can be in the house while it's being applied, but we chose to stay in a hotel for just a couple of days, only because you cannot walk on the floor while this step is being applied. It was just easier with the dog and a teen son.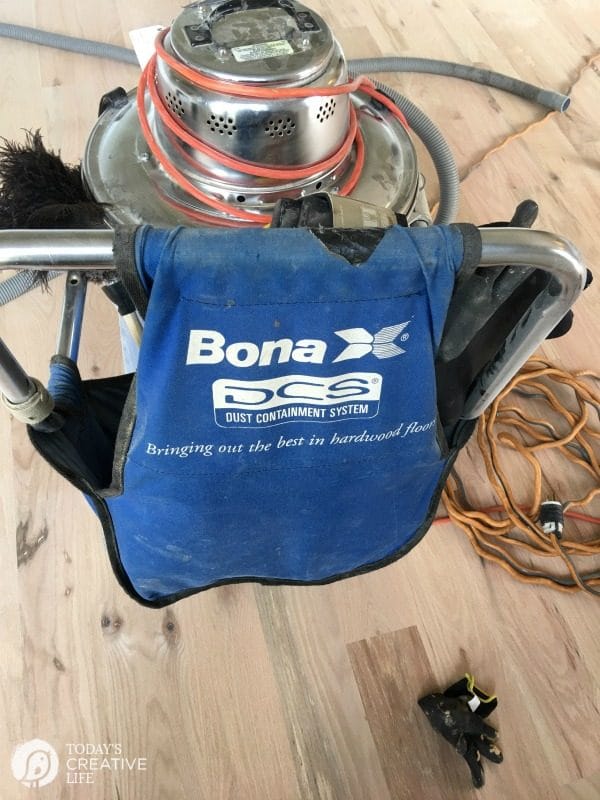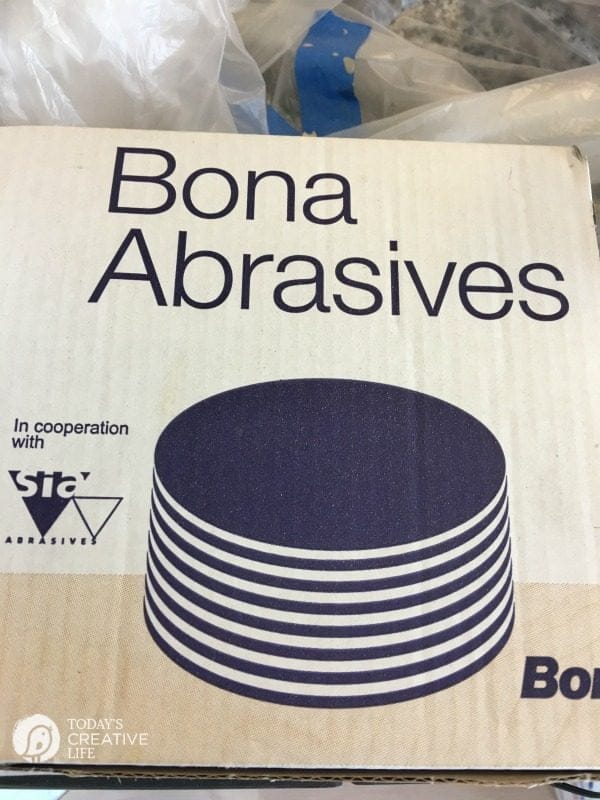 Check back in for the big reveal. I'll be updating here and on Instagram!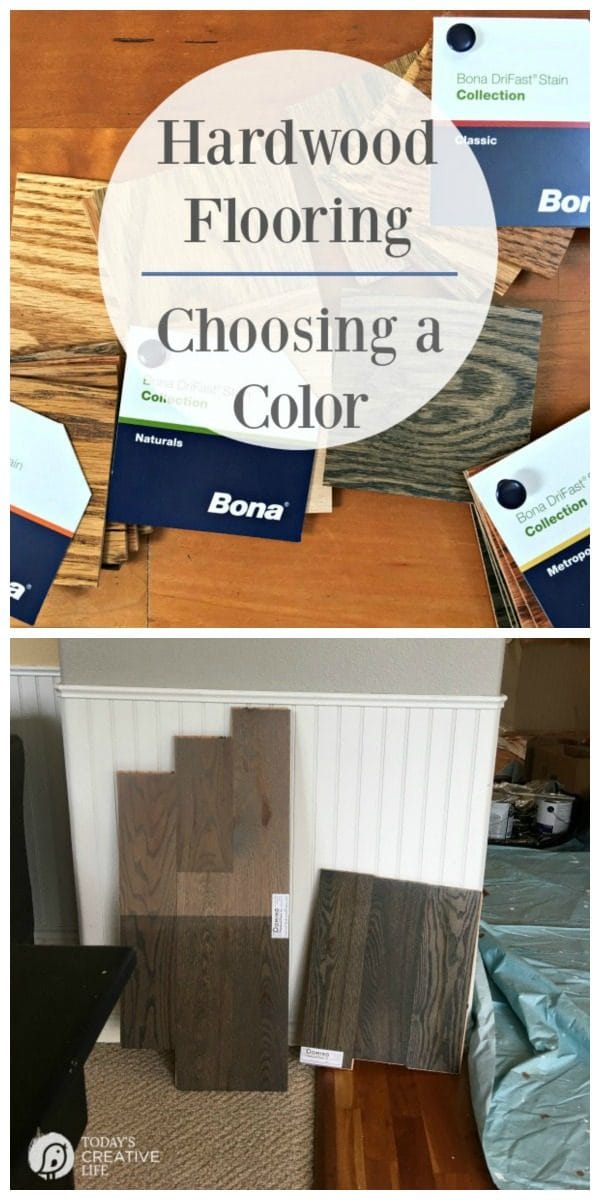 ---
Already have hardwood flooring? Then you'll want to choose the right cleaner! Here's a coupon!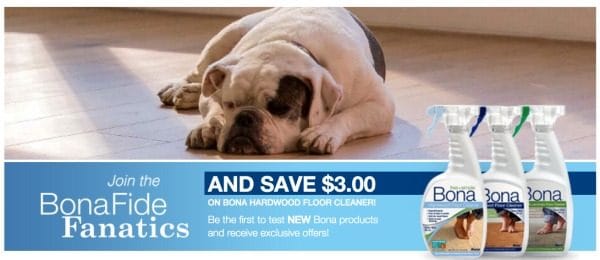 This post is sponsored by Bona Flooring. All opinions about Bona, their products and methods are 100% mine.