Who knew Hardwood Flooring Installation would have so many decisions?
Just like when we got our pup Maybelline, I learned way more than I thought I needed to about Austrailian Multi-Gen Labradoodles. Well, hardwood flooring installation is like that. Unless you're a contractor, you're probably like me. I knew the basic color I wanted and that's about it. Who knew I needed to choose a wood type, a sheen and most importantly I learned the important difference between waterborne and oil based processes for staining and refinishing. I also have now learned about the importance of installed hypoallergenic carpet for the upstairs of my home. I would love to have hardwoods throughout my entire home, but it's not in the cards.
Well… like most things, there is actually a LOT to learn about installing hardwood floors. You can see where I've shared how I chose a color, the type of wood and the installation process.
Hardwood Flooring Installation – Questions & Answers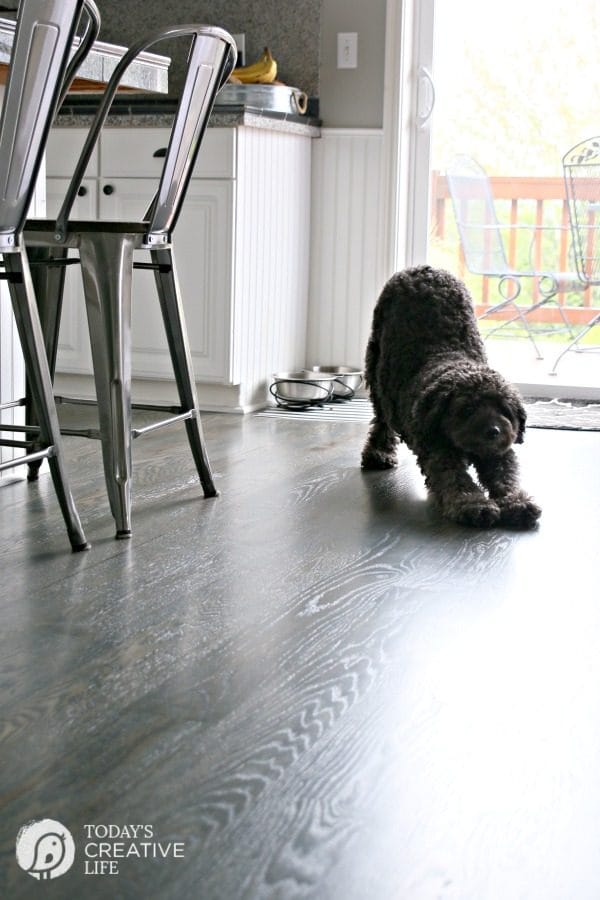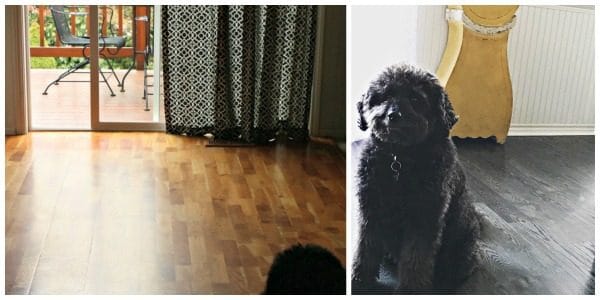 Since our hardwood flooring installation, visitors to our home always seem to have a few questions and, just like me, they had no idea.
I thought I'd put together a few of the most asked questions along with their answers. Now keep in mind, I have partnered with Bona, so I may sound biased, but in reality, I'm not. I know a good product when I see it, and I think it's important to pass along helpful information to all of you!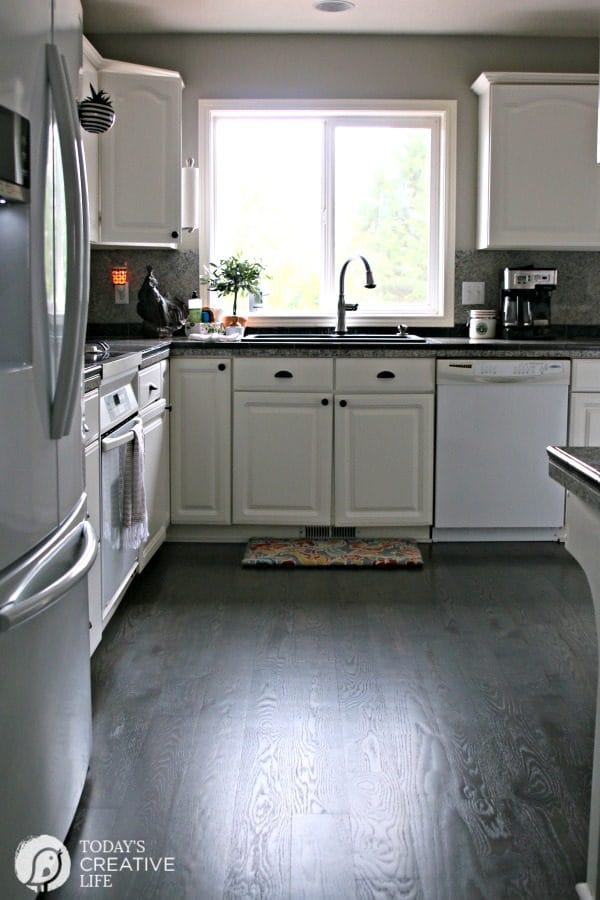 After making many mistakes with my old wood flooring, (like using a steamer or using vinegar) I switched over to all Bona floor cleaners exclusively way before my partnership. It's the perfect fit.
---
Share your Tips with Bona! You could win $500 or $100 in Bona products! Click HERE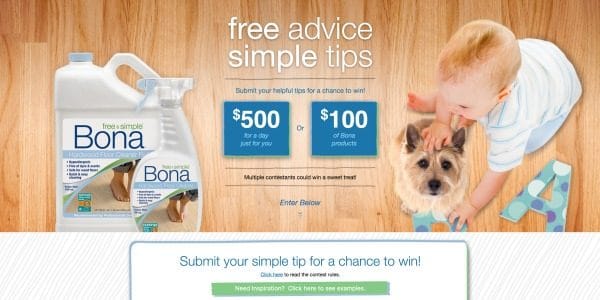 ---
FAQ for INSTALLING HARDWOOD FLOORING
LAMINATE OR HARDWOOD?
While laminate flooring is less expensive, it's also only going to last you 15- 20 years. I thought we had laminate flooring because of the poor quality. The sheen was long gone and it was scratched in many areas. What I found out was that ours were actually an engineered hardwood, meaning that just a very small layer on the top was wood. The rest was composite. Translation CHEAP! I hated it! Understand the differences and make the right choice for your home, with this Laminate vs. Hardwood Flooring Info page.
CAN YOU CHOOSE ANY COLOR YOU WANT and CAN I CHANGE THE EXISTING COLOR OF MY FLOORS?
Since I was working with Bona Flooring, I worked closely with a Bona Certified Wood Flooring contractor here in Portland Oregon. Domino Hardwood Floors Inc. had all the sample stain colors for Bona DriFast Stains. I shared with Eddie the look I was going for which helped him suggest a couple of options. Because the samples were so small, he made up 3 larger mock wood flooring pieces in 3 different stains to help me decide. If you already have existing hardwood floors, and you want to change the color, you're in luck. Talk to your certified craftsman in your area for the best direction. See Hardwood Flooring – How to Choose a Color here for more details. Find a certified craftsman in your area.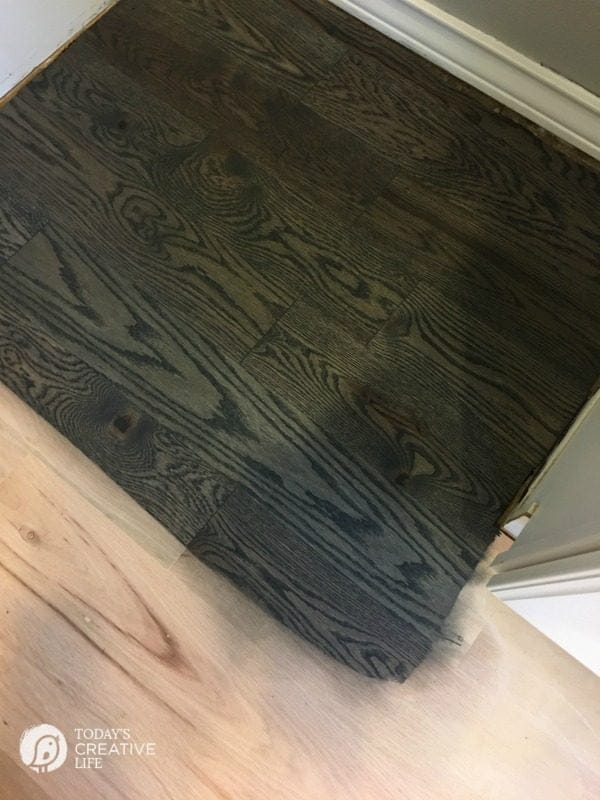 WHAT KIND OR TYPE OF WOOD SHOULD YOU CHOOSE?
Who knew there were so many choices? I always knew that some wood was harder than others because, in our old house, we had fir upstairs and that was a nightmare! Very soft and dented easily. I ended up choosing a Red Oak for the grain and for the imperfections. I wanted a slightly rustic look. I also needed something really durable since I have a dog and a teenager.
HOW LONG DOES IT TAKE?
Installing hardwood flooring that isn't already cut and stained takes 2 or 3 weeks depending on a few factors. I explain all the details on how our hardwoods were installed here. You'll learn terms like Wood Climatizing and Water Popping. I had no idea!
HOW LONG DOES IT TAKE TO SAND AND REFINISH HARDWOOD FLOORS?
If you're only refinishing your existing hardwoods, the timeline is much smaller. The bulk of the time will be spent sanding the wood. When you use Bona's Waterborne finishes, most only need 2-3 hours of dry time rather than 8-24 hours for an oil modified finish. Then you have the "Cure Time". Oil based is 14-30 days, whereas using a Bona Waterborne finish is only 7 days. Which means you'll want to wait before placing large area rugs or heavy furniture without padded leg protectors on.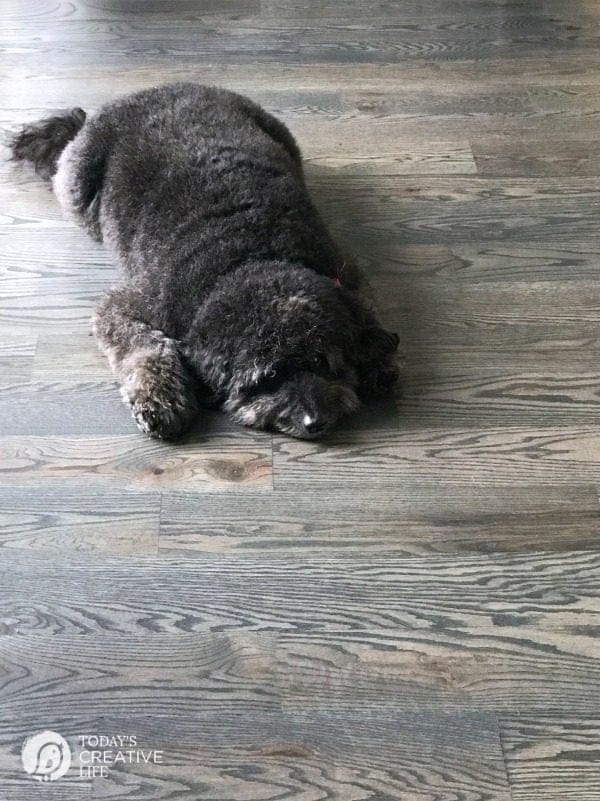 OIL BASED VS. WATERBORNE FINISHES? Which is better?
I'm a bit biased for using the Bona Waterborne finishes. They are proven to be more durable and resist wear and tear better than oil-modified finishes. They are less toxic and emit very low VOCs. We didn't have to remove the animals from our home during the process. We could also stay in the house if wanted. Since I work from home, I was right up the stairs the whole time during my hardwood flooring installation. I wasn't far from all the action and never once smelled anything unpleasant or was bothered by fumes or dust.
They are proven to be more durable and resist wear and tear better than oil-modified finishes.
More convenient. Bona waterborne finishes are GREENGAURD Indoor Air Quality Certified®, whereas oil modified floor finishes emit high levels of VOCs and harmful fumes.
Oil based finishes turn to an unsightly yellow appearance over time. Bona's waterborne finishes retain a clear, non-yellowing appearance.
Waterborne finishes dry faster! The finished job takes less time than oil based processes.
Oil modified finishes take 2 to 3 times longer to cure.
Oil modified finishes contain petroleum distillates, which are combustible or flammable, whereas Bona's waterborne finishes do not.
VOC Levels (volatile organic compounds) are emitted as gasses from oil based finishes. And guess what? Bona's waterborne finishes contain LESS than half the VOCs of oil-modified finishes.
Oil based finishes cost slightly less than waterborne finishes, but waterborne finishes outperform in all categories.
WHAT TYPE OF FINISH SHOULD I HAVE?
I learned that floor finishes are very similar to paint finishes. It's called sheen. I didn't want anything super shiny, but I didn't want them dull either. I went with the Satin sheen and I'm loving it!
Satin
Semi-Gloss
Gloss
Commercial Matte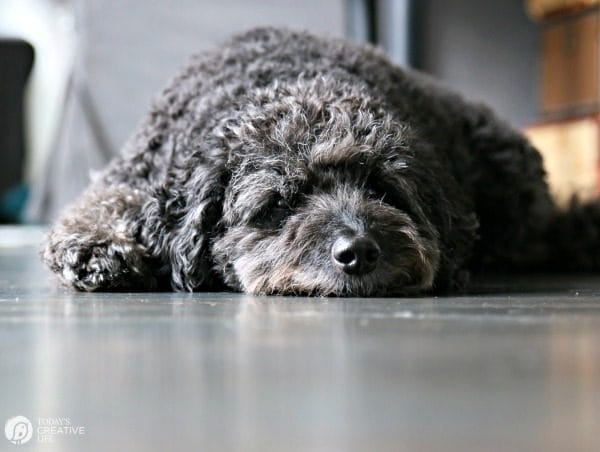 WILL DARK COLORS SHOW DUST EASIER?
Maybe, but here's the deal. I figured I should be using a dust mop daily anyway, right? I want my floor to actually BE clean, and not just look clean. Even with a non-shedding dog, she still brings in dirt and dust as you can see in the photo above. It doesn't take long to use the microfiber dusting mop or the disposable dusting clothes.
WHAT SHOULD I USE TO CLEAN MY HARDWOOD FLOORS?
Um…. Bona Floor products are the ONLY products I trust with my new floors. I'm currently using their new free & simple® hardwood floor cleaner. "Bona free & simple Hardwood Floor Cleaner reduces irritants without compromising cleaning power.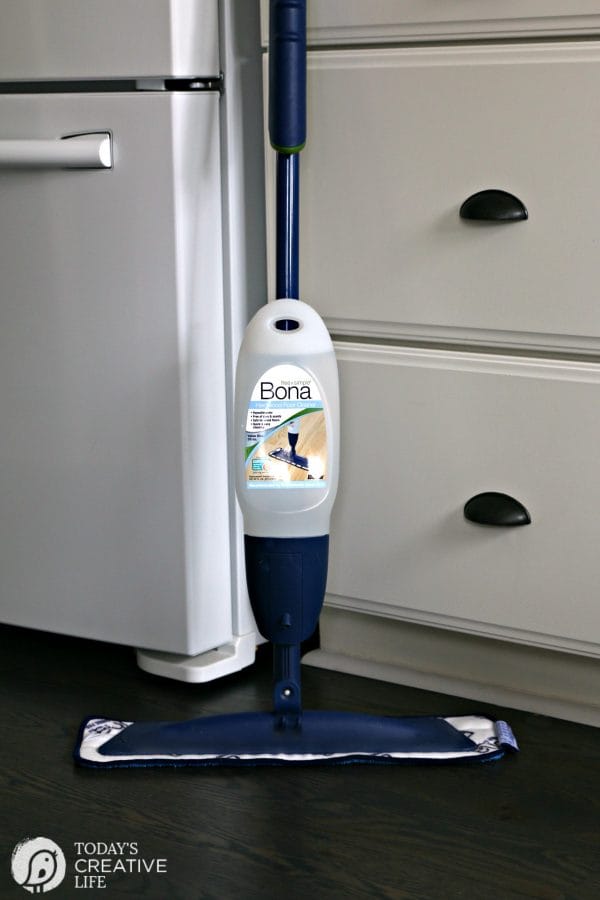 Its hypoallergenic formula delivers the same exceptional results Bona is known for, yet is free of dyes and scents. Certified asthma & allergy friendly by the AAFA ensures a healthy home for you and your family."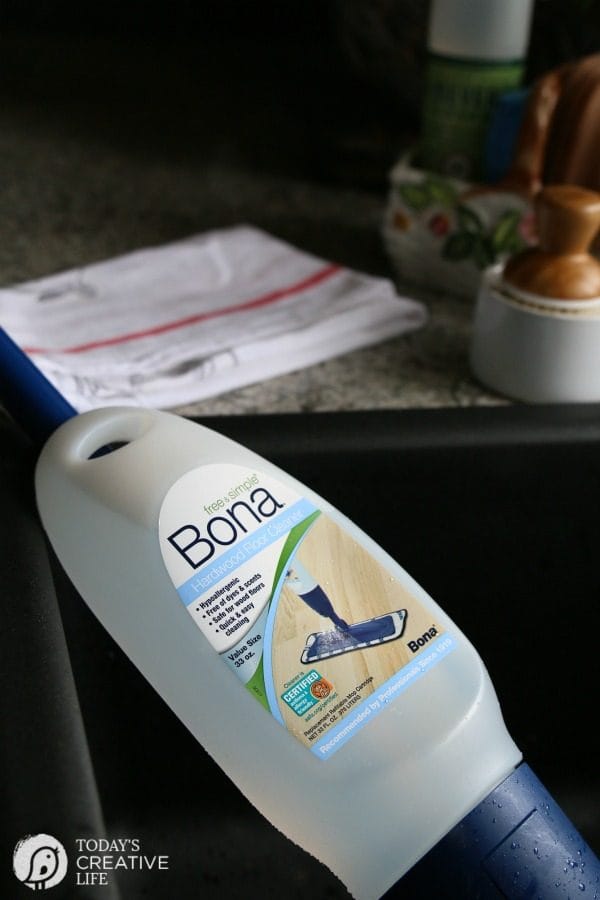 I also like their Deep Cleaning solutions for the muddy season. Don't be like me and try homemade cleaners, especially any with vinegar on your wood floors. Or a steamer. Just don't. Save those formulas for your tile or linoleum floors.
If you have any questions that I didn't cover about Hardwood Flooring Installation, please leave them in the comments!
Do you have any tips? Share them with Bona for a chance to win $500 or $100 in Bona Products!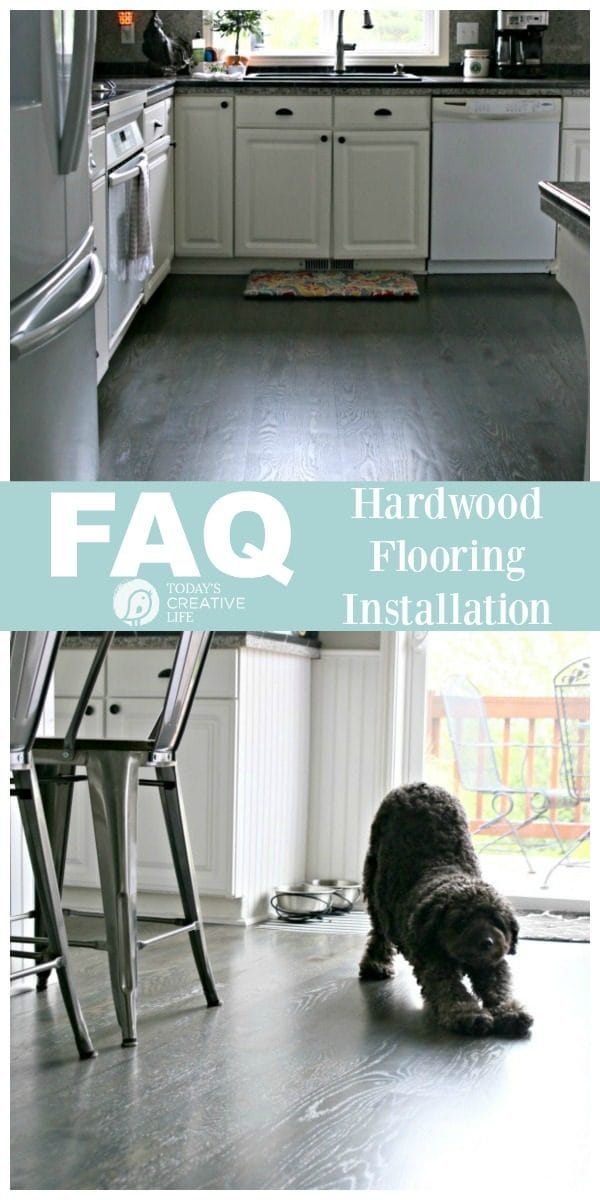 This is a sponsored post with Bona Floors. All opinions about Bona, their products etc… are 100% mine. I truly think Bona floor products are the best for caring for your floor.