Do you have a student heading back to school soon? These Printable Lunch Bags are the perfect way to send your little one off for the day, along with a special message. This is also a great craft to do with the kids to get them excited and prepped for school! While you're prepping for back to school, you'll also love my Printable Lunch Box Notes.
Printable Lunch Bags – Back to School
The Free Printables Vault is password protected and for TCL Subscribers only. Subscribe here. ALREADY have your password? Head straight to the Free Printable Vault.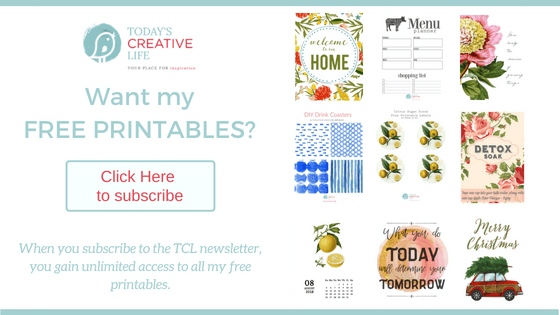 Back to School…….we either love it or hate it. As I mentioned in my Back to School – DIY Coffee Bar post, Mom's are either ready to celebrate or they'll need a little support. Thank goodness we have 3 more weeks here in the Pacific NW before the school schedules take over our lives, but that doesn't mean we aren't prepping a little here or there. It will soon be time to put together the homework station for my son's sophomore year and we're starting to go through clothing.
Since my son is now in high school, he wouldn't be caught dead with a printable lunch sack, which means I'll reserve it for when he forgets his lunch and I have to deliver it. Live and learn right?
Don't miss these free printable lunch box notes! Or these reusable lunch box notes.
When he was little, I loved finding creative ways to make him feel special while he was away from me during the day. Sending little tokens or notes in his lunch was one way and it's pretty easy, but every now and then you just want to shake it up a bit.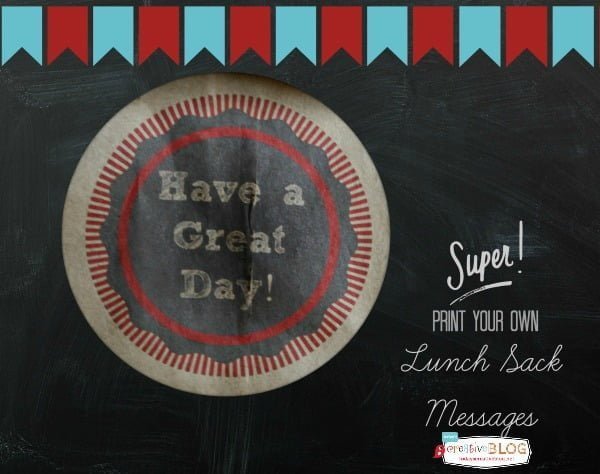 My son normally carried one of those thermal lunch bags, so I'd pack his wrapped sandwich in a decorated or printed lunch sack and place it inside the thermal. I didn't always do it, so it was a fun surprise when he would open up his lunch bag to see a fun printed lunch sack. Again……it wouldn't be so cute now that he's older……so if you have little ones…do it now while you still can. Sniff sniff.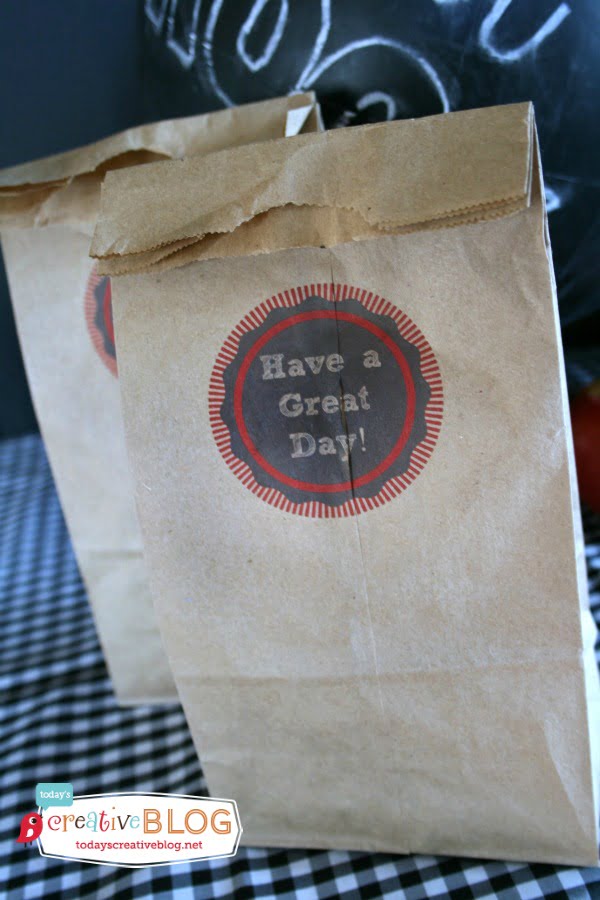 I guess I could print up inspirational messages, or "make good choices"? I think he'd die of embarrassment.
How to make Printable Lunch Bags
Supplies Needed:
1. I designed my design using PicMonkey.
2. Once designed, I saved it to my computer. Using Word, I opened my design and sized it accordingly. I also adjusted the document size to 5×7.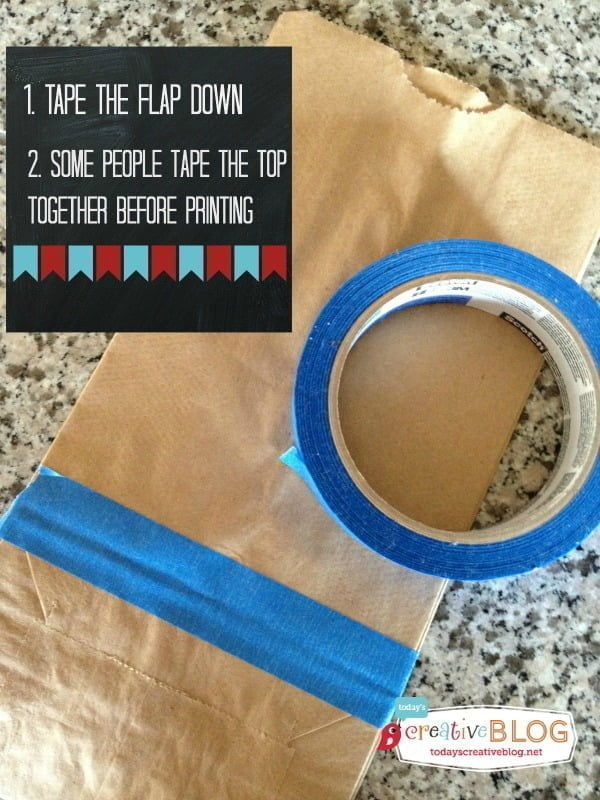 3. Using washi tape or painters tape, I taped down the flap and the ends. My printer wouldn't work properly when I taped the ends, so I ended up only taping the flap. Using my envelope setting, I placed the bag flap side up and clicked print.
I'm sure there are more efficient ways to do this, especially if you have any graphic design experience, which I don't. I just type out what I want, add my design and print……..hoping for the best!
If all else fails…….stamp a design or draw! The sentiment is the same.
This is a fun craft to do any time of year for any event! Perfect for birthday goodie bags. It's always great when you find a way to customize something, even a simple lunch sack.
Back to School Ideas
Back to School ideas for a creative and smooth year.
Free printable lunch box notes.
Fun labels kids can customize.
Print a few of these ahead of time for smooth mornings.
Use this method to make reusable lunch bix notes.
Simple and nutritious after-school snacks.
This homework station makes it easier for kids to focus.
Get the kids ready with a fun game of charades.
Get that first day photo with these printable pennants. The year is updated.
Fill in the blank with these adorable first day printables.
Simple and clear start of the school printables!
Kids will love opening their lunch and finding one of these!
Print a few of these off for the whole year!
You'll never run out of sweet messages with these lunch notes!