These Free Pantry Inventory Printables will help organize grocery shopping, meal planning and rotating your supply to avoid food expiration.
During the Covid19 pandemic, I quickly realized I needed to take an inventory of all my food. To keep it organized, I created these food inventory printables for your kitchen. Taking inventory of my pantry, my fridge and my freezer all required a separate sheet. I hope you also find them helpful.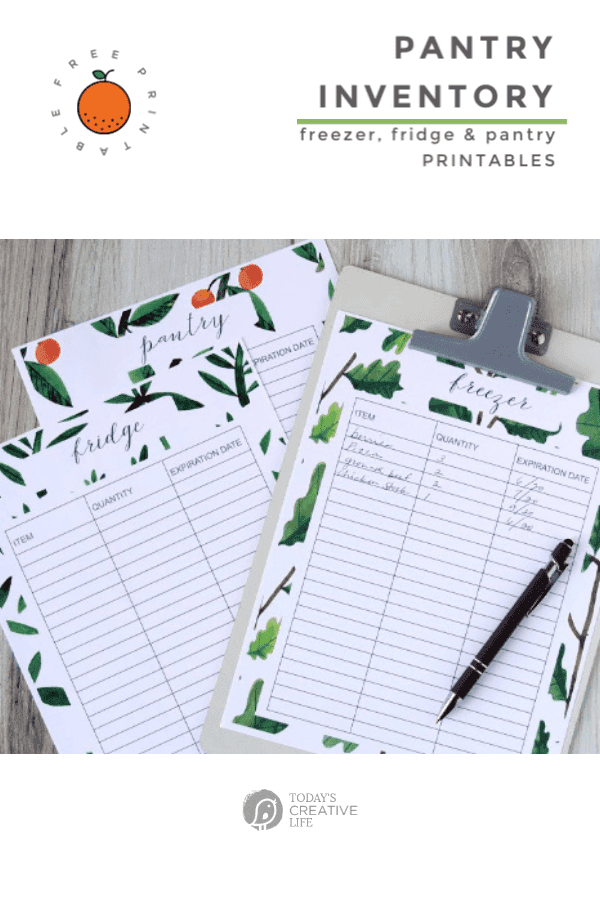 Free Pantry Inventory Printables
Free printables are so good at helping you keep your kitchen organized.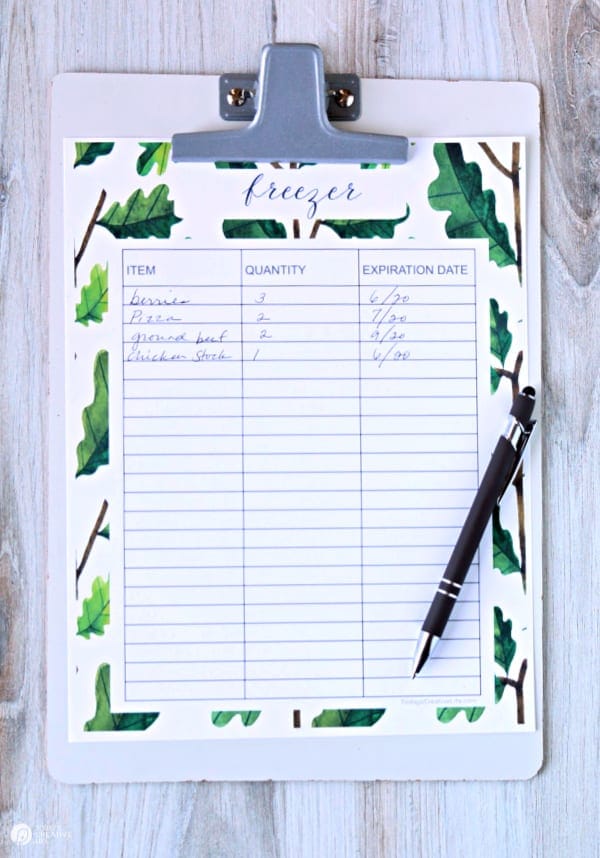 From my printable grocery lists, weekly menu, baking substitutes and now kitchen inventory sheets for your pantry, you can not keep track of what you have and what you need. No more overspending on items you already have and overlooking items you are out of.
Pantry Inventory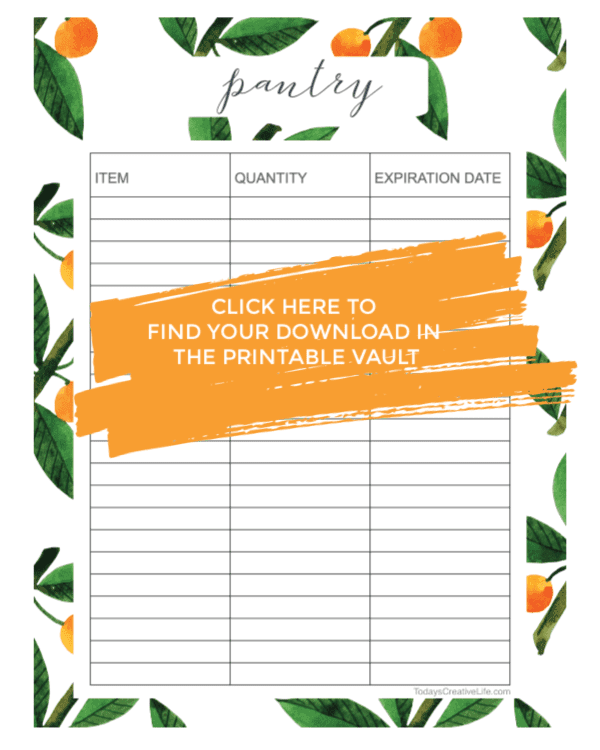 I used this one for all the food items in my cabinets and cupboards. I recorded all my canned goods, boxes of pasta, flour, sugar, peanut butter etc.. You get the idea. You could create a new one from each cupboard if that helps keep you less overwhelmed. I used one for my storage pantry in the garage and then all my kitchen cabinets inside.
Freezer Inventory
We have a full upright freezer in the garage and one attached to our refrigerator inside. Both become dumping grounds and I never know what's hiding inside. I found 3 boxes of pizza bites my husband keeps buying for every time our son comes home to visit and then he doesn't eat them. But you can imagine his excitement that we had them during the shelter-at-home mandate.
Placing the inventory sheet on the door and writing everything on it is so helpful! Now I know what I have and I'm actually using up food before it's been in there too long.
Refrigerator Inventory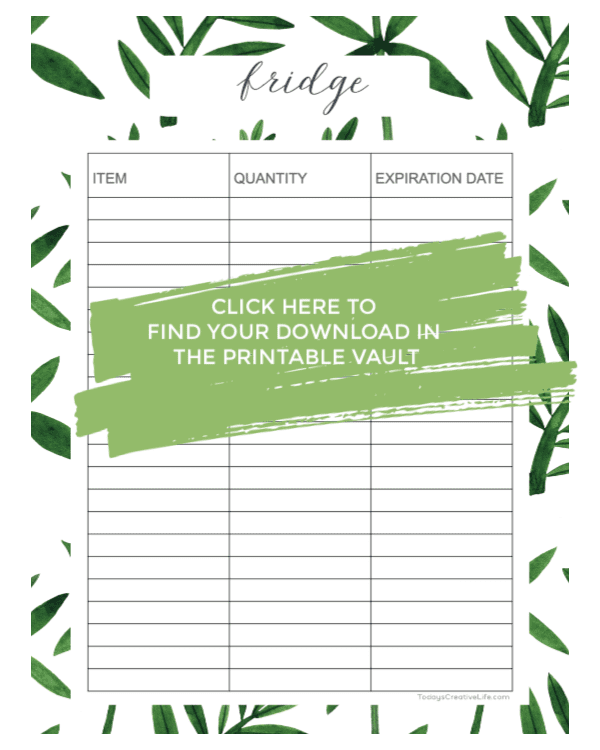 Because the fridge is in constant use, I'm using this inventory sheet to keep track of items like cheese, condiments, meats, and veggies, the mainstays. I also keep a printable grocery shopping list next to it so we can keep a running tally of what we need.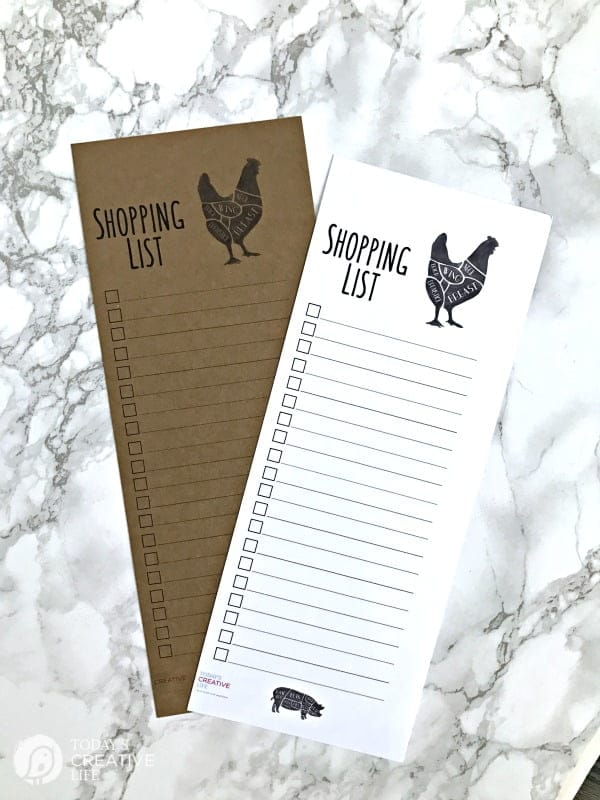 You can also find that along with the printable menu planner in The Printable Vault.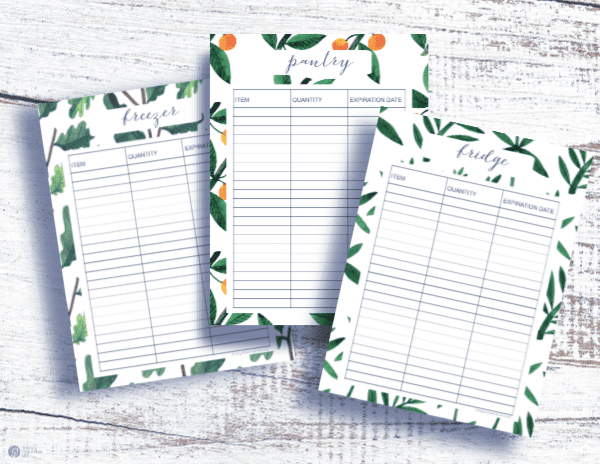 How To Print Kitchen Inventory Sheets
Subscribe to become a Today's Creative Life VIP and gain access to all the free printable downloads in the Printable Vault. Once you're a subscriber, a password is emailed to you to be used. If you're already a VIP, use your PW and download these free Pantry Inventory Printables.
Supplies Needed:
Inkjet Printer – this one is very reasonably priced and works great for home projects.
Printer Paper
Find the printable in the Vault and click to download. Open the file up on your device.
Usually, if you right-click on the image, you'll have a PRINT option. Otherwise, follow your usually print directions.
Keep your inventory sheets on a clipboard, in a binder taped to the inside of a cabinet. You can also use a magnet to place on the fridge or freezer.
Reusable Pantry Inventory List
Laminate your kitchen inventory sheets so you can reuse them by wiping them off or adding items easily. This laminator for home use is a great tool to add to your home office.
I know when I took inventory of all the food in my home, it eased my mind while living under this pandemic and Shelter-at-Home order. I felt more prepared and in control at a time that feels very uncertain. With a simple look, I know what we need and have.
For additional preparation, I've been eyeing one of these freeze-drying ovens.
I'd love to see them in use! Tag me on Instagram @TodaysCreativeLife!
Organized Household Printables
Free household printables to keep you organized.
Plan your menu out in advance for the week or month.
This menu planner gives the family a quick glance.
Photo Credit: www.thecraftedsparrow.com
Add a little sass to your kitchen wall art.
Functional and stylish for your laundry room.
A grocery list to match the menu. All farmhouse style.
This helps keep track of medications when in need.
If you still like a hard copy, this is a great one!
Out of buttermilk? No worries, this printable to the rescue.