Learn How to Host a Virtual Game Night so you can stay connected with family and friends. Party planning comes in all forms as we're learning how to socialize safely during this pandemic.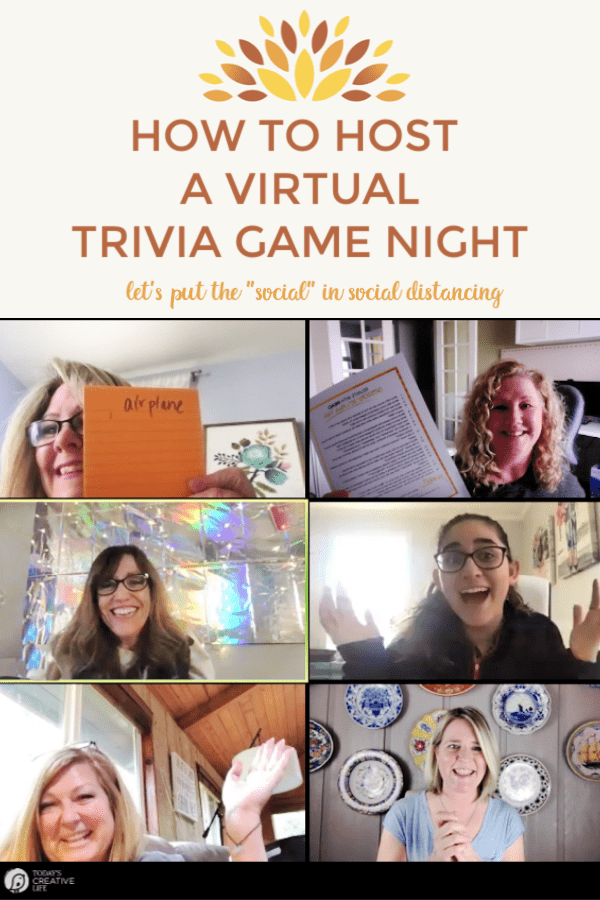 How to Host a Virtual Game Night with Friends
This pandemic has me looking for ways to stay connected to the people important to me in creative ways. Using Zoom, it's possible to still host events, parties, game night or even a book club with several people and still abide by the shelter in place mandates. I recently hosted a virtual trivia night with a few girlfriends and I can't believe how fun it was and lifted my spirits.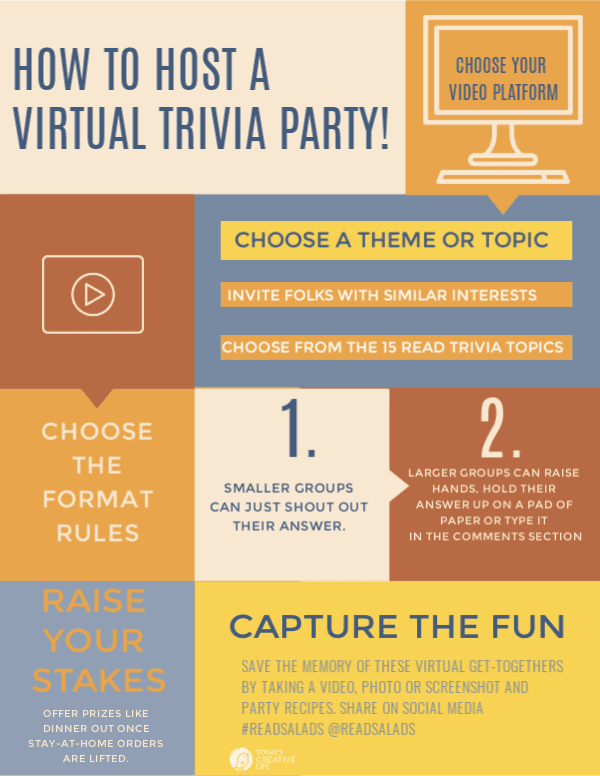 Pick Your Video Platform for Hosting a Virtual Game Night
Seeing everyone's faces is a must! Not only is it really nice to see everyone, but it also allows your party guests to interact with each other! Having a connection with people outside your household is a luxury that makes a big difference in how we are coping throughout this pandemic.
Choose from the platforms below that offer these options. These are free options, but many have a paid version.
The important thing is that everyone has access to the same platform you decide to use.
Choose a Theme or Topic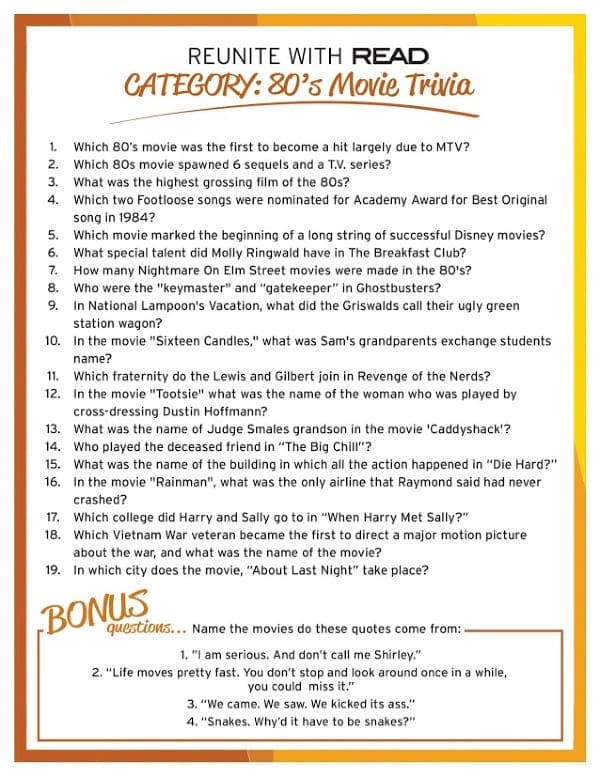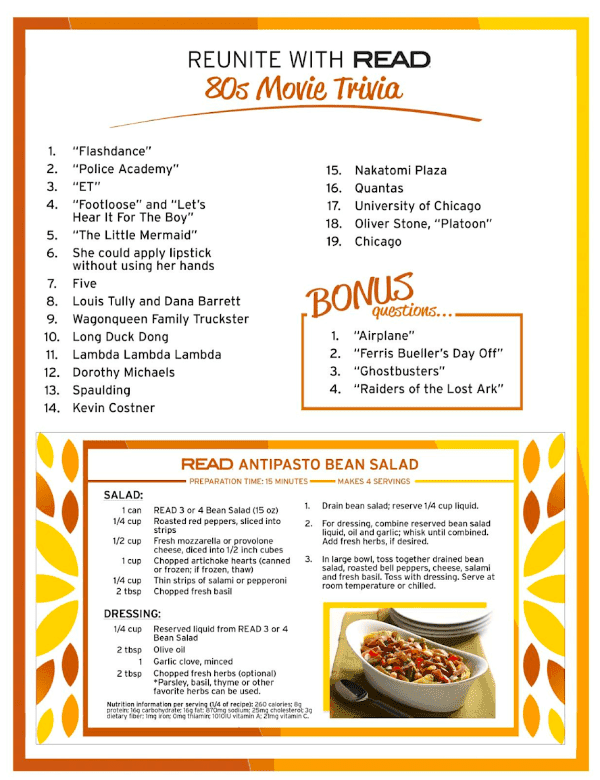 Keep it simple and invite groups with a similar interest. Perhaps they're really into food or wine, or maybe they're sports fans? Encourage them to grab a beverage, or a snack to match your theme as an added bonus. I'm partnering up with READ Salads to bring you everything you need to get your party started. They have 15 different trivia topics that appeal to a wide variety of interests, all of which are paired with a delicious, easy recipe you can prepare for your party! You could assign a different recipe for each participant that they share with the group. See tons of delicious, easy to make recipes to choose from here.
"Food is one of the biggest catalysts in bringing families and friends together," said Julia Storie, READ Salads Marketing Administrator. "Now, as we stay at home to stay safe, coming together for great food and fun may be a little more challenging – but it is easier than ever thanks to video platforms like Zoom, Facetime, Skype and others. We hope everyone is able to get together on video during these challenging times to share some fun and some great food."
There are 15 different downloadable trivia quizzes from READ Salads on topics ranging from sports, 80's Movies, Great Chefs and more. See all downloadable trivia questions here.
Invite Your Guests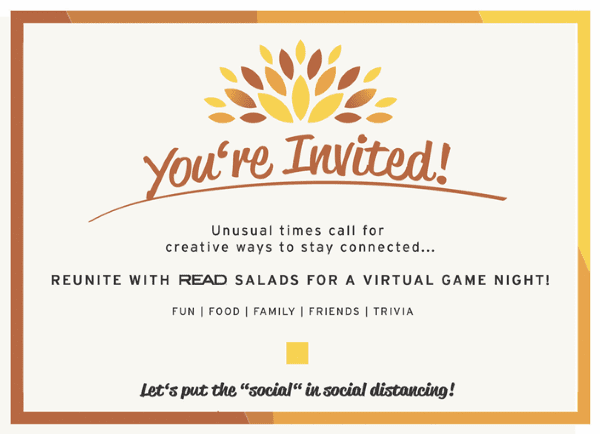 Once you've decided on your guest list, send them a fun eye-catching invitation. This can be done via email, a text, or social media. Use the one READ offers or make your own using PicMonkey. Be sure to add the video link along with the day and time of the party. You can schedule a meeting time on Zoom a few days before if wanted. Don't forget to take different time zones into account.
Game Format
Since you're hosting the virtual party, you're also going to be asking the trivia questions, as well as revealing the correct answers. There are a couple of ways you can organize the rules of the game.
Smaller Groups – If you only have a few people, you could just have them shout out the answers after you read the questions. This becomes unmanageable with larger groups.
Larger Groups – What I found to work the best is to have people write their answer down on a pad of paper, large enough to be seen and to hold it up after each question. You could also have them raise their hand or type in their answer in the comment section some of the platforms offer. The first person with the correct answer wins that round. The person with the most right at the end of the game is the winner!
Offer Prizes
People love friendly competition. If this fits your group, you could offer creative prizes for the most correct answers. Prizes don't have to cost you anything. Offer dinner at someone's house after the stay at home restrictions are lifted, or a trail walk, or meeting for coffee. We'll all be happy for more face to face connection once we can get out and about.
Capture the Memory
Save this memory by taking a screenshot or photo of your virtual game night. Use this to print out for a journal you're keeping to document the pandemic or to share on social media. If you're sharing on Facebook, Twitter or Instagram, please use the hashtag #ReuniteWithREAD or tag them @ReadSalads. Seeing more people connecting, while keeping a safe distance is a way to keep people encouraged during this challenging time.
---
I'm partnering with READ® Salads to promote social distancing and reconnecting online via their Virtual Game Night Program. They are providing everything you need to host your own trivia party either online or at home.
READ® Salads offer three convenient, ready-to-eat, salad choices that taste like homemade including 3 and 4 Bean Salad, and German Potato Salads. They are available in the canned vegetable aisle of the supermarket, along with 4-packs of 3 Bean Salad single-serving cups. They provide important nutrients including dietary fiber, folate, potassium, iron, plant-based protein and more. All are shelf-stable and gluten free. Each is delicious on its own and offers great versatility in hundreds of recipes from delicious breakfast casseroles to hearty soups, stews and craveable snacks. READ Salads can be found at supermarkets and mass retailers across the country.
Don't have the typical crowd to feed? Treat yourself to this delectable Caprese Bean Salad For One and visit www.readsalads.com for more recipes. Don't forget to follow READ Salads on Instagram and Facebook
---
Now that you know How to Host a Virtual Game Night, I'd love to hear about how it went! Use the hashtag #ReuniteWithREAD and Tag me on Instagram @todayscreativelife or leave a comment!
Party Planning Ideas
No-Stress party planning ideas.
I keep a cupboard well-stocked for any planned and unplanned events.
No-Stress party food planning.
Here's a simple party idea for the holidays.
Teens LOVED this simple party!
How to create party low cost decorations.
Mini pinatas, mini party banner and mini treats!
Everyone loves S'Mores! Simple and fun!
The perfect solution for early teen boys!