Welcome to the TCB Summer Celebration! Today we have guest blogger Caroline from Chocolate & Carrots. I think you'll love her yummy Chocolate Banana Popsicles! Like these Chocolate Oreo Pudding Popsicles, they are full of flavor!
If you've ever been to Disney World, you've probably seen or eaten a chocolate covered frozen banana. The crunchy coating with the frozen, sweet fruit inside will make you cool off in a skinny minute…and without adding on the pounds like some other popsicle alternatives will.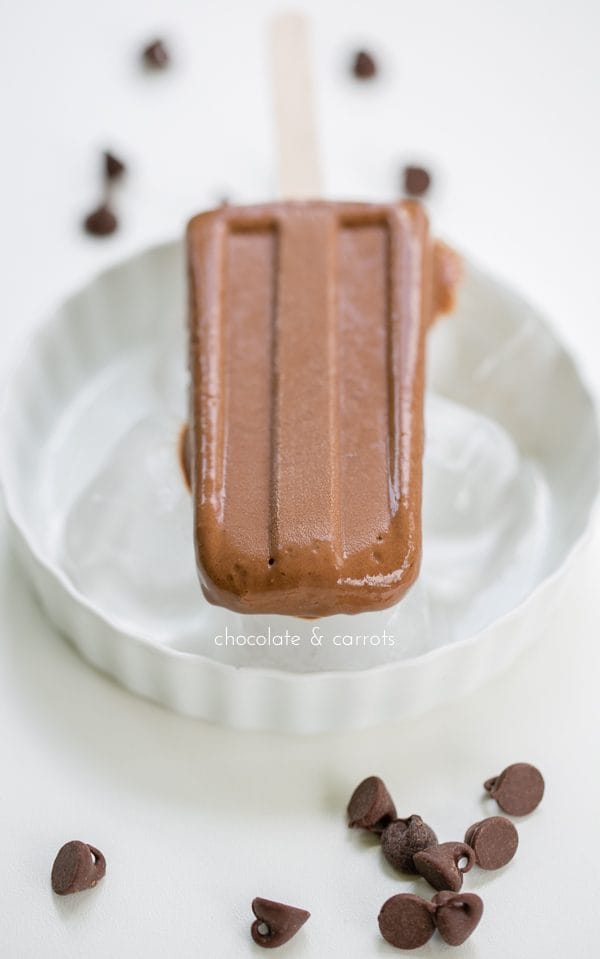 Chocolate Banana Popsicles Recipe
Since dipping a frozen banana into chocolate or magic shell can sometimes be a little bit challenging, I thought I'd combine the two flavors into one easy popsicle!
It literally took me all of 3 minutes to make these popsicles and the same amount of time to eat them all. Haha! They're such an addicting chocolate, creamy and cold treat. Just be prepared to eat them fast in this summer heat!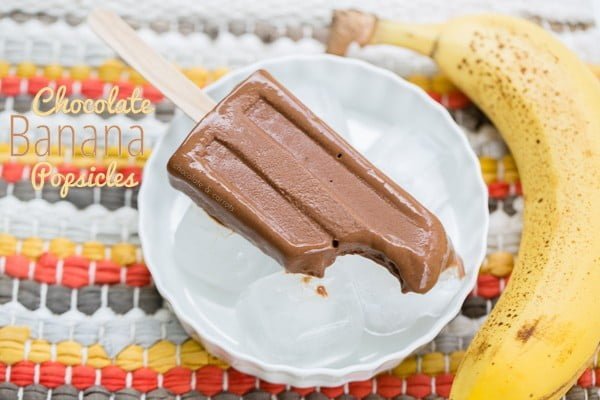 As an added bonus, there's nothing like hiding fruit in a dessert that looks like it would be made with heavy cream. Healthy and delicious…that's my motto!
Once you start making your own popsicles for you or your kids, you'll never look at store bought again. It's literally mixing all your favorite ingredients together, pouring into a popsicle mold and freezing. These chocolate banana popsicles are always a popular flavor, but I also love chunky fruit popsicles like these Berries and Cream Popsicles!
You can really get creative and collect an assortment of molds for differently shaped treats!
Happy Summer! Enjoy making these Chocolate Banana Popsicles!
Easy Popsicle Recipe
For easy saving, just print.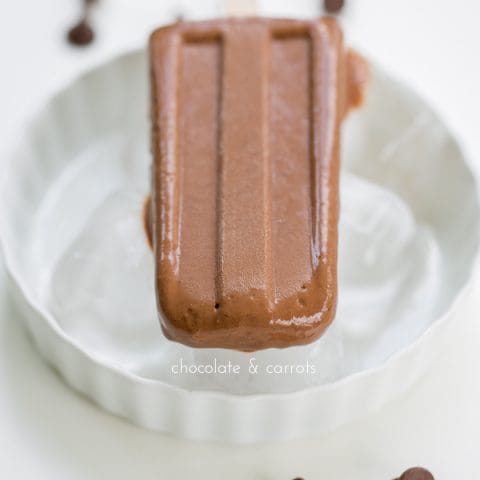 Chocolate Banana Popsicles
Yield: 6
Prep Time: 15 minutes
Cook Time: 4 hours
Total Time: 4 hours 15 minutes
Ingredients
1/2 cup semisweet or 60% cacao chocolate chips, melted
2 medium bananas
Instructions
Blend both of the ingredients together and pour into a popsicle mold.
Freeze for at least 4 hours until firm.
Servings: 6 popsicles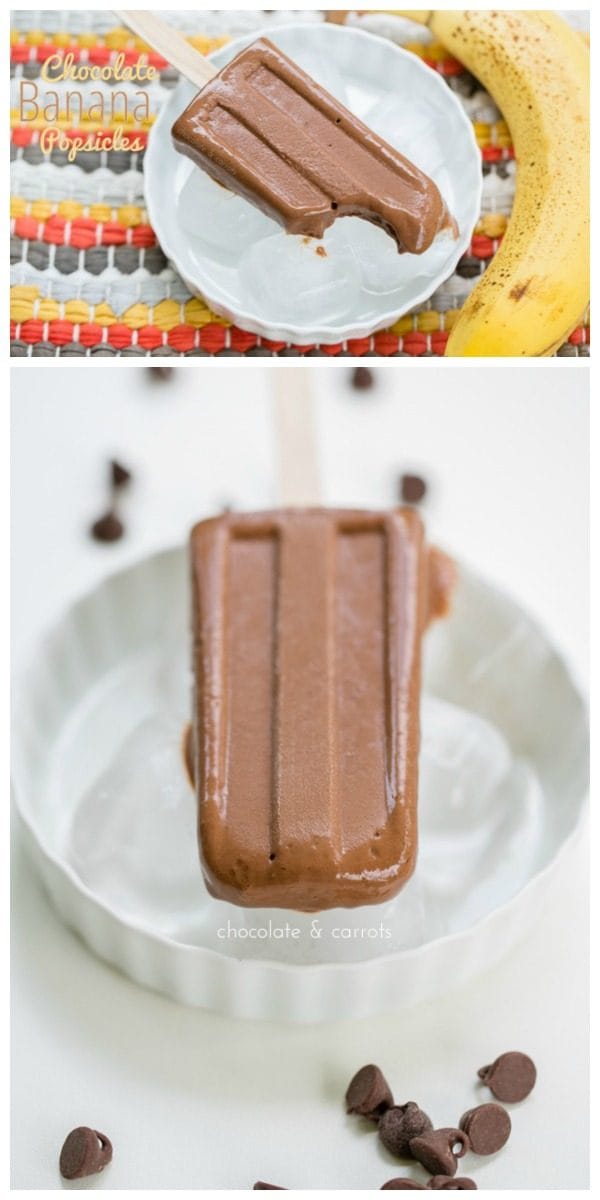 ---
More Popsicle Recipes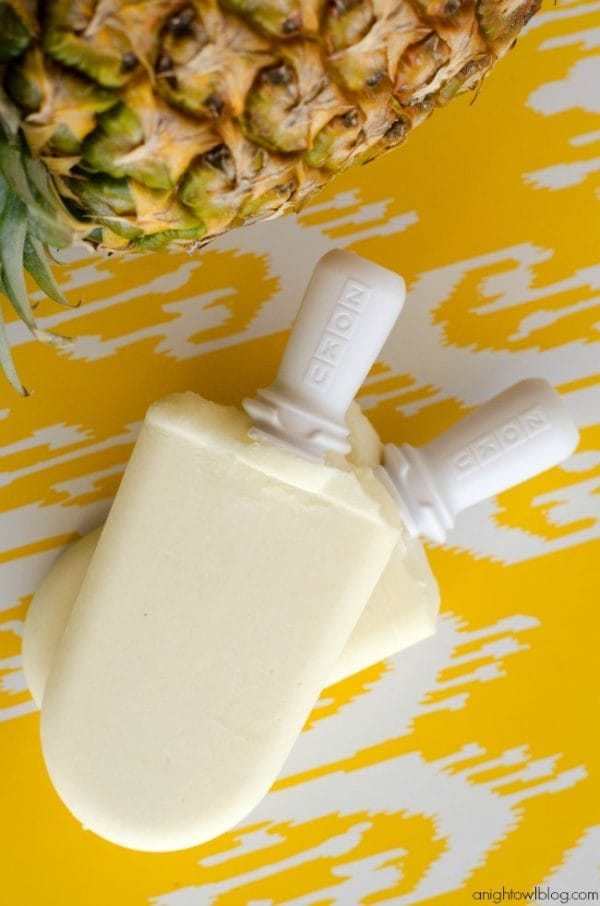 Dole Whip Popsicles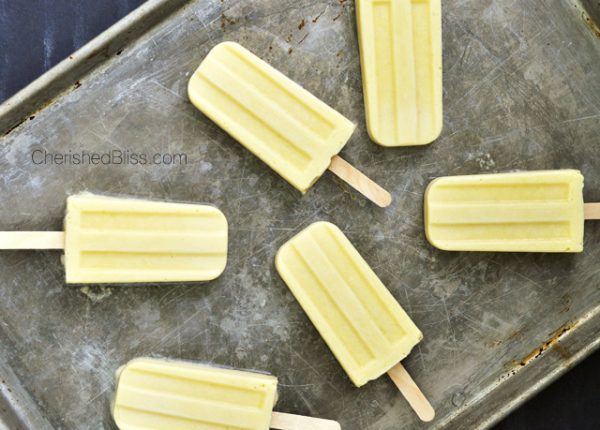 Hawaiian Cream Popsicles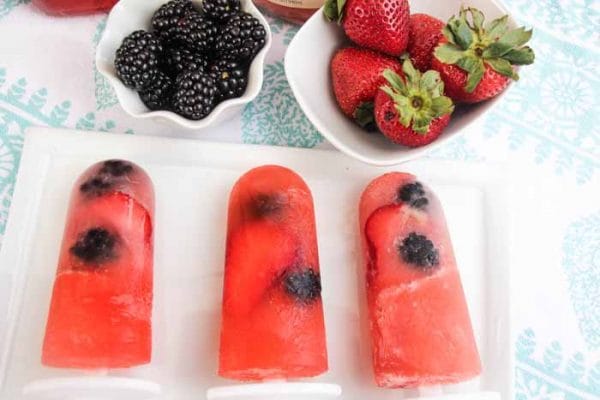 Strawberry Blackberry Margarita Popsicles