Fall is finally here, and what better way to embrace the season than by making a delicious fall Apple Cider sangria recipe? Whether you're hosting a cozy get-together or simply looking for a refreshing drink to enjoy on a crisp autumn evening, this must-try sangria recipe for fall are sure to impress.
White wine infused with warm spices, honey crisp apple cider, and caramel vodka makes this apple cider sangria recipe the perfect taste for all fall occasions. Packed with seasonal ingredients like apples, cinnamon sticks, cloves, and orange slices, this recipe will not only tantalize your taste buds but also bring the essence of fall right to your glass.
I have a classic Spanish Sangria recipe and even a Winter Sangria recipe, but I created this apple cider sangria with caramel vodka for an impromptu dinner party and it was a hit!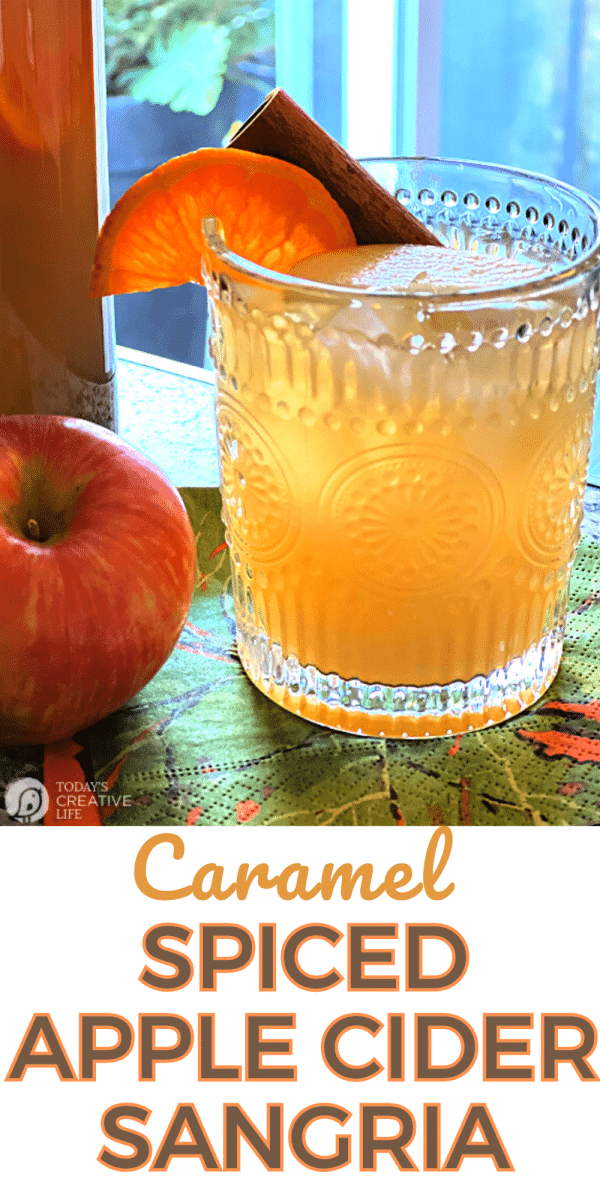 Recipe for Apple Cider Sangria with Caramel Vodka
This apple cider sangria is your perfect drink for fall. It's easy to make and makes a great drink to serve for a Halloween party, Thanksgiving, or just anytime you want a seasonal sip. The caramel vodka is the surprise ingredient that locks in that traditional fall flavor of caramel apples. When I stopped by our liquor store, they said it's a very popular item so I had to purchase the small travel size bottles, which was perfect since I only needed a cup.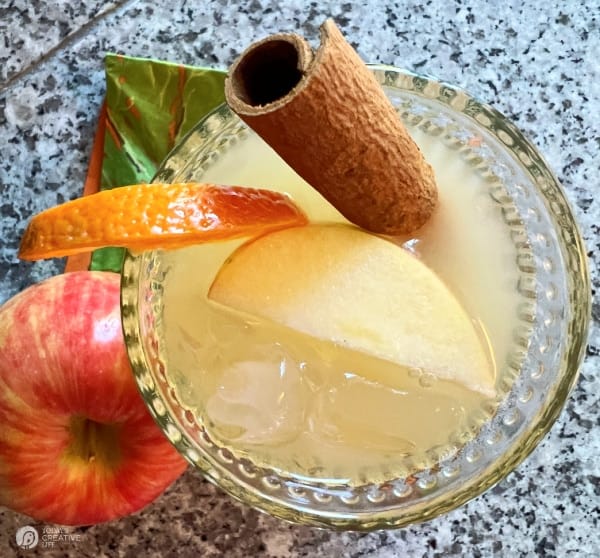 Ingredients for Caramel Apple Cider Sangria
Ingredients for making the fall favorite sangria are versatile. It's really hard to mess up a sangria recipe. Here is what I used. Printable recipe below.
White wine – I used a chardonnay since it's not sweet and is considered more dry.
Caramel Vodka – If you can't find flavored vodka, you can use regular and add caramel syrup like they use in flavored coffees.
Apple Cider – I prefer to use an unfiltered apple cider. I love the honey crisp apple cider from Trader Joe's.
Cinnamon sticks – don't use powdered cinnamon. It will just float on the top.
Whole Cloves
Apples
Oranges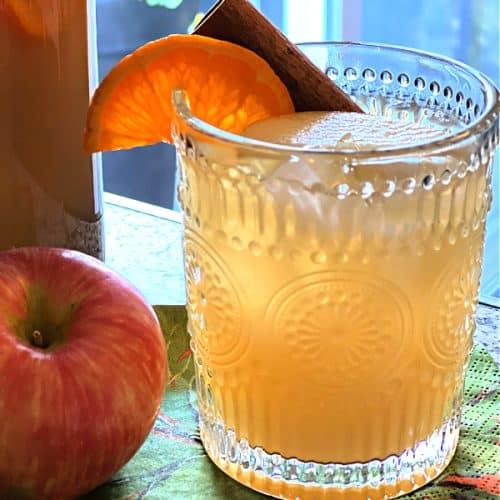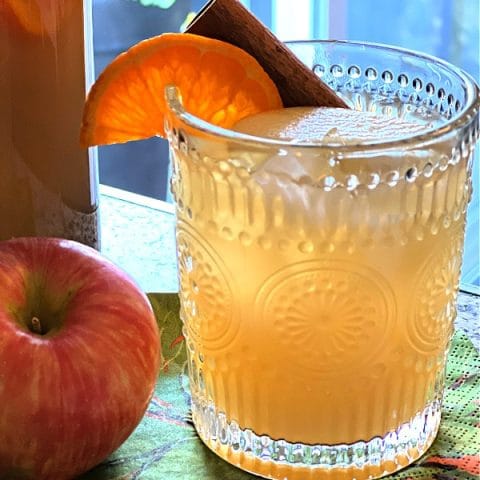 Recipe for Apple Cider Sangria
Yield: 3 quarts
Prep Time: 10 minutes
Additional Time: 4 hours
Total Time: 4 hours 10 minutes
Apple Cider Sangria with a hint of caramel is a perfect fall drink that is easy to make.
Ingredients
8 Cups Apple Cider - I used the Honey Crisp Apple Cider from Trader Joe's and it was delcious!
1 bottle of white wine - I'm not picky. I use whatever I have.
1 cup Caramel Vodka
6 Cinnamon Sticks
2 tablespoons whole cloves
1 Apple
1 Orange
Sparkling water (Optional)
Instructions
This makes about 3 quarts, so you'll need a gallon-sized container.
Pour the cider, wine and vodka into the container.
Add sliced apples and oranges.
Add cinnamon sticks and cloves
Place in a cool place for at least 4 hours.
You can refresh the fruit if you'd like before serving, but it's usually fine.
Before serving, you can add sparkling water. You can add 4 cups to the mixture, or just top off each glass with a splash.
Garnish glasses with a cinnamon stick and sliced orange.
Option - wet rim of the glass with an orange and dip in cinnamon sugar before pouring.
NON- ALCOHOLIC
If you want to make this with no alcohol, substitute the wine and vodka for ginger ale, Sprite, or sparkling water. Use caramel syrup (the kind they use for coffee drinks) instead of vodka.
Notes
You can add more fruits and spices if desired. That's the beauty of sangria. It's easy and versatile.
Nutrition Information
Yield 12
Serving Size 1
Amount Per Serving
Calories 209
Total Fat 1g
Saturated Fat 0g
Trans Fat 0g
Unsaturated Fat 0g
Cholesterol 0mg
Sodium 18mg
Carbohydrates 31g
Fiber 3g
Sugar 24g
Protein 1g
We do our best to calculate, however, nutrition information may not be accurate.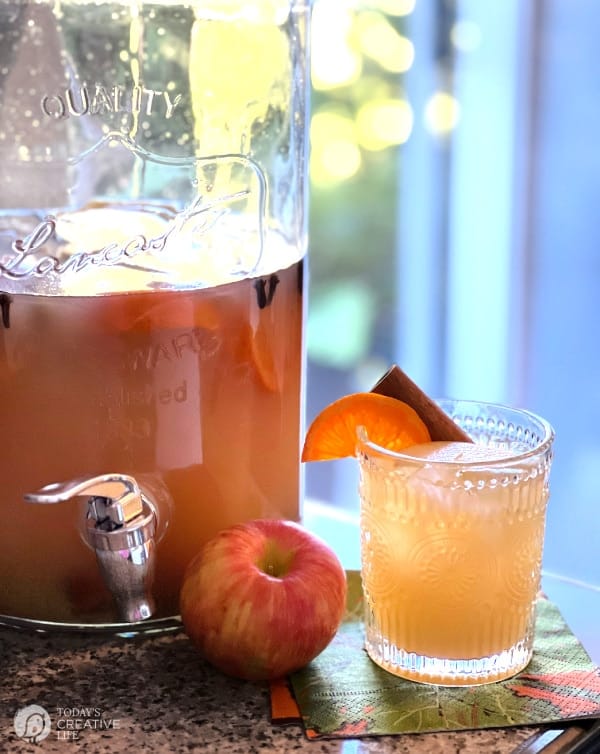 How to Make Apple Cider Sangria Non-Alcoholic
This recipe for apple cider sangria is easy to adapt to a non-alcoholic fall drink. This way you can serve it at Thanksgiving without having to worry about the kiddos.
Wine Substitute – Use Sprite, sparkling water, ginger ale or club soda.
Caramel Vodka Substitute- Use flavored caramel syrup. These syrups are typically used for coffee drinks for Italian sodas.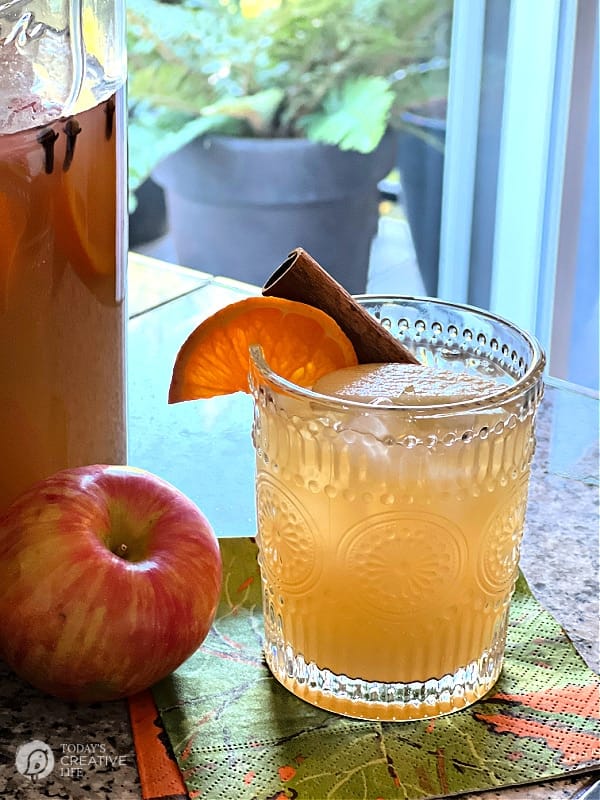 Fall Sangria Recipe Ideas
As I had mentioned, sangria is a very versatile drink making it easy to customize using what you have. When it comes to fall sangria, there are a few essential ingredients that can elevate the flavors and bring out the best of the season. Firstly, you'll need a bottle of your preferred wine. For red sangria, a bold and fruity red wine like Cabernet Sauvignon or Merlot works well. If you prefer white sangria, go for a crisp and refreshing option like Sauvignon Blanc, Chardonnay or Pinot Grigio.
Next, you'll need a variety of fruits that are in season during the fall. Apples, pears, and cranberries are excellent choices that add a delightful sweetness and a pop of color to your sangria. You can also consider incorporating oranges, lemons, or even pomegranate seeds for an extra burst of flavor.
To enhance the fall vibes in your sangria, whole spices like cinnamon sticks, cloves, and nutmeg are essential. These warm spices infuse the sangria with cozy aromas and create a comforting taste that perfectly complements the season. Lastly, don't forget a sweetener (if you need it) like honey, maple syrup, simple syrup or flavored syrups to balance out the flavors and add a touch of sweetness. I also like to add a bit of sparkling something right before serving. That can be sparking water, club soda, or soda pop. Let me know what you come up with!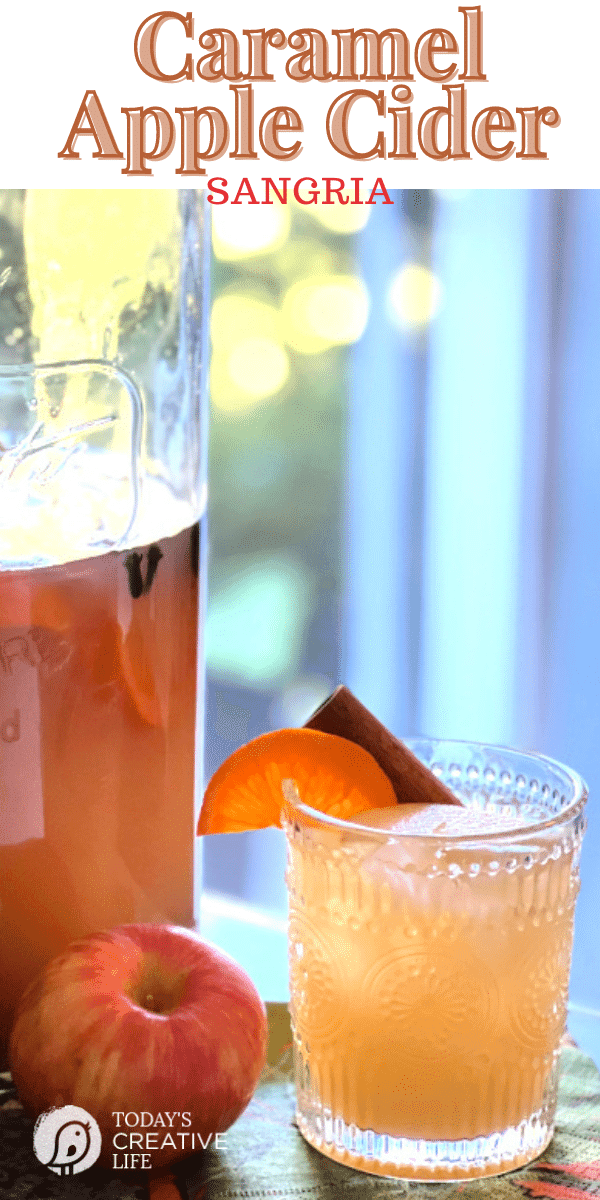 Decorating for Fall
Inexpensive Fall decorating ideas for your home. DIY home decor that is budget-friendly and easy to create.
Printable DIY Wall Art for Fall.
Make your own rustic wreath. Fall Wreath Craft
Simple ideas for decorating your fall table.
Easy Autumn Table Centerpiece ideas!
Make this Burlap and silk leaves wreath. Fall door decor.
Quick fall porch decorating ideas.
Budget-friendly decorating with printables.
Decoupaging pumpkins is a great way to decorate without carving.
Easy Fall decor for your home.
Printable decor for fall.