We get a lot of slugs in the wetter parts of the Pacific Northwest where I live, which makes gardening extra challenging. I found a great way on how to get rid of slugs with a chemical-free, homemade non-toxic slug killer made with beer, sugar and yeast. I try to find natural ways to deter pests like my post on 10 plants to keep mosquitos away.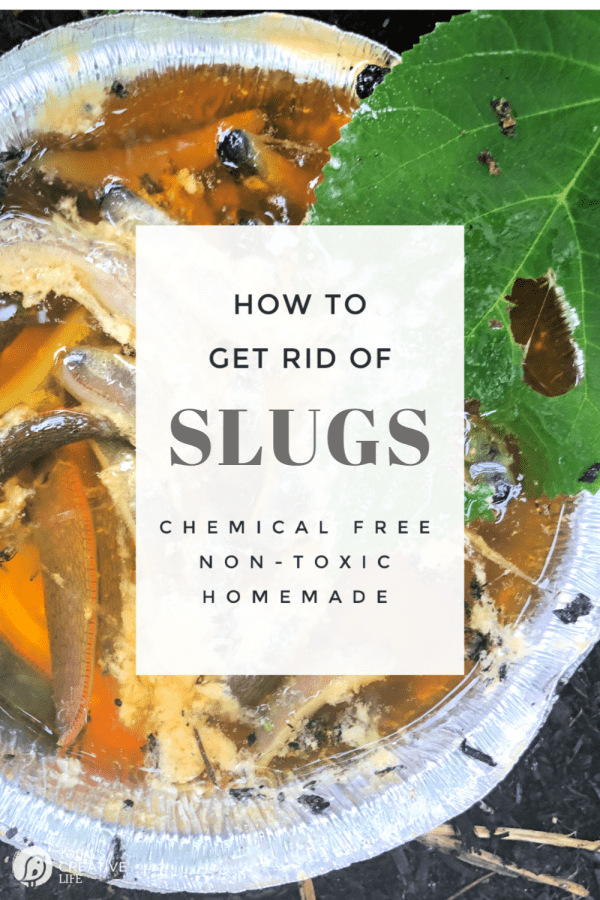 How to Get Rid of Slugs in your Garden
While we were building our outdoor fireplace and getting our yard ready for summer, I noticed many of my plants were being eaten and many of our hostas had huge holes in the leaves. I also noticed under a bird feeder on the patio there were at least 20 slugs crawling around the discarded sunflower seeds. I had never seen so many slugs any other year and decided to look for a way to kill slugs that were chemical-free and also safe for my dog.
I found an old book by Jerry Baker in my office that was FULL of so many garden solutions, and in it were a few for getting rid of slugs.
I had heard of beer being used and I may have tried that a time or two in the past, but this tonic had more ingredients and I was excited to try it.
How to Make Homemade Slug Killer
All you need are 3 ingredients.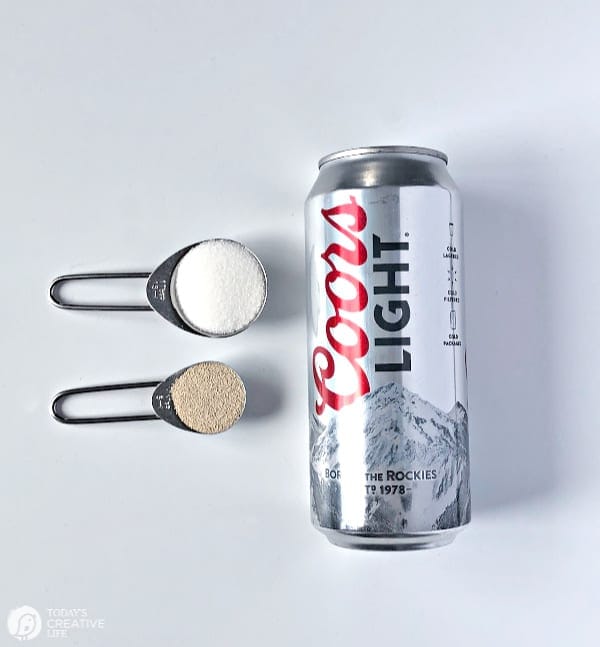 Beer – My husband loves craft beer which can be more expensive, so we bought cheap beer for this slug killer recipe.
Yeast – Any type of yeast will work. Instant or regular is fine.
Sugar – just regular white granule is fine. I'm sure brown sugar would work as well.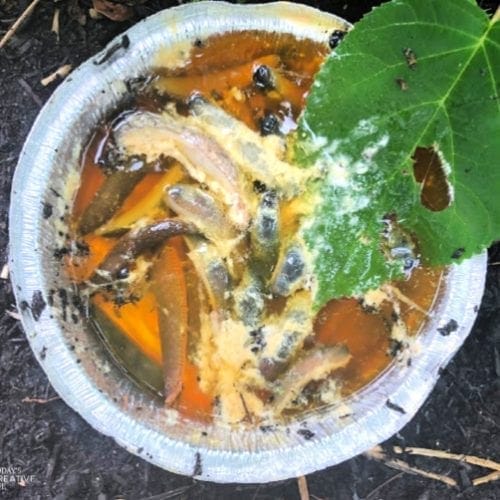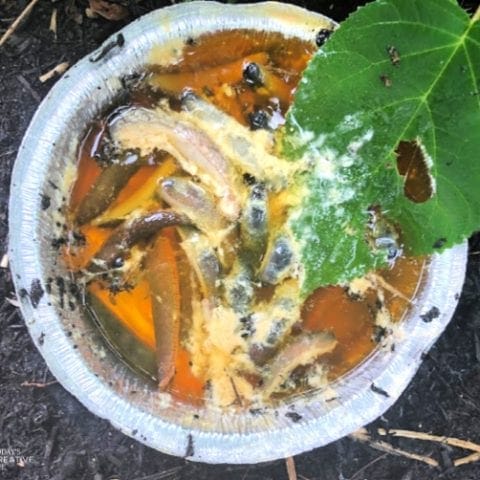 Slug Killer Recipe
Yield: 1
Prep Time: 5 minutes
Total Time: 5 minutes
Difficulty: Easy
Estimated Cost: $5
These 3 ingredients will help control and kill slugs in your garden.
Materials
1 can of Beer
1 Tablespoon Sugar
1 Teaspoon Yeast
Mixing Bowl
Shallow Foil Dishes or any shallow dish
Measuring spoons, and Stirring Spoon
Instructions
Gather your ingredients - Beer, Yeast, and Sugar.
Mix all ingredients into a medium mixing bowl and stir.
Place your shallow dishes where you want them and fill to about an inch from the top.
Check on it in the morning.
Notes
For a stronger tonic, allow to sit overnight at room temperature.
Any type of beer works.
Use this during dry weather.
I've used this for a couple of nights before discarding.
You'll need a large shallow dish, or 3 or 4 smaller ones. The small round foil ones from the dollar store work great for this.
I placed the bowls where I wanted them before pouring in the solution because I knew I'd spill it otherwise.
Within minutes, I started seeing slugs crawling towards the dish.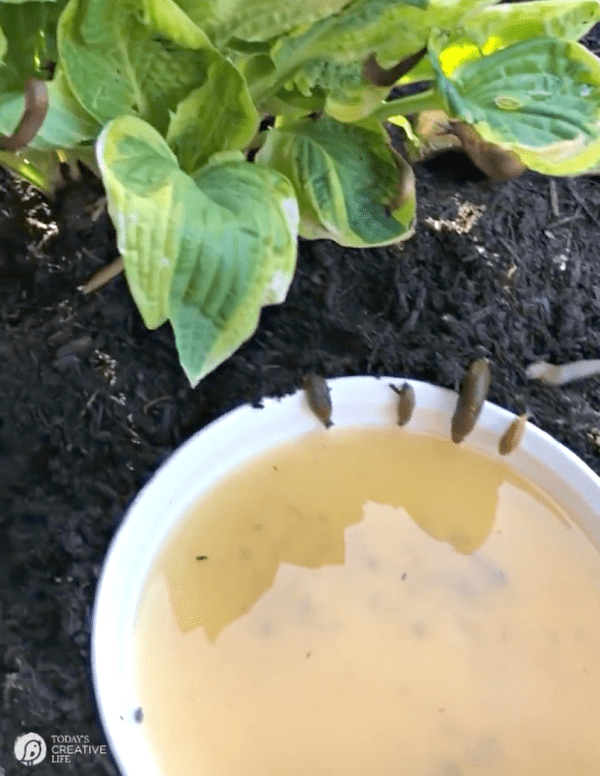 Although blurry, you can see them coming out of the plant and towards the slug bait.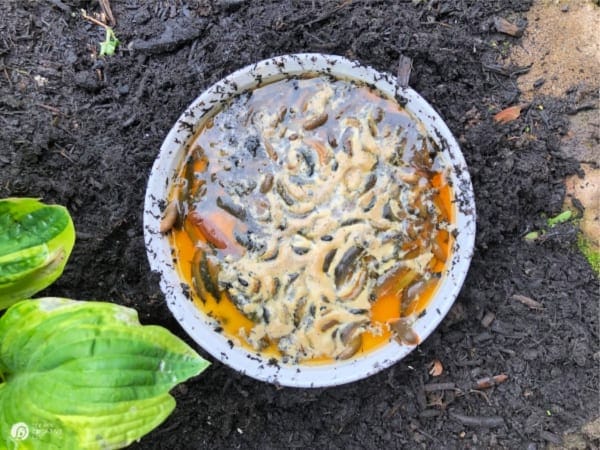 I've done this twice now in my garden and the first time with the larger dish was overflowing.
Is Homemade Slug Bait Safe for Pets?
Because this homemade slug bait is free of chemicals and toxins, yes, it is safe for pets. I would still advise you to keep them away from drinking it or eating dead slugs. That could make them sick. Call your vet for any questions.
How Long Does Slug Tonic Work?
Because mine fills up pretty quickly and that it rains a lot here, I've only left mine out for 2 days at the most.
What To Do With Dead Slugs
It's gross…. there is no way around that. I use rubber gloves and I toss the contents into a large area of our yard that is a tall ground cover. I realize not everyone has that and if I didn't, then I'd probably toss in a garbage sack and into the outside garbage can. You could also pour into the dirt in an area that doesn't get traffic and then cover with more dirt. I'd love to know what you come up with. Just leave me a comment.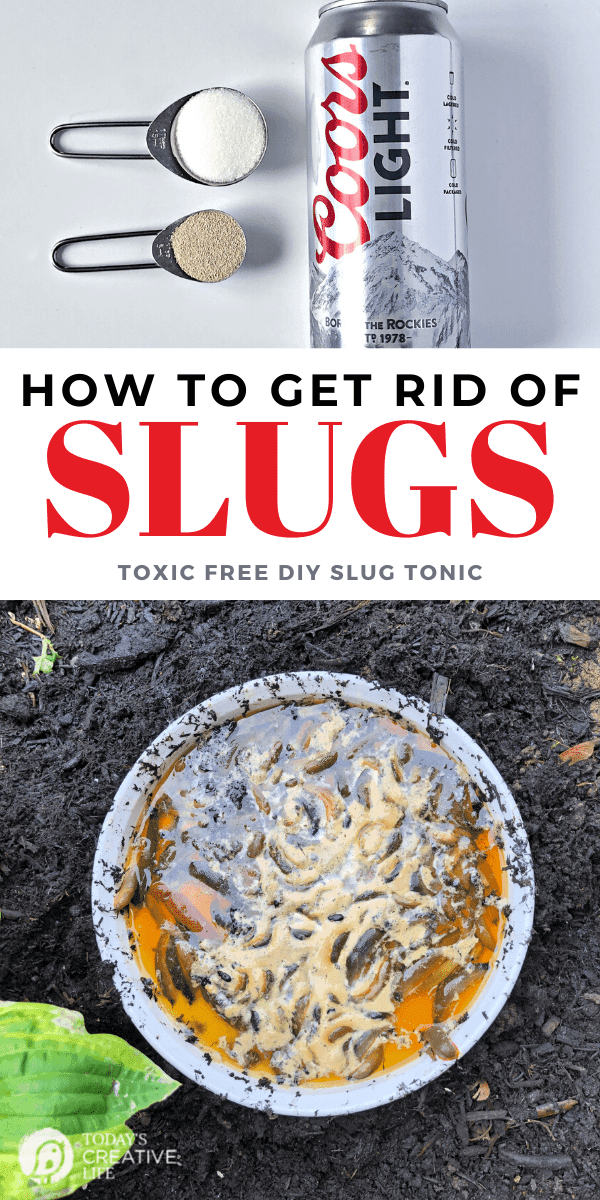 DIY Home & Garden
Simple and creative ideas for your outdoor living.
How to plant a creative herb garden.
Easy to make water fountain.
Budget-Friendly Ways to decorate for outdoor living.
Creative ways to decorate a small deck or patio.
Tips for taking care of your lawn in the Fall.
Here's what to do for a healthy lawn i the summer.
How to know when it's time to replace your deck.
The pros and cons of composite and wood.
Plant an herb garden for your cat.
What you should be doing in the winter for a beautiful summer lawn.
Here's information on when the best time to reseed your lawn.
Create a beautiful feature for your patio or deck.