Get Your Home Halloween-Ready with DIY Halloween Crafts and Decor Ideas

Get ready to transform your home into a spooky yet stylish Halloween haven with these creative DIY crafts and decorating ideas! With the spooky season just around the corner, it's time to unleash your inner creativity and give your home a ghoulishly delightful makeover. Whether you're hosting a haunted house party or simply want to impress trick-or-treaters, these easy and budget-friendly ideas will have your home looking frightfully fabulous in no time. Embrace your crafty side and create eye-catching Halloween decorations that fit your style! With our expert tips and step-by-step instructions, you'll have a spooktacular home that will leave your neighbors and guests spellbound. So grab your cauldron, dust off your broomstick, and let's get started on making this Halloween the most memorable one yet!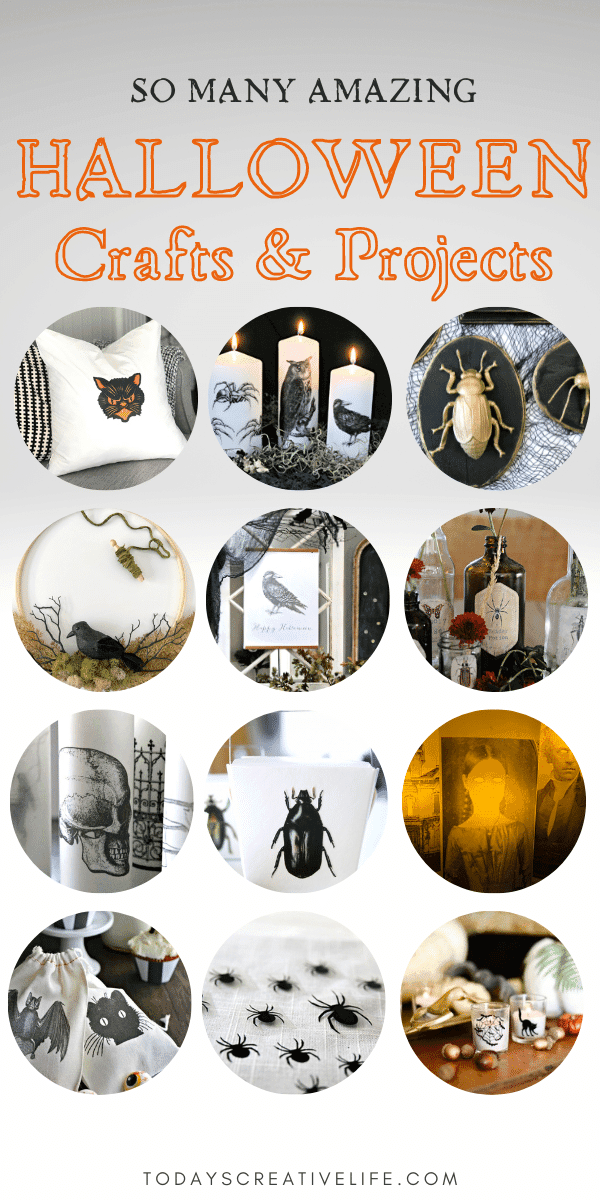 DIY Halloween Crafts and Decor Ideas
Creating your own Halloween decorations not only adds a personal touch to your home but also offers several benefits. Firstly, DIY decorations allow you to unleash your creativity and customize your spooky setup according to your taste. No more tacky store-bought decorations!
DIY decorations are also often more budget-friendly compared to store-bought options. With a little creativity and resourcefulness, you can repurpose items you already have at home or find affordable materials at local craft stores. This allows you to save money while still achieving a stunning Halloween transformation.
I'm sharing a few of my favorite homemade Halloween ideas that I've created and used year after year.
DIY Spooky Halloween Centerpieces
The dining room table is often the center of any Halloween gathering. Even if it's just the family dinner, it's fun to have some festive decor. These centerpiece ideas are great ideas if you're throwing a Halloween party.
Halloween Table Decor
Creating Halloween decor for your dining or side tables is a great way to add holiday excitement and style throughout your home.
Using recyled bottles, you can create a full display of Apothecary Jars. Forage your yard for foliage and you've got yourself a Halloween centerpiece. Free printable labels are available.
I pulled out my Cricut vinyl cutter to cut a variety of spiders in several sizes and made a creepy table runner to set the table.
What better way to decorate a table, than with pumpkins and other scary Halloween items.
This slithering snake Halloween centerpiece idea is one of my favorites! Very simple to make that sets the Halloween mood!
DIY Halloween Wreath Ideas
Halloween door decor is one of the easiest ways to make a statement! I've got a few DIY ways to decorate your door for Halloween.
Halloween Wreath Ideas
Halloween wreaths are a great addition to your Halloween porch, or use them to decorate your indoors. They are a fun and versitile Halloween decoration you can craft yourself.
Use this Crows Nest Wreath inside or out. Creepy but with style is what I had in mind when I made it.
Here's a full round-up of a few of my favorite Halloween Wreath Ideas from fellow bloggers.
This grey and black spiders web wreath is another great craft for your front door or inside.
Not full on Halloween, but it will pass. Moss covered wreath with a fuzzy owl, acorns and pinecones sets the tone for fall.
Using a ceiling medallion and a fun free printable, this is such a unique and creepy wreath idea for Halloween.
Easy Halloween Crafts
Halloween crafts are some of the most fun to make! Especially if you can also decorate with them. I'd say almost all my Halloween crafts are things that I end up DIY Halloween home decor.
Easy to Make Halloween Crafts
Easy to make crafts for Halloween are my favorite. Spooky, creepy and fun craft ideas you can give as gifts, decorate with or just enjoy!
Make your own Halloween decorative pillows with pillow covers and iron-on transfer paper. Find the free printables in The Printable Vault.
These are so cool! Plastic bugs and some spray paint made the cutest DIY decor for Halloween.
Spooky crafts are easy with Victorian photos printed on vellum. Carve the eyes out and place around a candle vase. Free printable Victorian photos.
You'll never believe how these were created and it WAS SO EASY! Halloween candles are some of my favorite crafts.
Vintage bugs make great no carve pumpkins!
Vintage bugs also make great items to decoupage on treat boxes.
More vellum paper Halloween candles. Grab these free creepy printables in The Printable Vault.
No carve pumpkins are my favorite. Here are a few great ideas.
Halloween Cricut Projects
If you have a Cricut or Silhouette craft machine, then you've probably made a few projects for Halloween. Cricuts are great for making any holiday projects for home decor, gift ideas and more. Here are a few that you can find on Today's Creative Life.
Cricut Halloween Ideas
Owning a Cricut makes creating for any holiday more fun. The possibilities are endless, you'll be making paper crafts, vinyl, iron-on and more.
Using the print and cut feature makes it easy to cut out these vintage images for iron-on treat bags. You don't need a Cricut to complete this Halloween craft, but it makes it easier with no scissor cutting.
We all know a pillow case is the preferred Trick or Treat bag, so why not add some iron-on vinyl!
More bug decor for Halloween! I'm seeing a theme! Iron-on black vinyl on this pillow is PERFECT!
Adding a Halloween design using your Cricut to cut with black vinyl for fun Halloween shapes is a simple way to add a professional look to your homemade crafts.
Add a little extra to those treat boxes by cutting spiders with your Cricut.
Make quick and easy treat boxes using spooky shapes cut my your Cricut or Silhouette cutting machine.
Budget-Friendly DIY Halloween Decoration Ideas
Halloween decorations don't have to break the bank. Most of the items I've shared so far are great ideas for decorating for Hallowen. Here are more budget-friendly DIY ideas to make your home spooktacular without spending a fortune.
DIY Halloween Decorating Ideas
Decorate your home inside and out with these simple Halloween decorating ideas.
One of my favorite ways to decorate for the seasons is to print vintage poster sized wall art! At a fraction of the cost you can have stylish wall art!
Adding just a hint of Halloween is sometimes all you need. Look around your home and see how you can repourpose something.
Adding cut vinyl Halloween images to a blank frame is a simple and budget-friendly way to decorate.
Create your own Halloween terrariums with jars and Halloween elements.
Decoupaging pumpkins is a great way to decorate without carving.
Learn how to make printable poster wall art for easy DIY Halloween Decor Ideas.