With this easy Halloween craft you'll be able to make yourself budget-friendly Halloween Pillow Covers with iron-on transfer sheets, vintage Halloween graphics and blank pillow covers. DIY Halloween decor is a great way to create a custom and stylish look for indoors or out.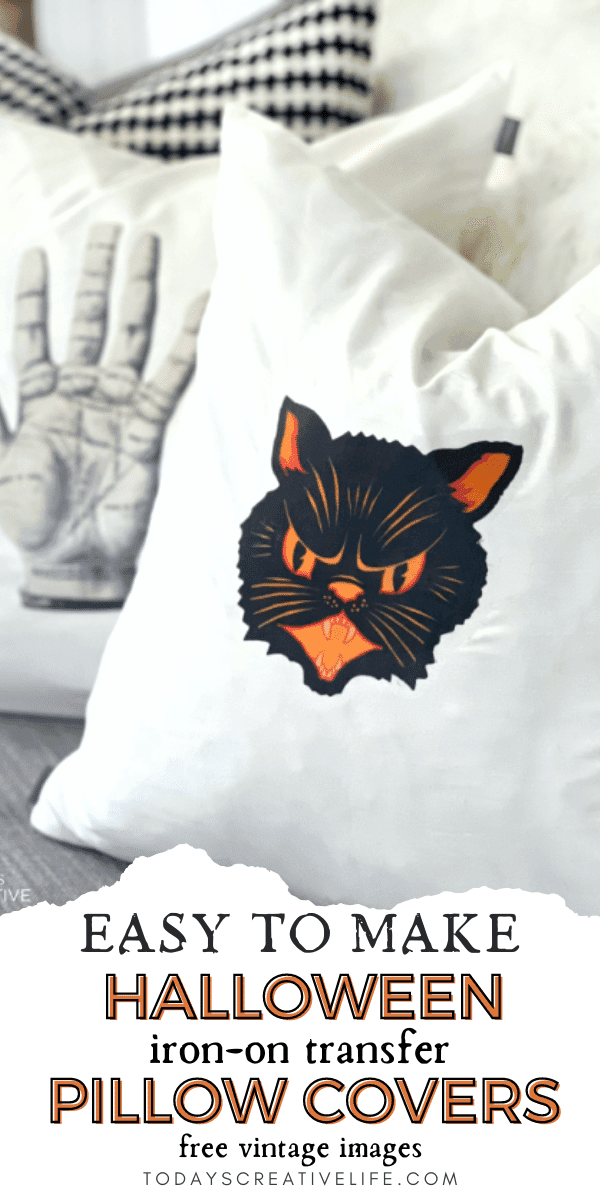 Iron-on Transfer Halloween Pillow Covers
If you've been around Today's Creative Life for a while, then you know how much I love to make seasonal DIY decor with iron-on transfer sheets. It's a great way to create your own style at a fraction of the cost. I fell in love with these vintage graphics and wanted to use them somehow in my Halloween decorating, and decided that pillows were simple, quick, and would add just enough Halloween spookiness.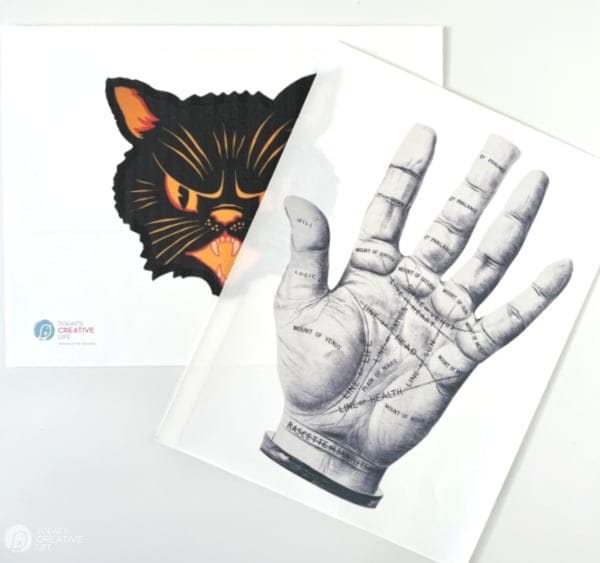 You can download these vintage images and so much more when you visit The Printable Vault which is free to subscribers. You can subscribe here.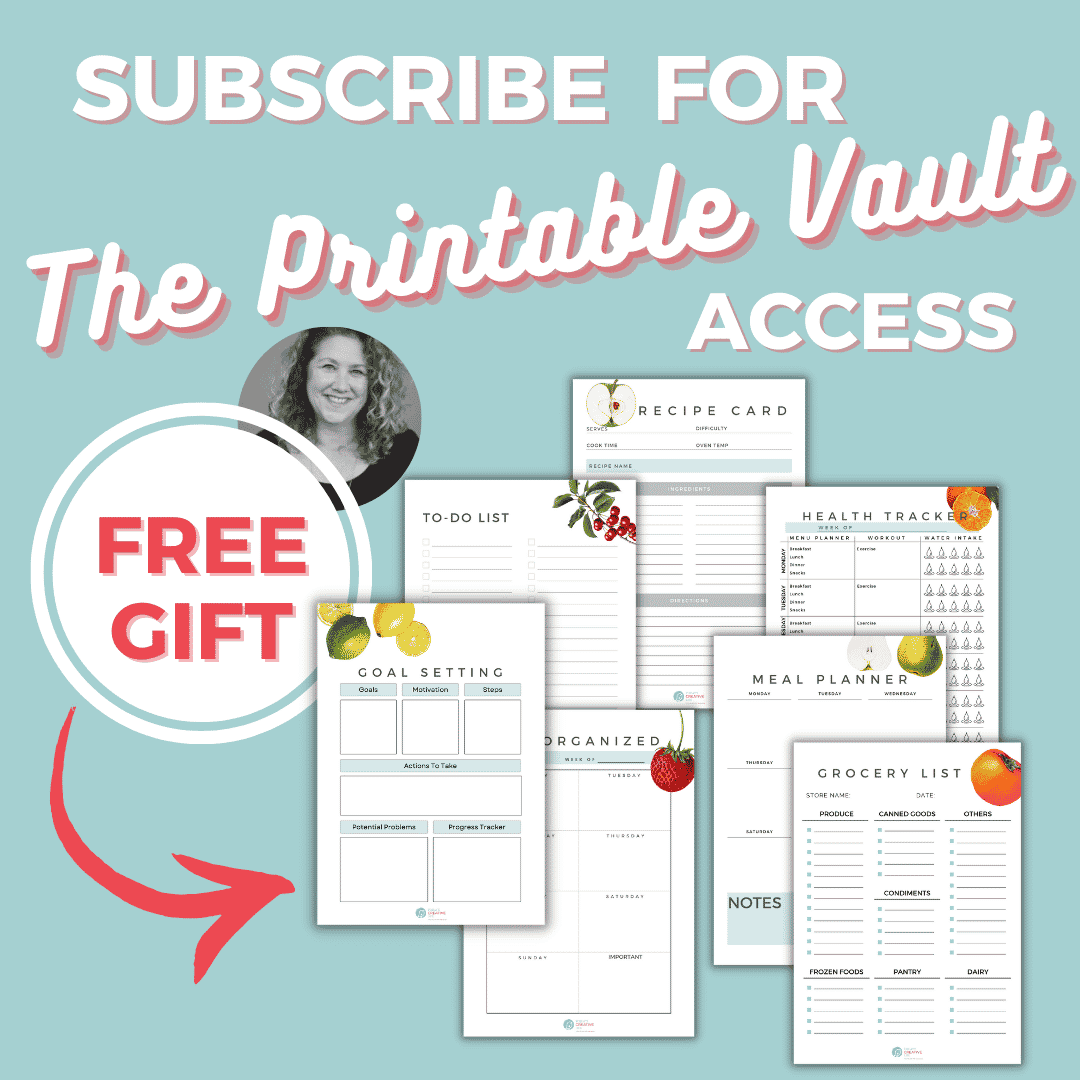 Supplies Needed for Making Iron-on Halloween Pillows
Halloween crafts you can use for your Halloween decorating are my favorite! Decorations for indoors don't get any easier than designing pillow covers for any holiday. You'll need the following items for this Halloween craft.
Iron-on Transfer Paper – One package will give you enough for at least 10 projects. Make sure you get the type for light fabrics. They also have dark fabrics or for stretch fabrics.
Iron – you'll need just a regular iron. I used my Cricut EasyPress.
Images & Graphics – You can use the graphics I have here, (they are located in The Printable Vault) or you can use any image you'd like. If you're using an image with text, be sure to reverse the image before printing. Because each printer can be different, google how for your particular printer.
Pillow Covers – I used blank white cotton pillow covers. You want to stay away from heavy textured fabric, or velour. I prefer linen, cotton, or a cotton linen blend.
Scissors – you'll need scissors to trim the image once you print it out.
Inkjet Printer – Just a plain inkjet printer will do. Photo printers will be more vibrant. I have the ultimate crafting printer which I absolutely love!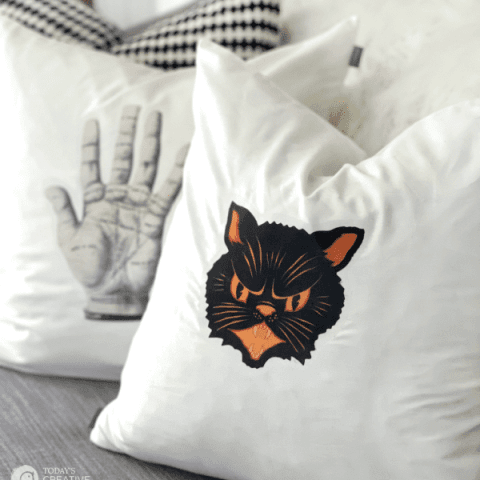 How to Make Iron-on Halloween Pillows
Yield: 1
Prep Time: 10 minutes
Active Time: 10 minutes
Total Time: 20 minutes
Difficulty: Easy
Estimated Cost: $20
Create Halloween pillows with vintage designs by using iron-on transfer paper. This Halloween craft is easy to make and makes budget-friendly DIY Halloween decor.
Materials
Iron-on Transfer Paper for light fabrics.
Cotton blend cover - Cotton or a cotten linen blend is best. No heavy textures.
Image Designs you want on your pillows - Find the Black Cat and Palm in The Printable Vault.
Tools
Iron - I used my Cricut EasyPress.
Printer
Scissors
Instructions
Gather your supplies.
Follow the Iron-On Transfer Paper instructions and print the images you want to use. Usually, they are all shiny on one side and a flat mat on the other. You'll need to load your printer so you're printing on the flat mat side. The brand I use has a red line on the shiny side. If you want to use the vintage cat or palm images, you'll find them in The Printable Vault.
Trim the images leaving about a 1/2 inch around the design.
Prep your material (pillow cover) by ironing with no steam to remove wrinkles.
I always place a piece of cardboard or cardstock inside my pillow just to make sure there is no sticking to the second layer.
Place the design face down on the material.
ATTENTION: if you are using an image with text, you'll have to reverse the image before printing. I forgot about this and had to re-print it. I have provided an already reversed ready-to-use Palm image and a regular one for other Halloween craft ideas.
I use my iron on the cotton setting. NO STEAM. Follow the instructions on the paper package for timing.
If you're using a Cricut EasyPress, I set the temp for 350° for about 25 seconds. (I know it shows 330°, this was after it had cooled while ironing)
Let the fabric and design cool before peeling the paper away.
Fill your Halloween pillow cover with a pillow insert (I like these) and enjoy!
Notes
You can use these vintage images for other iron-on transfer projects. Cotton dish towels, table runners, t-Shirts, totes and more.
Use these printable images for other Halloween crafts; Halloween garlands, cupcake or cake toppers. printable art and more.
Cost was loosely calculated because some items I already had. The paper runs between $10-$15. The pillow covers are a pack of four and i paid $15.
Recommended Products
As an Amazon Associate and member of other affiliate programs, I earn from qualifying purchases.
Ideas for Halloween Decorating
When you want to decorate for Halloween or any holiday, making your own Halloween pillow covers is easy and adds a unique style. It also saves you so much money… just one seasonal pillow, if you were to purchase at a home store could cost you between $20 and $80!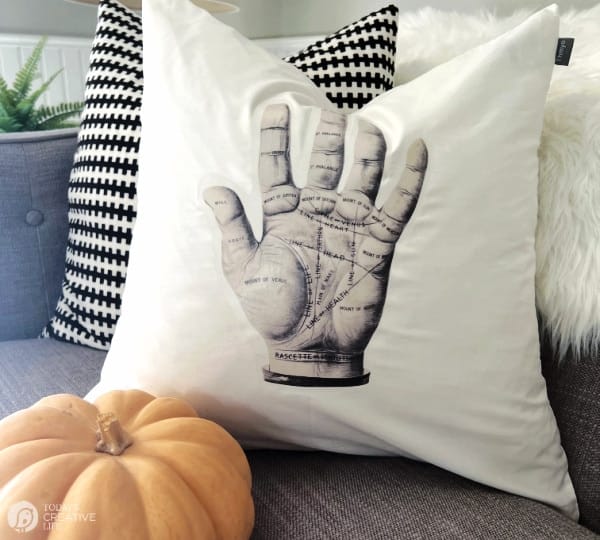 Halloween Craft Ideas
There's a Halloween category located in the toolbar at the top of my website. You'll find LOADS of easy but really cool Halloween craft ideas. Here are a few of my favorites I've made to decorate my own home for the Halloween season.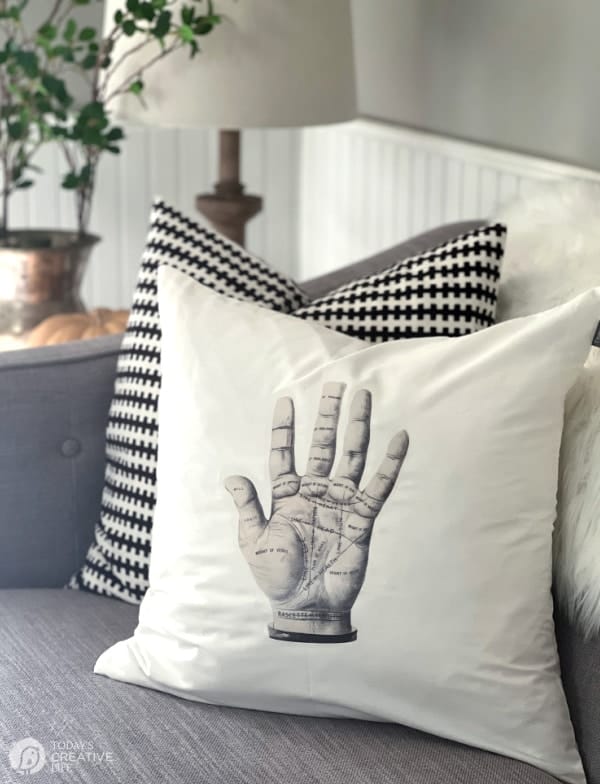 Where to Find Halloween Graphics or Images
I love looking at Hungry JPeg for fun graphics. They even have many for commercial use (be sure to look at their commercial license) Or find the vintage black cat face and the palm reading hand map here.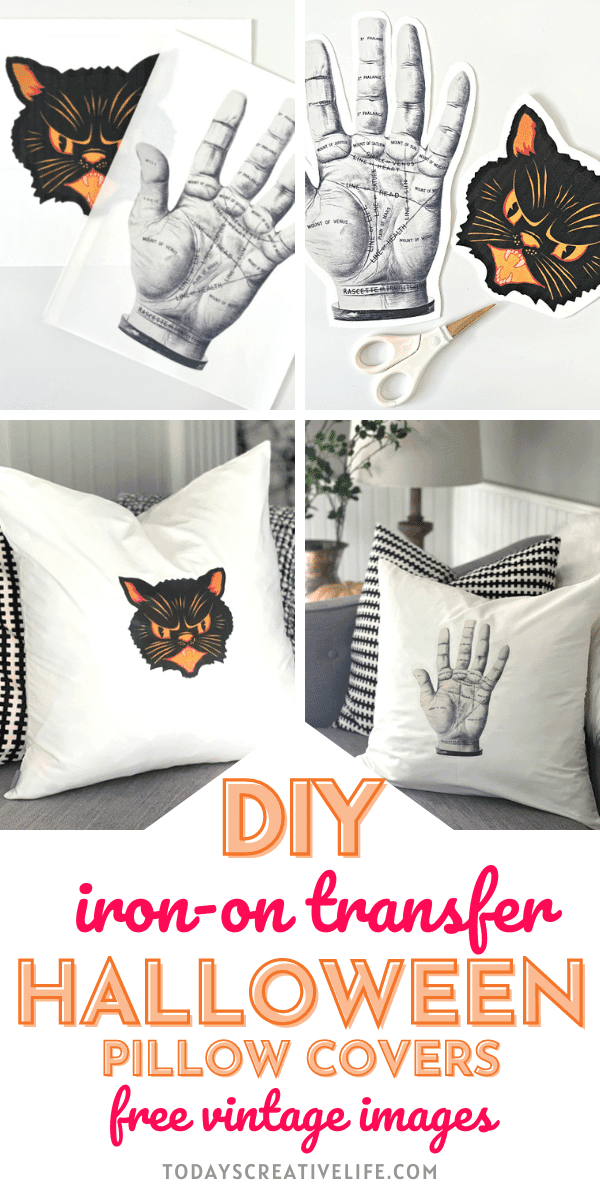 Easy DIY Halloween Decorations
DIY Halloween decor brings out the creative spirit in everyone, allowing you to craft your own ghoulish wonders to spookify your home. From eerie haunted house vibes to no-carve pumpkin ideas, these homemade decorations add a hauntingly delightful touch to your Halloween festivities.
Halloween crafting with bugs and spray paint make beautiful Insect Taxidermy.
Easy Halloween craft of transferring printable Halloween images onto wax candles.
This simple homemade Halloween decoration is extra creepy with vintage old printed photos.
Creepy crawly Halloween centerpieces are a home decor favorite! Simple and easy!
Cut all the spiders with your Cricut for a crawling spider table runner.
Printable Wall Art for Halloween! This raven printed as a poster is perfect for vintage DIY Halloween decor.
Print off these free labels for this fun Halloween craft.
Print, decoupage and BOOM! It's that easy to make cute treat bags.
Vellum paper with candles will give you the spookiest look. Grab these free printables in the Printable Vault.
No-Carve pumpkins are my favorite way to decorate for Fall.
No- Carve pumpkin ideas using Mod Podge and Halloween paper designs is an easy way to decorate inside or out.
These printable Halloween Cutlery Pouches are perfect for your Halloween Party.