This cold weather is the perfect time to make this Crockpot Chili Recipe!
It's hearty, delicious and will satisfy even the pickiest eater. I can't believe I haven't made Crockpot Chili yet this season.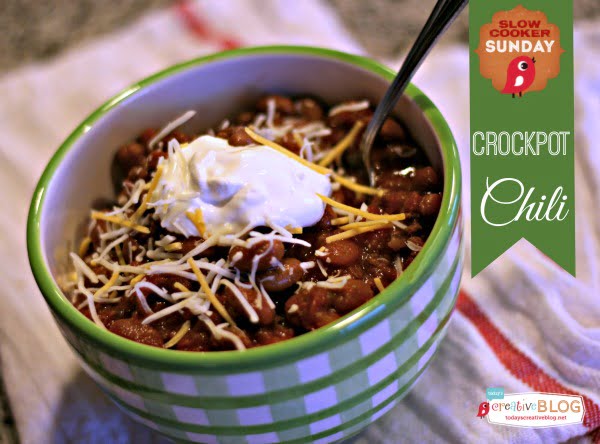 It's one of our favorites. I've got a couple of recipes that I use and I'll be sure to share the other one soon. I have however been making lots of soups. My Crockpot Tomato Ravioli Soup or my Pasta Fagioli soup are also both perfect for this time of year. Click here to see my other Slow Cooker Sunday Recipes.

The newspaper said that most of the nation had freezing temps. Below average! It's currently 17 degrees as I write this…..too darn cold! I just finished thawing out the hummingbird feeder for the poor little guys……they were just hanging out on the leafless branches of my honeysuckle scratching their heads wondering why their food was frozen. I was bombarded by the quick little wings just trying to hang the thawed feeder.
Whip this recipe up with your favorite cornbread or my English Muffin bread ……add a salad and you've got yourself a quick meal!
Crockpot Chili Recipe
Yield: We are a family of 3. We always have left over for lunch the next day.
Prep Time: 20 minutes
Cook Time: 6 hours
Ingredients
1 lb. ground beef or ground turkey
1/2 cup chopped onion (I'm not a huge onion fan, so feel free to add more. I have also used a 1/2 cup of dried onion flakes when I'm out of fresh onion)
4 cloves of garlic - I use the garlic crusher
1 (14oz) can diced tomatoes
1 can Rotel diced tomatoes with green chilies (regular size)
4 tablespoons chili powder ( I usually add more because I like it)
4 tablespoons Cumin (I usually add more of that too)
1 teaspoon oregano
1 teaspoon salt (I use sea salt)
1/2 teaspoon pepper ( I usually use white pepper)
2 cans pinto beans (drained)
1 cup chicken broth (more if it seem too thick)
2 tablespoons cornstarch
1/4 cup water
Instructions
Fry up your ground beef or ground turkey. I add and saute my garlic, onions and spices along with the ground beef, but you can just add it to the crockpot if you want.
Pour into your 3-4 qt. crockpot along with everything else, except the cornstarch and water. Stir.
Cover and cook on LOW for 6-7 hours.
Mix cornstarch and water until blended and slowly stir into your chili about 15 minutes before serving. If it seems thick enough......skip the cornstarch.
Notes
I have used a variety of beans, depending on what I have in my pantry. Black beans or Kidney beans are delicious too. Or soak your own beans the night before and use those!
Do a sample taste a couple of hours in. Adjust the spices if needed.