I love a good makeover! I love a budget-friendly room makeover even more! This breakfast nook makeover is just that!
As one of the Better Homes & Gardens LiveBetter Bloggers, my challenge this month was to refresh a room. I know most of us have at least one room, if not more that could use a refresh, especially if we've been in our home for a few years.
But it can be expensive, right? Budget makeovers are my specialty and this time, I'm featuring my girlfriends home where she transformed a kitchen breakfast nook makeover for under $400! The last room I did in my home was our Teen Hangout. See my Finished Basement Ideas here.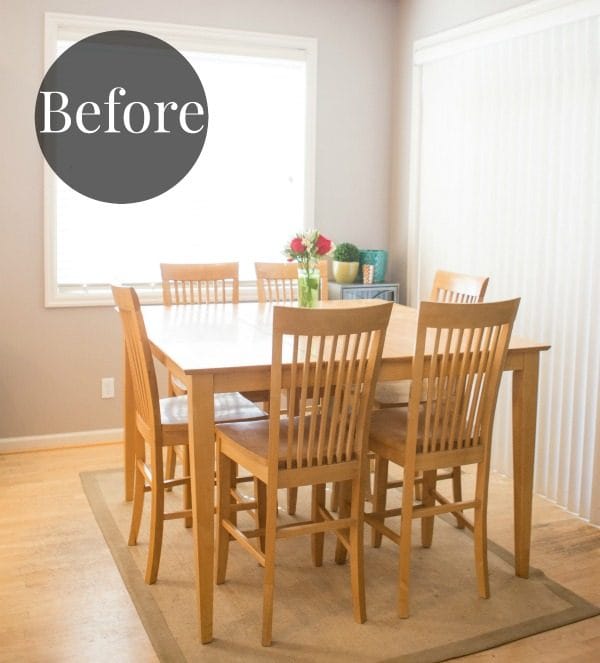 Kitchen Nook Makeover Ideas
As I mentioned, this breakfast nook makeover cost less than $400!
My girlfriend moved into her brand new home 17 years ago. It's a gorgeous home, but like all homes, they will need a bit of updating as the years go on.
She has been complaining about "hating" her home lately and really, this can be easily fixed with a few simple updates without breaking the bank.
It's like breathing new life into a tired room by redecorating, even if it's a small change.
We had just spent an afternoon recently making over her living room with items she already owned, so we were on a roll. (I'll share her living room soon).
While I was in Europe this past month, (if you follow me on Instagram, you have seen my photos) I gave her my BHG budget to purchase a few products found at Walmart. How fun to have a $400 budget to purchase a few items to refresh your home! Shopping sprees are what dreams are made of, especially if it's for home decor!
She started with the main item, a table!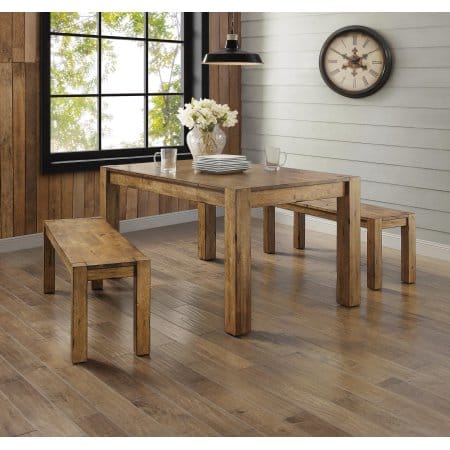 She has been complaining about her bistro style kitchen table for at least 5 years. She was surprised by the stylish and affordable options BHG had for the farmhouse style table she wanted for her space.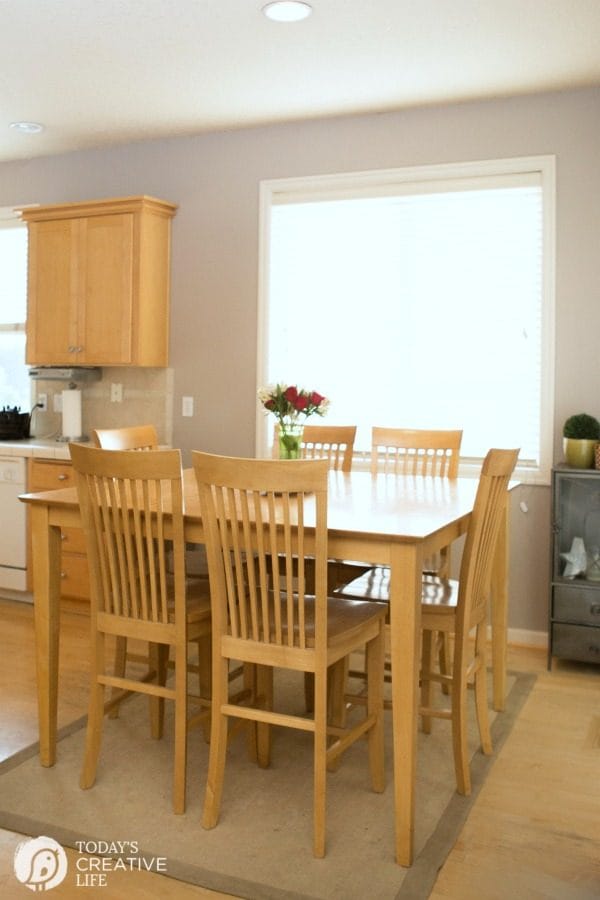 This Better Homes & Gardens Bryant Table in Rustic Brown for $199 is what she chose. She also chose one bench ($89) for one side and used chairs she already owned for the other. I love this casual look! This table has many seating options that can easily be mixed and matched with this style. Need more seating? Add another bench and move the chairs to the ends. Not only is it versatile, but you can create a different look whenever the mood hits.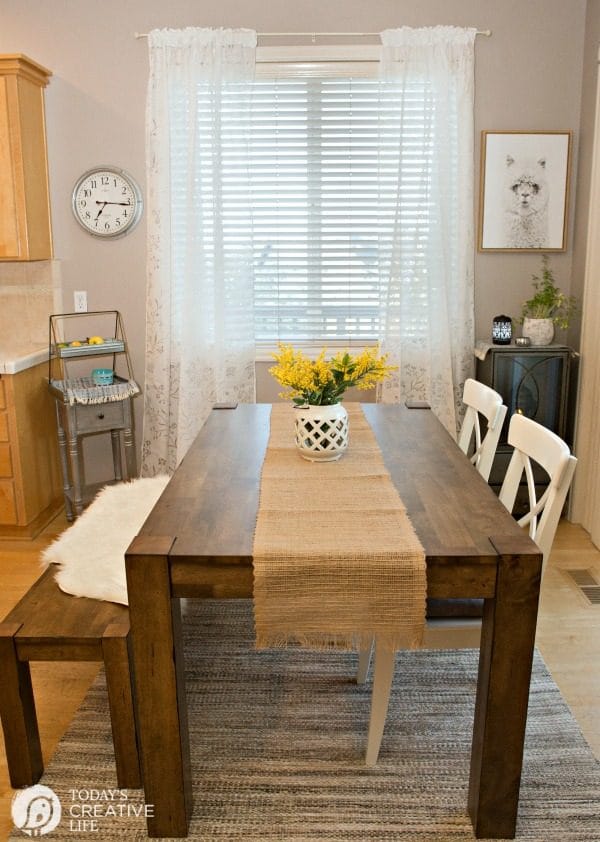 Doesn't that look so much nicer? I like how the darker brown pops against the other wood tones, adding more depth to the room.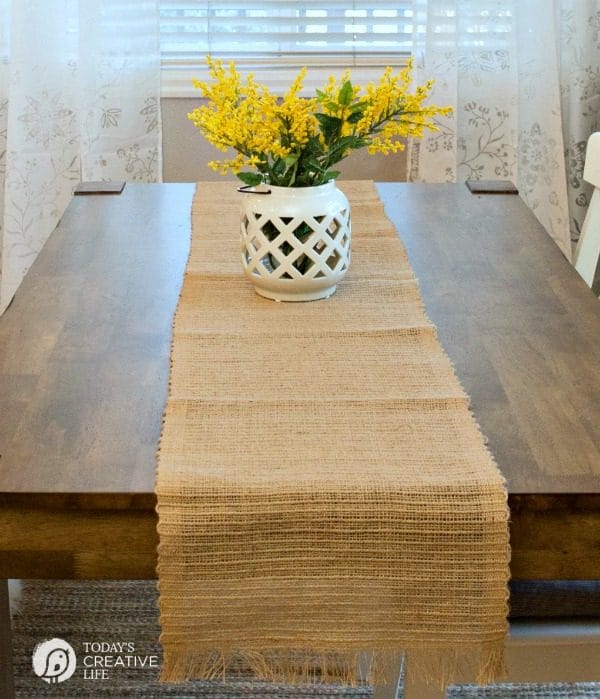 It's the perfect place for a busy family to grab breakfast or spread out a homework project.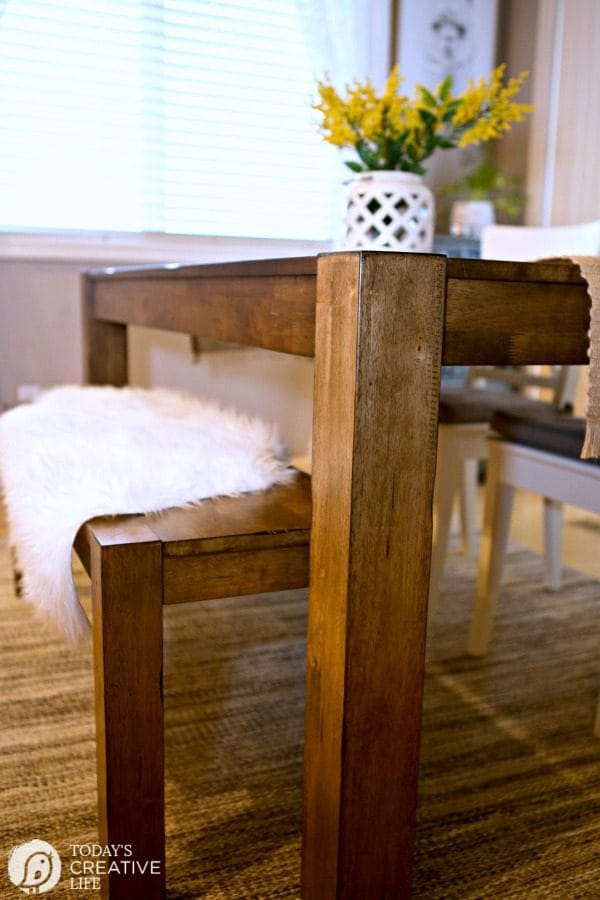 Going along with a Farmhouse theme, I love the touch of the galvanized wall clock and the galvanized 2 tiered rectangle server.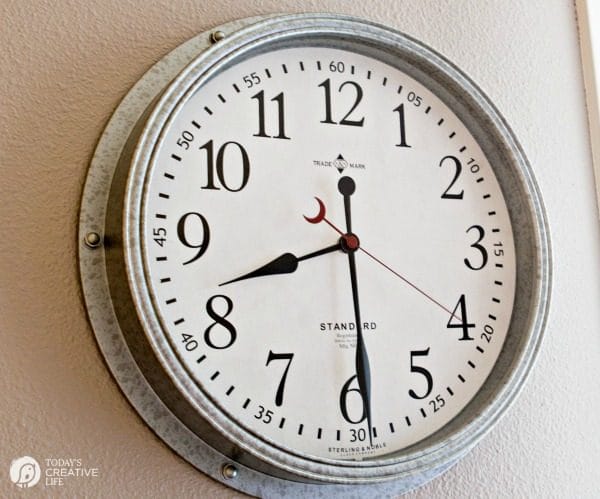 It's the simple and stylish touches that add personality to your space. Both are functional for busy families!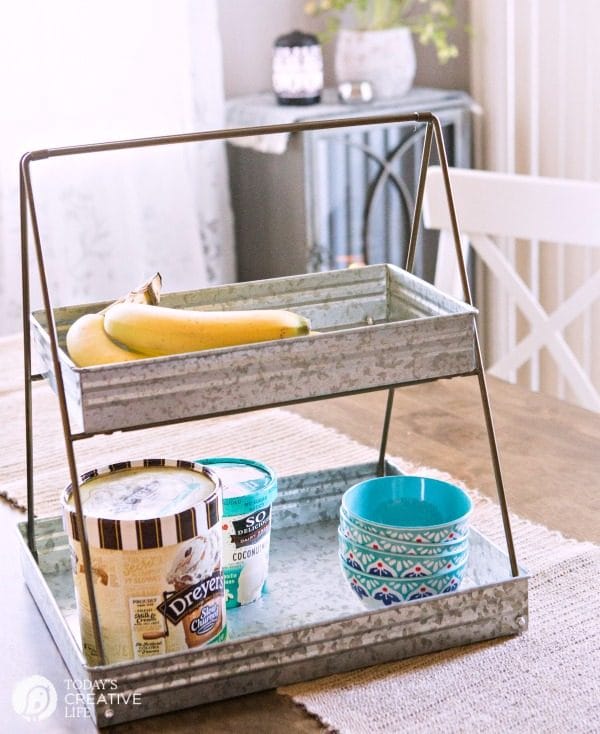 This 2 tiered Serve Tray is great for indoor or out. Load it up to store your fruits for the week, or use it for entertaining. So many great ideas!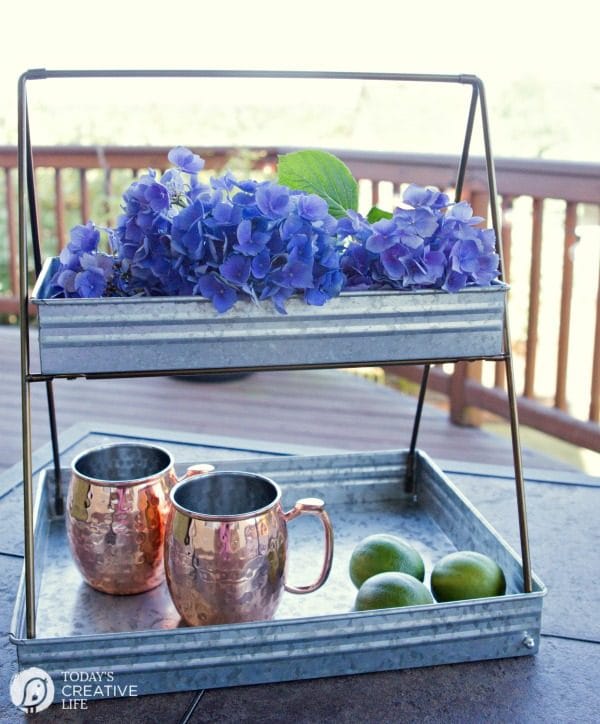 The next time you need a little decorating lift, stay on budget and check out all the Better Homes & Gardens products found at Walmart. You'll be surprised by what they have! It's more than just dishes and pillows! The fold out linen sofa I purchased a couple of months ago for my Teen Hangout is SO beautiful!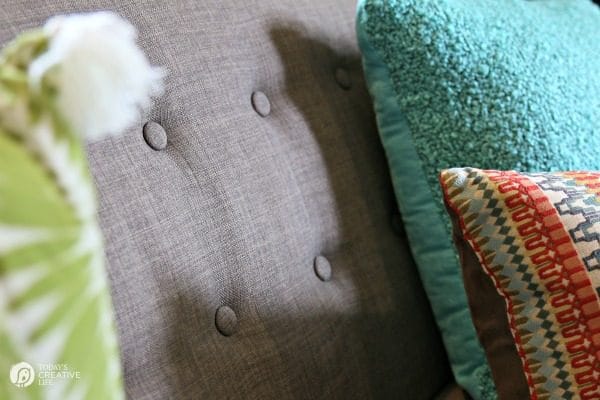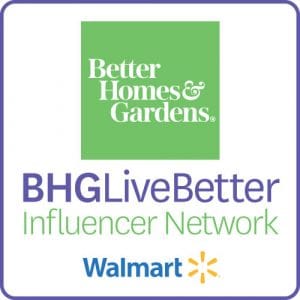 Breakfast Nook Makeover BHG Items:
Links are affiliate links and provided for your shopping convenience. TCL will receive a small percentage from each sale. This costs you nothing extra.
Total items bought for a Breakfast Nook Makeover = $383.72!
All other items used were already hers. Sometimes shopping your home and moving items around gives new life to decorating elements!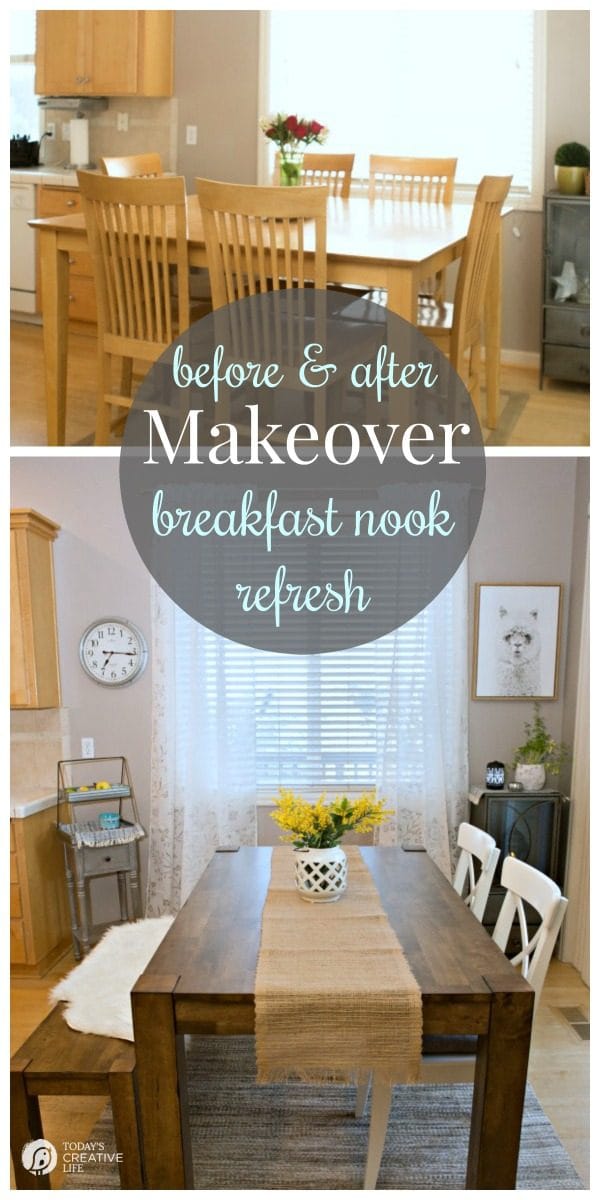 ---
More BHG Refresh Ideas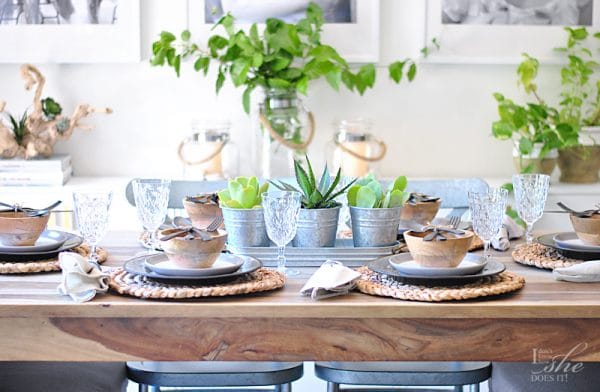 Dining Room Refresh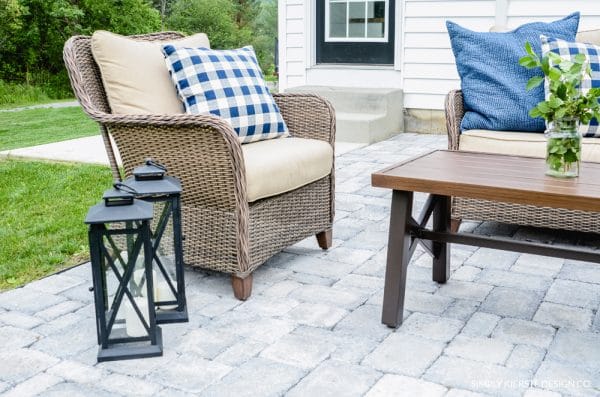 Backyard Patio Makeover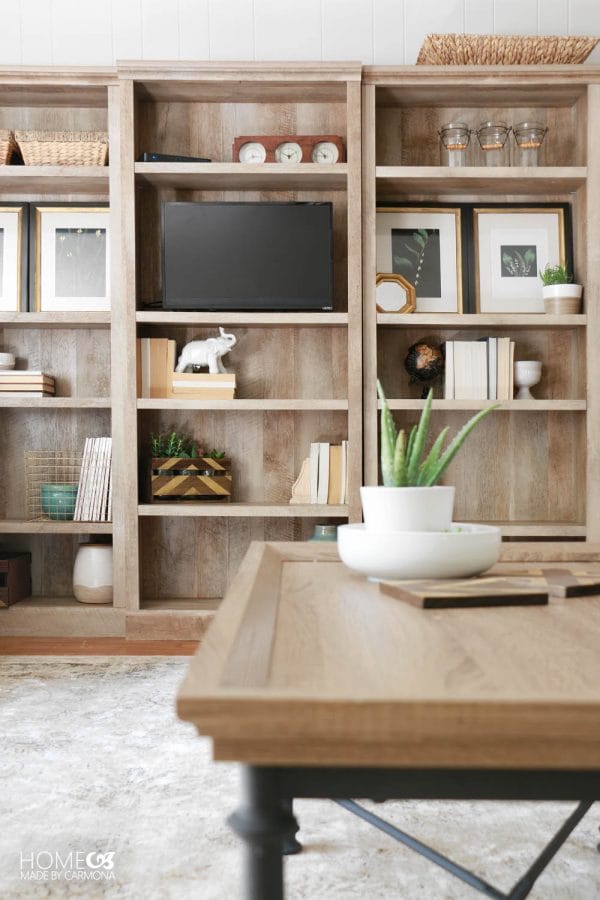 Cozy Cottage Family Room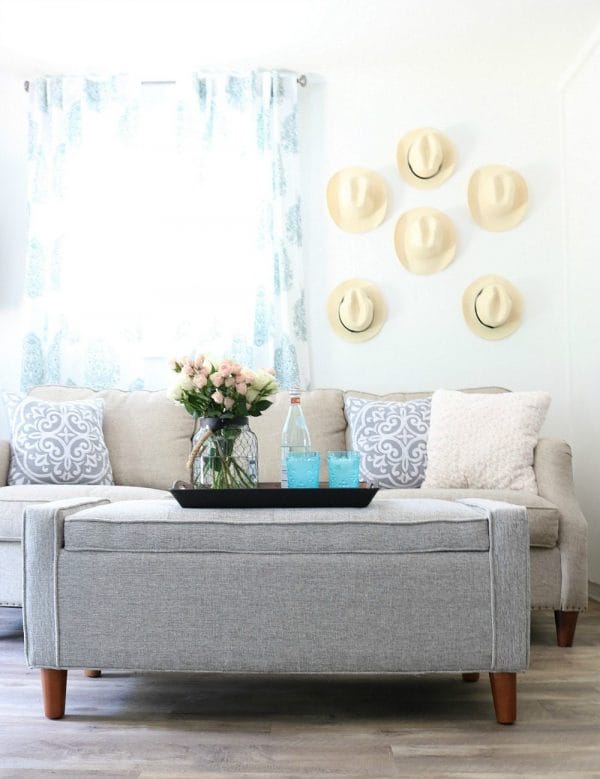 Farmhouse Cottage Living Room
This post is sponsored. I was compensated for products used and for my time. Any and all opinions, ideas, and suggestions are 100% mine. Affiliate links are included for your shopping convenience, however, if a purchase is made after clicking, TCL will receive a very small percentage of each sale. This will cost you nothing extra. Thank you for your support.