It's time for Creative Contributor Tanya from TwelveOeight to share what's she's been working on lately. She is sharing this Woven DIY YARN WALL HANGING and showing us exactly how she made it. Last month she shared her hand stamped napkins and of course the leather wrapped planter before that. It's time to get funky! Stylish and Affordable Decor is easy when you think outside the box!

Dare I say that Macrame is back? I loved making all those planter hangers.
---
DIY Yarn Wall Hanging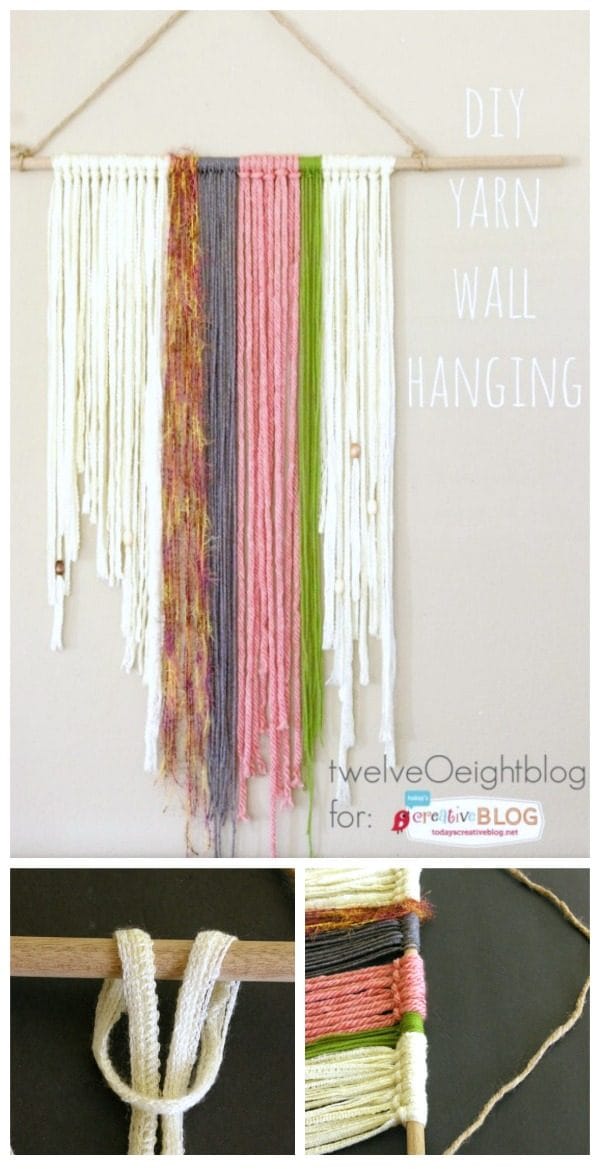 Hey crafty friends!
It's Tanya from twelveOeight here with another DIY you can put together quickly, and it's easy on the decorating budget too. Can you believe it's almost the end of February by the way?!
I have seen lots of daffodils and early Spring flowers popping up all over, and I couldn't be happier!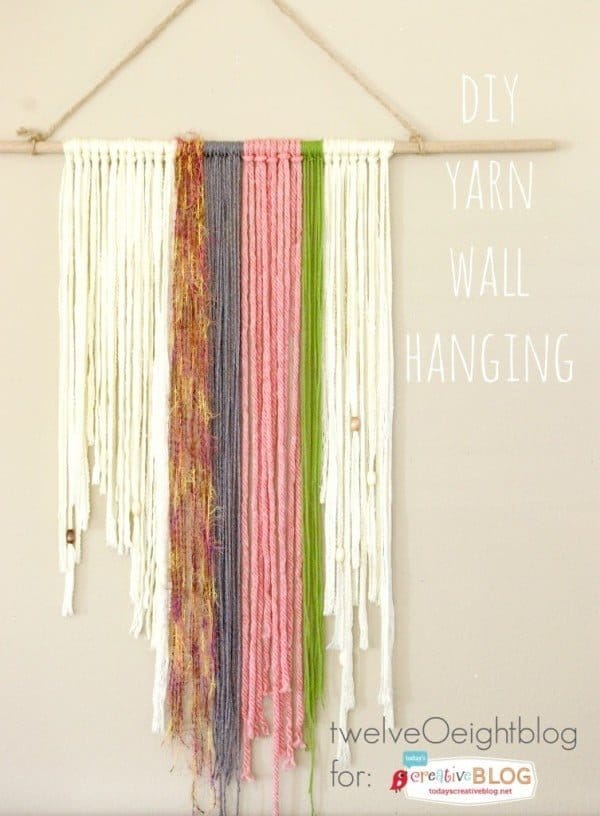 I have a love affair with mixing things I like and coming up with a vibe that works for me. And I have also found this to be helpful since all of our tastes and interests change over time.
Mixing modern, vintage, something chippy and shabby, and a treasure right off the set of Three's Company seems to be a current mix.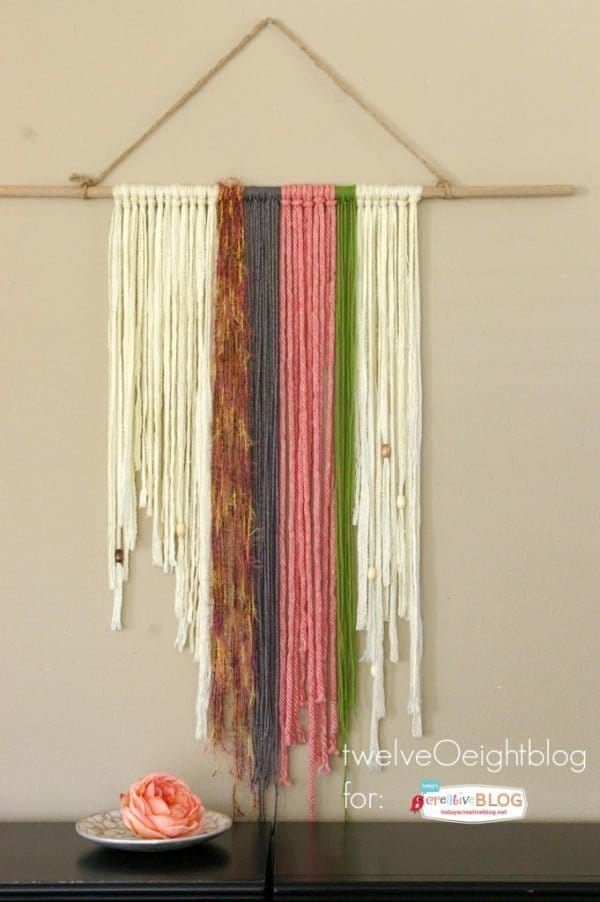 Here is a project I worked on recently that is on trend and oh-so-easy (and thrifty, because you may already have most of the elements on hand!)
I have a long (and currently beige…but not for long) wall in my living room that is a rotating gallery of stuff I like. After bringing in some woven blankets, and a few more vintage pieces, the space needed something cool.
So, you know…I looked and pinned. And looked some more. Then I realized I just needed a wooden dowel to create a pretty DIY Yarn Wall Hanging that I have seen popping up in both neutrals and brights.
Here is my version…
DIY Yarn Wall Hanging Supplies:
Some links may be affiliate links.
36″ wooden dowel or a piece of slim driftwood
2-3 feet of jute twine for the hanger
Assorted yarn in colors and textures you like (don't be afraid to get a little wild with the color!)
A handful of wooden beads openings large enough for yarn to fit through
How to Make a DIY Yarn Wall Hanging:
I used sections of yarn varying in lengths ranging from about 60″-80″ long, folding them in half and looping them over the dowel like you see in the picture. I trimmed a few ends, but not many, I like how uneven and raw the ends look in contrast to the straight dowel. It seemed like a good balance to me. Next, I added a few wooden beads here and there, and they already fit snugly on the yarn they are hanging from so they didn't need to be tied.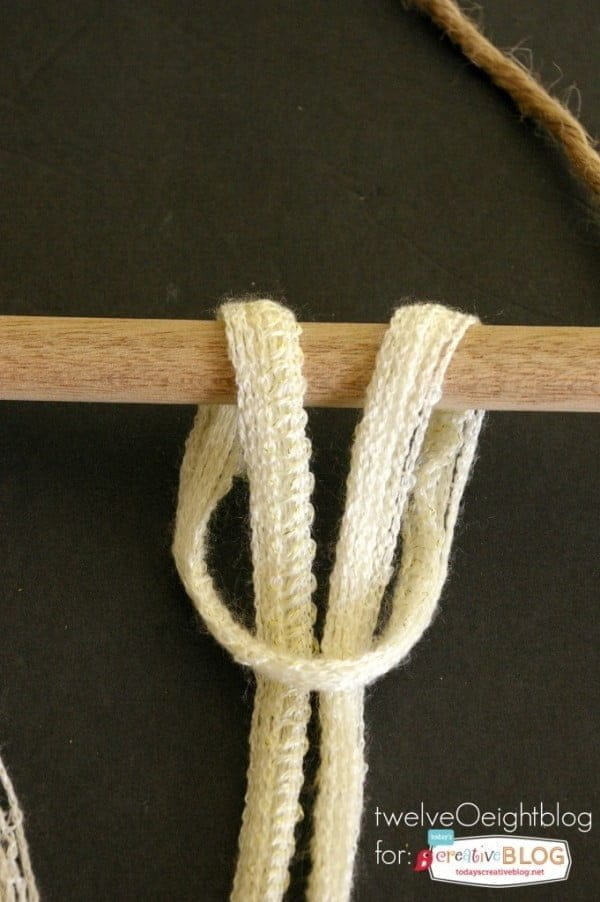 I used my jute twine/rope making a double knot at each end to create the hanger, and voila!
A super cool new piece of art that brings more dimension and texture to any space.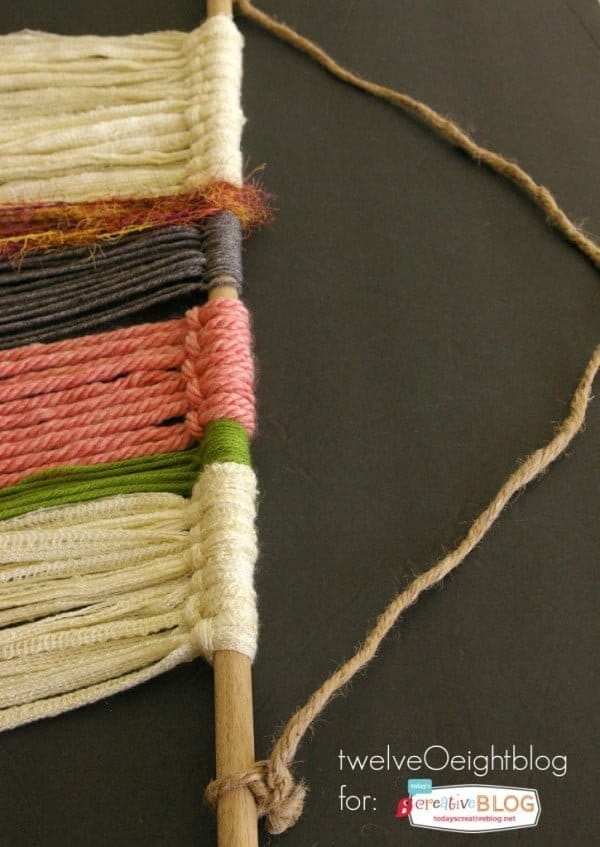 I love how it turned out!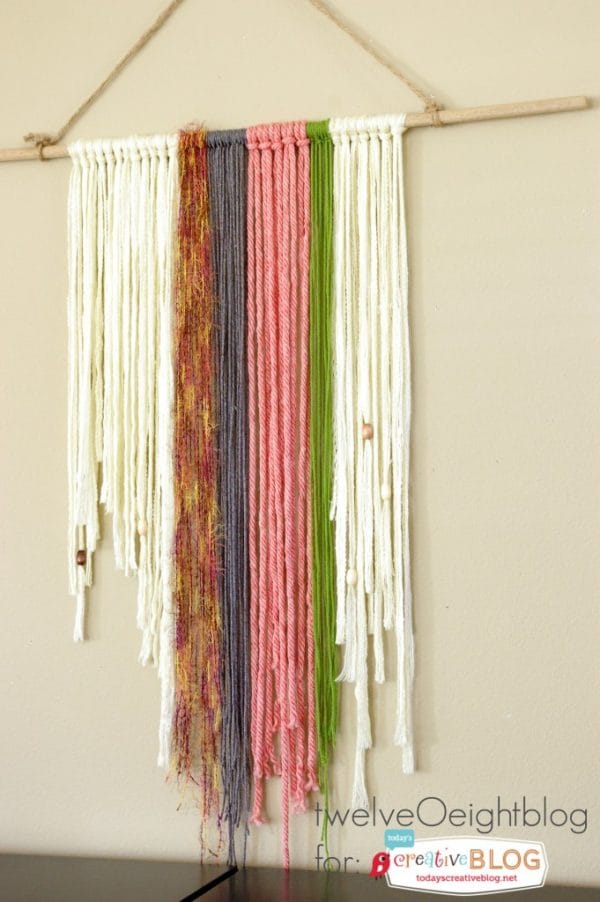 What kinds of throwback things are you digging right now? You have to have a few things that are on your
"look for" list…leave us a comment and let us know!
I love to hear what fellow crafters are into, and it will help reassure me that I am not spending to much time junking and thrifting (like that's possible.)
If you like this look, and you like crafting, you'll probably also love this DIY Wall Art Yarn Wrapped LOVE!
Thank you SO much for creating with me today, and thank you, Kim, for sharing your awesome creative space with me!! See y'all soon, in the meantime, you can see what else is getting painted and made at twelveOeight here:
---
More Creative DIY Wall Decor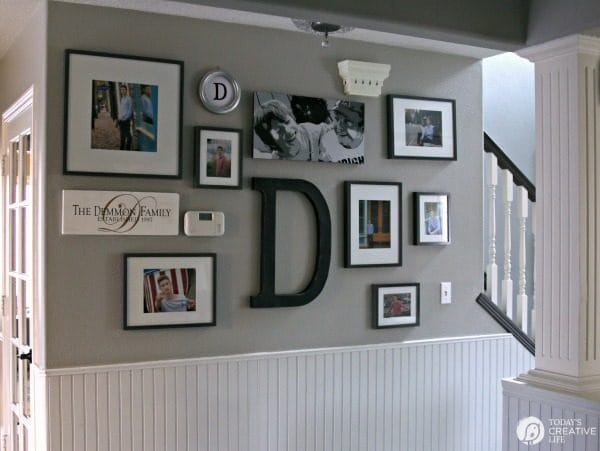 Create a Gallery Wall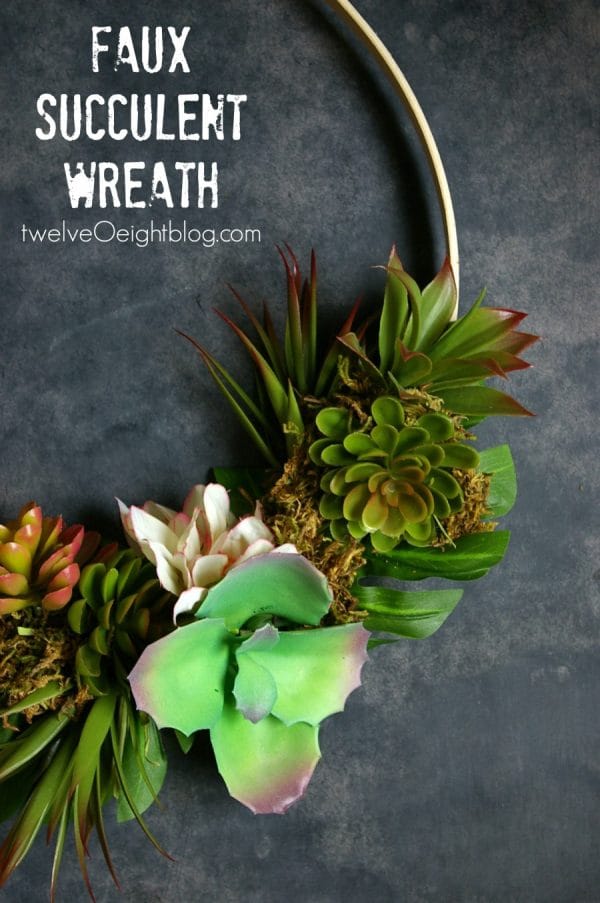 Faux Succulent Wreath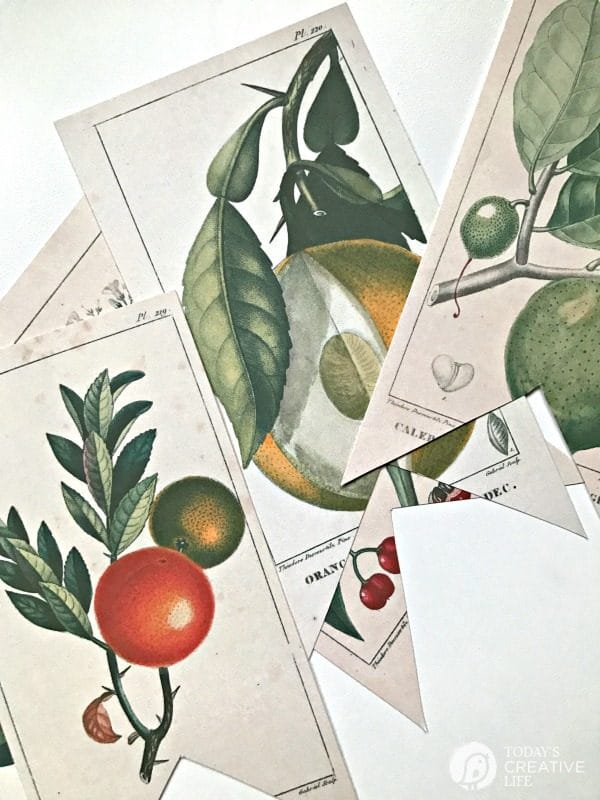 Printable Vintage Botanical Art