I am so excited today to have my fun friend Amy Anderson as a guest! Amy and I chat almost daily and it's not always about blogging. We'll giggle and think of all kinds of hair brain ideas! Amy is sharing this DIY Christmas Stenciled Bottle Craft today, which will be perfect for holiday decor! See more Creative Girls Holiday Soiree ideas!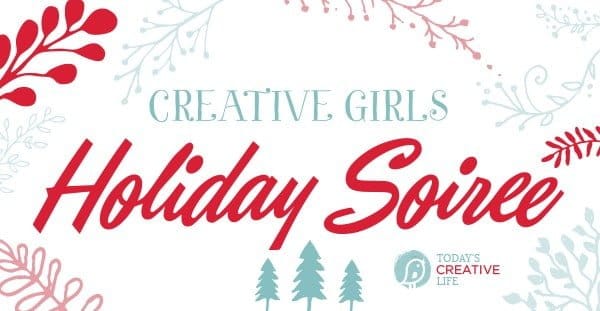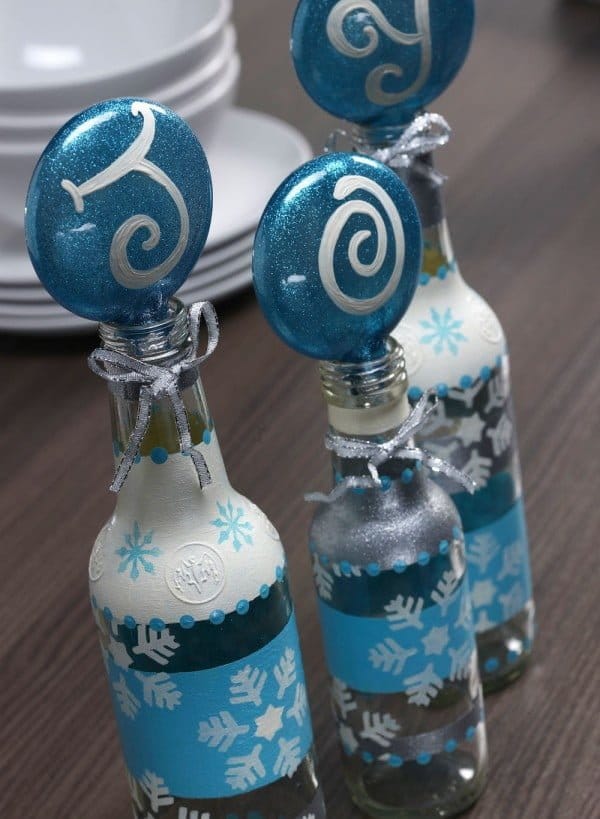 Hello! I'm Amy, from DIY Candy, Mod Podge Rocks, and Washi Tape Crafts. And to answer your next question, yes, I'm nuts. I just really like blogging apparently! I also have a confession for you today. I'm actually not the biggest fan of glitter, EXCEPT for the holidays. When Halloween season starts and goes into Thanksgiving, Christmas, and all of the others, all bets are off and I'm all about sparkly and shiny!
DIY Christmas Stenciled Bottle Craft
Speaking of glitter, I've got a Christmas craft that incorporates glitter along with paint, stencils, and recycled bottles to make a "JOY" DIY Christmas Stenciled Bottle Craft. You can put this on the mantel or anywhere else you'd like a touch of festive. Learn how to make this fun winter home decor idea below.
Gather These Supplies:
Supply list is for your convenience and may contain affiliate links.
How to Make DIY Christmas Bottles
Start with plain glass bottles. These have been used, washed, and dried.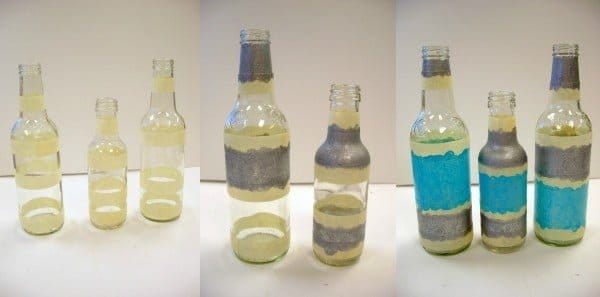 Tape off the bottles with masking tape to make random stripes. Using the 5/8″ dauber, paint the stripes with Silver Sterling. You'll also paint Calypso Sky stripes and Warm White near the top.
Once you're done painting, remove the tape immediately and let the paint dry. Paint the Silver Glitter Enamel paint over the top of the Silver Sterling paint and let dry.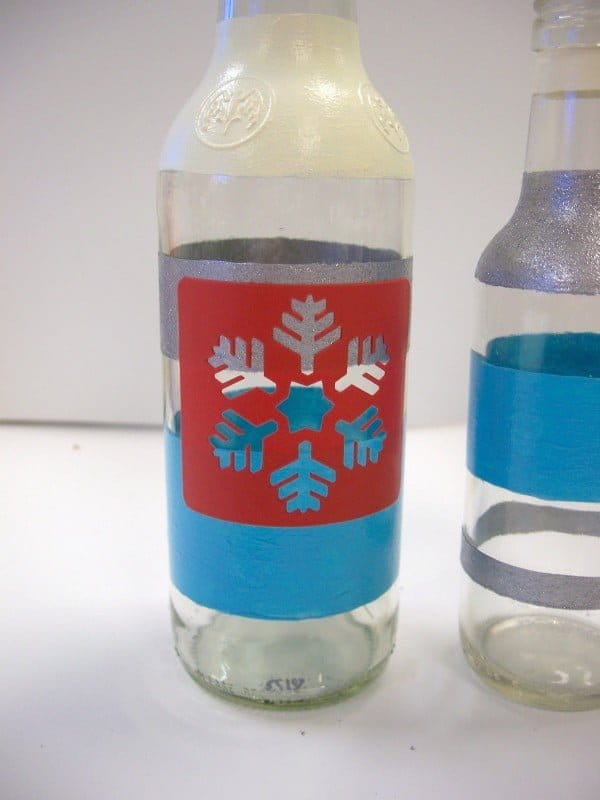 Add a snowflake adhesive stencil and stencil in Warm White using the 1/4″ dauber. Stencil small snowflakes with Calypso Sky.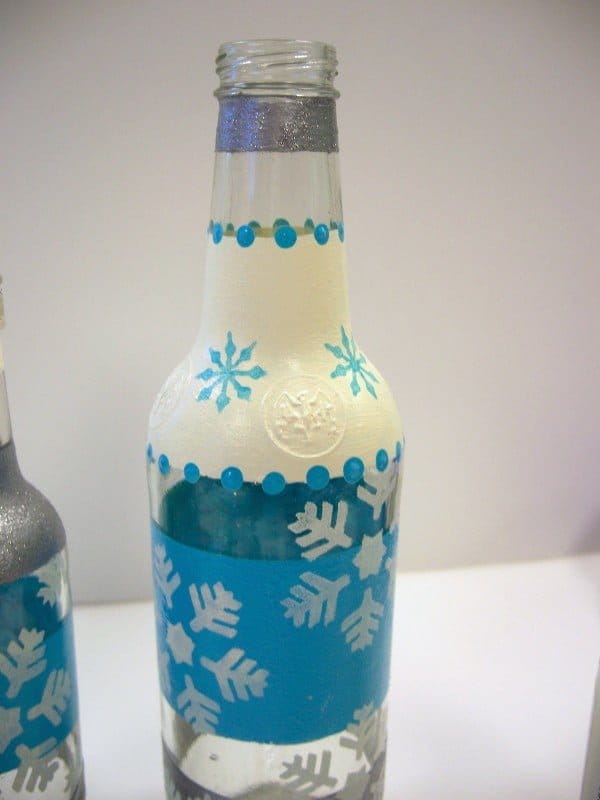 The next part is pretty fun! Add dots on the bottles as shown using Calypso Sky with the end of a paint brush. I love making polka dots!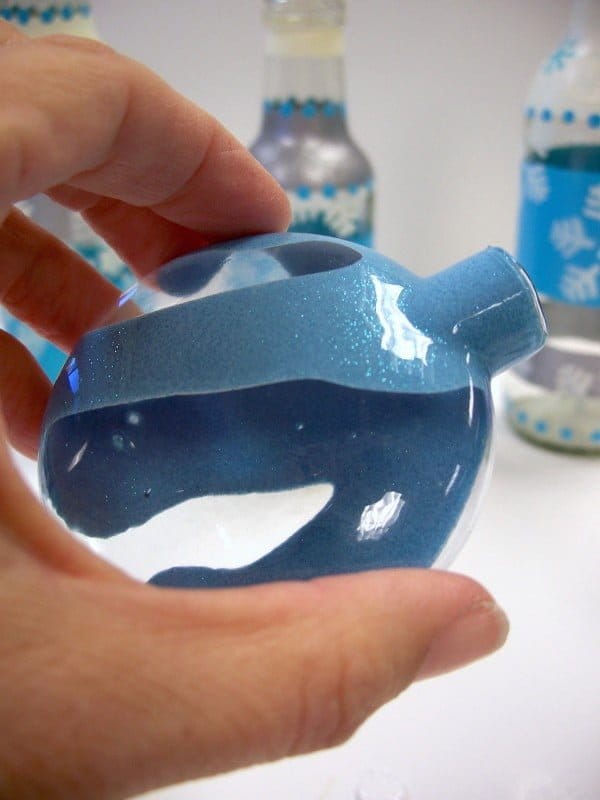 Fill the ornament with the extreme glitter turquoise. Shake until the inside of ornament if covered. Add more if needed. Repeat with two other ornaments and then set all of them upside down to allow the excess paint to drain out. They will dry to a beautiful sparkle!
Paint "JOY" on ornaments in warm white upside down, using the liner brush.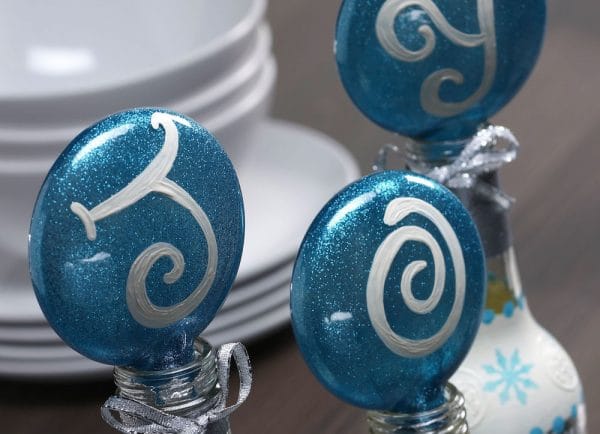 To finish, place the ornaments upside down in the bottles and then tie a 1/8″ silver ribbon to the top of bottles.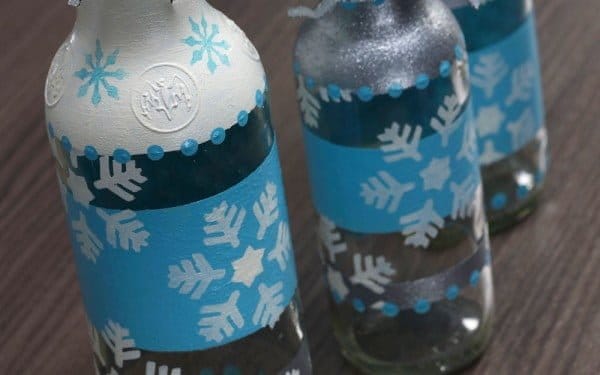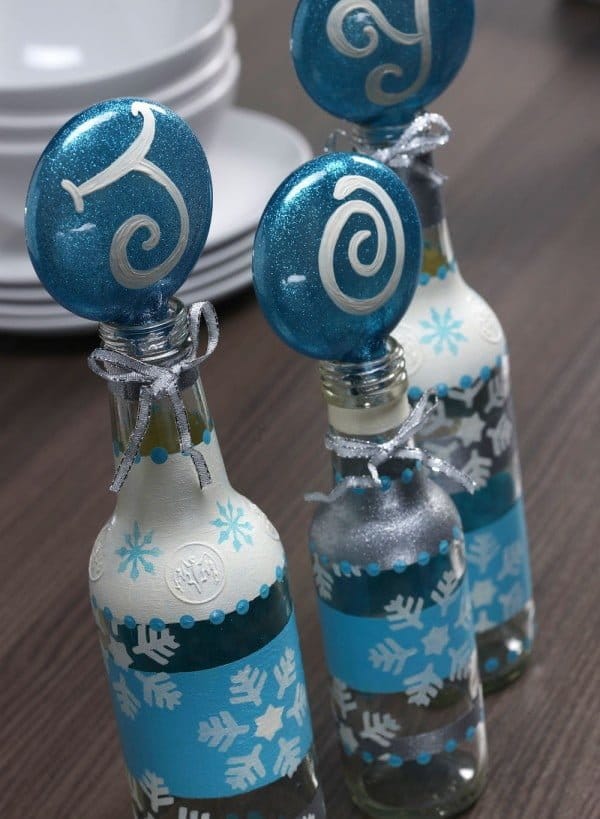 I love the pretty blue, white, and silver result – and I can keep it up the entire winter. Booyah!
Thank you so much for checking out my "JOY" display. I'd love for you to visit my Christmas crafts on Mod Podge Rocks and DIY Candy. Also come visit me on Pinterest. See you soon!