I remember making these as a child and have always thought they are the cutest cookies ever! Birds Nest NO BAKE Easter Cookies are the perfect cookie to celebrate spring, don't you think?
Birds Nest NO BAKE Easter Cookies

I think they're almost too cute to eat. I should just decorate with them, but the darn dog likes to eat things left out when when we're gone. I could always put them in a cloche. Now that would be cute.
I have to admit, I like looking at them more than eating. They were a little on the sweet side for me……. can't believe I said that!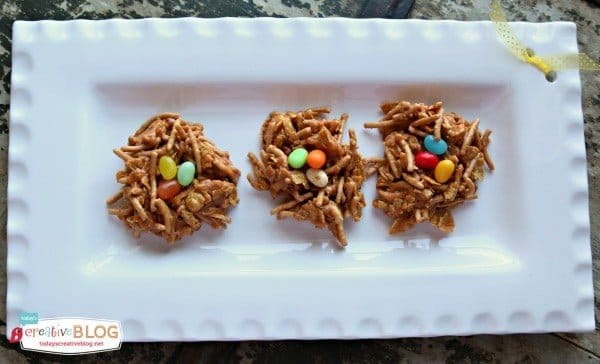 They were also messy to make, which makes them perfect for kids to help. Kids don't mind getting their hands all dirty with melted butterscotch chips and peanut butter. Since they're already no bake, that also makes them a popular recipe for little one's to help out in the kitchen.
Would I make these again? Probably not, but I may if I'm needing to decorate for Easter Dinner. I think they'd be darling sitting on the plates. Would my son make them? Yes………he loves them.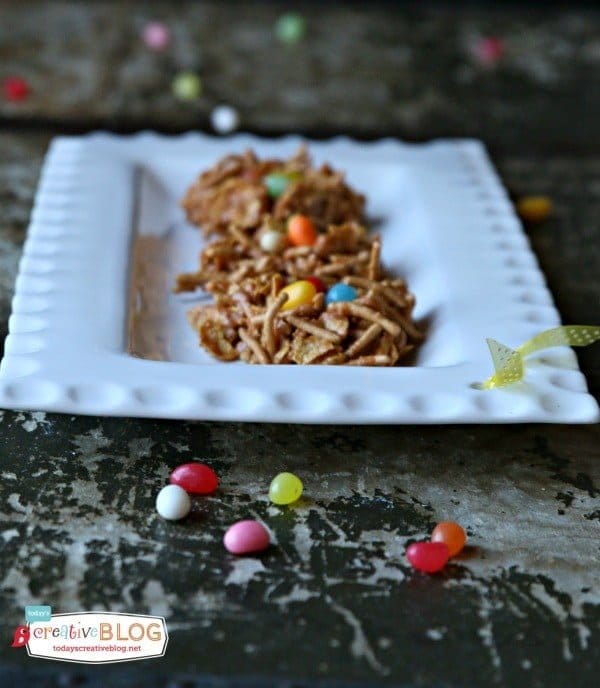 They would look pretty cute with my Easter Colored Rice Easy Table Decor. All spring time colors and all easy to do!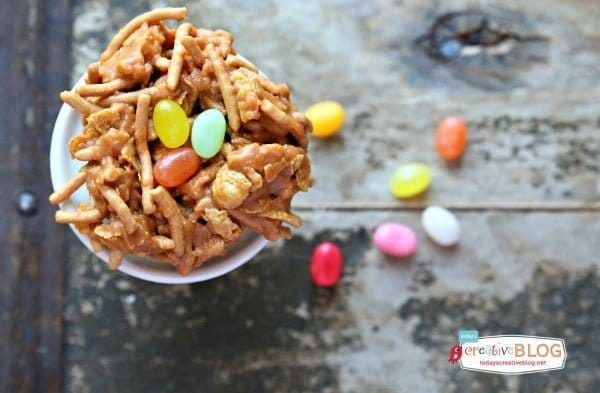 That's how we like it!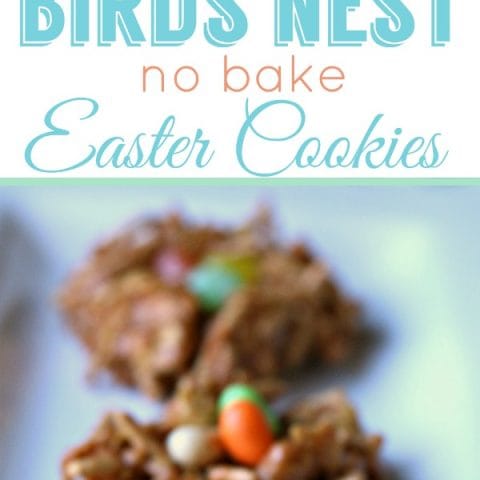 Birds Nest NO BAKE Easter Cookies
Yield: 1 doz
Prep Time: 20 minutes
Total Time: 20 minutes
Ingredients
1 cup Butterscotch chips
1/2 cup light corn syrup
1/2 Creamy Peanut Butter
1/3 Cup Sugar
2 1/2 Cups Chow Mein Noodles
2 cups corn flakes
Jelly beans or malted candy eggs
Instructions
Combine butterscotch chips, corn syrup, peanut butter and sugar in a microwave safe large glass bowl or dish.
Place in the microwave for one minute. Stir until smooth. If it looks like they need to melt a bit more, give them another 30 seconds in the microwave.
Mixture should be smooth and melted.
Stir in chow mein noodles and cornflakes. This is when I started using my hands. It was cool enough that it wouldn't burn, but if you're having little ones help, check the temp of the mixture before allowing them to mix with their hands.
Mix until completely blending.
Quickly grab a handful of mixture and form a ball
Place on parchment paper or waxed paper to set.
I waiting a couple of minutes before pressing my thumb into the center to form the nest. When I tried to do it right away, the cookie broke apart.
Place 3 jelly beans or malted candy eggs into each nest.
Allow to set for 30 minutes before eating.
More Easter Ideas.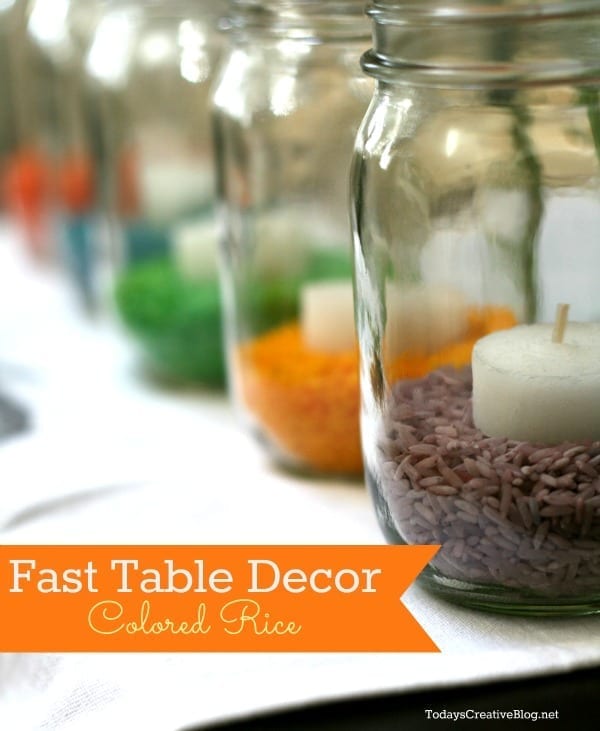 Colored Rice Easter Table Decor