Don't overthink Easter Table Decorating Ideas when it comes to a cute and stylish table centerpiece for the Easter holiday and spring. Using Easter candy, you can create your own DIY Easter decor.
I couldn't help it. I saw all the colorful Easter candies and knew what had to be done! I love Easter decorating ideas and can't resist a cute and easy Easter Table centerpiece.
Maybe it's the spring fever taking over, but I couldn't walk away from all the candy in spring colors which are always a great start for Easter Table Decorating Ideas. It reminds me of my Colored Rice Easter Table I did a couple of years ago.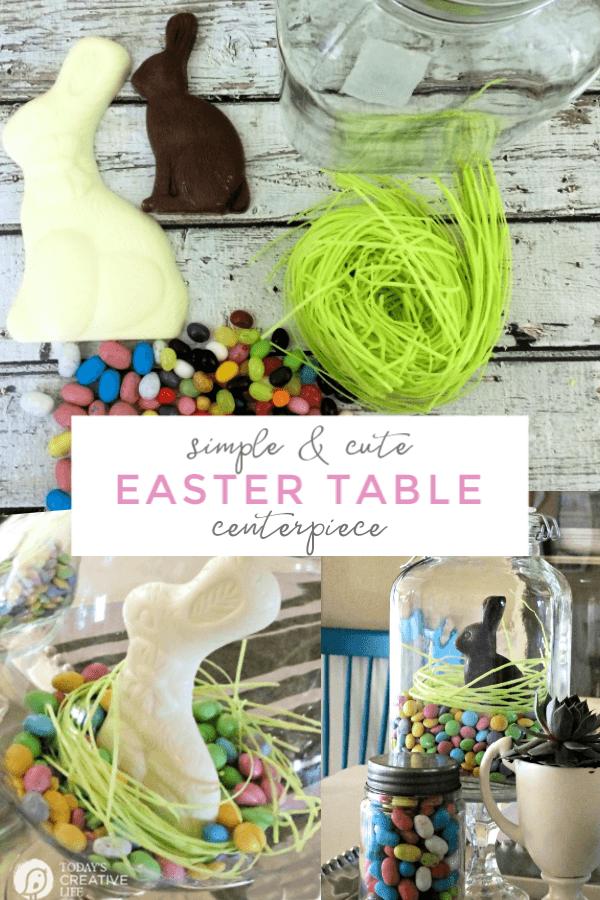 Easter Table Decorating Ideas
This only took me a few minutes.
I shopped my house for jars, apothecary jars, cake stands and trays. I used what I had, which is always a win-win!
Creating quick and easy table centerpieces is one of my favorite things to do.
I had picked up a variety of Easter candy that looked like it would be perfect for decorating. I knew I had to work fast before my family saw the bags of chocolate, and I couldn't put it aside until the next day, or it would be ripped into. In fact…… after taking photos, the contents of the apothecary jar with the white rabbit were raided.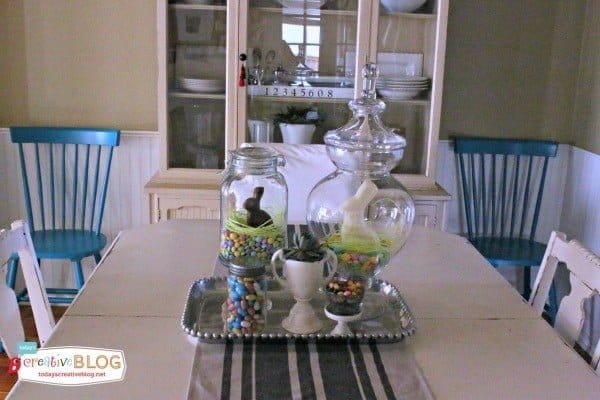 Since they knew I had already taken photos, they figured it was safe to tamper with. NOT SO! After looking at my photos, I realized that jar on the left should be pushed to the left a little. It's driving me nuts. But it will have to do because it's not looking quite as cute today for new photos.
I mean the jars are still there and 95% of them look great……but the rabbit is missing an ear thanks to my son and most of the M & Ms are missing……thanks to my husband.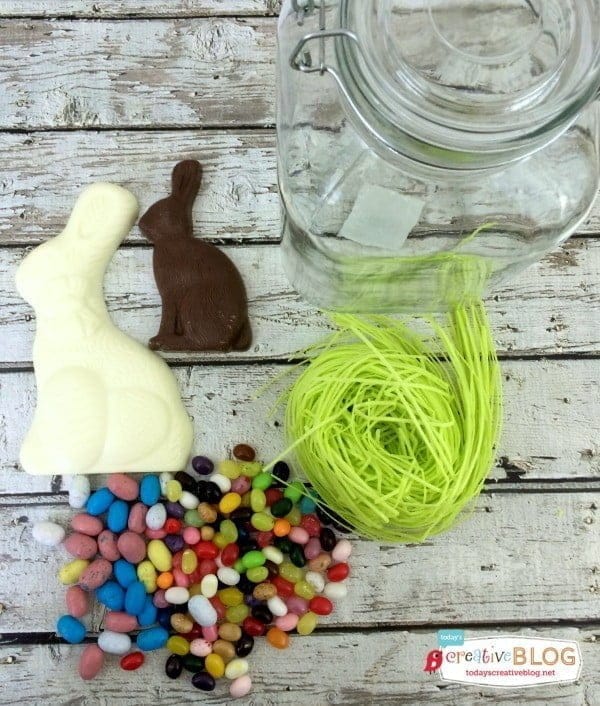 How to Make an Easter Table Centerpiece with Easter Candy
Affiliate links for products listed are for your convenience only. This costs you nothing extra. If you happen to purchase anything as a result of clicking, TCL will receive a small percentage. Thank you for your support. This allows me to continue to offer you free content.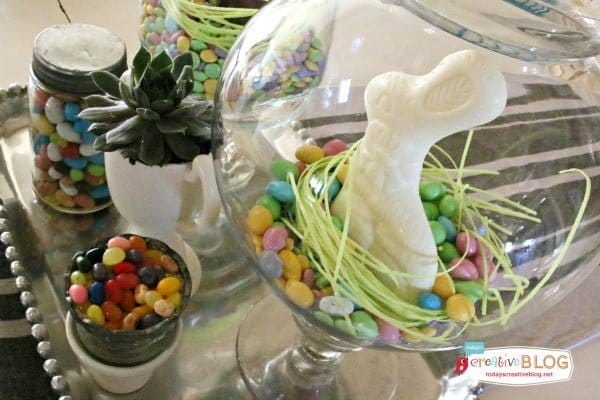 I poured M & M's into my jars, placed the grass on top, then simply stuck a bunny into the candies. Done!
Some jars I just filled with candy, that's it. I thought about adding ribbon to the jars, but by the time I walked upstairs to my craft room, I had forgotten what I was in there for. Way too many shiny things to distract me. It only occurred to me while taking the photos that I forgot the ribbon. I thought my pastel bakers twine would have been darling.
I added a cute succulent for variety. I just love that trophy cup it's in.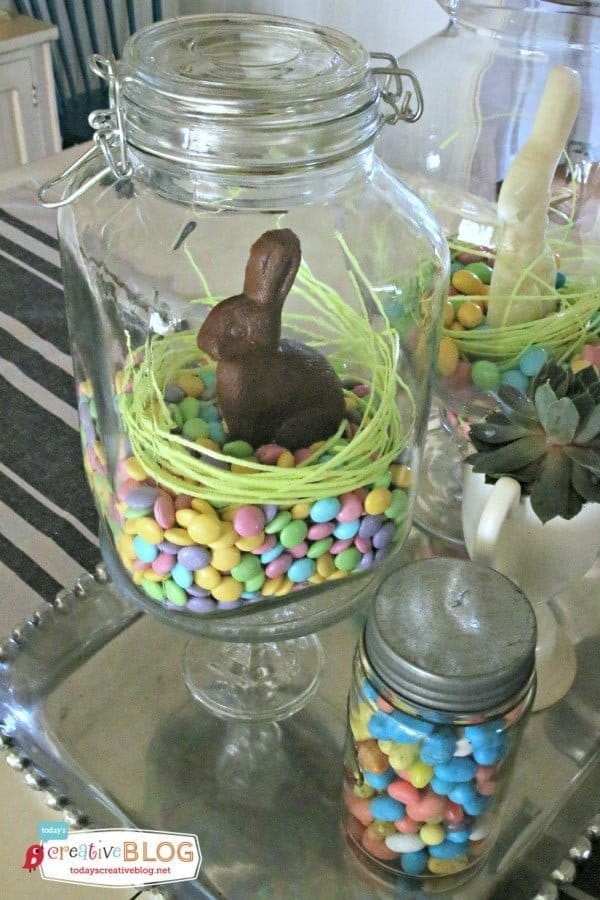 Pretty simple right?
There are so many things you could add or take away and it would still be perfect!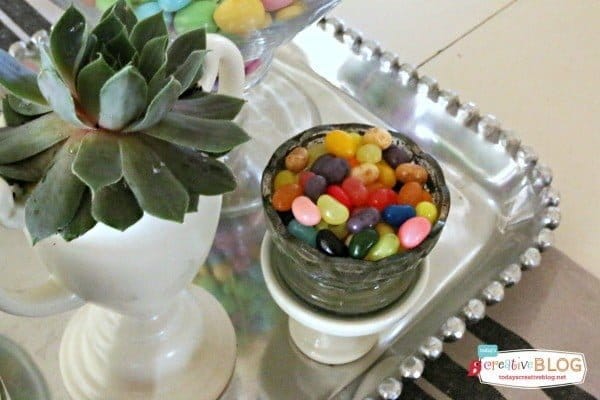 I may have to look for a colorful alternative since the candy was raided so quickly. I should have bought Peeps. They don't like peeps as much.
But it looked darling for about 2 hours. Maybe I'll just replace the white chewed on bunny with lemons. They leave lemons alone. That would be cute!
If you're looking for a fun Easter craft the kids can do, that also becomes a fun decoration for the table…. check out this Easter Chick Craft.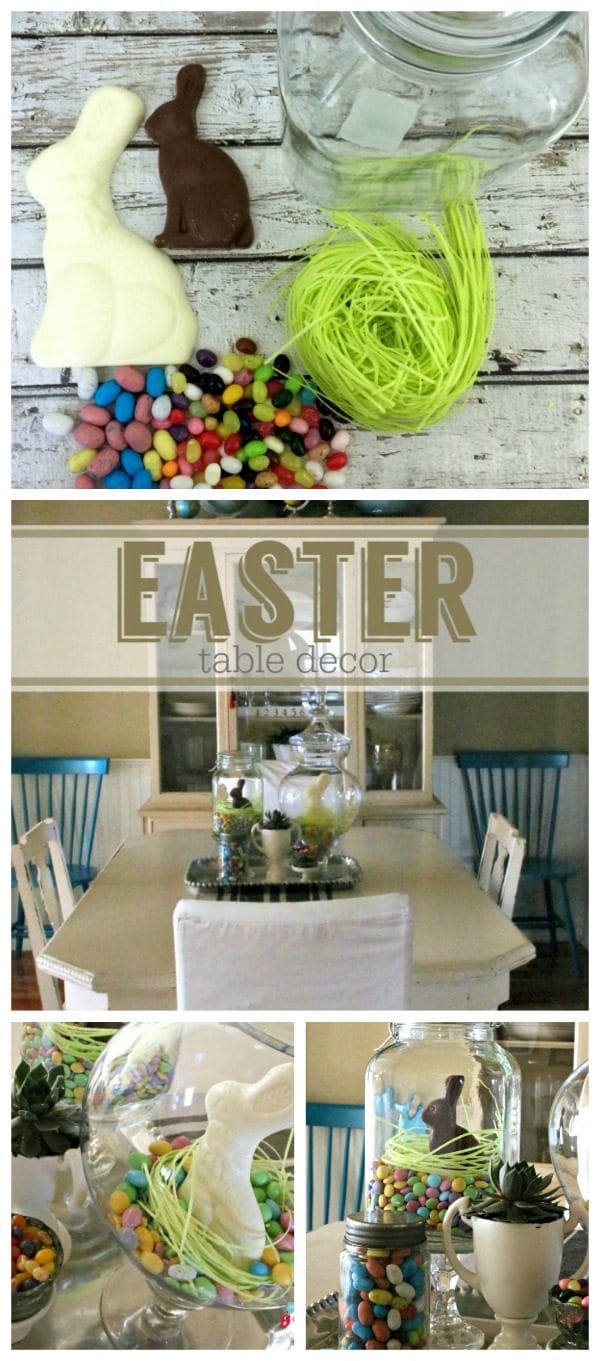 Creative Easter Ideas
DIY Creative Easter Ideas for easy ways to enjoy the holiday! Craft, Bake and Decorate.
DIY Easter Craft for a peek a boo window bag.
Create your own porcelain-like Easter Eggs.
Easy iron-on craft for cute treat bags. Printable design included.
Easy gift wrapping for quick Easter treats.
Make your own golden egg!
Make this sugar cookie fruit pizza anytime of year! Just change the shape!
Colored Rice Craft for quick table decor.
Have fun with these printable egg holders.
No-Bake Cookies are easy to make. Kids will love this! Delicious and pretty!
Simple, Fresh and beautiful for any spring table.
Simple spring decor could be right outside your door.