I'm always looking for cute ways to give a simple gift and I love this one! These Easter Treat Bags are a great substitute for a quick gift idea and were SO easy to make, and I must admit, they're pretty adorable!
Easter Treat Bags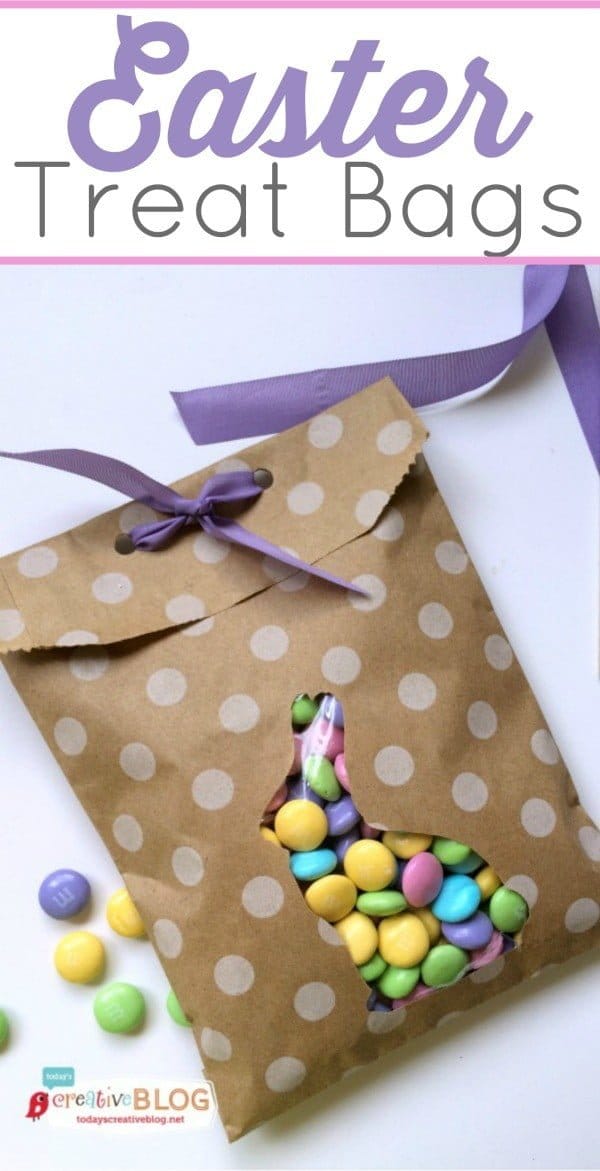 We usually have Easter with my In-Laws and I learned quickly that the kids got gifts for Easter…… I'm not talking candy. When did Easter become Christmas anyway? After all the kids got a little older, I've transitioned back to giving a simple gift and these Easter Treat Bags are perfect. I can put just candy, or I can put a gift card and candy.
Simple and easy! Because who needs complicated? Just like my Decorating Ideas for Easter…….keep it simple!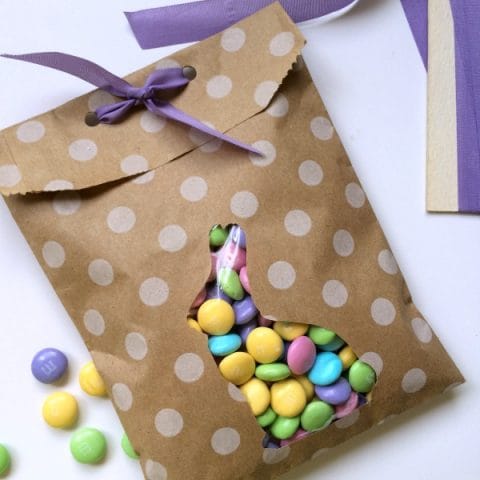 How to Make Easter Treat Bags
Yield: 1
Prep Time: 5 minutes
Active Time: 30 minutes
Total Time: 35 minutes
Difficulty: Easy
Estimated Cost: $5
Easy to make Easter treat bags with a see-through window
Materials
Bunny Silhouette 
Ribbon
Cellophane
Tools
Instructions
Gather your supplies.
Find a bunny silhouette that you like. I wanted one that looked easy to cut. You can search google images, or if you like this one, you can save it by hovering your cursor over it, right-click and "Save As" and that will save it on your computer. I printed for a 3 x 5 size.
Cut your silhouette on either plain computer paper or cardstock. The cardstock would have made it a little easier. I applied a little adhesive to the back of it, then placed it where I wanted it on my bag. This way I didn't have to worry about it slipping out of place while I was cutting. I used a craft knife made by Martha Stewart. It was the first time trying it and I do have to say, it was very easy to work with.
IMPORTANT TIP! Place a piece of cardboard inside your bag so the knife doesn't cut through the backside of your bag too. You can see the cardboard after pulling up my freshly cut bunny. The craft knife gave me a clean cut……no tearing.
Time to cut a small square of cellophane to create a window. I bought a large roll of cellophane, but then realized I could have just cut up one of the 14,000 clear cellophane bags I already own. Which would have probably provided a thicker window. After cutting the size you need, place double-stick tape around the edges and carefully slide it inside your bag and into position. Press firmly on the bag to make sure it sticks well.
Fold the top of the bag over and punch two holes to thread your ribbon through.
Notes
Fill with colorful candy and sit back and enjoy your Easter craft!
Add a tag if you want. (I love the Easter Tags available for free at World Label.…they were designed by my friend Lia.)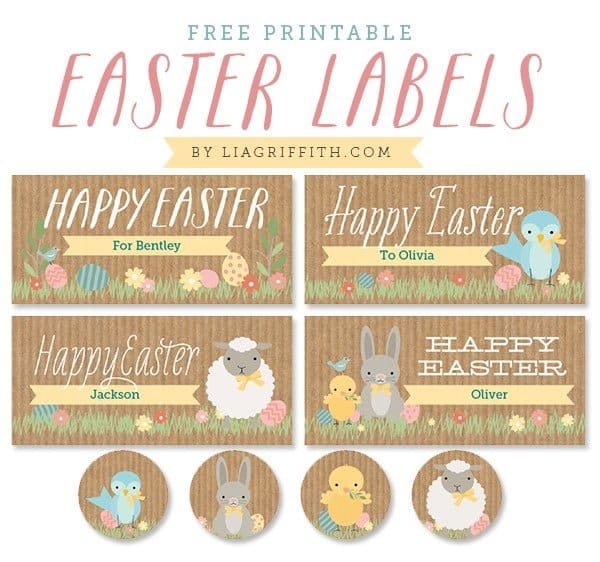 Follow along on Instagram | Pinterest | Facebook
---
DIY Easter Ideas
Easy DIY Ideas for the Easter holiday.
Use candy to decorate for Easter.
Simple decoupage technique for beautiful eggs.
Add that extra touch to spring bouquets.
Another easy and fun treat bag for Easter.
This printable pillow box is great for quick Easter gifts.
Simple table centerpiece with plastic eggs.
Printables for easy gift giving.
How to make the golden egg.
Make this sugar cookie fruit pizza anytime of year! Just change the shape!
Simple, Fresh and beautiful for any spring table.
Simple Easter craft that is great for decorating.
Easter morning is better with paper egg holders.