I have always wanted to learn How to Make a Birdseed Wreath because I LOVE having lots of bird feeders and watching our backyard birds! Making homemade bird treats is easier than I thought!
I have a bird feeder positioned right where I can see it outside my office window and several places around the yard, which makes it easy to see all the birds.
It's been interesting to see the different types of birds for each season. Spring has brought a few new varieties full of color, which has brought many hours of just sitting and watching the birds! I have also been planting flowers for a cottage garden look too! So much prettier to see!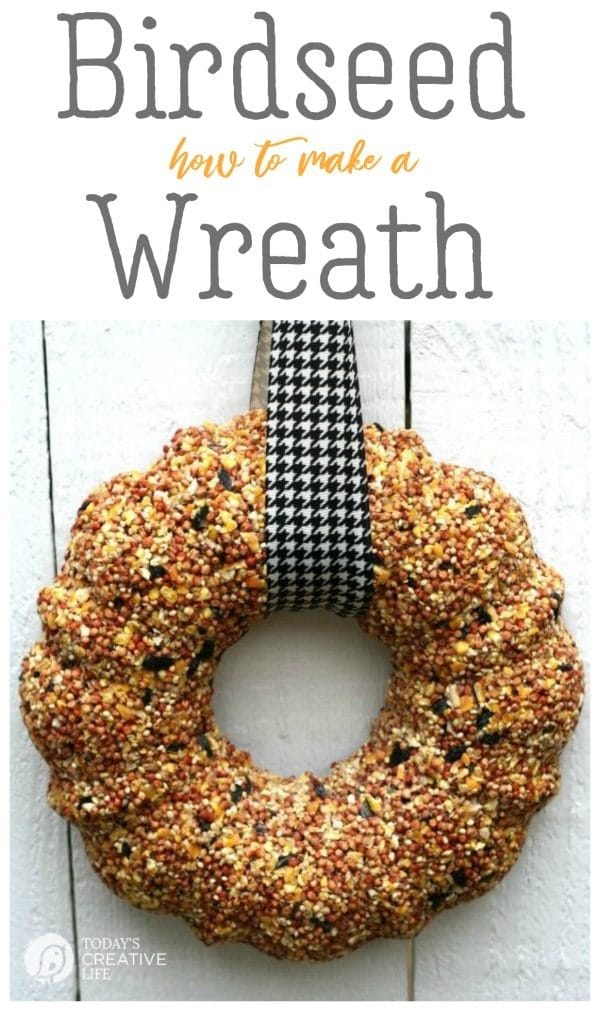 How to Make a Birdseed Wreath with Gelatine
I don't even mind when the squirrels help themselves to a little snack every now and then. I do have one squirrel proof bird feeder, but it's not nearly as fun to watch.
During the winter, I'll make a homemade recipe for bird suet and in the spring, I'll make a birdseed wreath. The birds seem to enjoy it, but I really just like how cute it looks hanging from a tree or gate. Except I've learned to keep it in an area that doesn't get too wet from the rain. It will dissolve into a mess if it gets soaked.
Ingredients for a Homemade Birdseed Wreath
Most items you'll have in your kitchen already.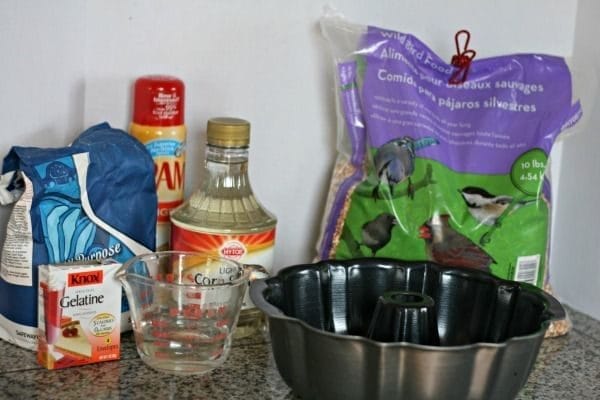 flour
gelatine
water
birdseed
any pan with a hole in the middle
oil
corn syrup
Mix everything really well!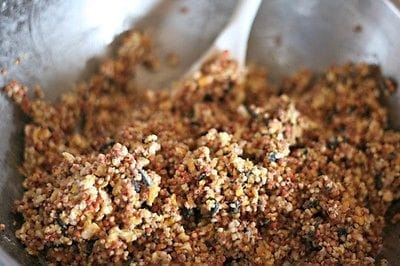 Press into your pan as firmly as you can and leave it to harden up for a day or so.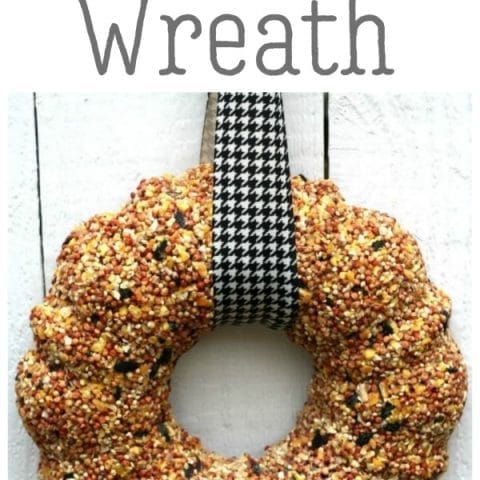 How to Make a Birdseed Wreath
Yield: 1
Prep Time: 15 minutes
Additional Time: 1 day
Total Time: 1 day 15 minutes
Estimated Cost: $15
Making a birdseed wreath is easy with a bundt pan, birdseed and a few ingredients.
Materials
4 cups Birdseed
3/4 cup flour 
1 package gelatin 
3 T. corn syrup
1/2 cup warm water
Cooking spray
Ribbon (optional)
Instructions
Start by mixing the gelatin with the water until dissolved. Stir in the syrup and flour. You may want to use a fork or a whisk. Keep stirring until all the lumps are gone. It's going to look very thick and paste-like.
Mix the seeds in by the cup. Mix well to distribute the gooey paste so all the seed is well coated. This will help it not fall apart.
Once you've blended the mixture well, give your bundt pan a good coating of oil.
This will help your wreath slide right out when it's dry.
Scoop your mixture into the wreath and pat down firmly. You want to really pack it down.
Let it set up for about 24 hours.
It will turn cloudy white in color and you'll be able to feel the firmness by pressing with your fingers. If it feels smooshy, it's not dry.
Once it's dry, place a plate on the top of the pan and flip. Hopefully, it will just slide out. If it's a little stubborn, just give your pan a little tap.
Recommended Products
As an Amazon Associate and member of other affiliate programs, I earn from qualifying purchases.
How do you Hang a Homemade Birdseed Wreath?
You'll need rope, ribbon, or twine that you'll thread through the hole and tie together at the top. Once you decide on a dry place that is out of any direct rain, you'll want to install a plant hook or nail to hang the ribbon over. That's it!
This makes a great activity for children! Kids LOVE learning how to make a birdseed wreath because they can get their hands messy at the same time!
Related Projects you may enjoy!