You'll love this DIY Interchangeable Apple Wreath that can be used year round with a few simple adjustments! See all the other DIY Wreath Ideas on TCL.
Only a few more posts for my Celebrate Summer Series! (See all the posts here) This DIY Interchangeable Apple Wreath is going to change how you decorate! Seriously! I love how Celeste from Decor by the Seashore created a smart solution for keeping things simple by using the same wreath all year long! You can see all the different looks she's created from ONE wreath! >>> How to Make an Interchangeable Wreath <<<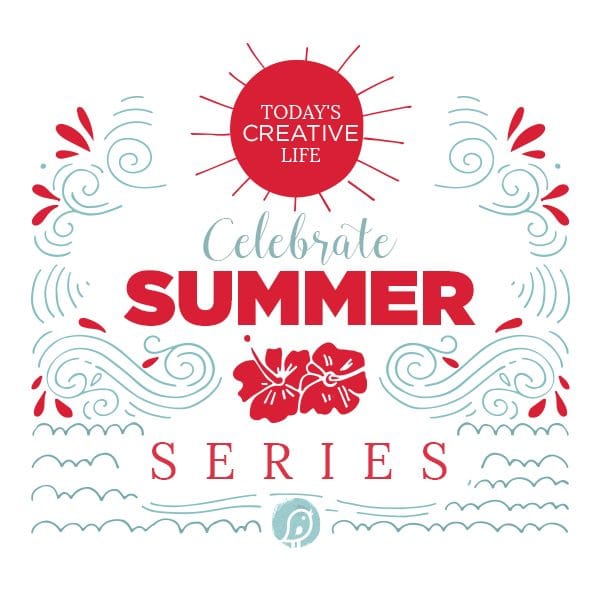 ---
Hello everyone! I'm Celeste from Decor by the Seashore, where I share beautiful crafts, projects, and ways to decorate your home on a budget. I'm thrilled to be here today to share with you one of the easiest and most creative wreaths you'll ever make! Now I want to warn you ahead of time… this is no ordinary wreath. There is way more to it than meets the eye!
DIY Interchangeable Apple Wreath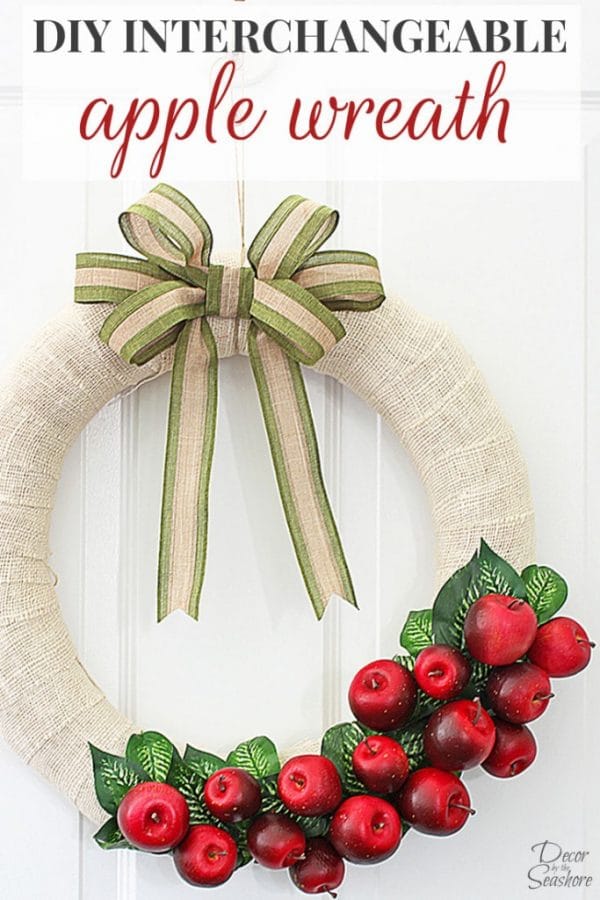 You see, this same exact wreath has hung on our door for every holiday and season for over a year now, and the best part is nobody can even tell. How is that possible? Well, I'll let you in on a little secret. This wreath is actually interchangeable. I simply reuse the wreath form and change out the accessories every holiday for a completely new look, and nobody is the wiser. How's that for a thrifty piece of DIY home decor?
We live in a small home and don't have space to store a bunch of different holiday wreaths. So I've come up with creative ways to attach accessories to the wreath so that they'll easily come off when I go to switch them out for the next holiday. I usually don't spend any more than $5-10 and 10-20 minutes to change the accessories on the wreath each season, so this interchangeable wreath is a fabulous space and money saver!
Curious how you can make your own interchangeable wreath? Today I'm going to show you how to create an interchangeable wreath with apples. It's the perfect wreath for this time of year!
Supplies Needed to Create an Interchangeable Apple Wreath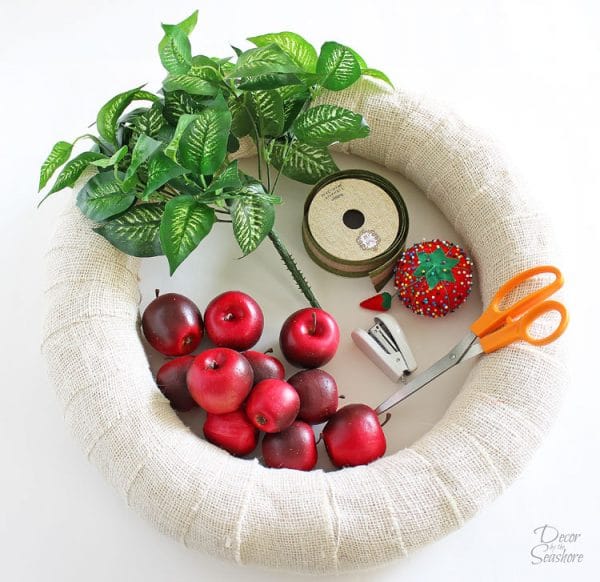 Affiliate links are supplied for your shopping convenience. Because I know how it is when you can't find what you need.
Steps to Create an Apple DIY Wreath
1. Begin by pinning a layer of greenery to the wreath. The pins will be covered by the apples, so don't worry about them being too noticeable, though it is helpful to try and use pins that are the same color as the leaves.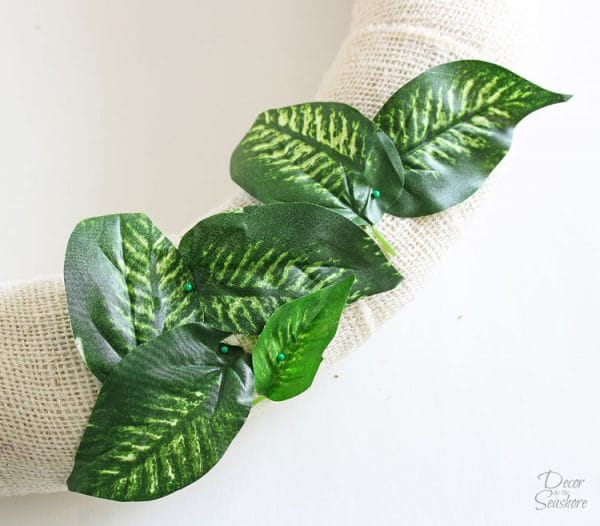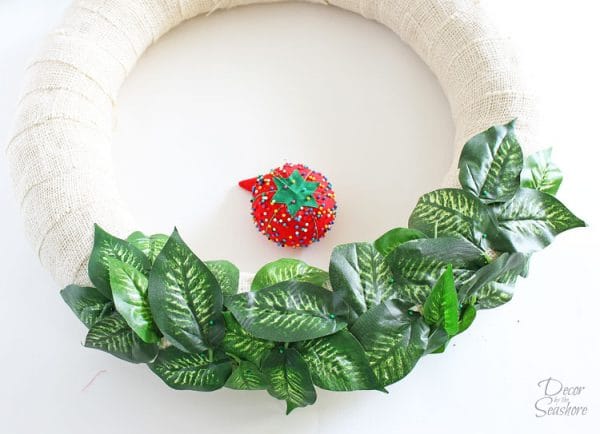 2. Pin your apples to the wreath. My apples were made from foam, so it was really easy to drive a pin through the bottom of the apple and stick it on the wreath. If your apples are heavier or it's too hard to put a pin through them, you could also glue the apples to the leaves. Just be really careful when you're gluing and make sure to only glue to the leaves, not the wreath itself. That way in a few weeks when it's time to change out the accessories, everything will easily come off!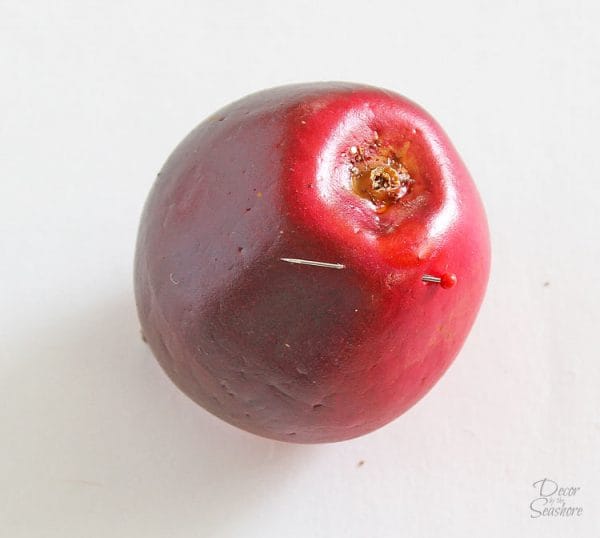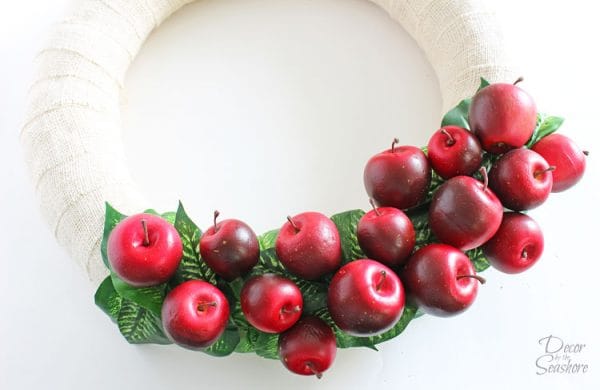 3. Make a bow from your ribbon, and pin it to the top of the wreath. If you need help making a bow, this easy tutorial can help you out.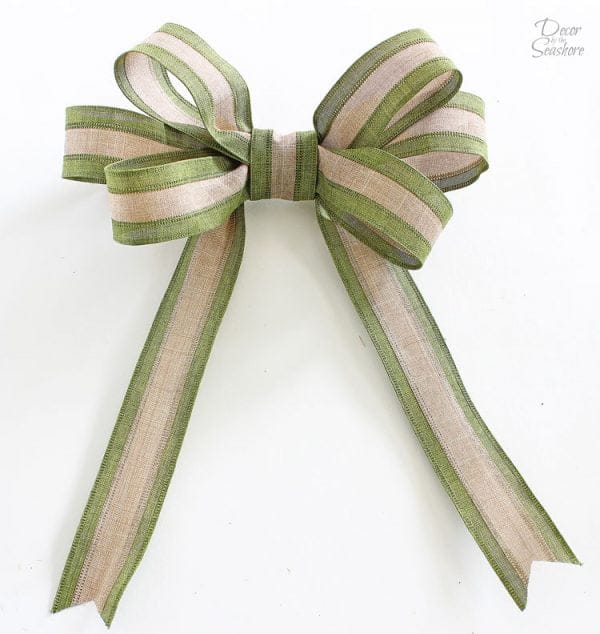 4. Hang up your diy interchangeable apple wreath and marvel at your creativity. See, wasn't that easy? And the best part is, when the next holiday or season rolls around, you'll be able to easily pull everything right off the wreath and reuse the wreath form. Now that's what I call thrifty!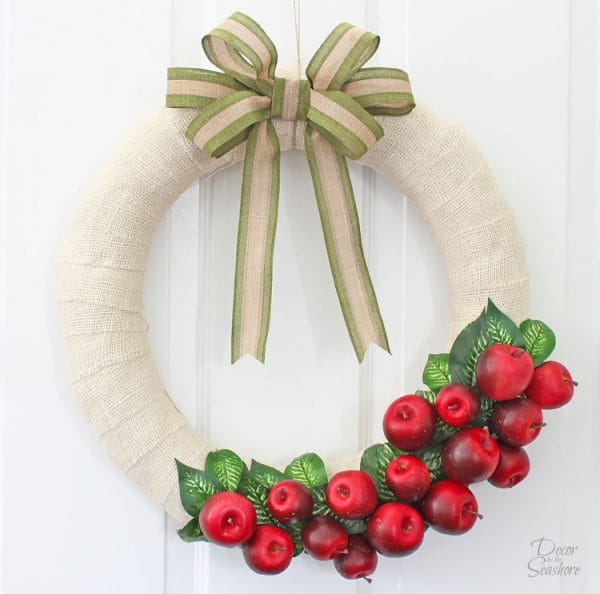 When you're making your wreath, don't be afraid to get creative and think outside the box! There are so many ways you can customize this wreath for your home and the upcoming season! You can use fall leaves instead of greenery for a more fall-themed wreath. Or add some crayons, markers, and a ruler for a back-to-school themed wreath. The creative options are endless when you DIY!
I create a new version of this wreath for almost every season and holiday, and you can find all of the previous versions of my interchangeable wreath right here. In a few weeks, I'll be updating the wreath to turn it into a poison apple wreath for Halloween (reusing the wreath form AND the apples!), so be sure to stop by and check it out! If you love to craft and DIY, you'll find more of my creative crafts and projects here! Thanks so much for having me, Kim!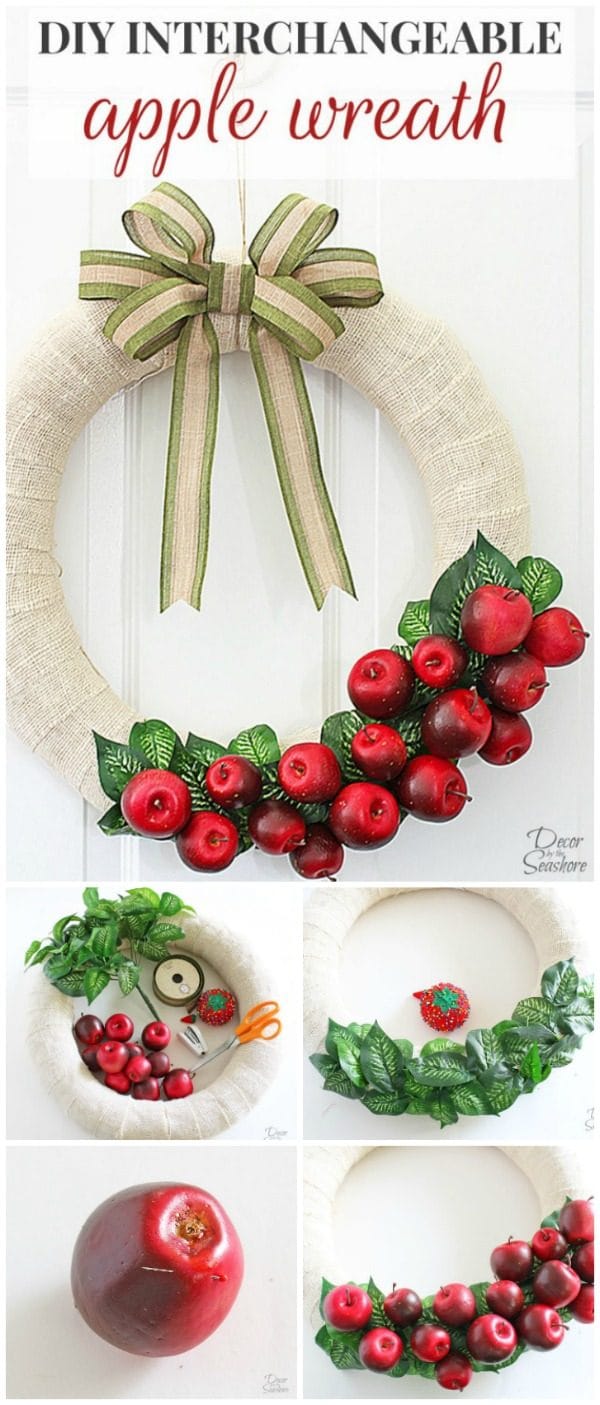 DIY Wreath Ideas
DIY Wreath Making for all seaons.
This is a great wreath for winter months.
This living succulent wreath is easier than you think.
It's not a wreath, but it is quick and cute!
Inexpensive and perfect for Fall.
Made with dollar store items!
4th of July Wreath ideas.
One of my favorite projects.
Perfectly rustic for Fall.
You can get the kids involved with this one!
Fabric strips and a lot of tieing.
Using a few items from the hardware store, I made the cutest wreath.
Follow me