Green Bean Recipes coming your way! Creative Contributor Allyson from Domestic Superhero is sharing this family favorite recipe for Spice Garlic Green Beans! Do you have Green Bean Recipes that have been passed down?

If you're looking for more side to complete that meal, don't miss the Vinegar Cucumbers or the Broccoli Salad with Pasta. 
Green Bean Recipes – Spicy Garlic Green Beans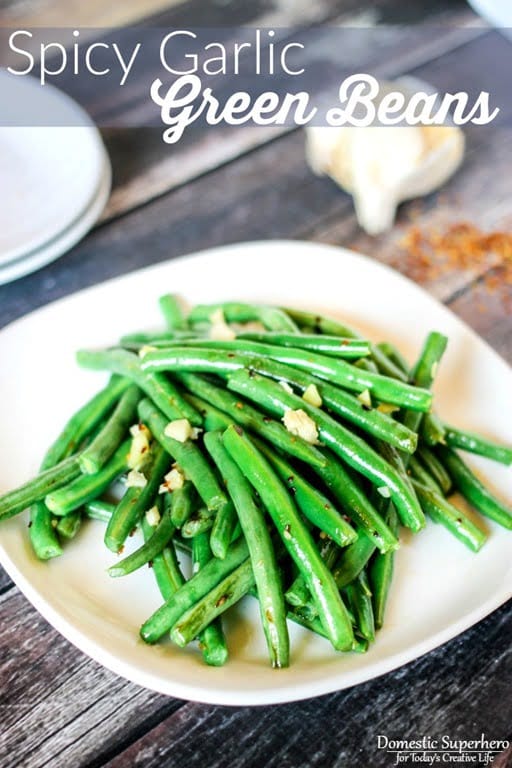 Hey, y'all! It's Allyson, from Domestic Superhero, here again this month to share an awesome recipe with you! I don't know about you, but now that the holidays are over, I have been trying to eat healthy and work out regularly (just like everyone else, right?). Having quick, easy, and healthy recipes at my fingertips really helps me with staying on track with healthy eating. When I don't have good recipes to make, I often find myself at the drive-through or ordering take-out, and I'm trying to majorly cut down on that.  I was about to steam some green beans last week, then I thought it would be way better to punch up the flavor on these bad boys. Adding garlic and red pepper flakes was the key, and let me tell you, these Spicy Garlic Green Beans are the perfect side dish to any meal.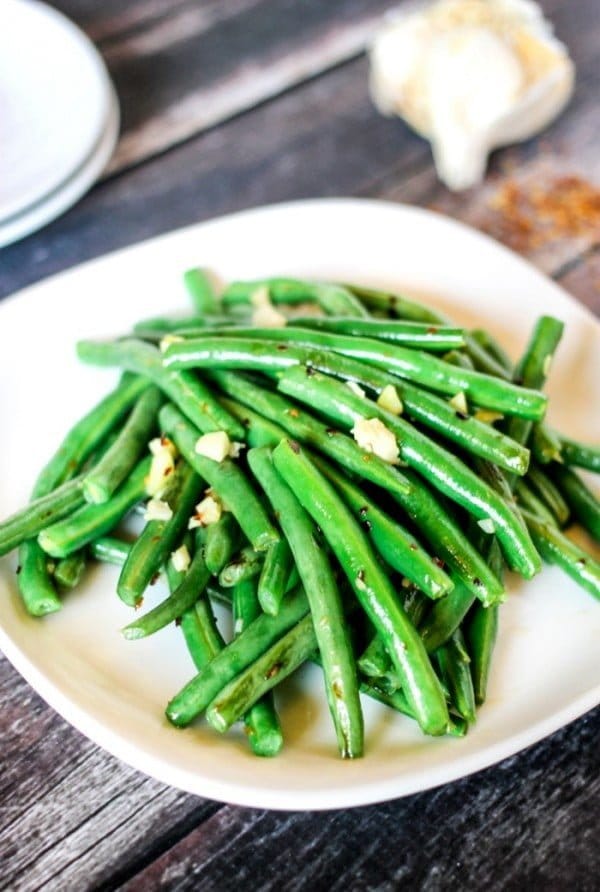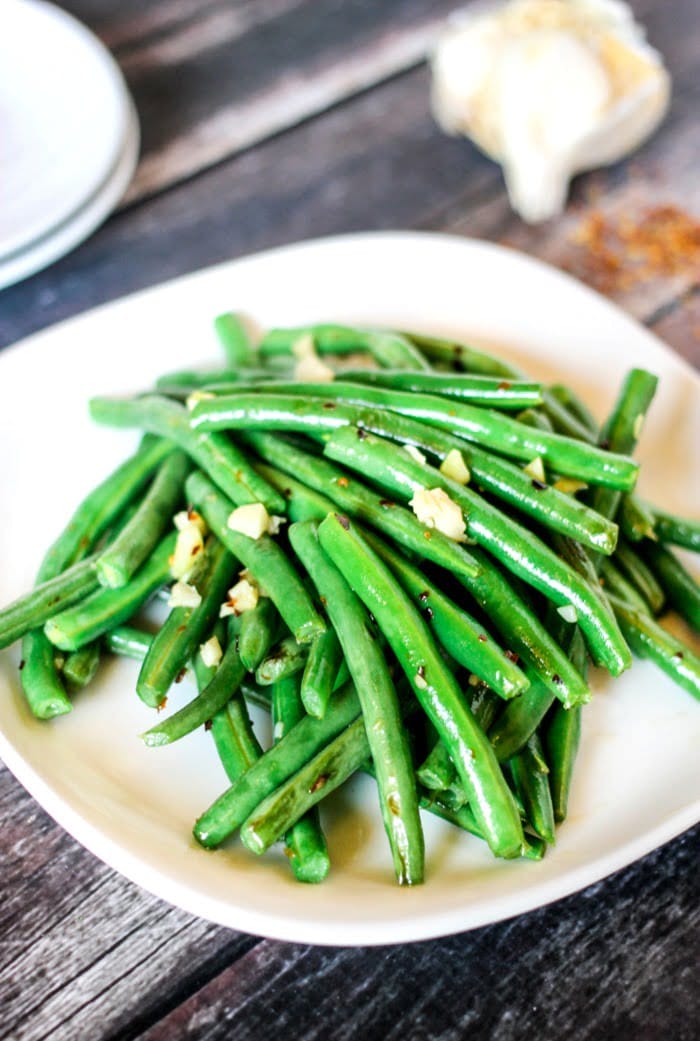 One of the best parts of this recipe, aside from the delicious flavor, is that hey are so quick to make; less than 10 minutes.  Like I was mentioning earlier, having QUICK recipes is totally key. It's really easy to cook these up while you are baking some chicken breasts or veggie burgers, or if you have something in the slow cooker all day, then you can easily whip this up while you are finishing up the slow cooker recipe.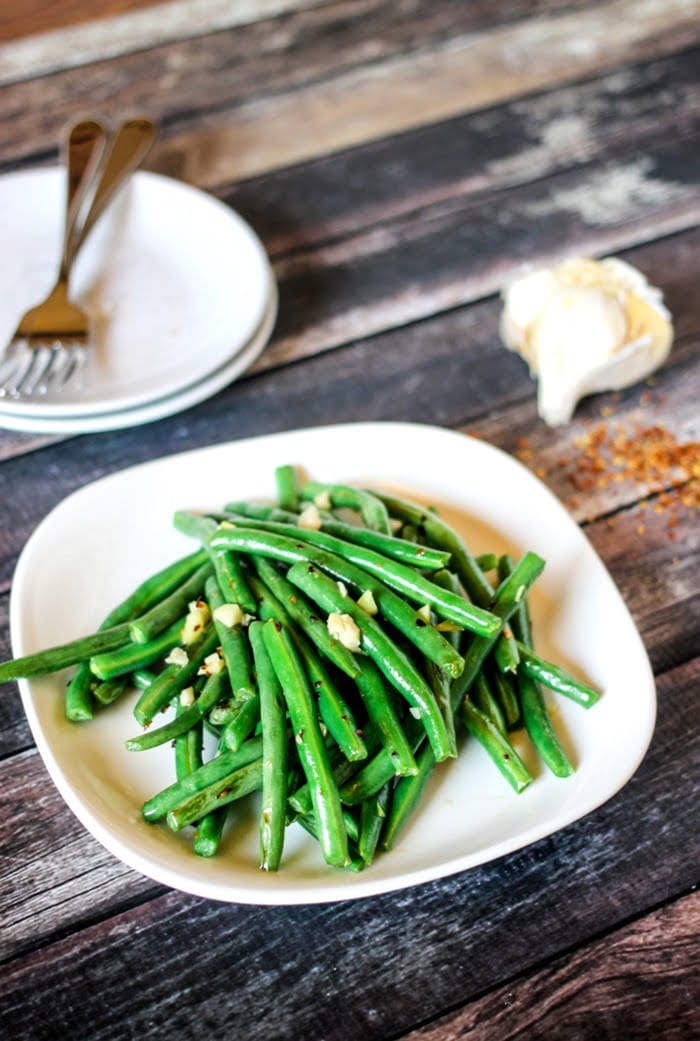 These are a bit spicy, so if you don't like spicy, then leave out the red pepper flakes or just tone them done. Even for people who don't love spicy food, I think adding a dash of red pepper flakes is still a good idea; it won't be too spicy, but it won't be bland either. Using fresh garlic is also key. I love using my jarred minced garlic (I know, I know, what kind of food blogger am I?!), but using fresh in this recipe is really important. Getting little chunks of fresh sautéed garlic is so delicious, and totally takes this recipe to the next level.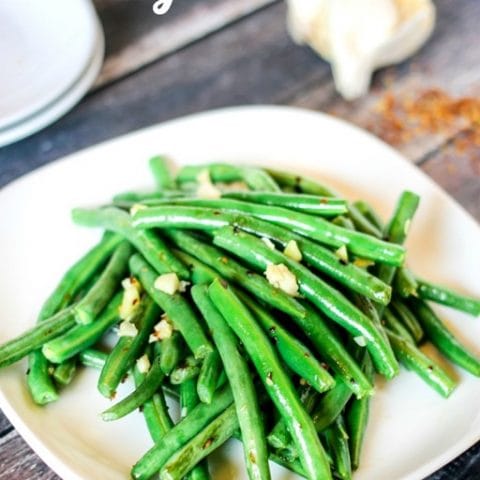 Spicy Garlic Green Beans
Ingredients
2 pounds green beans, washed and trimmed
1 tbs olive oil
1/2 tsp red pepper flakes
3 garlic cloves, minced
1/4 tsp salt
1/8 tsp fresh cracked black pepper
2 TBS water
Instructions
In a large skillet, add oil and red pepper flakes. Saute over medium heat for about 1 minutes, careful not to let the pepper burn.
Add green beans and garlic, saute for 5-6 minutes.
Sprinkle salt and pepper onto the green beans, stir to coat. Add water and cover, turning heat to high and cooking for 2-3 additional minutes, or until green beans are cooked through.
Serve immediately alongside your main dish.

Need some ideas of main dishes to go along with these delicious Spicy Garlic Green Beans? Take a look at these from Domestic Superhero (click on photo for recipe):
You can also connect with me here:
Thanks for visiting!
– Allyson