Please welcome Printable Contributor, Marlynn from UrbanBlissLife as she shares her Free Printable Mother's Day Cards. Free Printables make every holiday easier! Looking for a variety of Mother's Day Cards? I've got them!
Free Printable Mother's Day Cards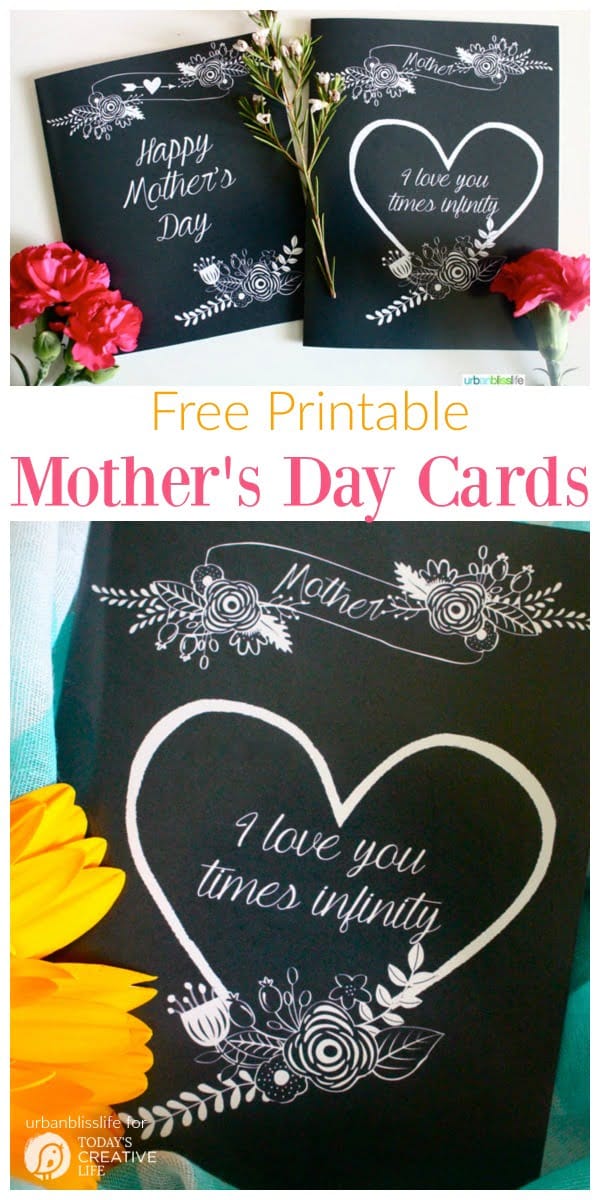 Being a mother while also having a mother, grandmother, mother-in-law, and sister-in-laws makes Mother's Day all the more special…and also tricky sometimes. Do I get everyone the same card? Same gift? What about you: do you send cards and gifts for Mother's Day to the other mothers in your life, aside from your own?
I'll let you in on a secret: one of my favorite gifts to give fellow moms is the oh-so-versatile and generally appreciated infinity scarf. I buy them by the bunches from local artisan bazaars. I haven't met a mom yet who doesn't love a fun infinity scarf, and you can get lightweight ones for spring to replace their chunky winter scarves!
So this year I designed a general Mother's Day card that you can send to all of the fabulous moms in your life, but also one that can be given to your own mom should you choose, like me, to give the gift of an infinity scarf.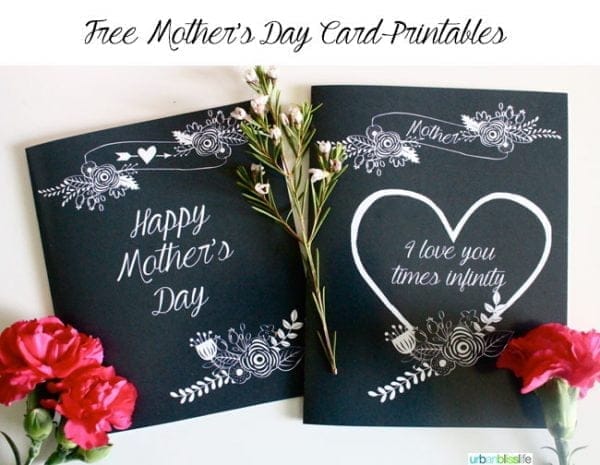 The Happy Mother's Day card is great to give to all moms you know. Print out extras to keep some on hand for those unexpected mom guests at your Mother's Day brunch!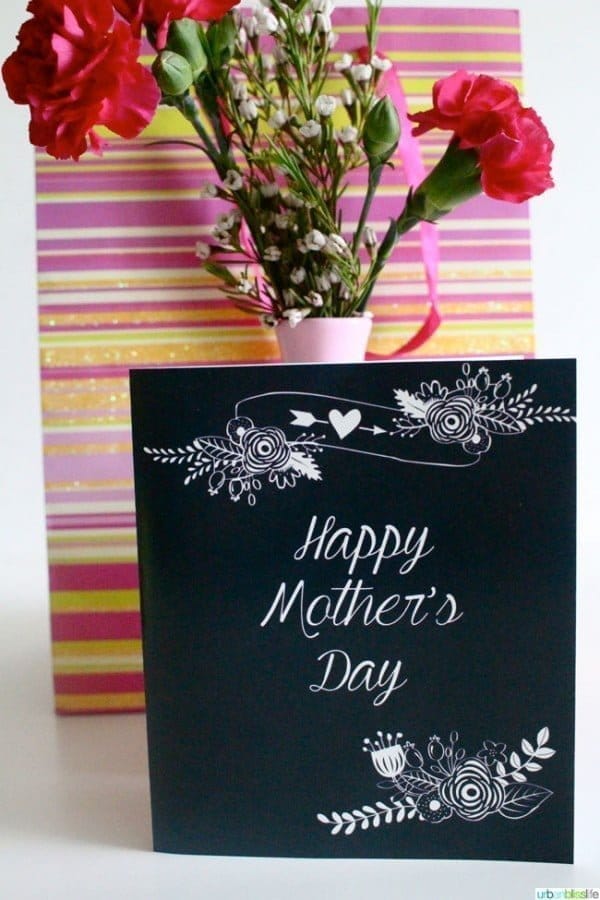 The "I love you times infinity" card is meant more for your own mom or grandmother, but really, I would give this to my besties too, since all moms deserve to be reminded of how much they are loved by all, not just their own kids!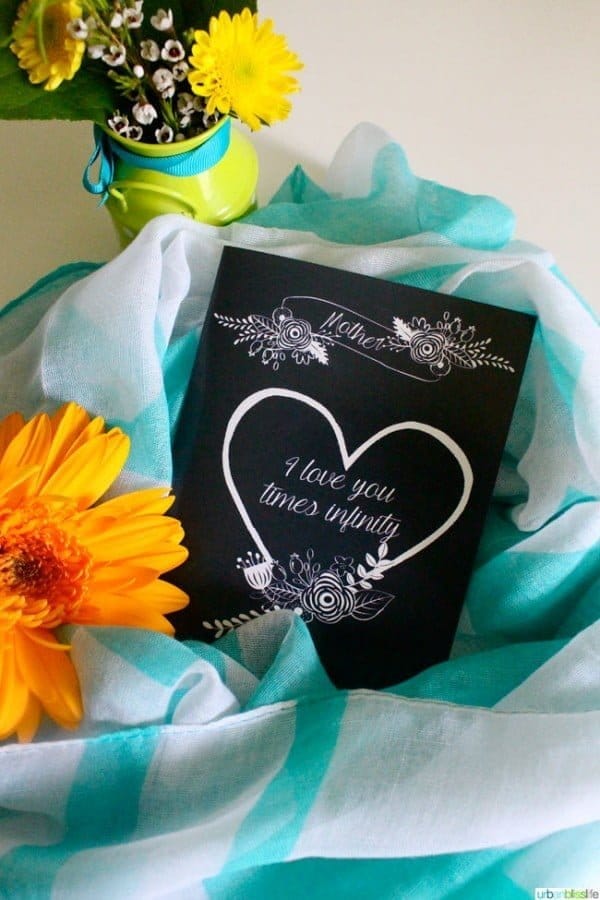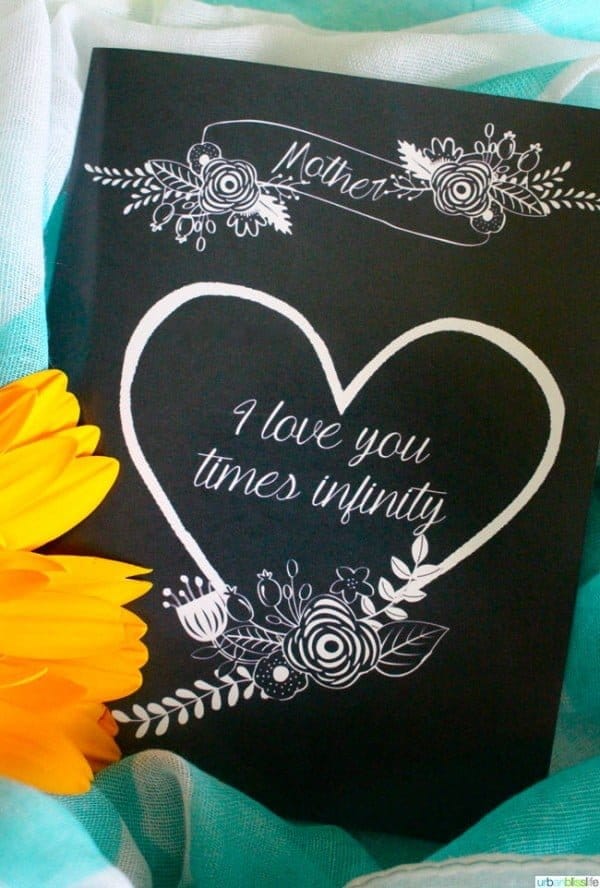 What you'll need:
8.5″ x 11″ cardstock (I prefer matte white cardstock or glossy white cardstock)
Adobe Acrobat to download and open the PDF file
Paper cutter
SIGN UP FOR FREE PRINTABLES BELOW
ALREADY have your password? Head straight to the Free Printable Vault.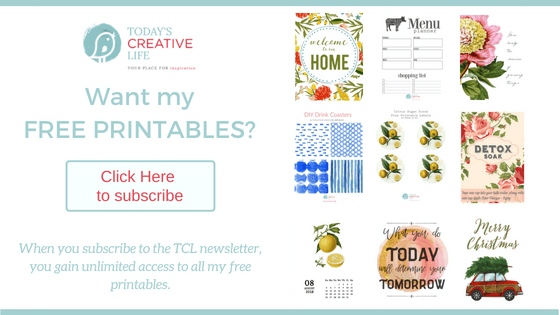 Each PDF file comes with one design of each shown here, stacked on top of each other. After downloading and printing the file, simply use your paper cutter to cut 5″ down from the top of the cardstock to cut out the top card, then again at another 5″ down to cut out the bottom card. Fold in half, and you're done! All that's left is for you to write your heartfelt notes inside each card reminding the moms how special they are.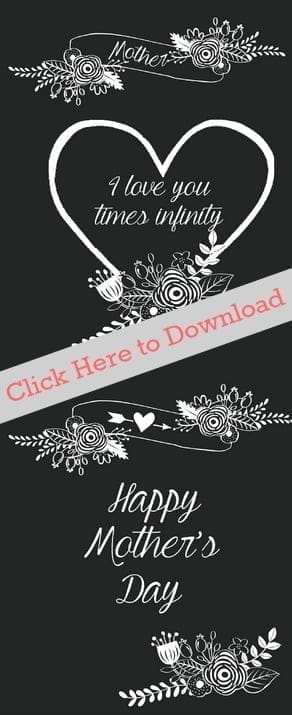 For more printables, please visit my blog at Urban Bliss Life.
Happy Mother's Day!
Free Printables for Mother's Day
Free printables make it easy for kids to create gifts for mom!
So many cute printable designs for gift tags notes, or cards.
DIY inspiration for this cute box for easy gift giving and a link on where to download this fun Mother's Day questionaire.