I just love seeing what the TCL Creative Contributors will come up with month after month! Colleen from Lemon Thistle created these DIY Gold Foil St. Patrick's Day Prints that I think you'll want to use year round. Decorating for St. Patrick's Day and other holidays are always much easier with framed printables and these DIY Gold Foil St. Patrick's Day Prints are perfect for framing!
You'll also love these other St. Patrick's Day Printables: Lucky Bottle Labels, Clover framed printable, and this Spring Time Printable.
DIY Gold Foil St. Patrick's Day Prints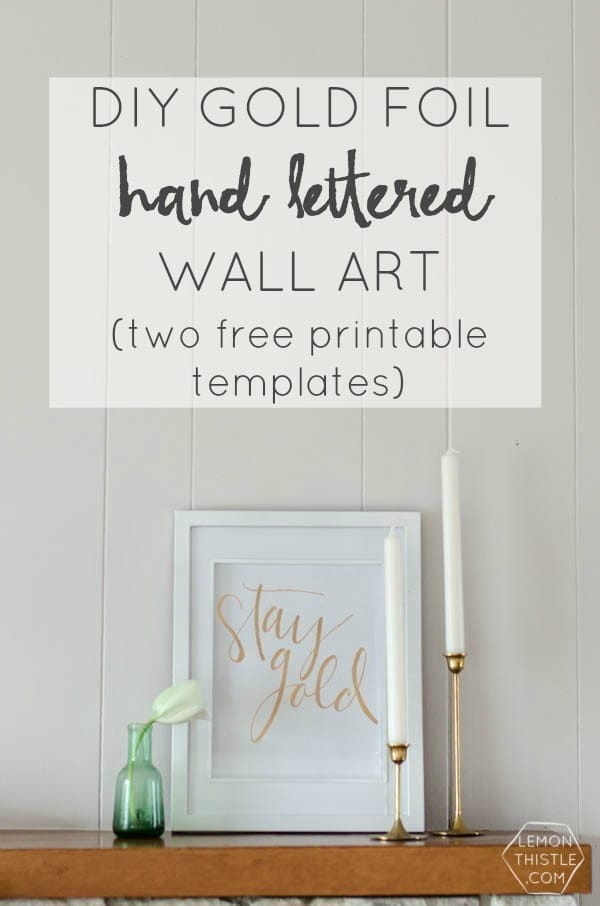 Hello you lovely Today's Creative Blog readers, Colleen here from Lemon Thistle (home to DIY, parties, home decor, and babies). Today I'm bringing you these classy DIY hand lettered gold foil prints which are perfect for upcoming Saint Patrick's Day! Oh, you don't really do hand lettering? That's alright, I've got your back! I've created two free printable hand lettered templates for you to foil over- 'Stay Gold', and 'I'm so Lucky'. And by using liquid gold foil, you can finish this project start to finish in less than an hour, without any mess!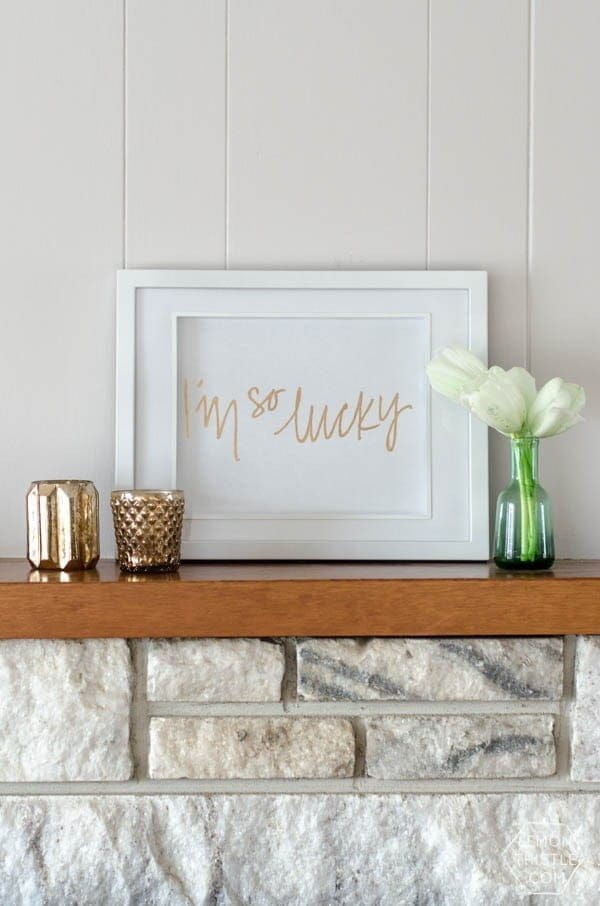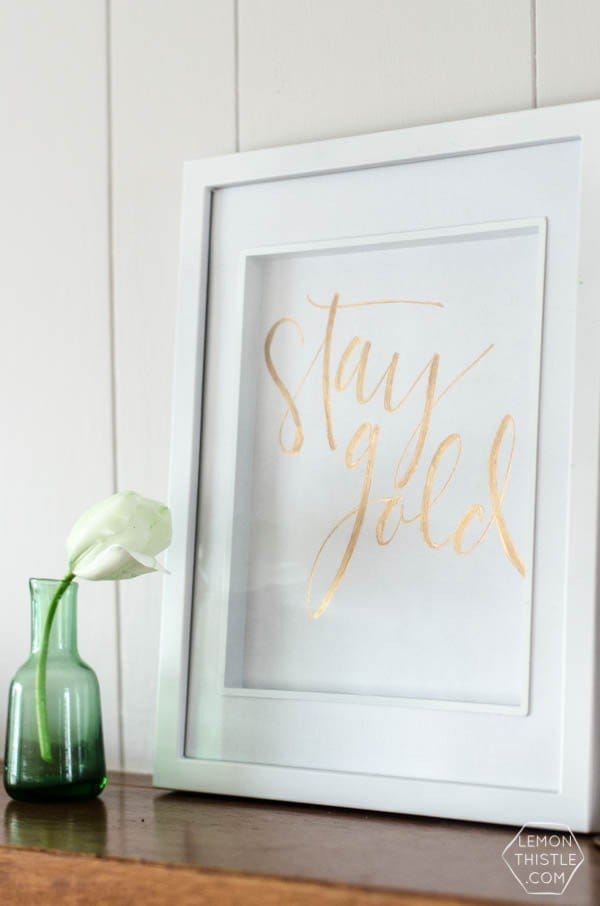 I chose these two quotes because they're a good fit for St Pat's without being about leprechauns, and I love them so much that they can stay up all year long (bonus!). I only have one frame that fits them right now, so I'll need to pick up another- I just switched them out to snap some photos for you. Right now I have the 'Stay Gold' one in there- it's my favourite!
Supplies Needed:
Affiliate links for products listed are for your convenience only. This costs you nothing extra. If you happen to purchase anything as a result of clicking, TCL will receive a small percentage. Thank you for your support. This allows me to continue to offer you free content.
Free Printable Template of your choosing (download below)
Clear spray sealer (found with the spray paint)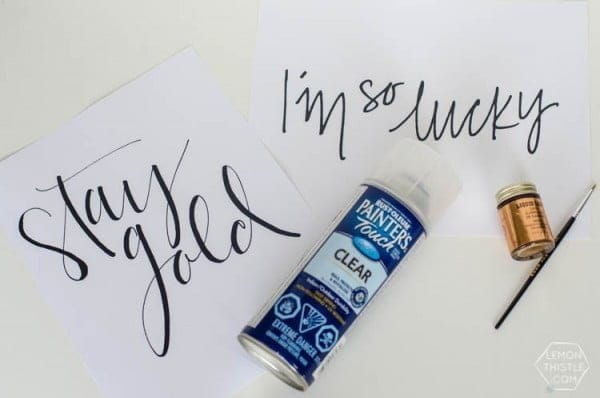 Get started by picking which print you'd like to create (or choose both!). To download scroll down to the bottom. Both are PDFs which will print in black and white on a standard sized sheet of paper. I printed mine on standard printer paper (laser is best, or the ink will bleed with the liquid foil), but card stock would make for a more permanent piece of art, it would also be easier to seal. Once you've printed your templates, mist them a few times with a clear spray sealer. Make sure you cover the whole page, if you miss a part, the liquid gold leaf will bleed and you'll need to start over.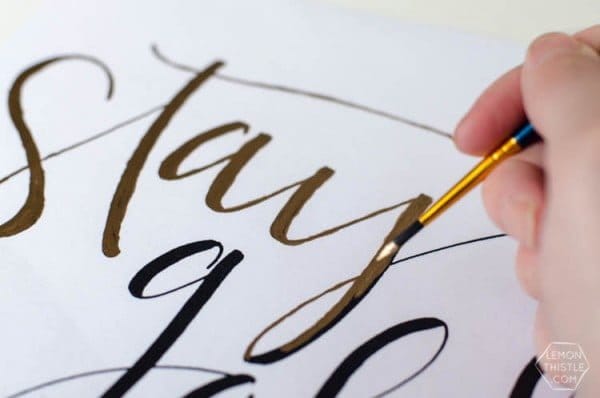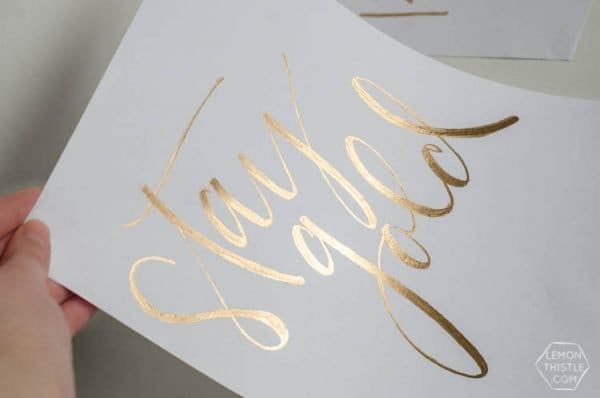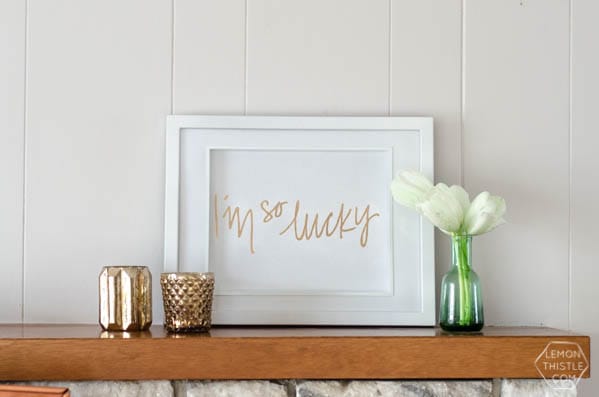 When your paper is dry (it dries really quick!), you can get started painting your gold leaf on. Liquid gold leaf is amazing- it's gold in a jar, I tell ya! I found mine on sale at Michaels for $2.99, plus I was able to use a 20% off coupon (score!), it's usually around $12. Shake it really well before opening, then using a very fine brush, paint over your template, carefully covering all of the black ink. Let it dry completely before handling. Then admire how much it shines in the light!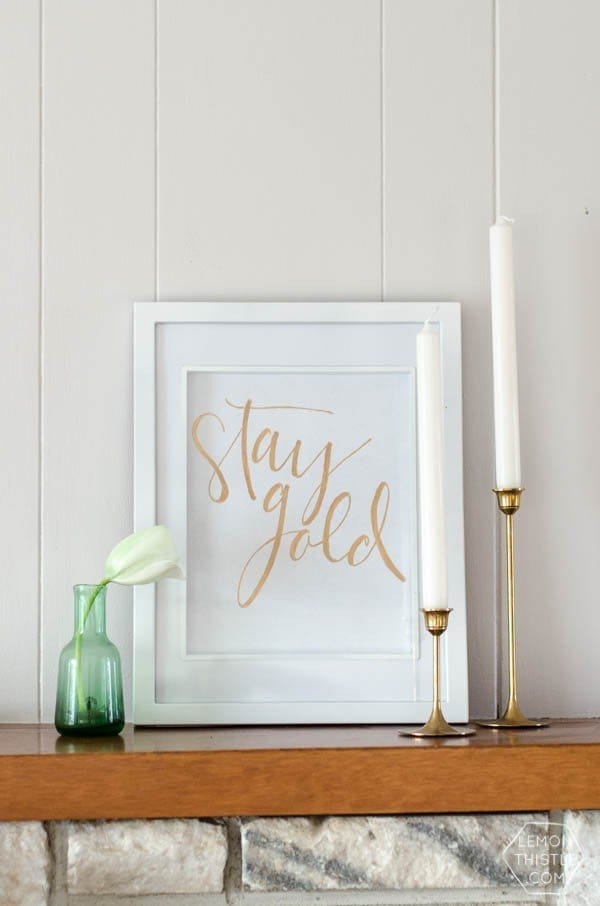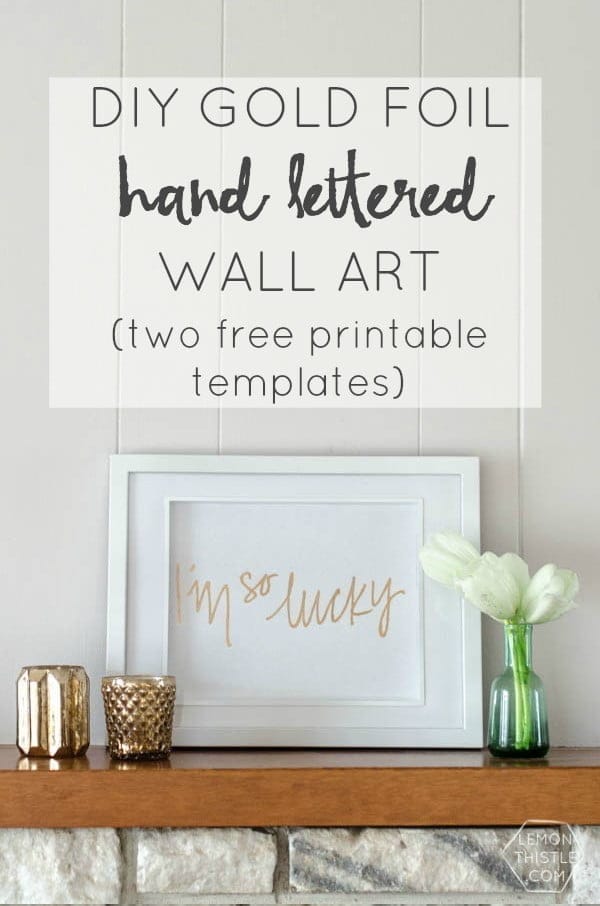 That's all there is to it! Now all you need to do is frame that shining piece of art! Then you can tell all your friends that you made it yourself, because really- that's impressive! I'd love to hear from you… do you decorate for Saint Patrick's Day? Which quote is your favourite?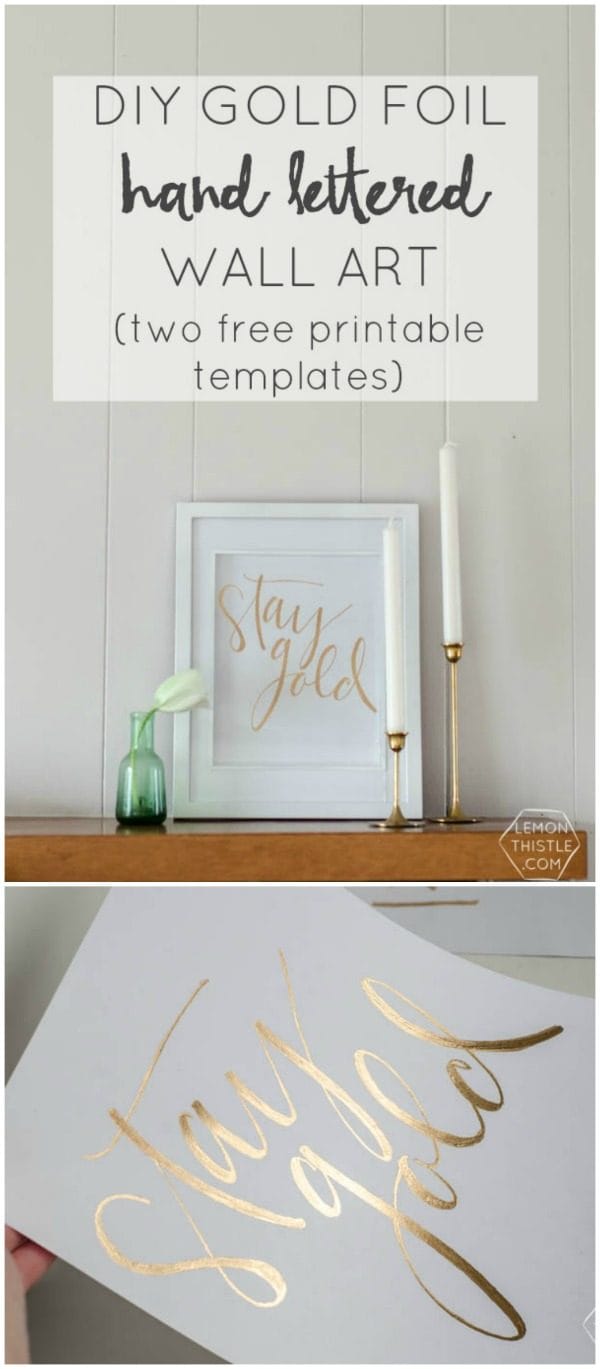 Enjoy your DIY Gold Foil St. Patrick's Day Prints year after year.
---
St. Patricks Day Ideas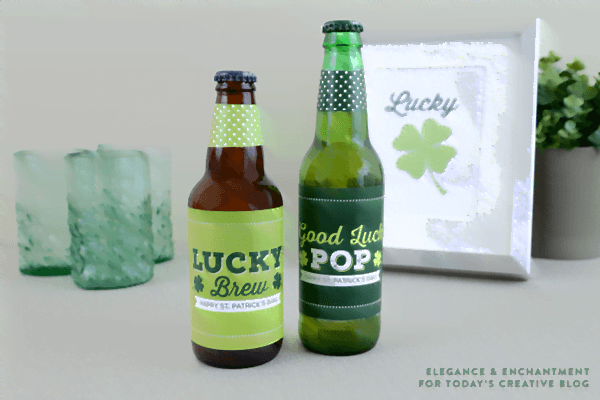 St. Patrick's Day Soda and Beer Bottle Labels