I have declared myself the queen of iron on transfers. Home Decorating with Iron On Transfers makes it easy to change things up for each season, inexpensively and quick.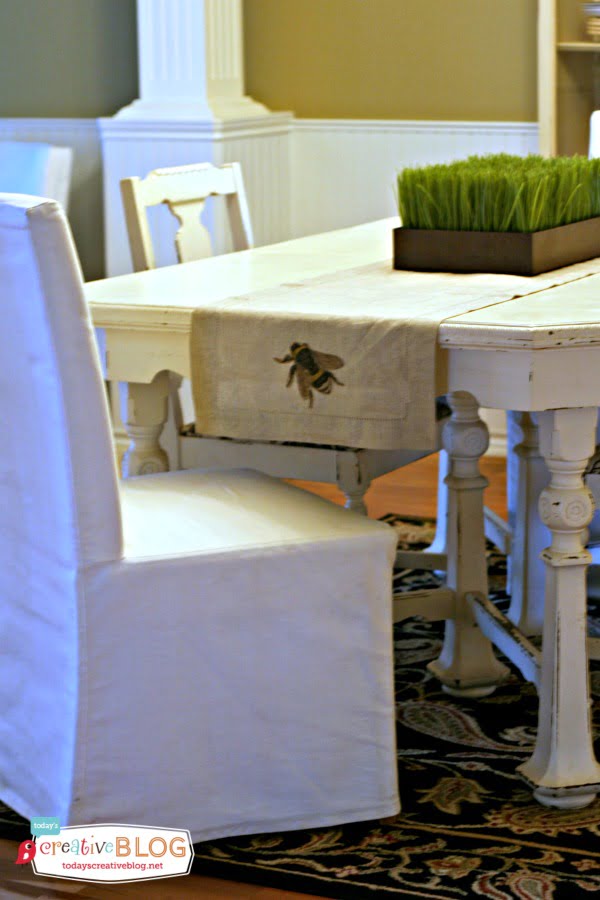 Home Decorating with Iron On Transfers
I've done pillows for the holidays, dish towels , book bags and now I'm doing this dining room linen table runner for summer.
I love bees and I love linen. I found this simple linen table runner on sale and knew I had to add my own mark, add my own personal style. I thought it would be perfect for my distressed Kathryn Hepburn table! (yes, she once owned it!)
How To Decorate with Iron On Transfers
Supplies Needed:
Iron On Transfer Sheets
Graphic
Iron
Item you're placing the graphic on
For your convenience – Clicking on the images will take you to Amazon.
I use either Jolee's or Avery's Iron on transfer papers.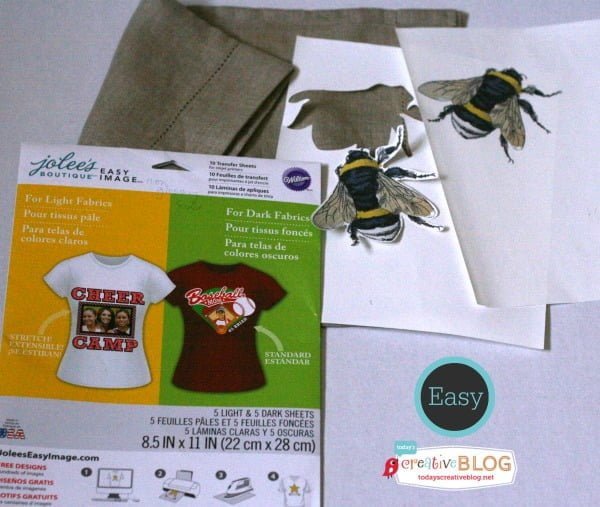 I find them at my local craft or office supply store. I've never experimented with the transfer sheets for dark colors, but I have tried using a dark colors transfer sheet on light colors and it does not work. It's a complete different method. You'll need the iron on transfer sheets for light colors for this project.
I find all my graphics from Karen at The Graphics Fairy.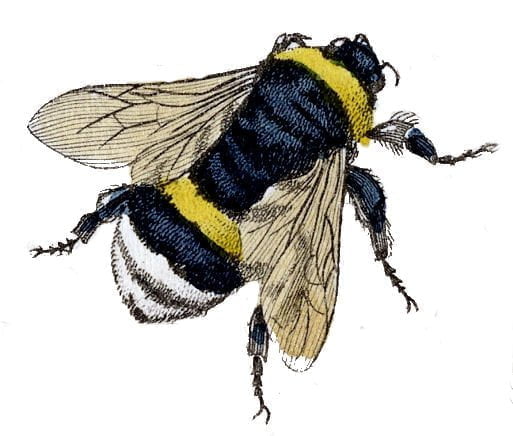 I'm sure there are others out there, but I know I'll find something I like on her site. And it's free and simple to download. I searched for insects and botanicals, not really knowing which I wanted. When I saw the bee, I was sold. It was simple, not overly busy and timeless.
Following the directions on the iron on transfer sheet package, print out your image. Trim your graphic and place face down on the item you want to transfer it too.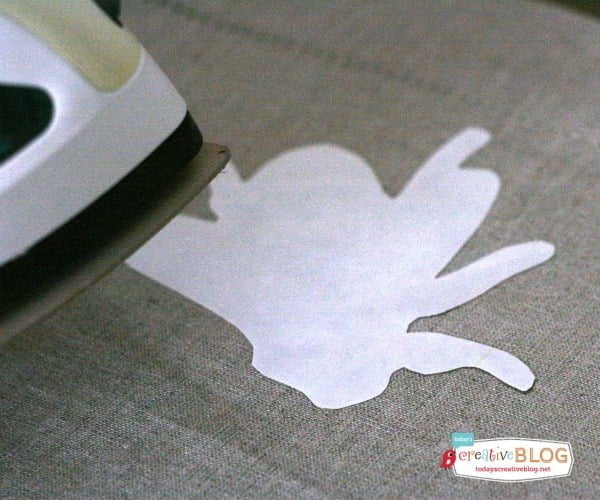 Apply a hot iron with NO STEAM. Press and iron firmly. I iron firmly for about 30 seconds. If you're working with material that may have polyester in it, watch for over doing it. The fabric will turn yellow (burnt).
After you're finished, let it cool. This is when I have a hard time leaving it alone. I want to see it NOW! But I've learned that the image is applied better when allowed to cool. Plus……..you don't burn your fingers, because that paper is super hot.
When it's cool, gently peel the paper away from your material.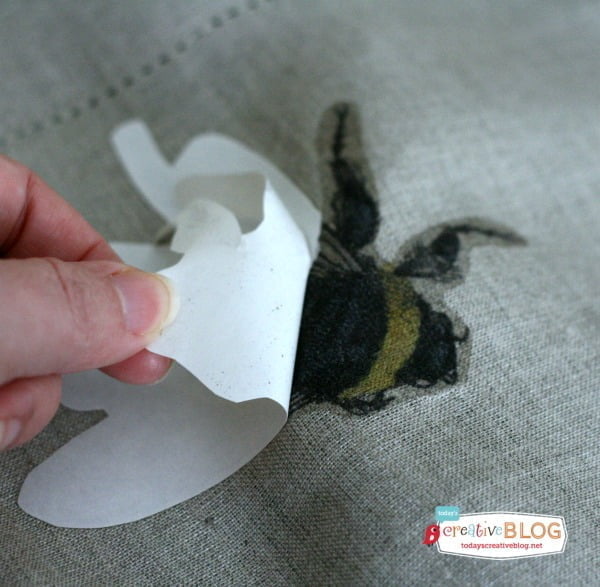 Look at that! I never get tired of it! The possibilities are endless on where you can use this method.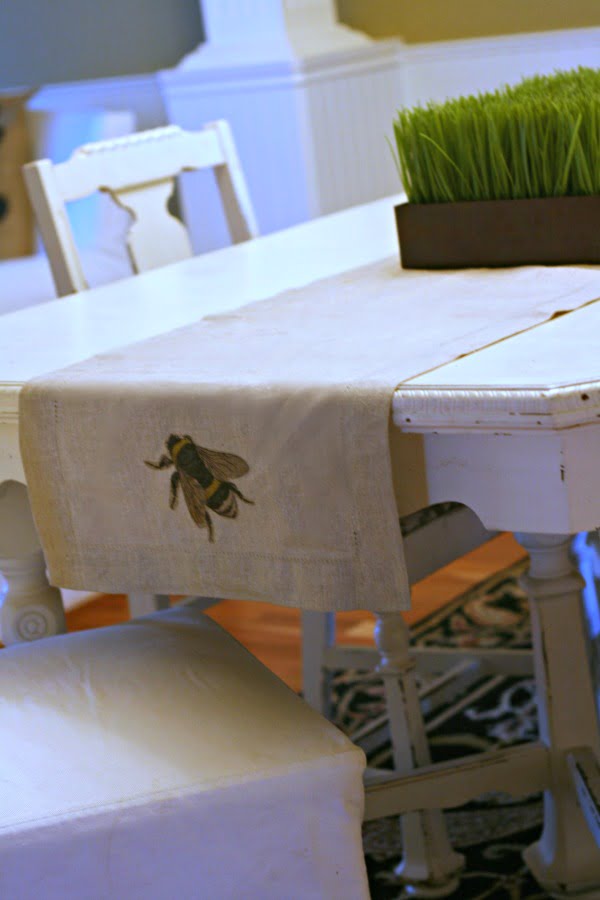 I created a set of napkins too using a Rose or Peony graphic. So simple.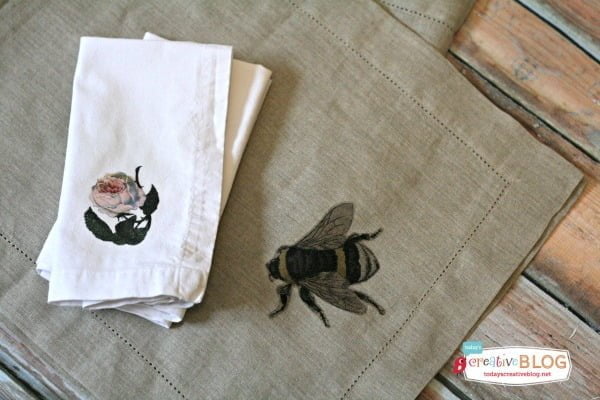 For your convenience – Clicking on the images will take you to Amazon. These links have my referral affiliate code, which means if you choose to purchase, I will receive a very very very small %. Even though it's very very very small, the FTC requires me to tell you.