The day is here! I whipped up a few quick shamrock crafts this week and another one today using the Double-sided Adhesive Starter Kit
from Silhouette. We don't do much decorating specifically for St. Patrick's Day, but a little touch here and there is good. I like a subtle look for holiday's like St. Patrick's Day. It's really just for the kids, right? Now that my son is 14, he doesn't expect the pesky leprechaun to mess anything up this year, but he did make sure to tell us that he would still like some Lucky Charms Cereal for breakfast.
Shamrock Crafts
Who cares if my son wants Lucky Charms………. lets get back to this craft!
I've really been enjoying the double adhesive kit with glass. I can think of so many ways to decorate for different holidays with simple vases or jars using the ton of glitter I own along with this kit. This little vase (actually a recycled jelly jar) will look perfect in the bathroom.
This kit works with any vinyl cutting machine.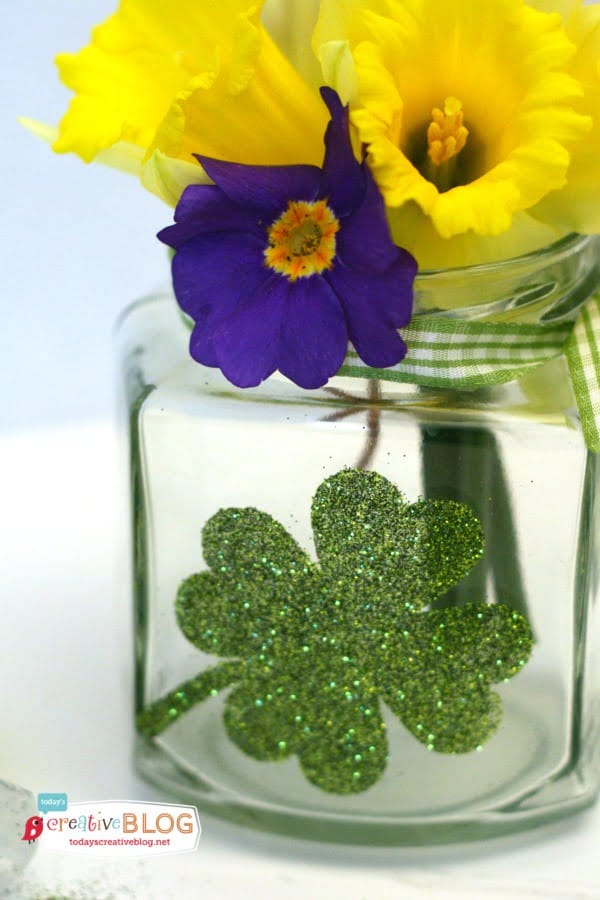 With double adhesive sheets, you cut your design just the same as you would on any vinyl.
Place the design on your item, then peel the top layer off, just as you would peel the paper off the back of a band aid. Don't touch it! It's super sticky!
Sprinkle your glitter over the sticky portion and let it sit for a minute. I then tap the item to allow any loose glitter particles to fall off. I follow up with a soft brush to remove the rest. As you can tell, I need to remove a bit more.
Super simple….. just how I love it.
Supplies Needed:
Vinyl Cutting Machine – Although you could trace and cut many designs
Double Adhesive Starter Kit- This comes with everything you need. Glitter and all.
Soft brush
Links for supplies contain my referral affiliate link- this only means that if you choose to purchase after clicking on my link, I would receive a very small %. I am required by law to disclose this information.