This post brought to you by Walmart. All opinions are 100% mine.
I was finally asked to work with Duck Tape so I made DIY Pen Flags for Back to School!
The fun Duck Tape® patterns have been calling my name for a long time. I rushed to my local Walmart and found the Duck Tape® patterns I couldn't live without. Sure you could use the solid colors for this DIY Pen Flags project, but I couldn't resist the argyle and mustache designs! You can buy Duck Tape at Walmart.
DIY PEN Flags Back to School
Everyone is thinking Back to School this time of year. My son is heading into high school and sadly, he'd be way too embarrassed if I sent a teacher gift or an office staff gift with him on the first day. But that doesn't mean I can't deliver these pens to them myself. This DIY Pen Flags craft is perfect for the office staff……..at least that's who I had in mind when I created these. People coming into the office usually have to sign in and out. If they had a regular pens or pencils out, they would disappear in no time. The office staff doesn't have time to hunt down pens, so having a few that are decorated and way too obvious to take by accident keeps a steady supply of needed writing utensils for the parents. Maybe I'll make my son a few book marks out of duck tape! Those could be very useful!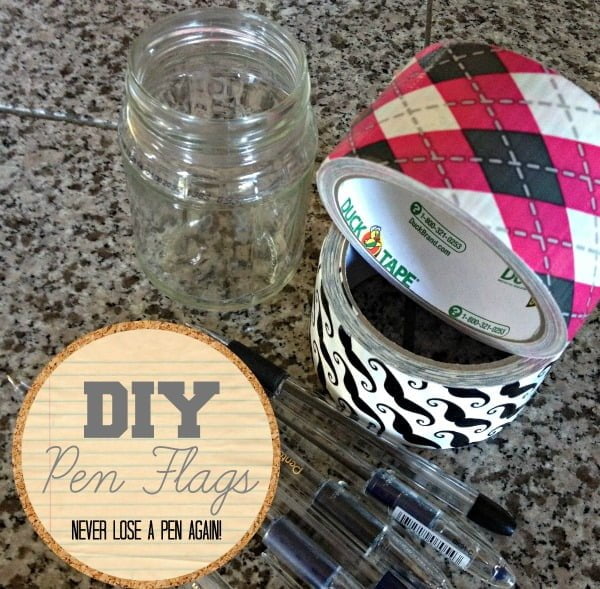 These are SO so easy to make!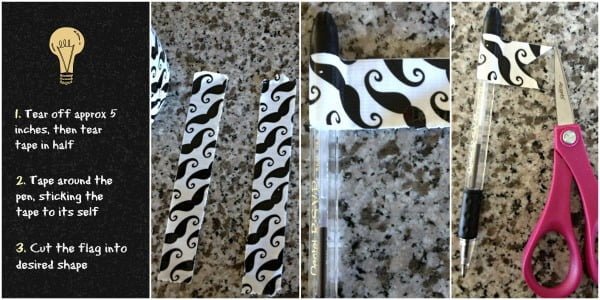 Find a jar or recycle a container to hold your pens. I used an old mustard jar, but even a rinsed frozen juice container would be perfect once covered with Duck Tape®. I wrapped one strip around my jar.
For the pens, I tore off a piece of my Duck Tape®, then tore that piece in half making thinner strips. This tape rips easily. No cursing needed. Of course you'll need to have a piece of tape long enough, but don't worry about it being too long because you're going to cut it anyway.
Place your pen in the middle of the tape on the sticky side. Wrap the tape around your pen and to its self.
Clip the end with scissors into any desired shape. I did a pennant shape for fun!
So cute! I made a larger pennant for the jar………just for fun.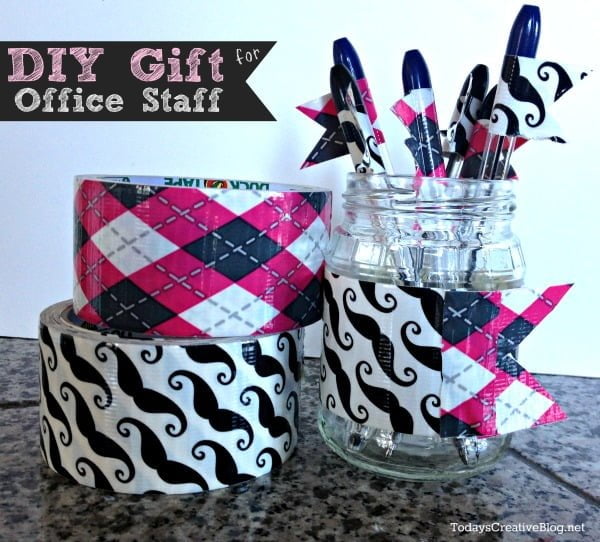 Now that I'm finished, I'm wondering if I should have used a plastic jar……that way it wouldn't break of the parents start fighting over the pens. I love that this craft is easy enough for kids to help or for older kids to complete on their own. I think this is a great idea for kids to do for their pencils. My son was always losing his pencil. Problem solved. While picking up school supplies……..don't forget the Duck Tape®!
Are you ready to enter to win a $100 Back to School Gift Card to Walmart? Leave a comment on the Promo Widget stating what kind of Duck Tape® back to school themed craft you would make if you won the gift card?