This year, I'm going to have a Gingerbread House Decorating Party instead of our annual Christmas Cookie Decorating party. After 16 years of throwing the best Christmas Cookie Decorating Party, it's time to shake things up!
I've partnered up with Cost Plus World Market this year to create this fun holiday tradition that is going on its 16th year! I was able to find everything I needed to freshen up my holiday decorations and I found easy pre-built gingerbread houses!
Gingerbread House Decorating Party
Like you, we have created many holiday traditions, but the two that stand out the most is our Christmas tree tailgater and our Cookie Decorating party.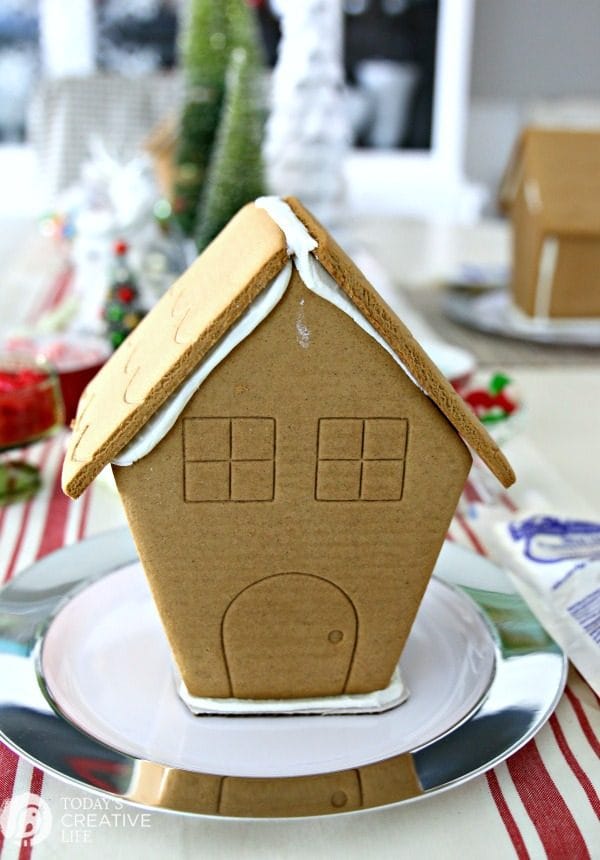 When my son was 3, I invited 3 of my best friends who had children around the same age to join us for an afternoon playdate of decorating Christmas cookies. There were sprinkles, candies, and frosting everywhere, not to mention some very happy kids. We all had such a good time, we just kept gathering year after year, and eventually including the fathers too. Families got bigger, kids got older and other items like cupcakes and gingerbread houses were added for more fun. It's always potluck style, so we are well fed and entertained. The perfect combination for holiday traditions that last.
This year, with the help of Cost Plus World Market, I am using the pre-built gingerbread houses and sprucing up the table.
With many of the kids in college now, they enjoy the challenge of creating the best-decorated gingerbread house. Maybe I'll even hold a contest to inspire some creative competition.
Another perk with the kids getting older, I can create an easy and stylish centerpiece that can stay throughout the season.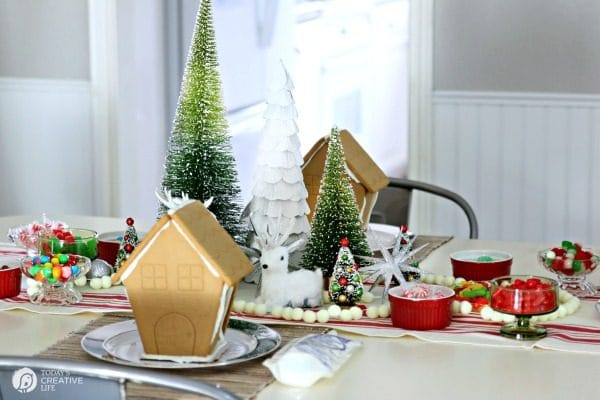 Like all my centerpieces, I keep them simple, grouping like items together for a seasonal look.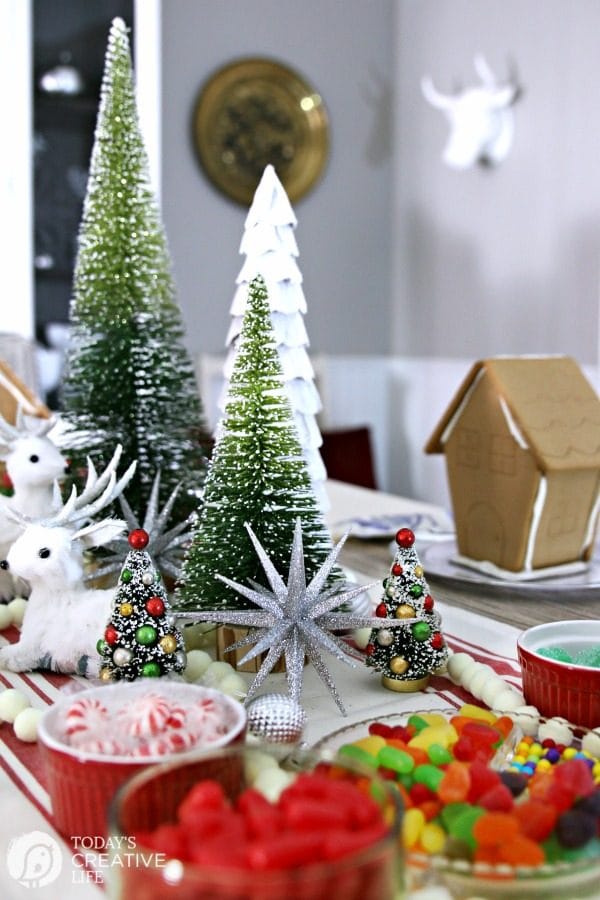 How to Host a Gingerbread House Decorating Party
Create a Simple Holiday Table
A seasonal centerpiece will set the tone. Sure you could just sit the kids around the table with a bunch of supplies, but wouldn't you like it to make it special and festive? I found all of these items at my Vancouver Washington local Cost Plus World Market.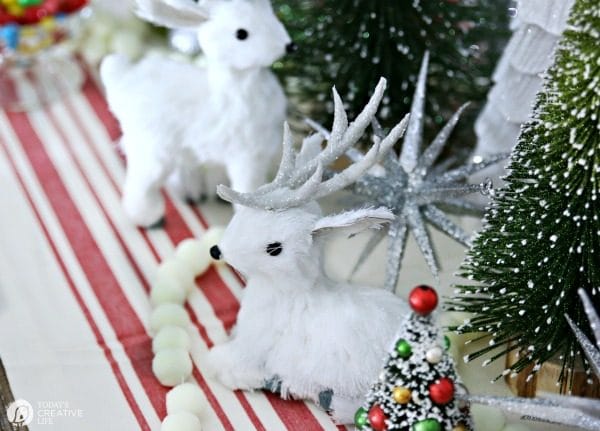 Decide on your table linens. I chose the red stripe table runner and the sparkle bamboo placemats.
If you start with the rule of 3 or 5, you'll keep the feeling of balance. I started with 3 different trees that all hit at different heights.
Then I placed my deer since they were my second focal point.
Found a space for the 3 glittered ornaments.
Then filled in the spaces with the small trees.
DONE!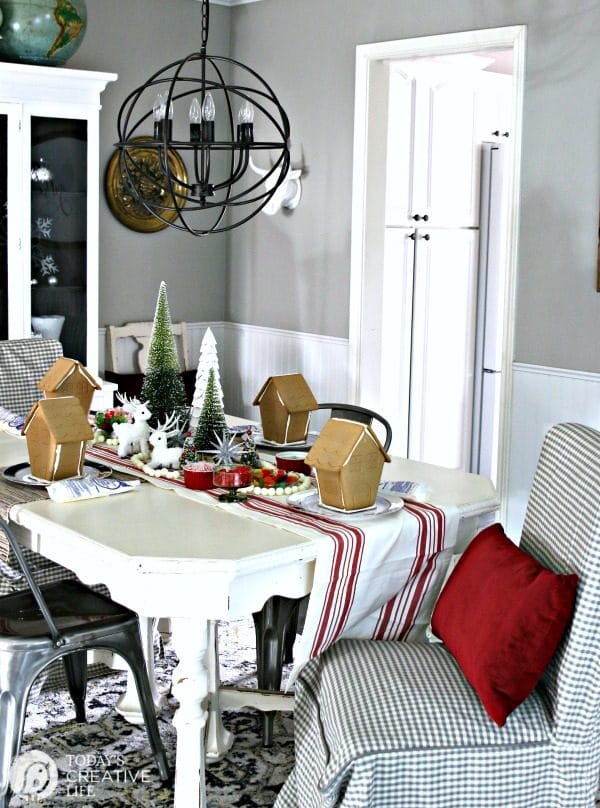 It literally took me about 5 minutes.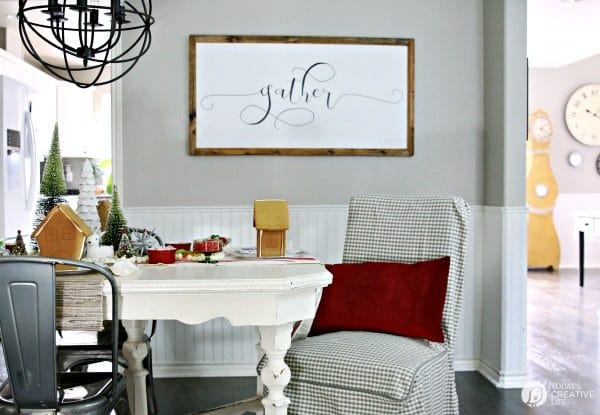 How to Set up a Gingerbread House Decorating Party
Supplies Needed:
Gingerbread Chalet Kits – These came pre-built but they also have other options for building your own. They also came with candy and icing!
Candy – I added extra dishes of candy for a larger variety.
Candy Dishes – While shopping, I thought the ramekins would be great for bringing in more color and double as extra candy dishes.
Paper towels – just have them ready for quick clean up.
Create a workspace for each person with the gingerbread house out and ready! Place the gingerbread house on a paper, or plastic plate so the frosting doesn't get all over your new table runner or placemats. Cardboard cake mats work well too.
Fill extra candy dishes and place it near each workspace.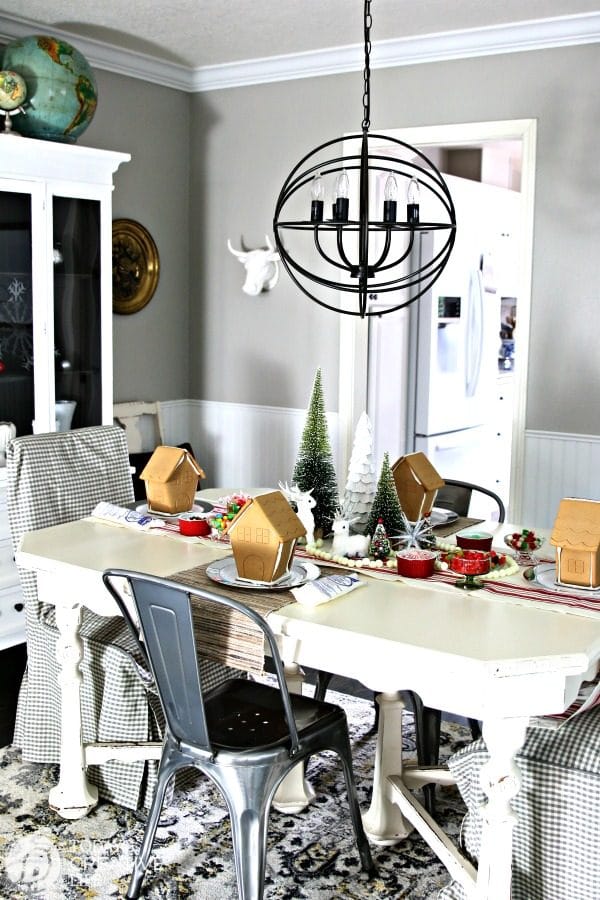 By having everything accessible and ready to go, your party guests can start decorating whenever the creativity hits!
When the party is over, all you have to do is clean up the gingerbread house items and leave your beautiful holiday centerpiece to enjoy!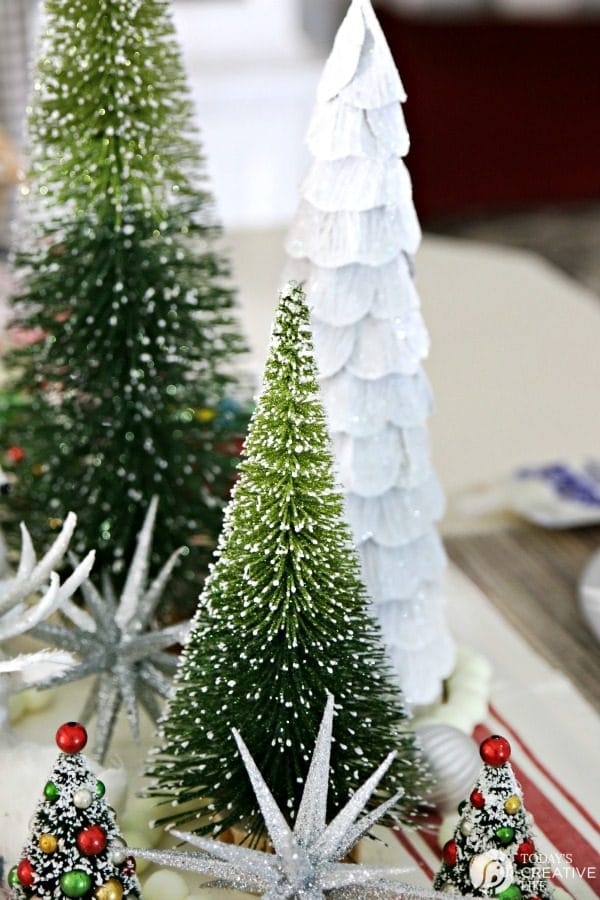 Simple Holiday Entertaining
Holiday entertaining can seem overwhelming, but it doesn't have to be. Break it down into the following steps.
Choose a theme and go for it! Keep in mind that it's about creating memories, not perfection!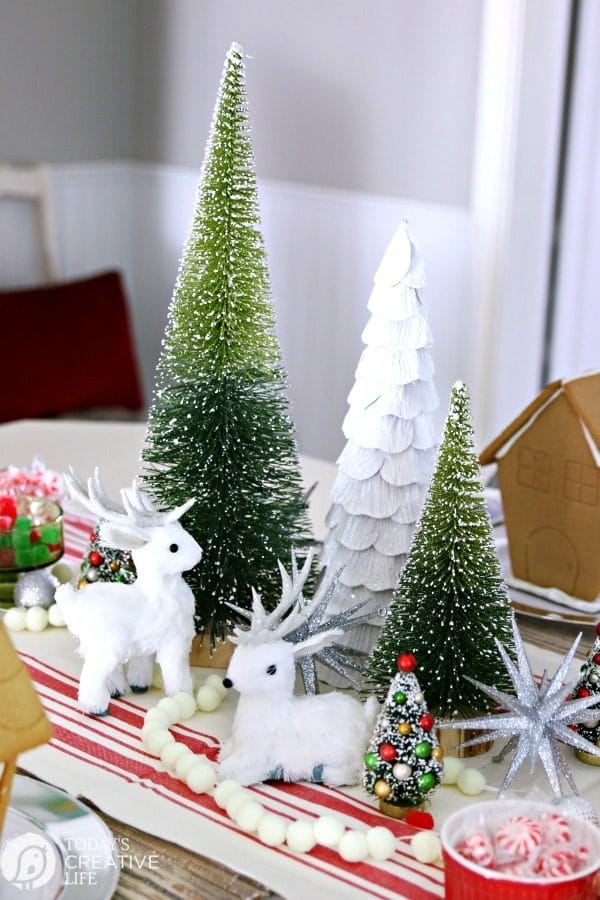 Enjoy! For more simple holiday table ideas, here's a great video to keep you inspired.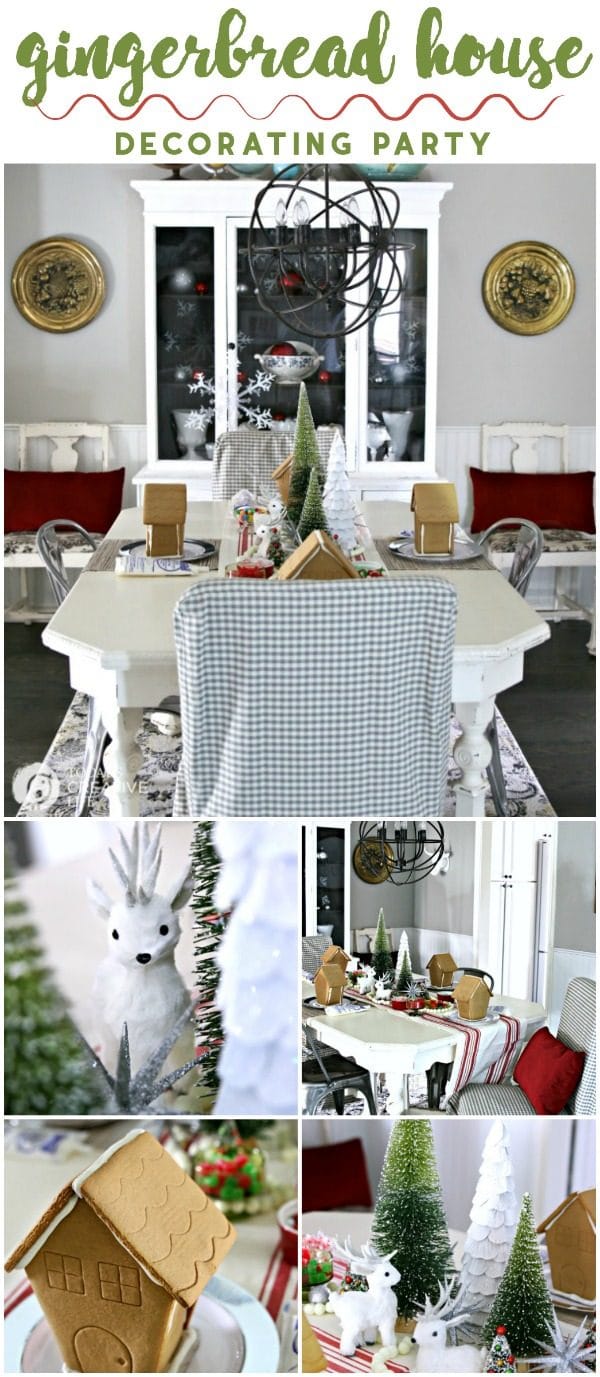 SHOP THIS POST
[show_shopthepost_widget id="2881027″]
This post was sponsored by Cost Plus World Market. I was allowed a shopping budget and compensated for my time. My opinion and ideas are 100% mine.