Original and functional and stylish home decor! Make this DIY Home Project Copper Wire Photo Display following this tutorial.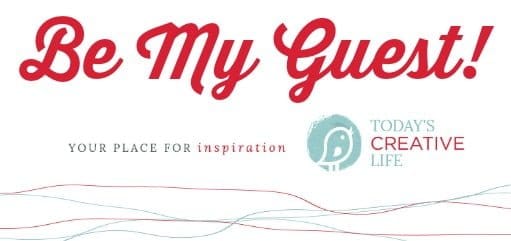 Hello, Today's Creative Life readers!! This is Shonee from Hawthorne & Main!! I am so excited to be with you today sharing my Copper Wire Photo Display!!
DIY Home Project – Copper Wire Photo Display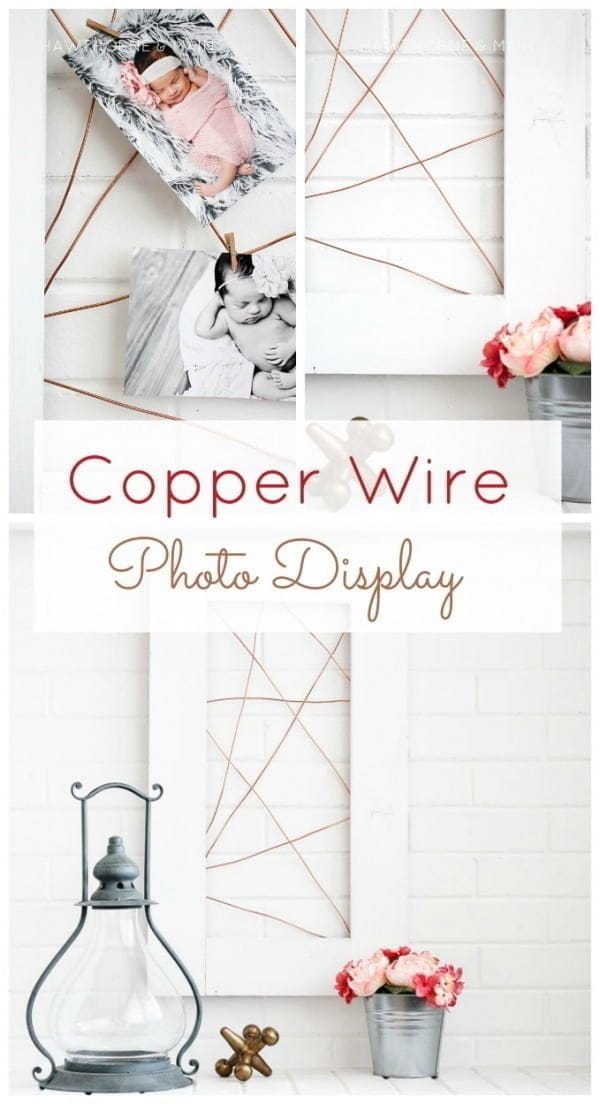 Over at Hawthorne & Main you will find all sorts of fun DIY projects as well as our journey with fixing up an old 1950's house. I have gotten a little bit personal by sharing our journey with infertility. I hope you will come say Hi!
I have heard that we are in an era where we don't print as many photos anymore. With smartphones, tablets, and computers to take and store our photos, it can be hard to see the value in printed photos. Personally, I love to have family photos around the house. Here is a simple copper wire photo display that will make showing off your recent pics easy.
SUPPLIES:
Wood frame
Copper wire 12-15 ft (depending on frame size)
Staple Gun
Paint
Pictures
Clothes pins
A few months ago I had a pretty good craft fail, actually it was a build fail…. it was sad…
…….it took a while but I eventually got over it.
I had made this frame for that project, after the disaster, it sat outside and got dirty and old looking. I came across it the other day and decided to give it a new life! After a good wash and some sanding, it was back and ready for action!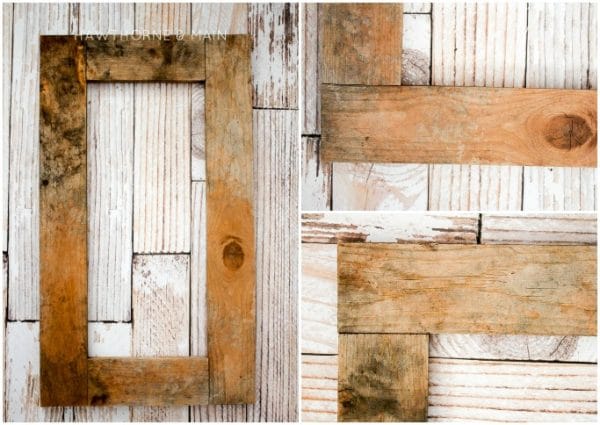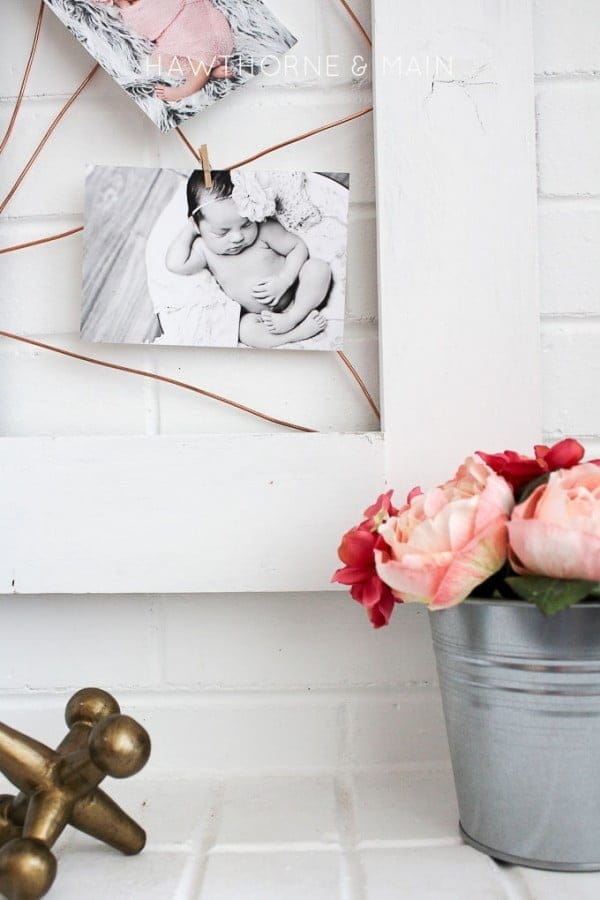 TO START:
Find a wood frame that is sturdy enough to withstand adding multiple staples into it. I originally had this really cool frame that I got from a thrift store. As I started to add the staples the frame started to fall apart. Find a strong frame.
Draw on a piece of scratch paper a rough sketch of how you want the wire to look in the frame. It doesn't need to be perfect and you can always change your mind. Just draw a couple of different ideas on how you want the wire to look.
Starting in the top hand corner staple down one of the ends of the wire. Take the wire and staple it to the other side of the frame. Continue going back and forth until all of the wire is gone or you are happy with how it looks.
Try to pull the wire taut before you add each staple. This way the wire won't be sagging in your frame!
Be sure to leave enough wire at the end to staple it down to the frame.
Add your favorite type of picture hanging hardware and you are all set!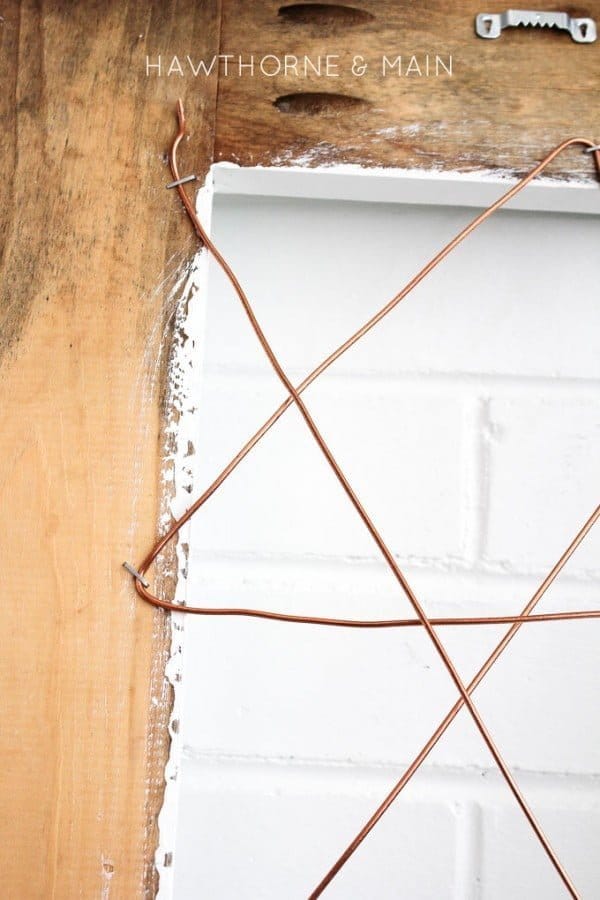 I love the contrast of the bright white against the copper wire! Copper is such a great metal to work with and I am seriously loving this project!! Grab your paper clips and hang up your pictures. This would also a great place to display holiday cards. You could even decorate it for a special occasion or holiday!!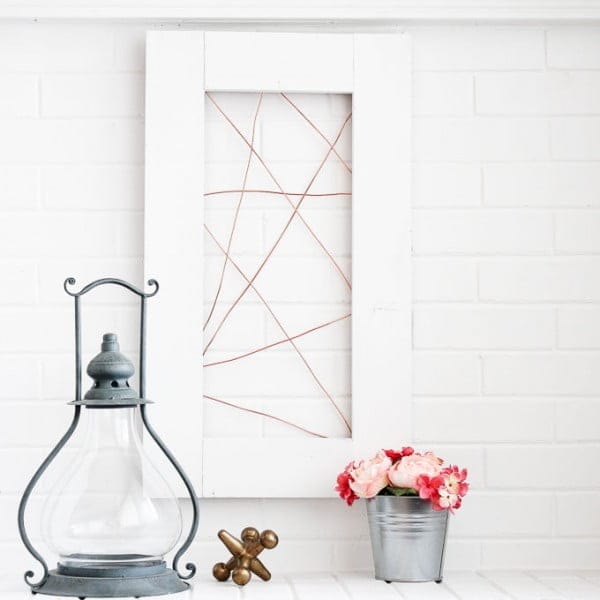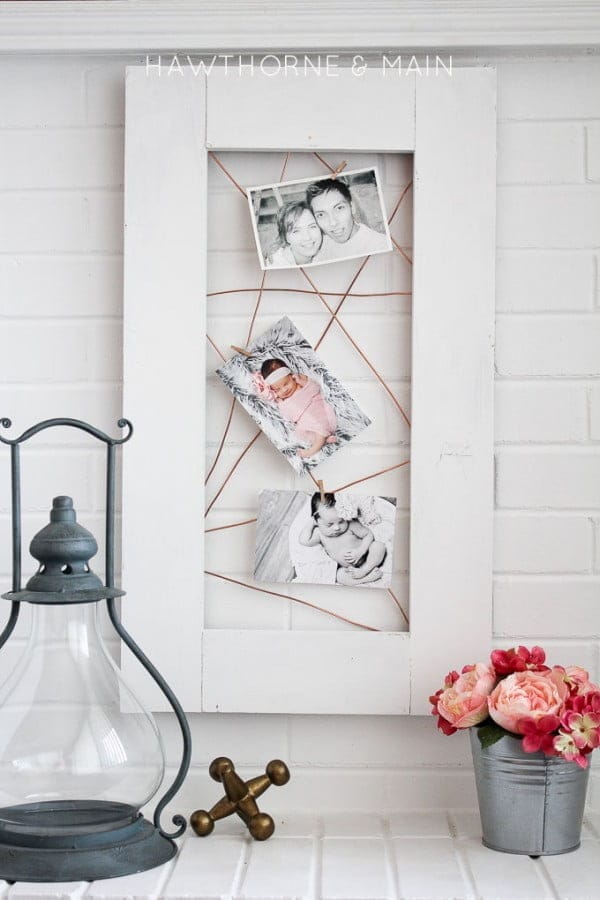 Thank you Kim for letting me come hang out today!! I would love for you guys to come stop by Hawthorne & Main!