Having Furniture for Easy Holiday Entertaining makes it so much easier to host holiday dinners and parties.
You want pieces that are beautiful, but also functional, especially if you're trying to create more space for a buffet, a drink station or to store items you'll be using for the season. You want to be able to transition from one holiday right into the next. Which you can see how I used other holiday pieces from BHG to quickly decorate for Christmas.
Update: I have added another great piece of furniture from BHG. This Metal TV Storage Cabinet is perfect in my upstairs hallway.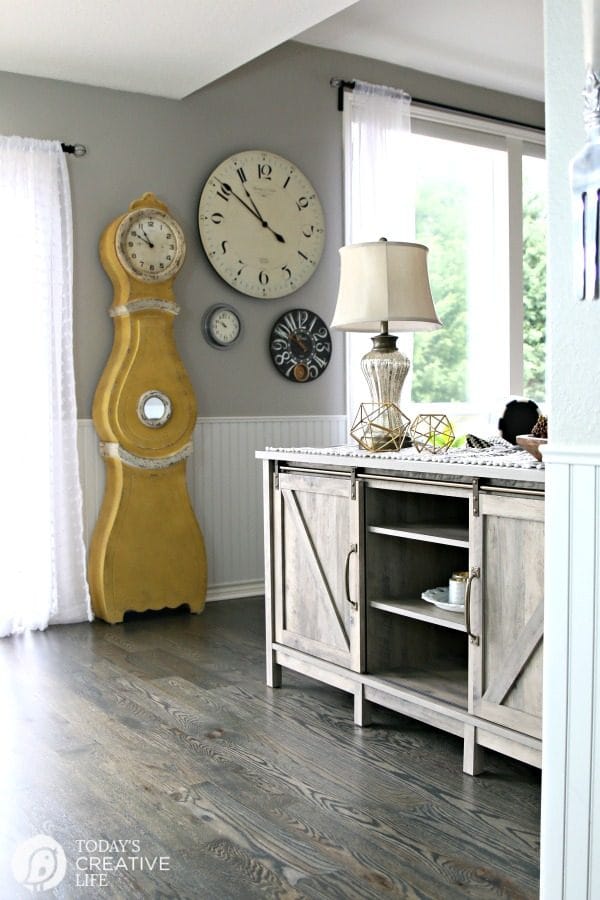 Furniture for Easy Holiday Entertaining
As usual, my kitchen seems to be where everyone wants to gather. The counters get filled up quickly with potluck dishes, drinks and more. My kitchen isn't that large, so I've always tried to set up a banquet table nearby to hold the overflow. But those aren't that pretty and it takes up valuable space.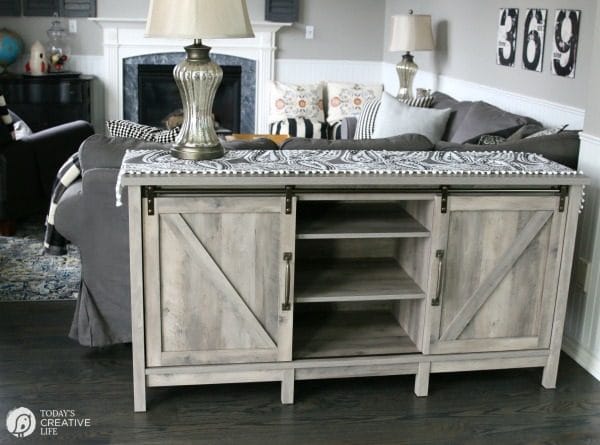 Years ago, I bought a table for $20 from a garage sale, painted it and was intending to use it on the deck. Which I did, but somehow over the years, I started to temporary use it as my sofa table and there it sat. It wasn't in the best shape and I couldn't wait to get rid of it, but until I could find what I wanted, it was staying. (you can see it here in my Decorating for Spring post I did a couple of years ago… I've painted and gotten rid of our carpet since then too)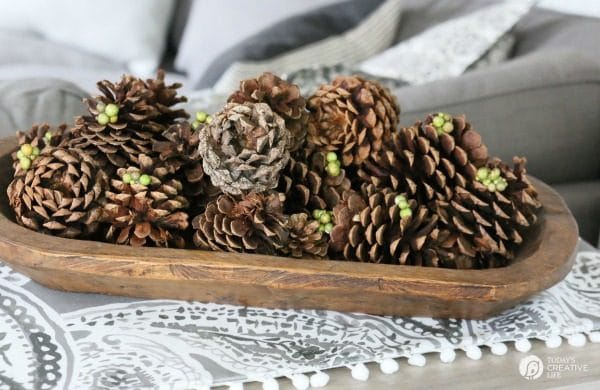 I needed to find something that was stylish but had storage. There are plenty of sofa tables out there, but I needed something functional. I wanted furniture for easy holiday entertaining, that could transition through the year and could help store seasonal items.
As one of the bloggers for Better Homes & Gardens at Walmart, this month our challenge was to use their products for seasonal entertaining.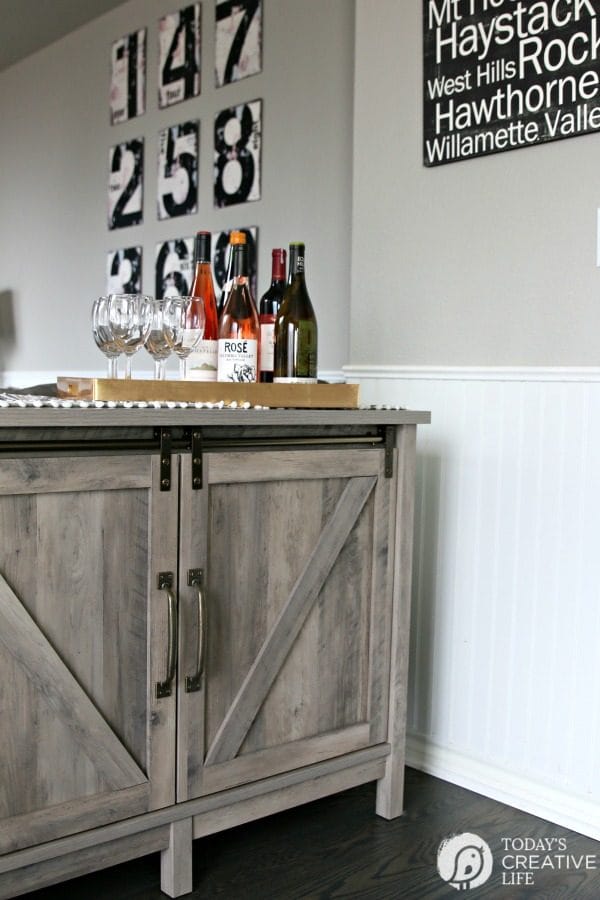 I'd had my eye on this Modern Farmhouse TV Cabinet for months. It sat in my online shopping cart for a long time. I wanted it really badly but was afraid it would be too brown and clash with my flooring or sofa.
I am happy to report that all that worrying was for nothing! It's the perfect greyish brown tone and I think it looks fantastic!
I love being able to slide the barn doors to wherever I need.
Doors Slid to the Sides: This is how I seem to have it most the time. I haven't decorated the shelving much but rather using it to store serving platters.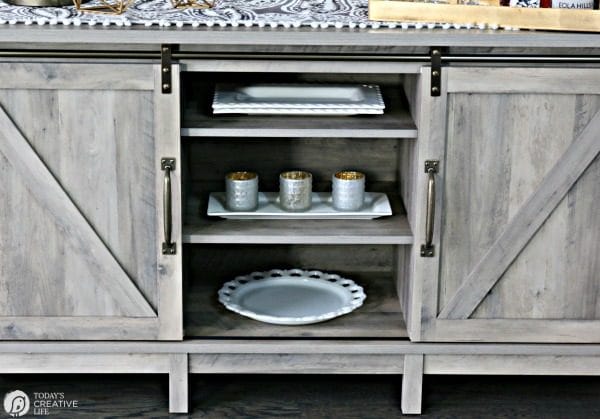 Easy to swap out items to transition from one holiday to the next.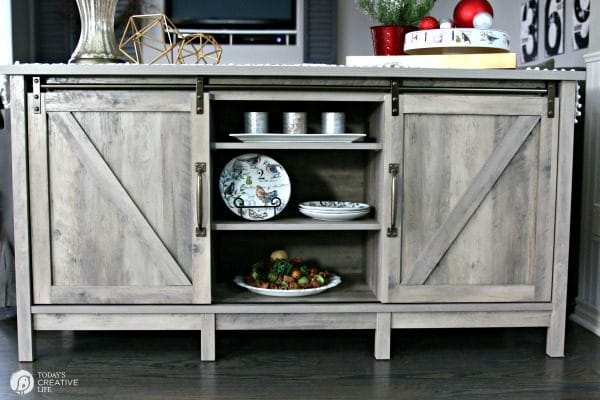 Doors slid to the Left: Seasonal dishes, cloth napkins, with room for more. This makes this cabinet the perfect furniture for holiday entertaining, keeping items handy when you need them. If it gets too cluttered, just slide the door shut.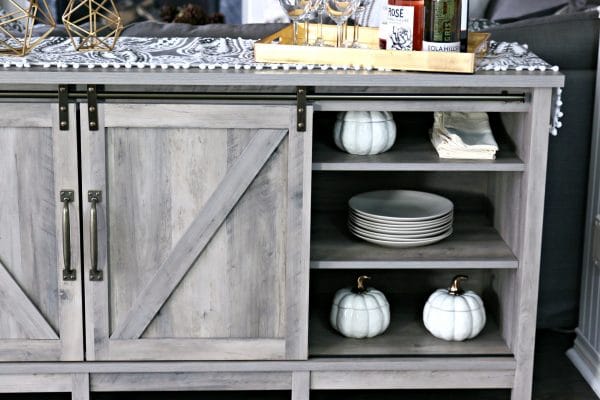 Doors Slid to the Right: More seasonal dishes. This makes setting the holiday table easier.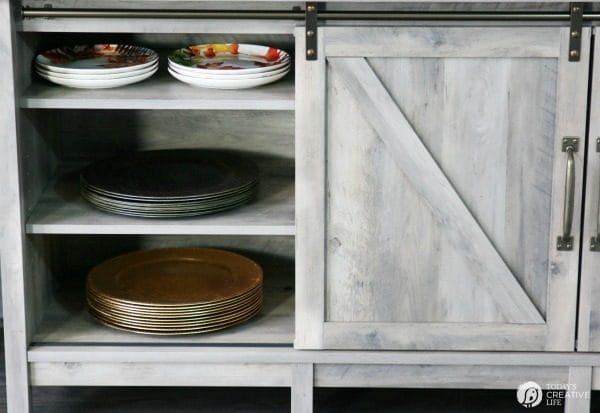 I thought about storing more wine glasses too.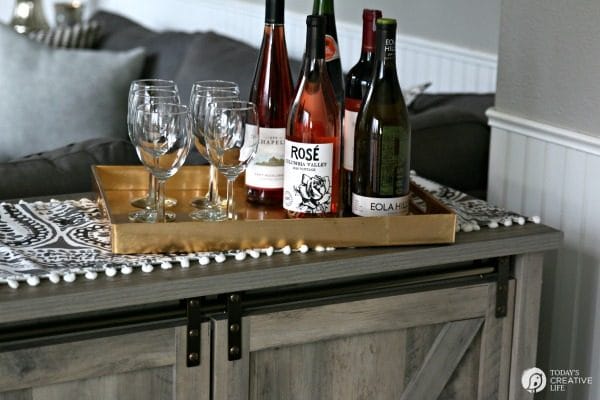 I'm excited to try it out this year and I'm sure it will create a better flow for holiday entertaining.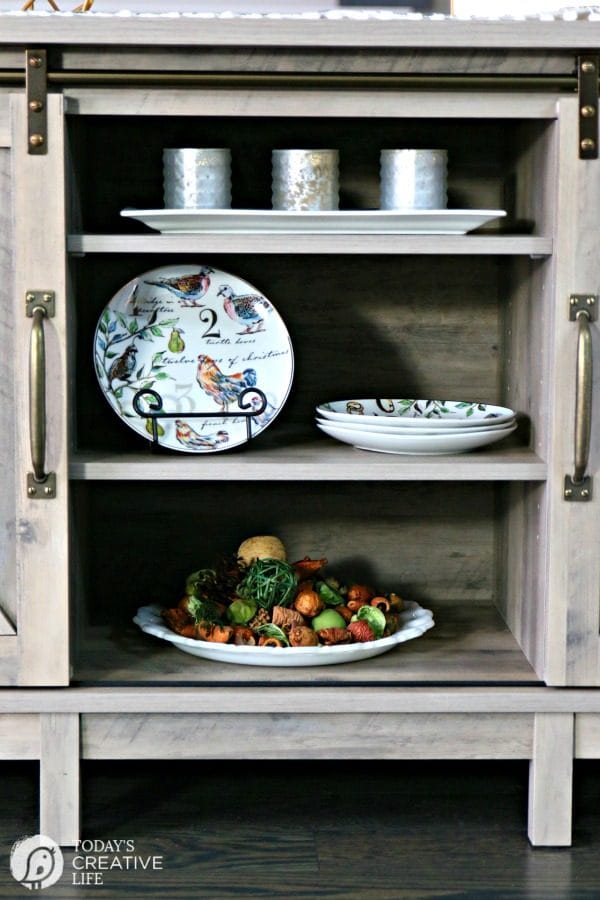 Furniture for Easy Holiday Entertaining that easily transitions for all seasons is a winner!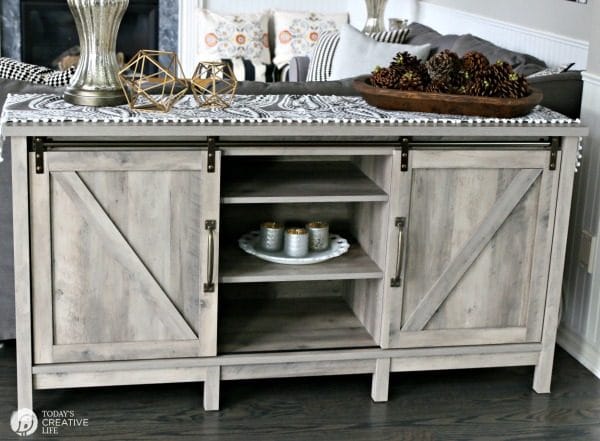 ---
Shop This Post
---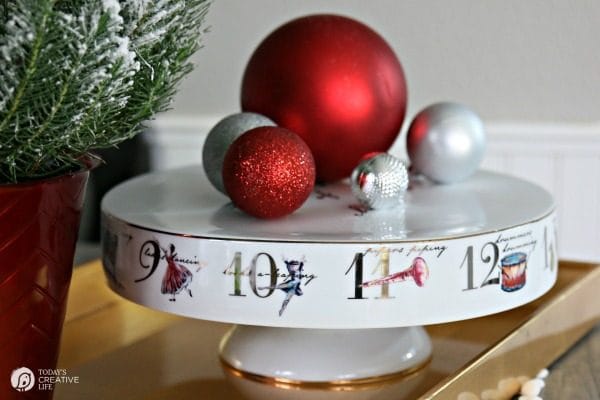 This holiday cake plate will look fantastic serving dessert or just using it to decorate with.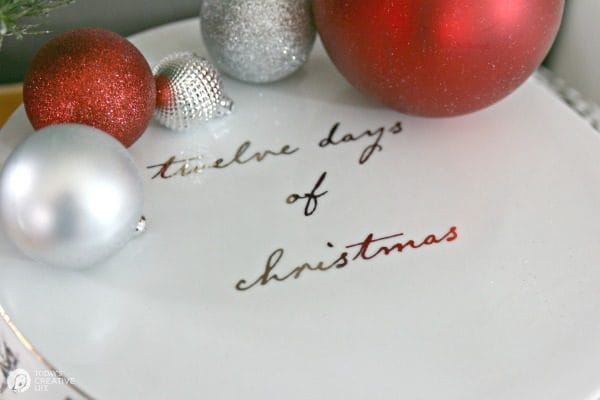 To move from Thanksgiving to Christmas, just pour out a bag of the holiday potpourri and your home instantly smells like the holidays!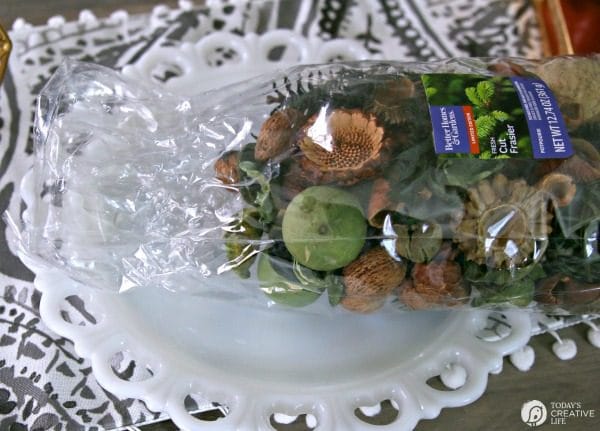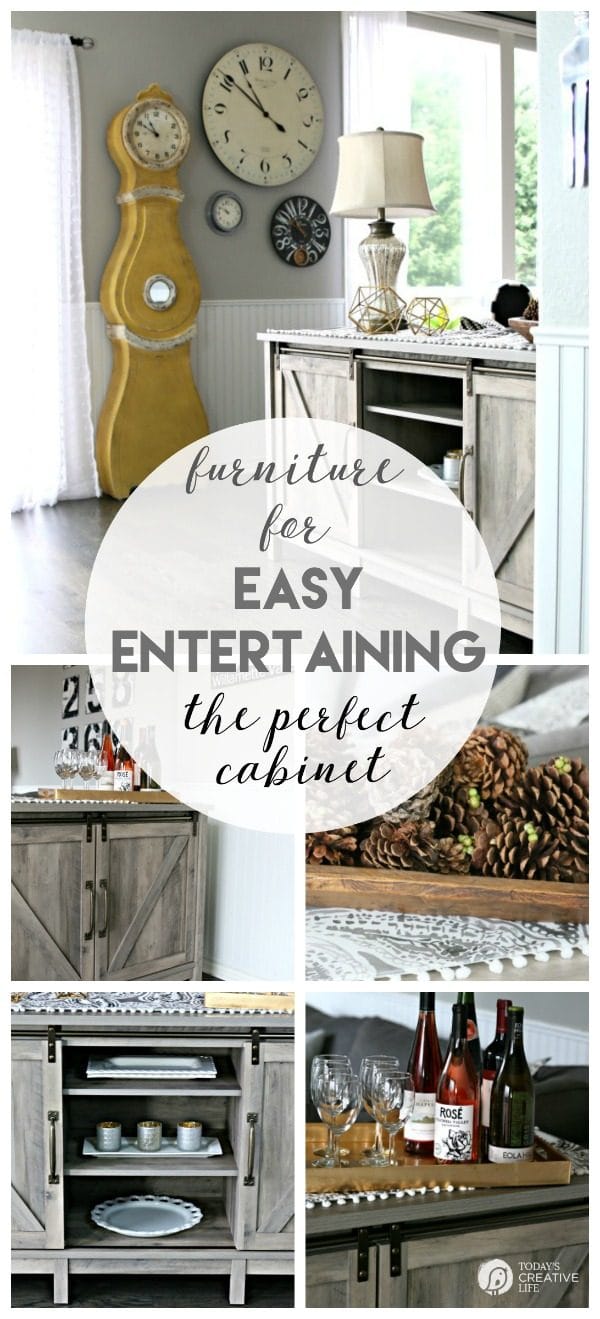 ---
More from Better Homes & Gardens BHGLiveBetter Influencer Network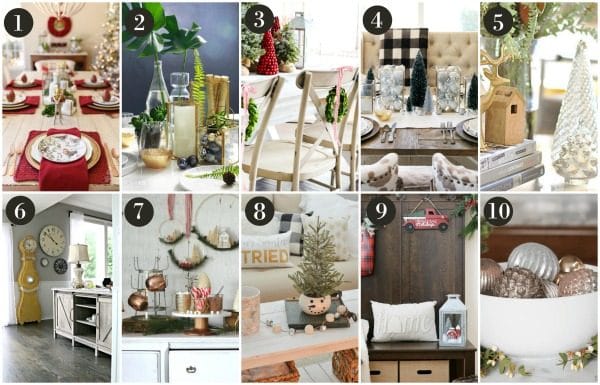 How to Set an Informal Table 2. How to Style Seasonal Entertaining Vignettes | 3. Simple Farmhouse Christmas Tablescape | 4. Modern Christmas Table Ideas | 5. Simple Holiday Decorating | 6. Furniture for Holiday Entertaining | 7. Easy Hot Chocolate Station Ideas | 8. Cozy & Calm Holiday Decorating | 9. Entry Christmas Decor | 10. 5 Easy Holiday Entertaining Tips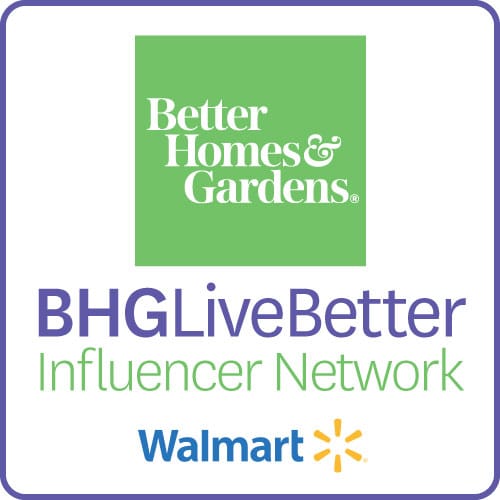 This post is sponsored by Better Homes & Gardens for Walmart. All opinions and product choices are 100% mine.