I've had many many questions about the fast and fabulous room makeover.  Aaron Christensen (my famous designer artist old friend I taught hi-low aerobics with) and I threw this room together really quickly.  Aaron did most the work by building the desk and shelving at his studio. Once he showed up last Sunday morning, it was a whirlwind of activity.  I think we took these shots at 3pm.  Not bad. Truly, it's the coolest boy bedroom ever!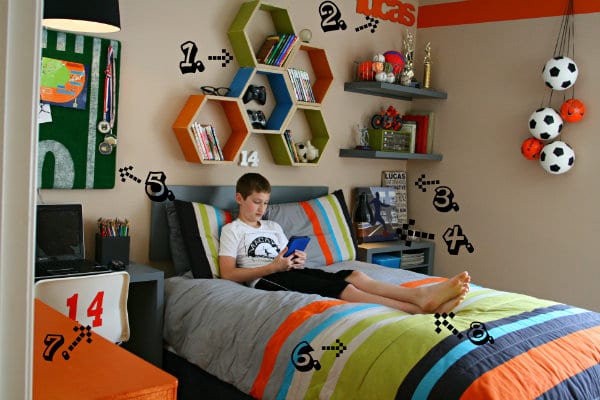 Bedroom Makeover
1. Hexagon Honeycomb shelving – Aaron will be doing a tutorial on how to make these! Of course he sounded like they were totally easy. Paint was matched to the bedding.
2. LUCAS- that's actually a thin wood cut out of my son's name.  I bought it off Pick Your Plum a few months ago.  We painted the same orange as the strip.
3. LUCAS Subway art– I think I got this one off Groopdealz.  It was crazy inexpensive.
4. That is Aaron's art.  It's sold in all the cool places because he's famous……..remember?
5. Artificial Turf Bulletin Board– Aaron just whipped this up with his magic hands.  He's also agreed to do a tutorial on this as well.
6. Bedding- It's from Target.  About a year old. I bought the set on clearance for about $29.  SCORE! The original colors were really really bright and I didn't think the grey went with the tan walls.  Aaron patted my head and told me not to worry……….that he had a plan.  He concocted his own blend of dye colors and dyed it.  Kind of like a tea stain.  It muted the colors enough to blend with the tan walls.  Perfection!
Here's something similar.
Similar Red & Gray Striped Bedding

Similar Orange/Brown/ Green Bedding

7. The chair is from IKEA.  $34. I used my silhouette to cut out my son's soccer numbers. Aaron applied them because he knows I'm not a perfectionist and would probably make it a little crooked. 🙂
8. My beautiful son with dirty feet.  We had him running out to the garage all day grabbing supplies.  He hasn't moved from this bed in one week.  He loves the room!
9.  9?  There is no nine..…….but I meant to do a 9.  Soccer balls.  I picked up foam soccer balls and mini soccer balls at Walmart. We stuck a hole in the foam ones, inserted a molly screw type thing with hot glue.  With the mini's we used the air needle thingy………we tied black party string to the needle thingy's and strung them up!
Keep up with what Aaron's doing next by joining his Facebook page!


You can see all of Aaron's Canvas Wall Art here.

linking to tidymom