When you're planning the perfect table decor and you want Succulent Napkin Rings, you decide to get crafty and make your own with a few simple supplies from your local craft store!
My blogger friend Amy is sharing this really fun DIY craft that can be used for everyday dining or special events! To go along with these succulent napkin rings, she's got a tutorial on her site to make the coordinating succulent wreaths. Don't miss it!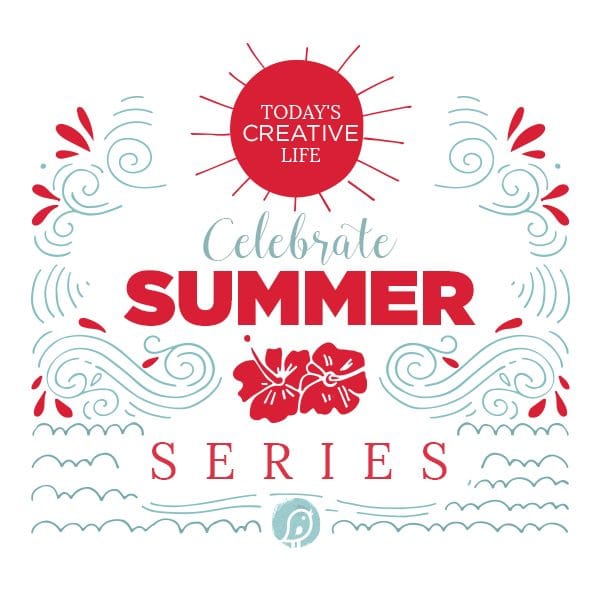 ---
Succulent Napkin Rings DIY
I'm excited to be participating in Kim's Celebrate Summer Series for the third year in a row. I'm visiting from Atta Girl Says, where I share ideas to make your own brighter and your heart lighter, many with a vintage or southern flair.
The first time around, I shared a recipe for hot dog chili and last year, I created a fun tic tac toe game for kids to play while they're waiting for July 4th fireworks. Today, I've whipped up a simple way you can add a summertime vibe to your table using succulents.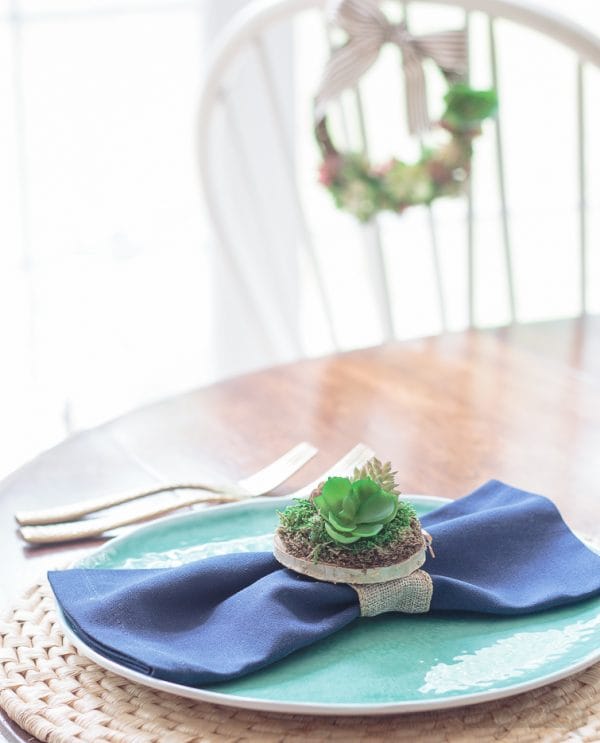 I love using succulents in my summer decor, and I'm usually pretty good about keeping them alive. But I also love the ease of using faux succulents, especially for crafting.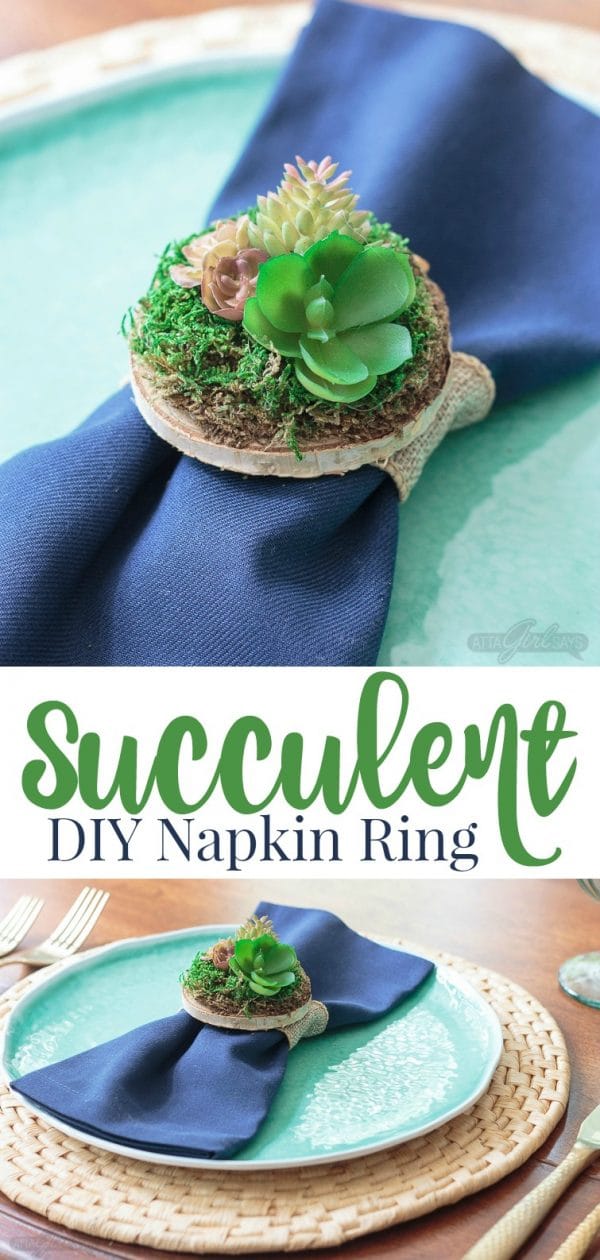 How to Make Succulent Napkin Rings
How to make napkin rings is easier than you might think! Once you get going, you'll have all kind of ideas and will be creating custom designs for any event!
I made these rustic succulent napkin rings using realistic-looking faux plants from the craft store. I think they look very much like something you might find at Terrain, and they're so simple to make — albeit a little messy.
Supplies Needed to Make the Napkin Rings
Affiliate links for products listed are for your convenience only. This costs you nothing extra. If you happen to purchase anything as a result of clicking, TCL will receive a small percentage. Thank you for your support. This allows me to continue to offer you free content.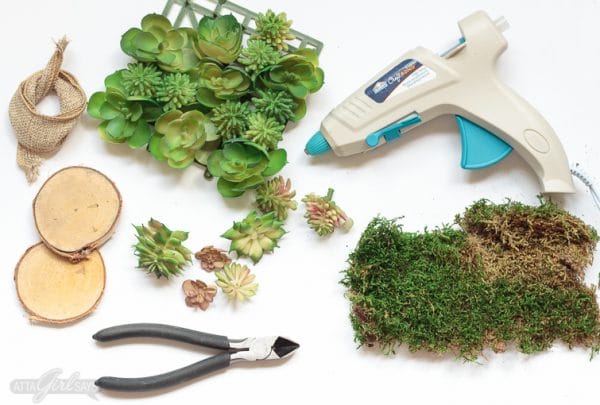 I like using these sheets of succulents from Michael's because the plants just pop right off, no snipping necessary. If you use succulent stems, you may need to use wire cutters.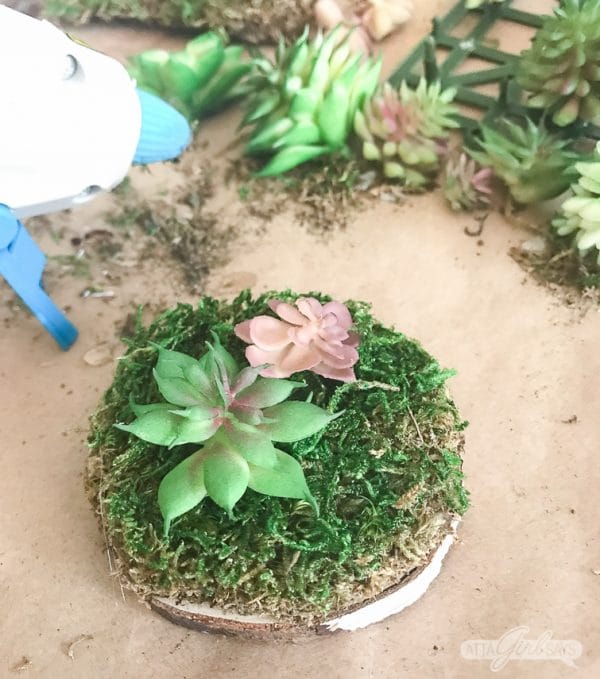 Now for the messy part. Cut some sheet moss to cover the top of the birch round and secure with hot glue. (Be careful not to burn your fingers.) Trim the excess moss so you can see the sides of the wooden coaster.
There's no neat way to do this. Moss will get everywhere, so I recommend putting down kraft paper or a paper towel. Even so, you'll probably still get some pieces of moss on the tabletop and floor. Or at least I did. Messy crafter here!
Next, glue the faux succulents on top of the moss, clustering together to create a dish garden look.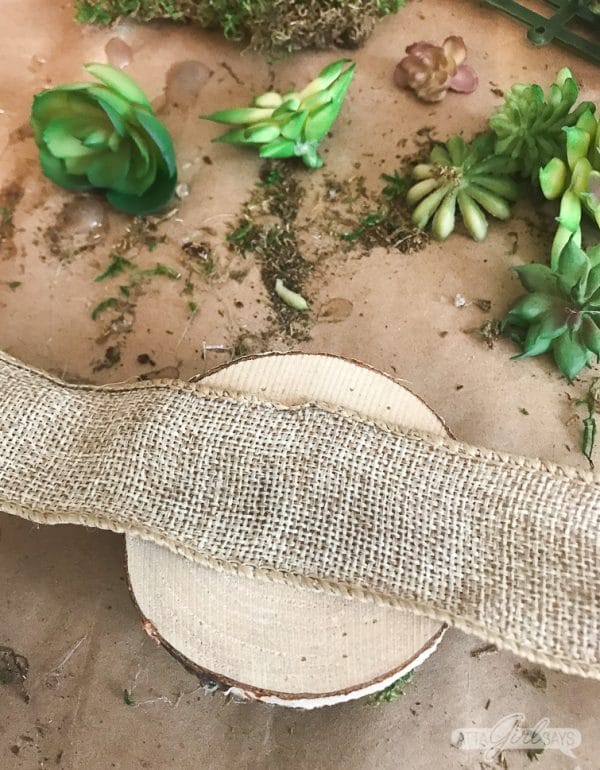 Once the glue has dried, flip the succulent napkin ring over and glue a piece of ribbon to the back of the wooden coaster. You'll tie this around the napkin.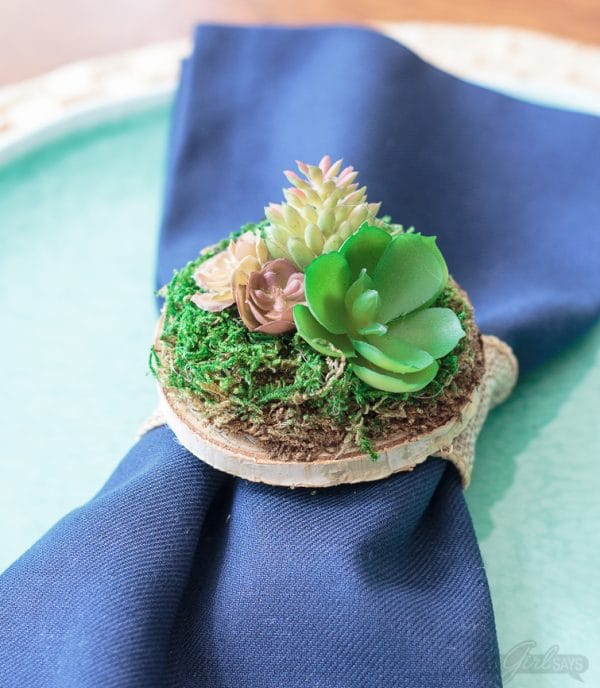 Once you've finished using the hot glue, brush away any excess moss. To get rid of hot glue strings, blow the napkin ring with a hair dryer for a few seconds. The strings should blow away. And now you know how to make napkin rings!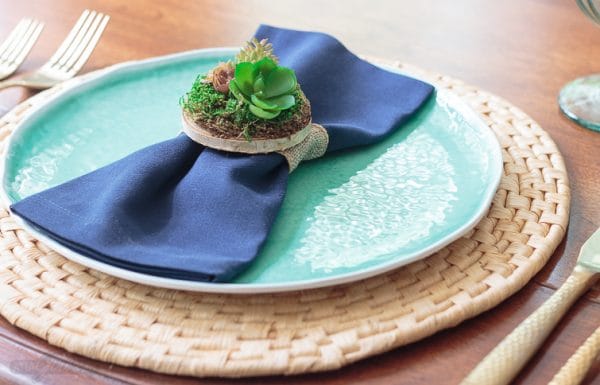 I'm planning to use these succulent napkin rings as part of a natural tablescape I'm styling for summer.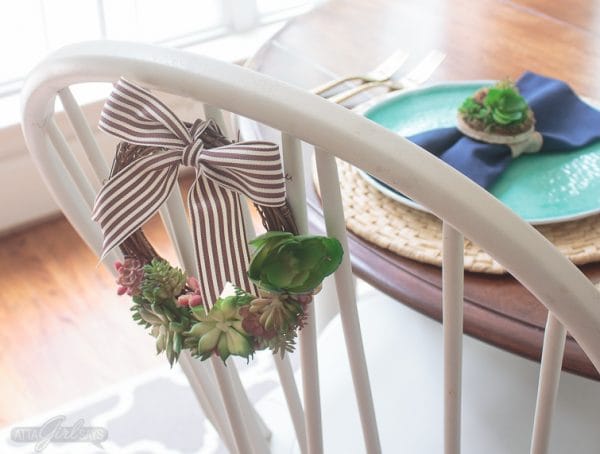 I also made some miniature grapevine and succulent wreaths to hang on our chair backs. I'm sharing the details of how I made them on my blog, Atta Girl Says.
If you liked this idea, I hope you'll come visit me there. You may enjoy these other posts of mine: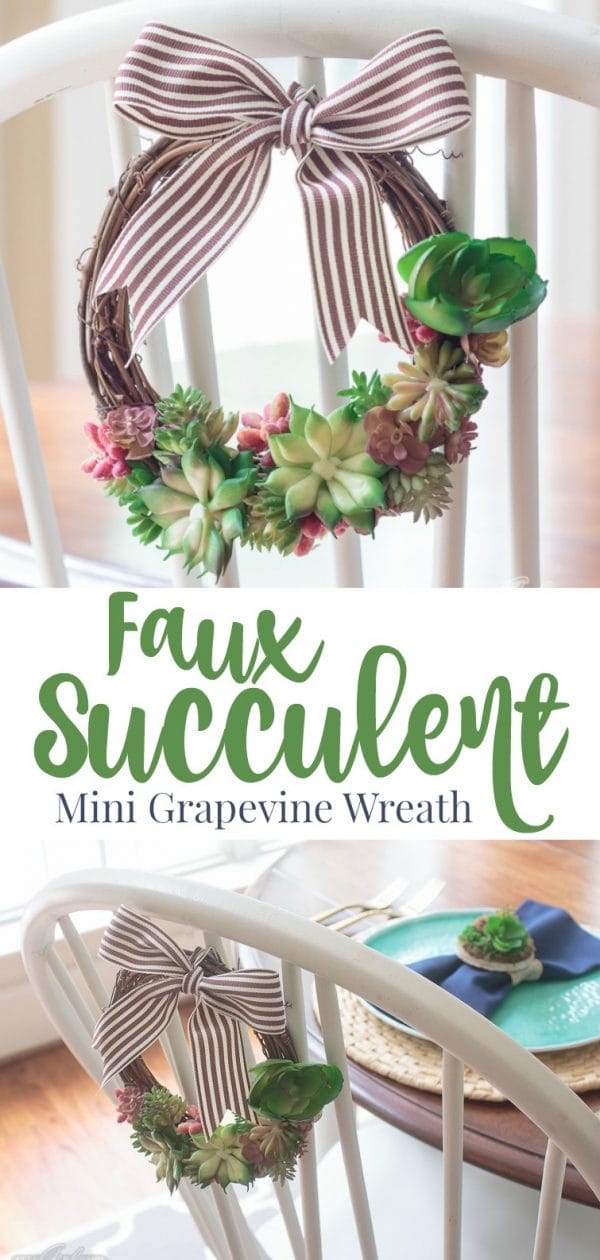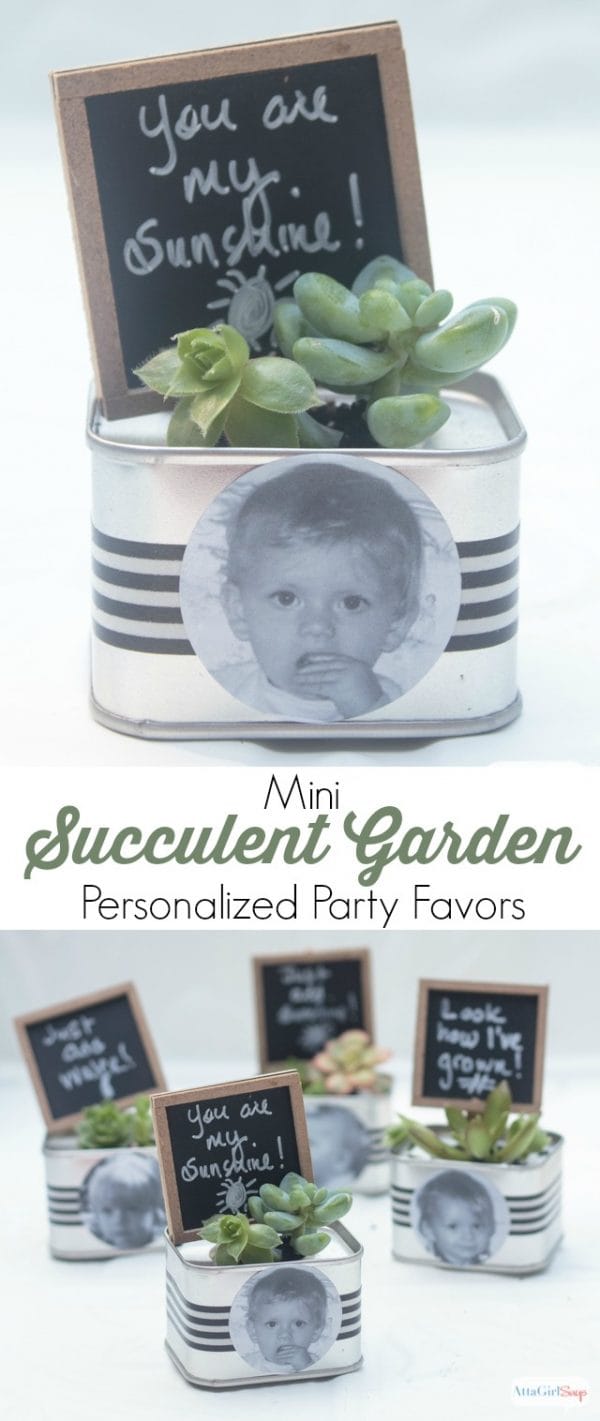 Mini Succulent Garden Party Favors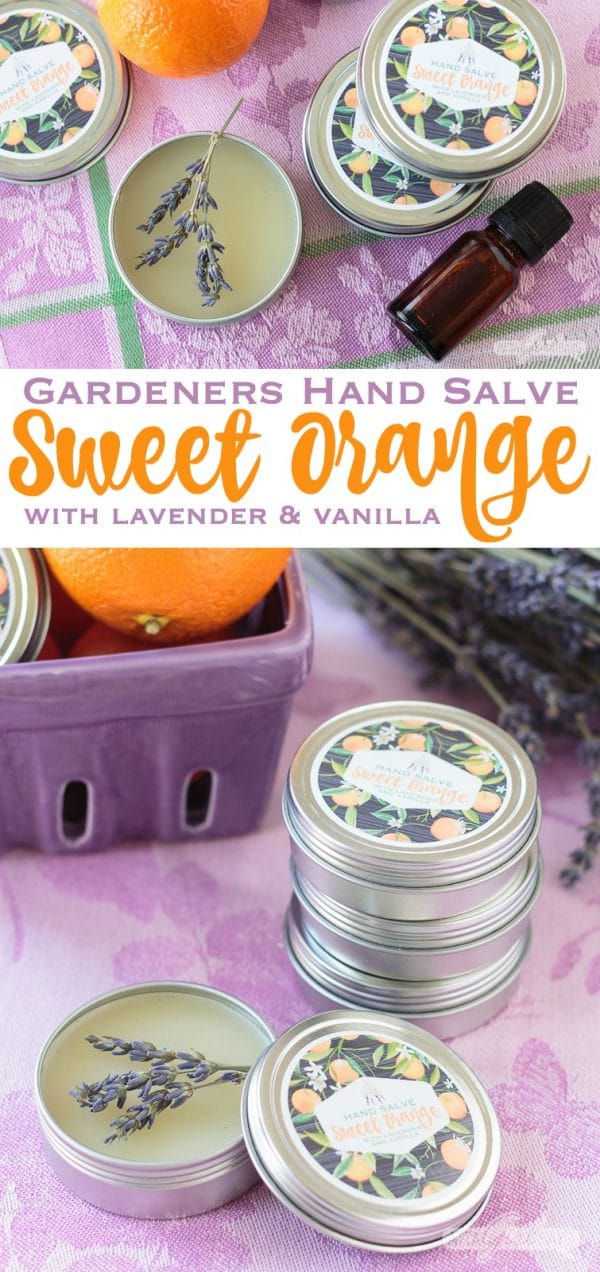 Homemade Gardeners Healing Hand Salve