Please welcome one of my blogging friends from Utah! (aren't they all from Utah?) Summer is sharing this delicious White Chocolate Cheesecake Cookies with us today! Oh these look delicious and perfect for an after school snack! If they're anything like my favorite Cranberry Cheesecake Bars, I'm ready!
White Chocolate Cheesecake Cookies
Hello! I'm Summer from
Sumo's Sweet Stuff
. You can call me Sumo if you want; my husband nicknamed me that when we were dating, and it has stuck! My blog is full of mostly lots of sewing tutorials; I've got three beautiful little girls that I love to sew for, and I have a matching disease where I like them to coordinate, so it keeps me plenty busy! Some of my favorite projects are my ruffled
t-shirt dress
,
bustle skirt
, and
cascading ruffle tank
. What can I say, with three girls, we've got a thing for ruffles over here! I also share crafts and recipes sometimes, too, so there's a little something for everyone!
Today I'd like to share a recipe with you that I've had for a few years now. I got it off a local television show, and I am so glad I was watching that day. It is always a hit when I serve it, and it's safe to say that it's one of my husband's favorite desserts. These White Chocolate Cheesecake Cookies are sure to please!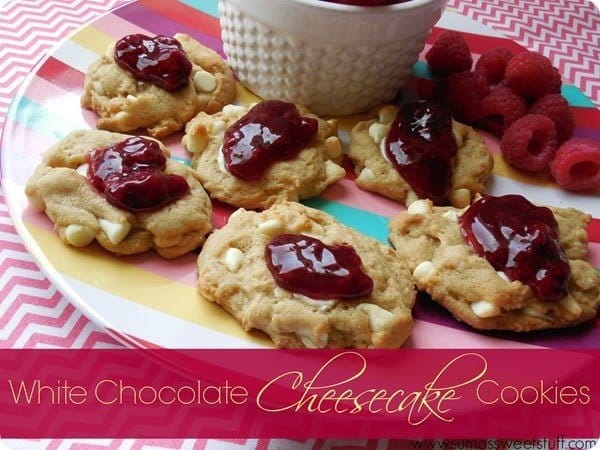 I love these cookies because you get the goodness of a cookie without the work of making a cheesecake. Not that I've ever made a cheesecake, but this still seems easier. Plus they aren't quite as rich as a slice of cheesecake, so you just get all the flavors in a perfect combination.
Another great thing about this cookie is that you can choose whatever fruit topping you like! It's like you're getting multiple recipes in one; easy to change it up or even serve different flavors.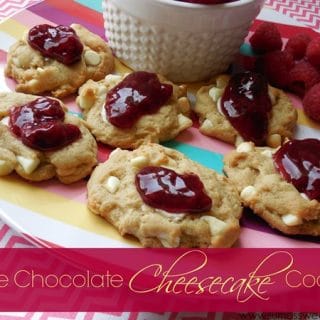 White Chocolate Cheesecake Cookies
Prep Time: 10 minutes
Cook Time: 10 minutes
Total Time: 20 minutes
Ingredients
1 cup brown sugar
1/4 cup white granulated sugar
3 eggs
1 tsp vanilla
1/2 cup shortening
1/4 cup butter or margarine - softened
1/4 cup white chocolate chips - melted
3 cups flour
1 tsp baking soda
1/2 tsp salt
1 1/2 cups white chocolate chips
8 oz package cream cheese - softened
3/4 cup powdered sugar
1 tsp vanilla
1 to 2 Tbsp Milk
1 can pie filling
Instructions
Heat oven to 350 degrees.
Combine sugars, shortening, butter, eggs, and vanilla in a bowl. Beat until it is blended well.
Melt ¼ cup white chocolate chips in the microwave.
Add to the bowl and beat until creamy.
Add flour, soda, and salt. Beat until a soft dough forms.
Hand stir in 1½ cups white chocolate chips.
In a separate bowl, combine cream cheese, powdered sugar, and vanilla until creamy.
Stir in milk until it is absorbed.
Make an indention with the tip of your finger or a spoon.
Drop a teaspoon of the cream cheese mixture into each indention.
Bake for 10-12 minutes.