This 4th of July Printable makes decorating and celebrating any patriotic holiday easy and fun! Using printable patriotic decor can be a quick and easy way to add a patriotic touch to your home without the need for any crafting skills or materials. You can find all free printables in the Printable Vault. Subscribers have free access.
One of my blogger friends, Kim from Seven Thirty Three made the cutest 4th of July Printable for you all! If you like subway art, then you'll swoon over this!
If you love this one, you'll love my updated version. I added a moss-covered frame and adorable red, white, and blue bunting. See my updated Patriotic Door Decor Here.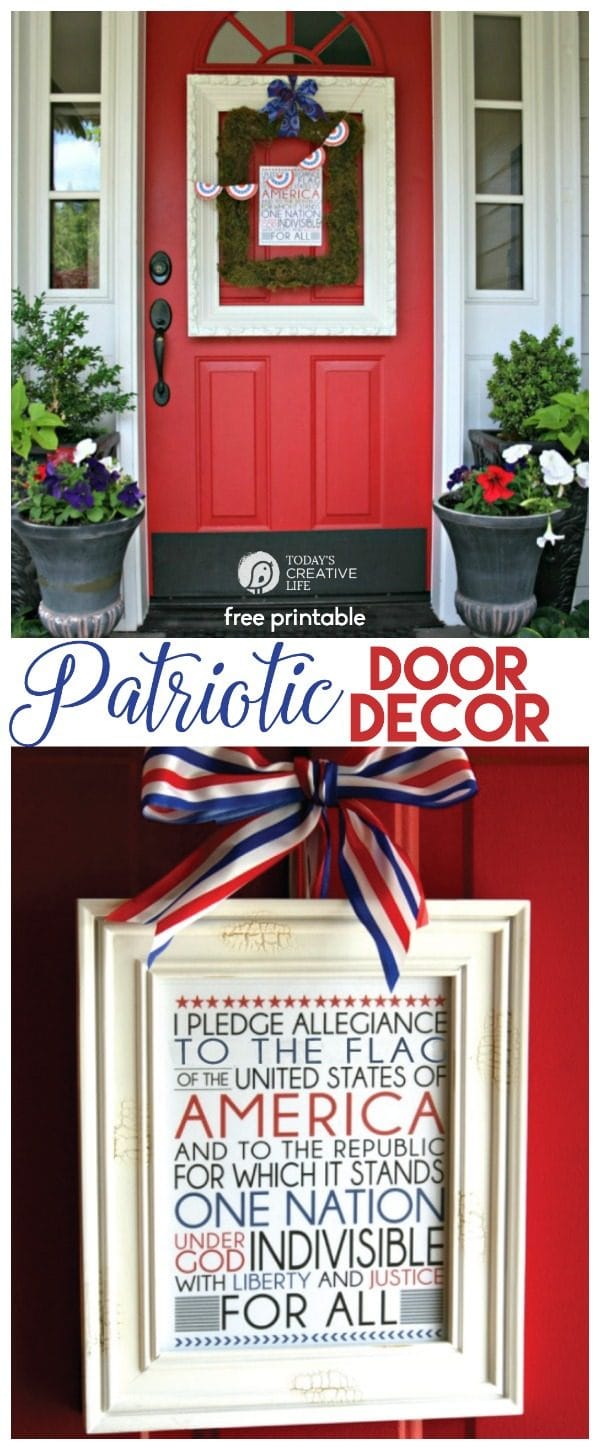 4th of July Printable
Printables are a great way to party plan or decorate for any event while sticking to a budget! Many online printables are free like the many I have. Using free printables like this 4th of July printable shows off your original style.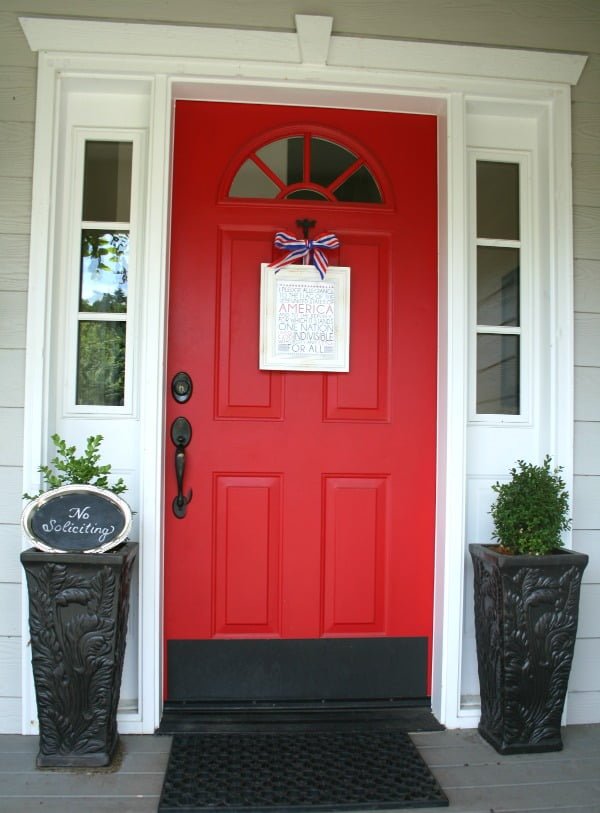 I love it when I can pull together something original for my front door so quickly! Easy!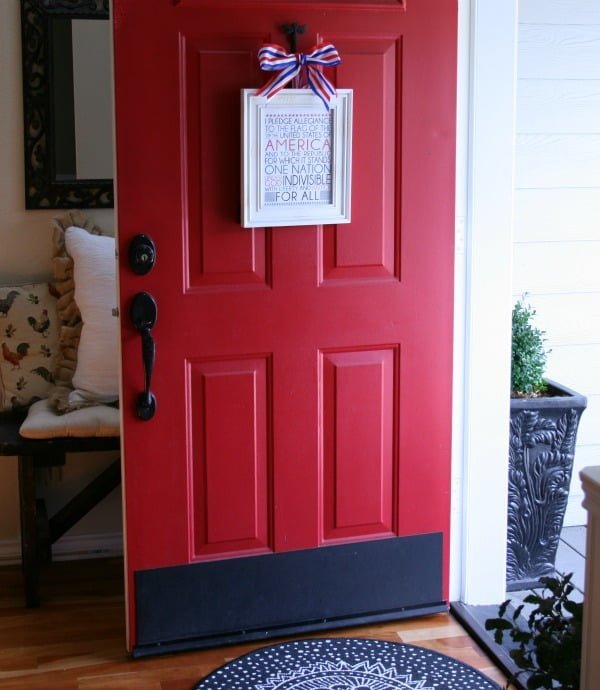 How to Print a 4th of July Printable
You'll Need:
download the printable from the Printable Vault and then open it on your device.
Load your printer with white cardstock and click print.
If you want small sizes for other projects, choose the sizing in your printer settings.
How to Make a Patriotic 4th of July T-shirt
You'll Need:
White T-Shirt
Iron
Dish Towel to place over.
Open the printable file on our device.
When printing, you'll need to choose the mirror image. This needs to be done anytime there is text. Trust me on this. As you can see from the shirt below, I made this mistake and did not mirror the image.
Load your printer with the iron-on transfer paper. The package instructions will tell you what side to print on.
Continue to follow the instructions for ironing your design onto your shirt. I've made Iron-on dish towels, decorative pillows and more.
Even though I messed this one up below… it's still kinda cute!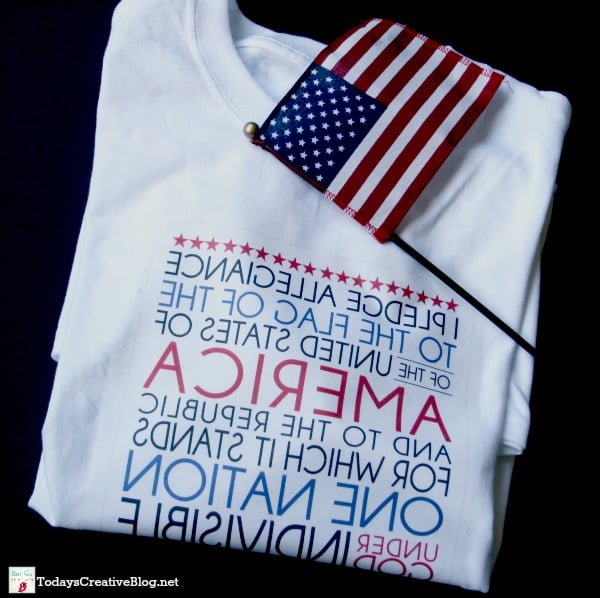 DOH! Learn from my mistakes! When printing lettering for an iron-on………….REVERSE the image BEFORE you print.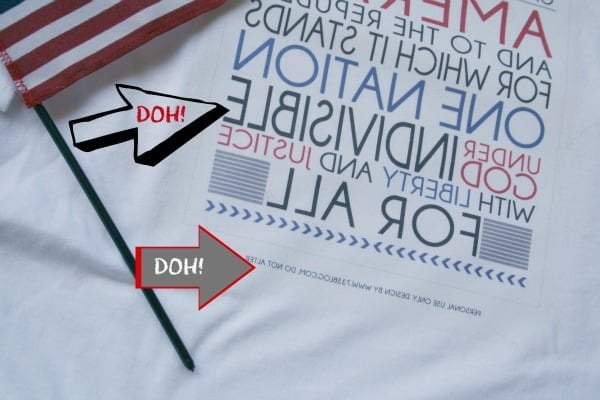 How to Use 4th of July Patriotic Printable
Wall Decor – Print and frame
Greeting Card – print as a smaller size to make a fun card or post card.
Gift Tag – Print small, punch a hole in the corner and use as a gift tag.
T-Shirt Graphic – Be sure to reverse the image before printing.
Porch Decor
Party Table Decorating – Use a framed copy on the food table. Or print in a smaller format and scatter around the table.
Patriotic Banner – Cut banner triangles out of blue and red paper with this 4th of July printable in the middle.
Edited to add: This printable was doomed ……..after posting, poor Kim from 733, frantically emailed saying there is a misspelled word. A new printable has been downloaded……photos are original.
Patriotic DIY Ideas
Crafting and decorating ideas for all the Red, White, and Blue Holidays! 4th of July, Memorial Day, and Labor Day!
Free Patriotic holiday printables.
Create your own holiday star garland.
Grab a star-shaped ice cube tray and create patriotic drinks!
Grab your supplies and get busy!
More Red, White and Blue Printables.
Simple 4th of July decorations.
Simple sewing project for the holidays.
Sweet treat for your 4th of July parties!
Photo Credit: craftingintherain.com