Yep, I'm at it again with the iron on transfers! This time, I'm making Iron On Chicken Tea Towels. If you've never worked with iron-on transfer paper, this will rock your world! Iron any design onto a variety of items for a fun new look!
Iron On Chicken Tea Towels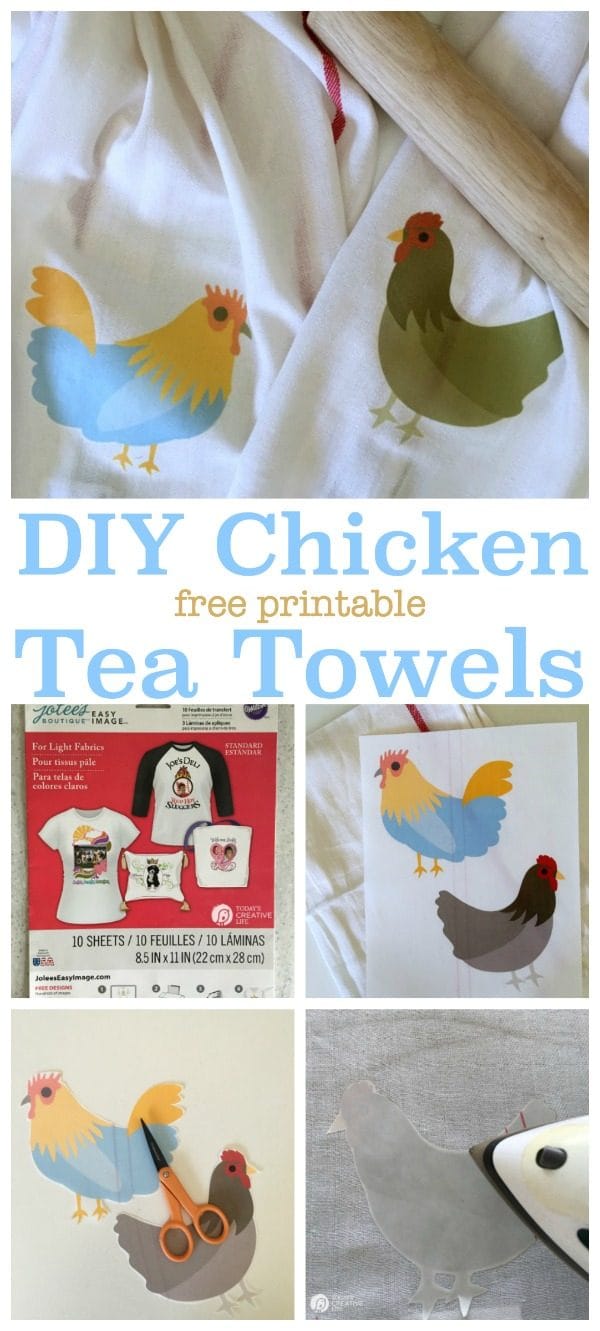 There is no easier way to add quick decor to a room, whether it's creating seasonal decor or newly designed dish towels. I've made pillows, table runners and lots and lots of dish towels. Iron-On transfers make it so easy to create new home decor items without breaking the bank.
I'm looking for simple ways to spring clean, bring in the spring and summer decor and to declutter! The best motivator for me is to have something fresh to display and this spring it's my new Iron On Chicken Tea Towels. Download your free chicken printable and follow my tutorial below to make your own.
As I mentioned earlier, if I have something new to spruce up my space, or I'm updating decor to reflect the season, that's always a great motivator. That's why I created these simple and quick Iron On Chicken Tea Towels.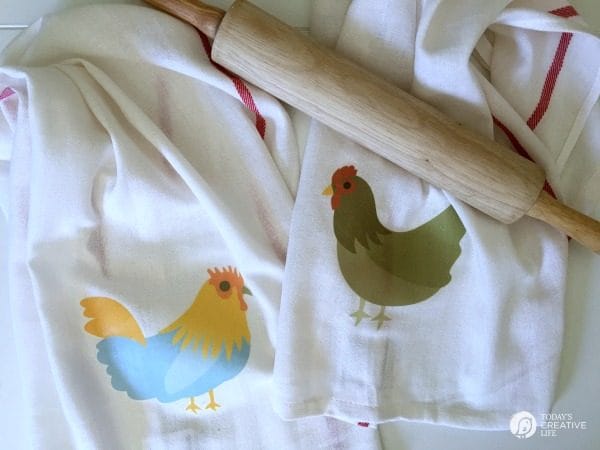 It's just enough excitement, the small kick in the pants I needed to get going and get a few things organized.
Another quick DIY craft to get me motivated to rearrange my living room after receiving my new sofa was this DIY Cloche tutorial I did a few weeks ago. They make me smile every time I walk in the room.
How to Make Iron On Transfer Tea Towels
Supplies Needed:
Affiliate links for products listed are for your convenience only. This costs you nothing extra. If you happen to purchase anything as a result of clicking, TCL will receive a small percentage. Thank you for your support. This allows me to continue to offer you free content.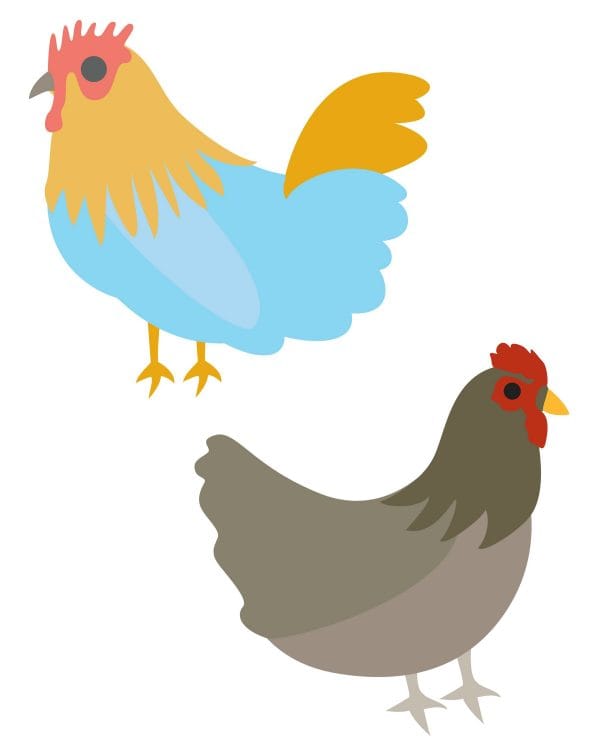 Use your password to download your free chicken design in the Printable Vault. Subscribers have free access to all printables. Sign up here and a password will be sent to you.
I used Jolee's brand for light fabrics. I found mine at Michaels. Here's a direct affiliate link.
Print as directed. The striped side is NOT the side you print on. I've learned the hard way.
Cut out each chicken.
Place face down on your tea towel. I used the kitchen towels from IKEA. I've also used plain kitchen towels from Walmart.
Iron as directed and let it cool.
Slowly peel the paper away and you'll see your design magically appear.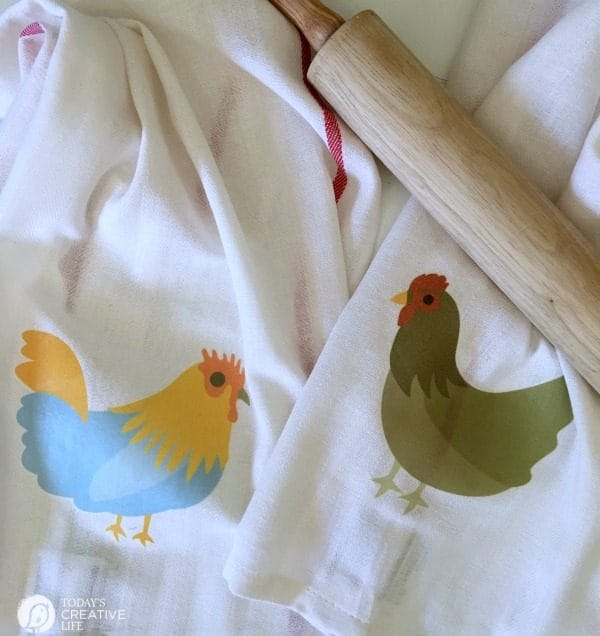 Wash as normal and they really soften up.
These also make great gifts! I may make up a set for my Mother in law for Mother's Day.
---
I created this post for a dear friends book launch.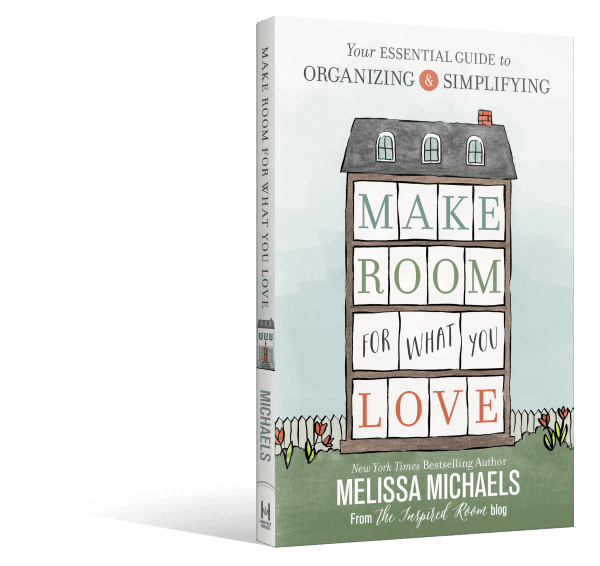 I've been reading my friend's new book to help her launch its release. MAKE ROOM for what you LOVE, by Melissa Michaels from The Inspired Room. Melissa and I have been blogging for about the same amount of time and I just love her sensible approach. I'm also so proud of what she's created, it's so helpful to so many! She's a home blogger that encourages you to love your space and her latest book is teaching you to declutter, in the most sensible way! She's got 2 other great books and a new adult coloring book for the home designer in you!
And friends…. I can be the queen of clutter! But then I suddenly turn into Miss Cranky pants because everything feels out of control! It's a never-ending struggle and reading Melissa's book is planting many seeds for thought in how to change this vicious cycle. There are several of us bloggers supporting Melissa and helping get the word out about her launch. If you love home blogs, then this list is a must!
Eleven Gables / Craftberry Bush / At the Picket Fence / Julie Blanner / Beneath My Heart / Thrifty Decor Chick / Emily A. Clark / Reluctant Entertainer / My Sweet Savannah / Domestic Fashionista / At Home In Love / 320 Sycamore / Sunny Side Up / Happy Happy Nester / The White Buffalo Styling Co / Sweet and Simple Home / Finding Home Farms / In My Own Style / Fox Hollow Cottage / The House of Silver Lining / Infarrantly Creative / Fieldstone Hill Design / Shabby Nest / Today's Creative Life / Sarah M. Dorsey Designs / Just A Girl / Southern Hospitality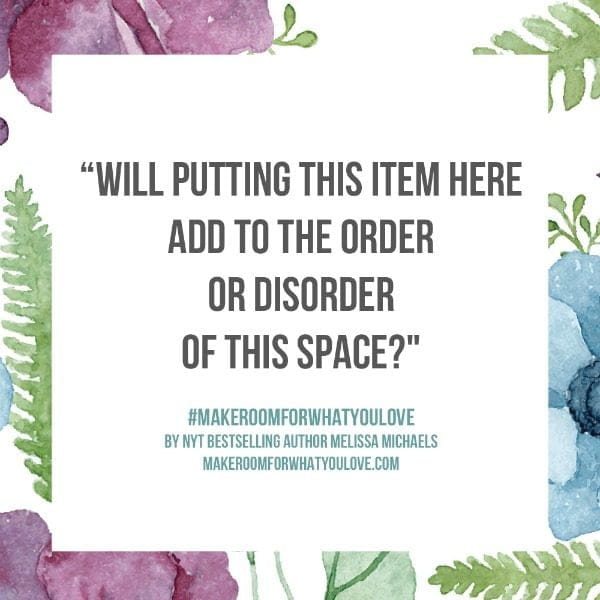 This quote is probably the one that speaks volumes to me. I need to have it tattooed on my forehead. It reminds me of the One Touch Rule I learned years ago, which I fail at miserably.
I am also loving her Five Ways to Get Better Organized with a Little Therapeutic Frenzy. Because you can do SO much in as little as 5 minutes if you just do it, right?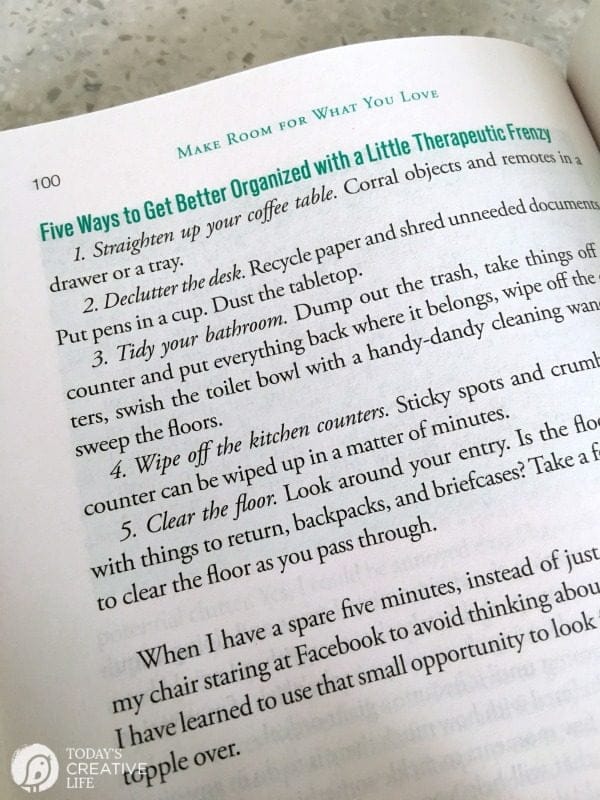 My other iron-on transfer projects include:
I told you…. I love my iron ons! What will you make with these chickens?