Here I go again making more DIY Home Decor with Iron On Transfer Sheets! It's my favorite way to add new budget-friendly decor to any room! I love creating new pillow designs and dish towels for my home every season, with free printables and iron-on transfer paper.
Watch my video for a quick tutorial!
DIY Home Decor with Iron On Transfer Sheets
I've said it before and I'll say it again, but I LOVE iron-on transfer sheets! I've created my Chicken Iron-on Dish Towels, Holiday Pillows and I even created this College Laundry Bag with iron-on laundry instructions.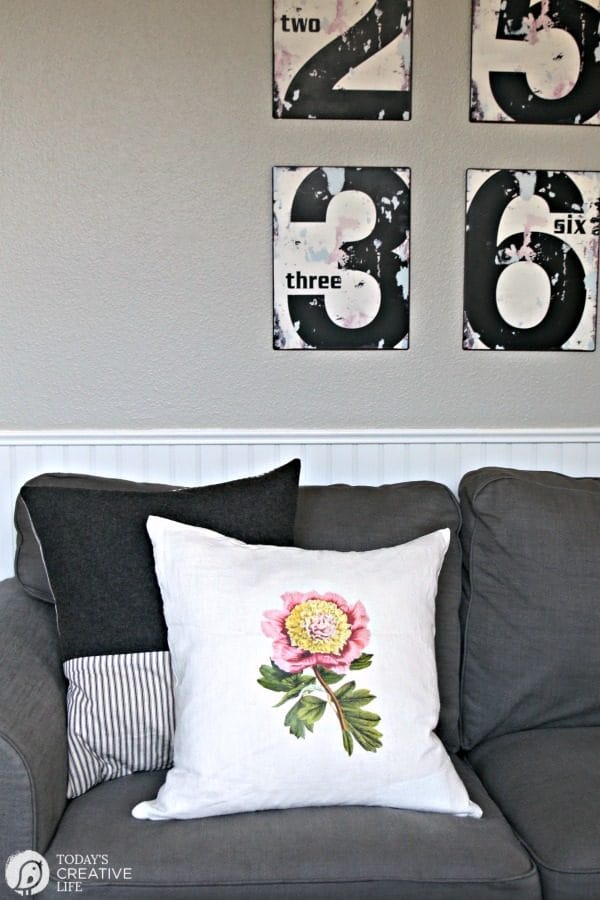 Another favorite was creating a holiday gift of Cinnamon Bread and wrapping it in a tea towel that had the recipe iron-on. Recipe Printed Dish Towel.
You may recognize the botanical flower that I used for the free printable botanical wall art.
I used the image without the poem and decided to use it on a pillow and a cotton tea towel.
I could stare at it all day!
How to Use Iron-On Transfer Sheets
Supplies Needed:
Affiliate links for products listed are for your convenience only. This costs you nothing extra. If you happen to purchase anything as a result of clicking, TCL will receive a small percentage. Thank you for your support. This allows me to continue to offer you free content.
Inkjet Printer – I have this super tank one and love it! I have also owned this less expensive one and it worked great.
Iron-on Transfer Sheets – There are dark fabric or light fabric options.
Digital Image – Download this botanical flower. You can use any image or text. If you use text, you'll need to reverse the image before printing. This can usually be done in your printer settings.

Click to download.

Pillow Cover or Cotton Tea Towel – I buy my pillow covers and inserts from IKEA. I prefer the Vigdis because of the linen look. I find the dish towels from Target or Walmart.
Scissors
Iron or Cricut EasyPress Heat Press
Iron safe surface
After you've downloaded your image, open it up on your computer.
Following the directions supplied on the transfer paper package, load your printer, making sure it prints on the blank side.
Trim your design and lie it face down on your fabric.
If you're using an iron, be sure to turn the steam off. I like using my EasyPress Heat Press. Apply the heat to the image and iron gently for about 20-30 seconds.
Let it cool before pulling the paper away from the design. I start with a small corner to make sure the image doesn't pull away. If it does, then place the paper back in its spot and apply heat again.
And that's IT!
You can wash as normal.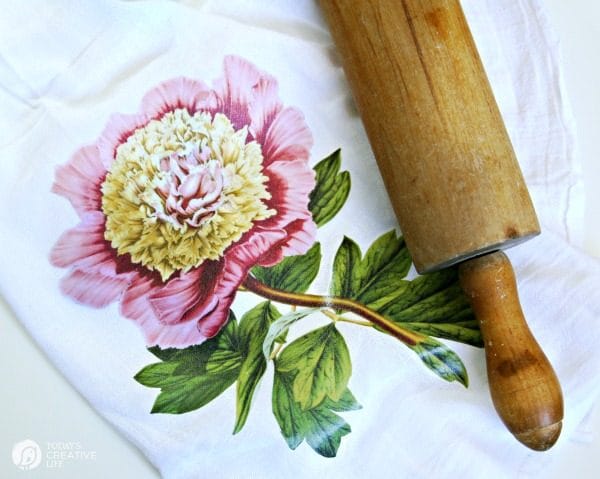 I created both a kitchen towel and a new pillow!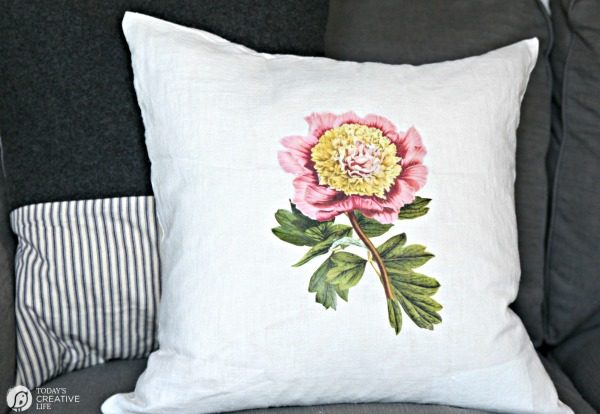 Isn't it gorgeous?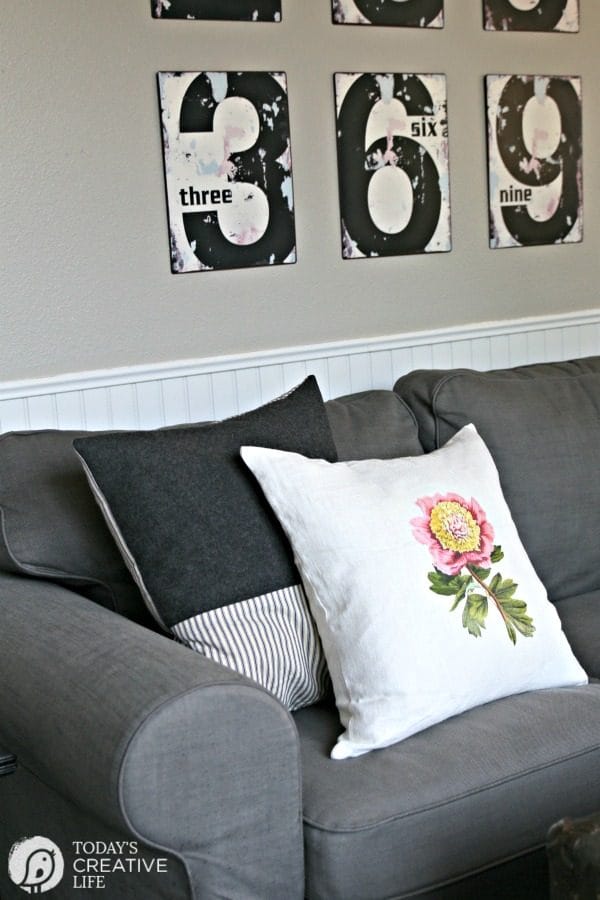 Inexpensive DIY Home Decor with Iron On Transfer Sheets will become your best friend! It makes decorating so easy! Create custom table runners, cloth napkins, t-shirts, totes, aprons… there are so many great things you can make!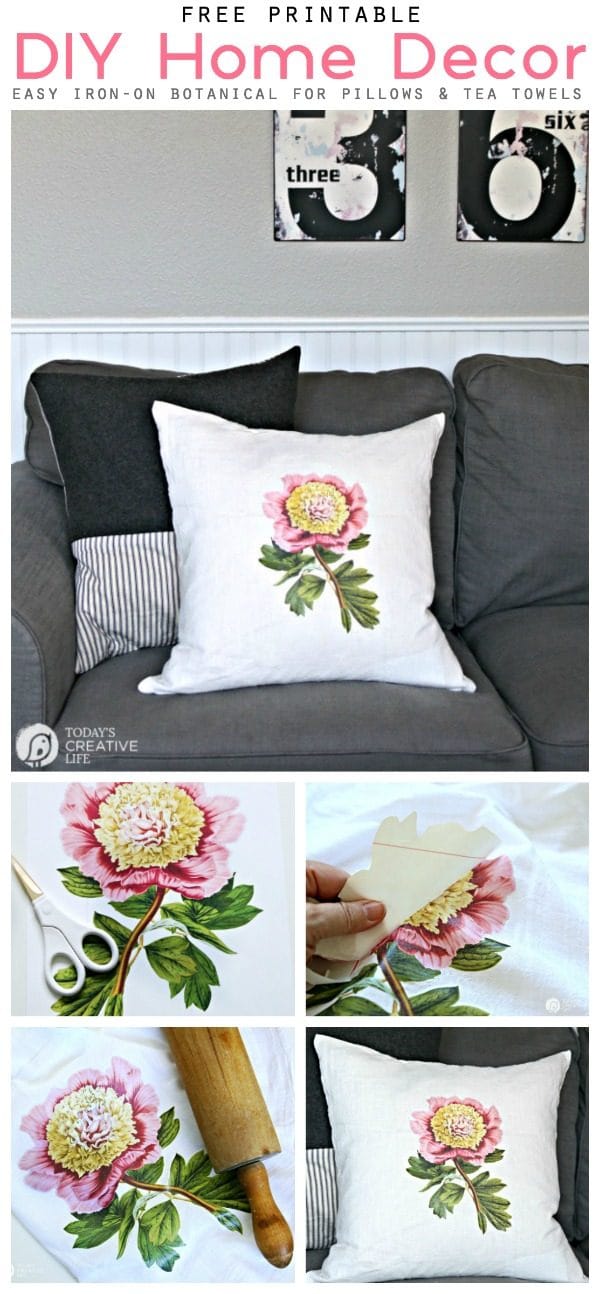 ---
More DIY Iron-on Projects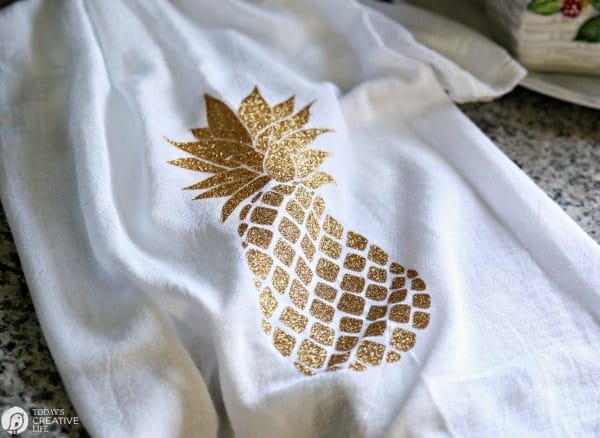 Iron-On Glitter Pineapple Dish Towel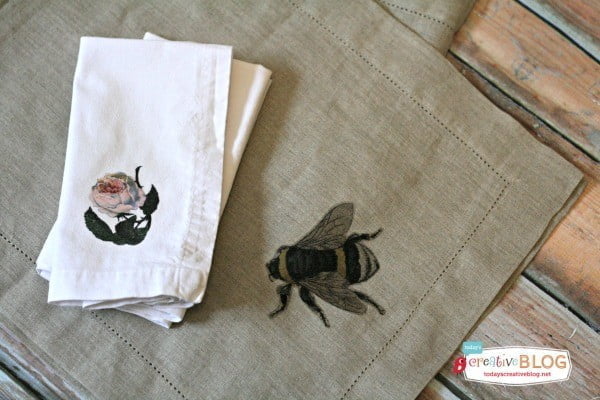 Spring Time Table Runner