It's hard to find cool and fun birthday party ideas and activities for teens. This Glow in the Dark Neon Birthday Party for Teens was thought up and thrown by my sister's friend. She has more ideas for teen parties and activities than I ever even imagined. You don't need a birthday to throw a teen neon party, it's perfect for any time of year!
My son's birthday is a big deal every year! This year he turned 15! He's our only child, which means he is spoiled rotten. Actually, he's not rotten at all and I think he's spoiled in a good way. He's a great kid and hasn't shown any typical rebellious teen behavior yet. Birthday party for 15-year-old boy ideas is hard!
(If you've got teen boys, you'll love what I did for this Boys 13th birthday party. Game Truck, DIY Screen Printed Shirts, etc.. )
Neon Birthday Party for Teens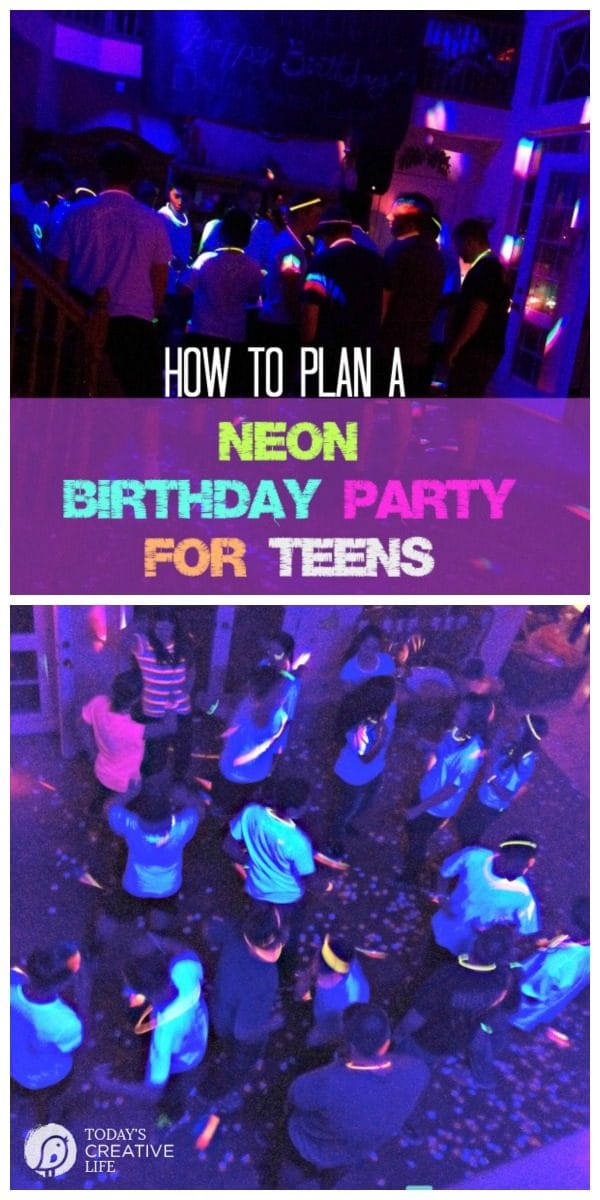 We always make a big deal over his birthdays, planning something fun. Last year, we surprised him at school by flying in his cousin from Utah. They're VERY close and it's the closest he'll ever have for a brother.
This year, we all flew to Utah for a long weekend. He loves spending time in Utah and has many friends he's made over the years. They all stay in touch throughout the year via the Xbox, texting, skype.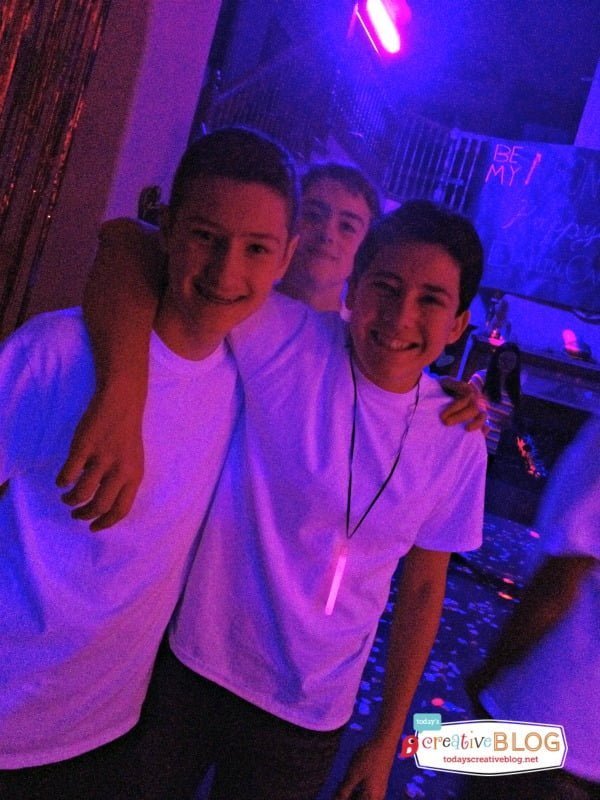 How to Throw a Glow in the Dark Party for Teens
My sister, with the help of a friend of hers (Taryn) thought it would be fun to plan something. Taryn, as mentioned is the queen teen party planner and took over! She planned the whole thing and just told us what to bring. Had I thought this would become a blog post, I would have taken better photos. But you'll get the main idea.
I couldn't believe how simple it really was. (Especially since I didn't have to plan it!) Planning a teen party doesn't have to be complicated. Taryn has a large house with vaulted ceilings which helped.
Neon Party Supplies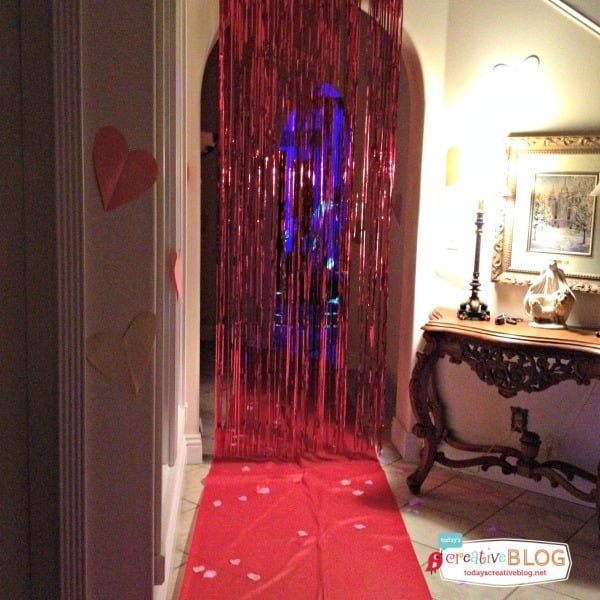 She set the mood with tiki torches outside near the porch and then this "red carpet" as you entered the house.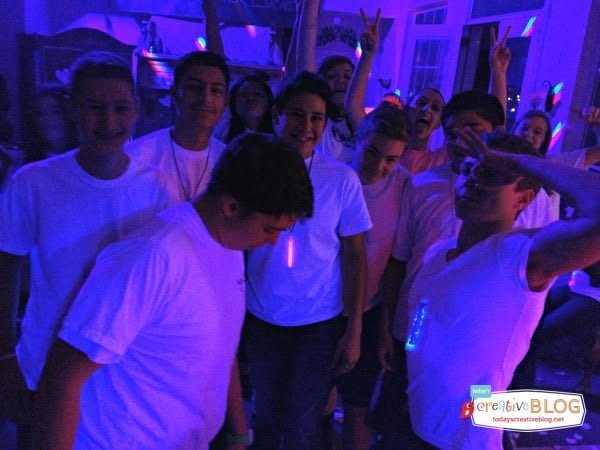 I was really worried about food. I thought we'd need a lot more food. But Taryn the teen party expert said that they wouldn't eat it………and she was right. The boys were in white, a couple even had to borrow my niece's old tee shirts……but it didn't even matter since it was so dark. I think they secretly liked the smaller tees…..it showed off their muscles. Such a great group of young men.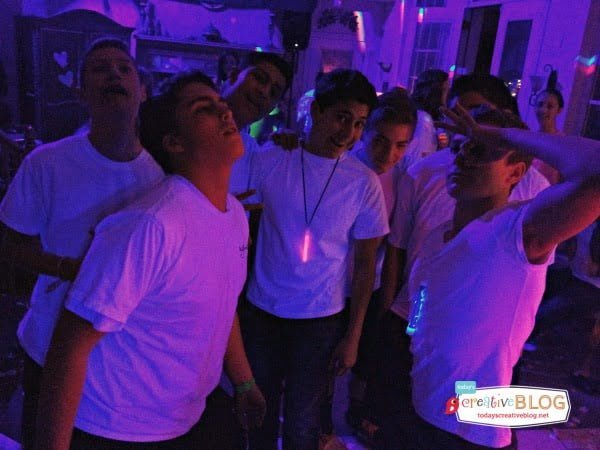 It was SO much fun! A friend of Taryn's daughter from school offered to be the DJ and lead a couple of line dances. He was amazing! Taryn rented DJ equipment and black lights, cleared the floor and called it good. She had a ton of paper hearts all over that picked up the lighting.
There ended up being about 30-40 kids.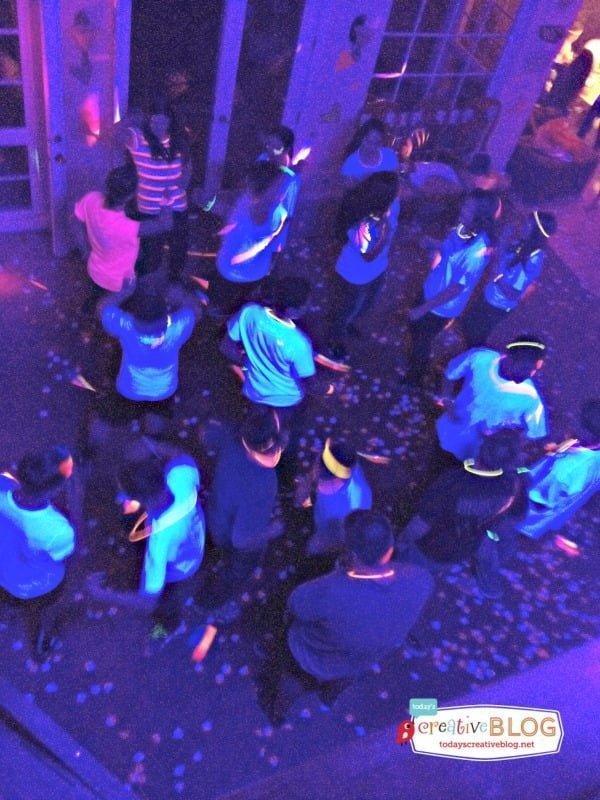 Neon Dance Party Games
Because kids can be shy, the DJ is key in getting the kids dancing and interacting. Simple party games for this age is a great way to warm things up.
Girls Choice/Boys Choice – With the prompt from the DJ, the kids got to choose who they wanted to dance with. This took the pressure off either waiting to be asked to dance or always having to ask. After each dance, the kids would sign each other's t-shirts with a neon glow in the dark fabric marker.
Face Painting – Using glow in the dark facepaint, teens could take a break and head to the painting area to paint their face, or paint a friends face.
Bopping Balloons – Throw a few blown up balloons out on the dance floor and tell them the balloons can't hit the ground.
Hat Dance – Have 2 or 3 hats, depending on how many kids there are. The teens will pass around the hats, circulating them during the dance. To add more incentive, by giving prizes to whoever ends up with the hat when the music stops.
The DJ would even lead a group dance at times which everyone seemed to really enjoy!
For the most part, they just all danced in a cluster, jumping up and down. And like she said…..they barely touched the food. The bottled water was gone, but the food…..not so much. Even the cupcakes.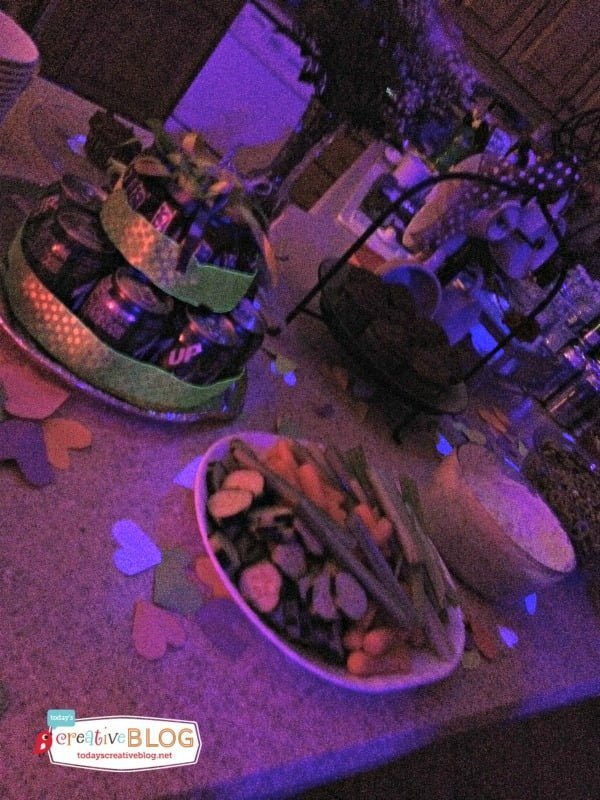 Here's a glimpse of the party in all it's glory! It was SO loud, but the video wasn't. Enjoy!
If you throw a neon birthday party for teens, please post it on Instagram and tag me @TodaysCreativeLife, I'd love to see it!
Follow along on Instagram | Pinterest | Facebook
---
Party Planning Ideas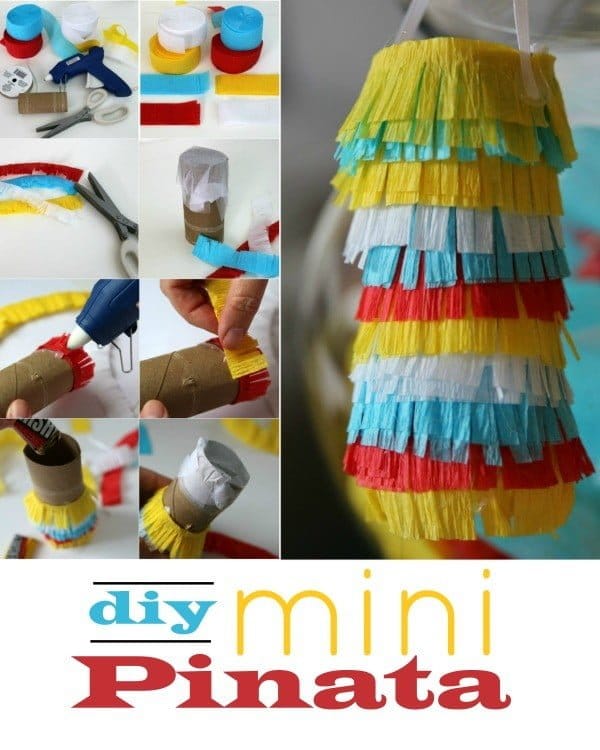 Planning a Mini Birthday Party with Mini Treats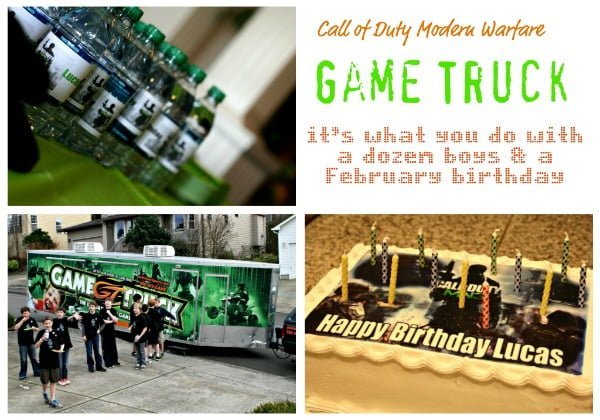 Planning a birthday party for a 13-year-old boy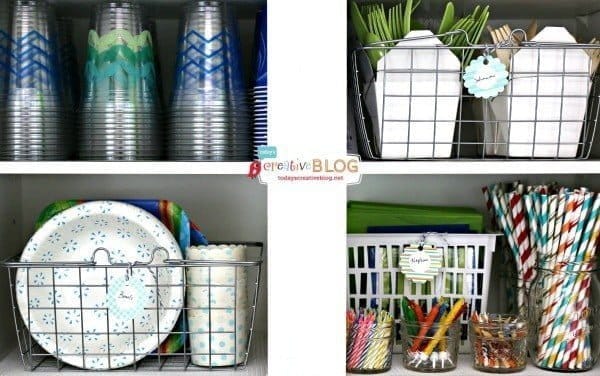 Party Pantry