My hack for Organizing for Christmas and how to store Christmas decor is all about labeling each tote. These free printable labels are prefilled with typical items as well as a few blanks to fill in what you need. Place these Christmas organizing labels on all your holiday totes which makes storage for Christmas decor easy.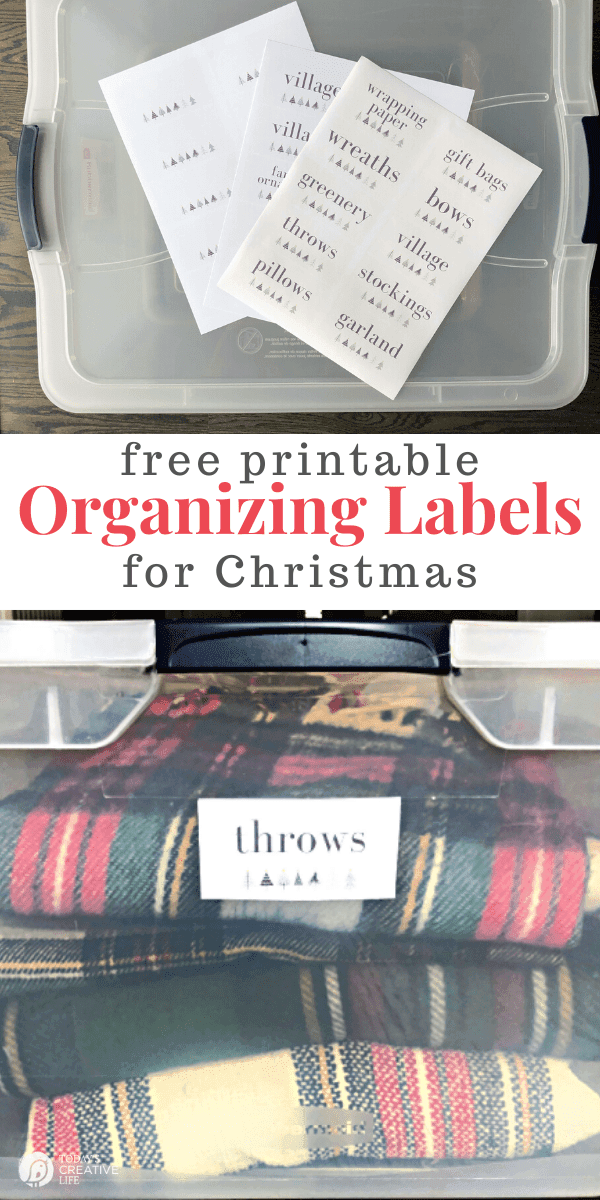 Organizing for Christmas
I created these free printable labels for my sister. She sent me a text saying she needed them and figured I could whip them up in no time. Gotta love sisters who think you can do anything. Making labels really isn't hard. If you want to learn how to make labels and all the other printables for your home, you should check out my course on Printables for the Creative Home. No skills or fancy software needed. I'll teach you.
I made 3 pages of labels based on the list of topics she needed, and then I left several blank so you can fill in what you need. These labels can be printed on full sheet sticker paper or you can use the Avery Easy Peel Label sheets #6522 or #8463.
How to Store Christmas Decor
I store everything in totes. Everything. We don't have to worry about a large artificial tree, so totes fit everything. I prefer clear totes so you can also see what's inside, but most of mine are green or red and green, so I use what I have. I like a plastic box to help anything from being crushed and also keeping everything dry. Apply one of the printable labels I made for organizing Christmas and you will thank yourself next year.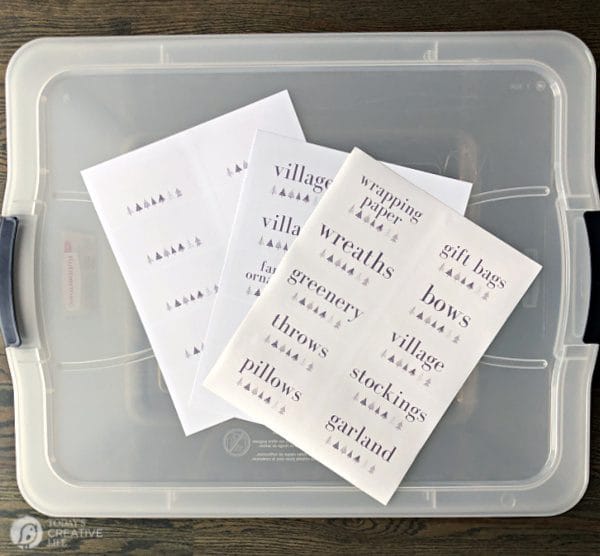 Separate and Store Like Items
When you store like items together, it instantly organizes your Christmas decor. If you're not quite sure or you get overwhelmed, my free printable labels will help you separate your holiday decor into categories.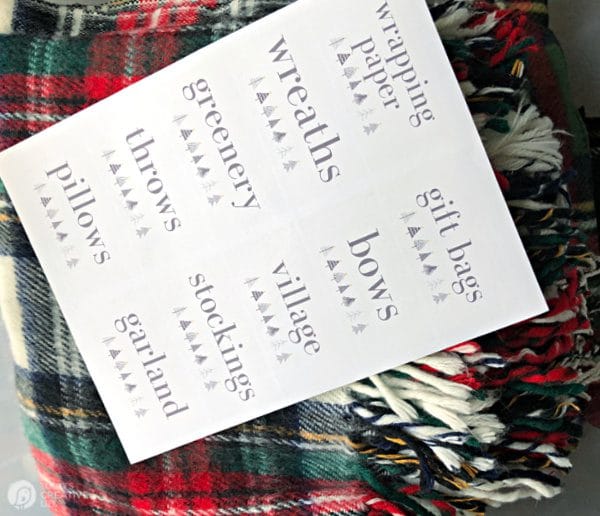 How to Store Ornaments
Breakable Ornaments – I store ornaments that need some protection in ornament boxes. Each ornament has its own spot. Sometimes, I'll wrap extra fragile ones with tissue paper before placing them in the ornament box.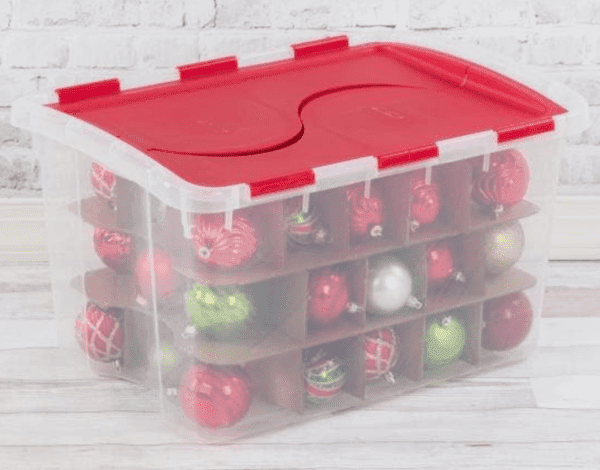 Unbreakable Ornaments – For unbreakable ornaments, I usually put them in a large plastic bag, like a garbage bag, and then place them into a storage tote.
By Color or Theme – Separate ornaments by theme and color. Some people have several themed trees, so it only makes to store each tree's ornaments together.
How to Store Christmas Wreaths
There are wreath storage containers that work very well. We usually get live wreaths which are only good for one season. I store all my other wreaths by hanging them on the wall in the garage.
Organizing for Christmas Free Printable Labels
I think I have pretty much all the topics and categories you'll need when storing and organizing for Christmas. There are also blanks so you can write in what you need.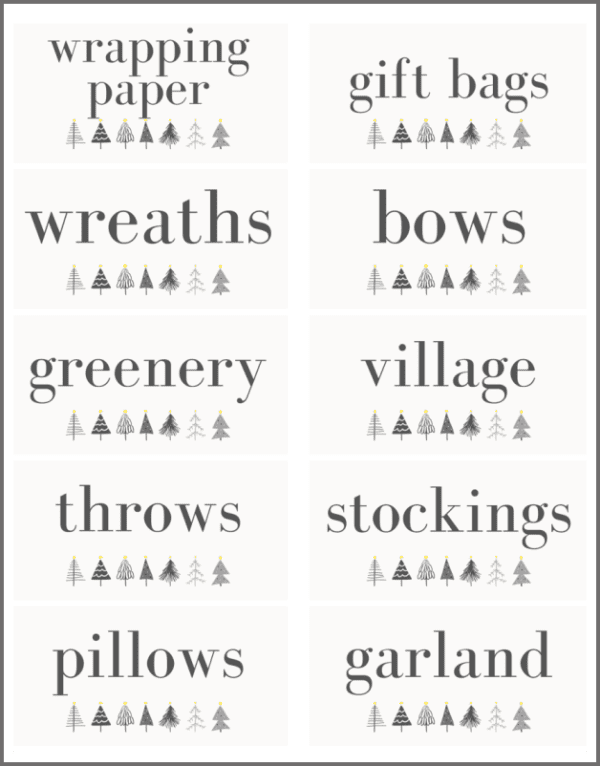 Wrapping Paper
Gift Bags
Wreaths
Greenery
Throws
Pillows
Bows
Christmas Village
Stockings
Garland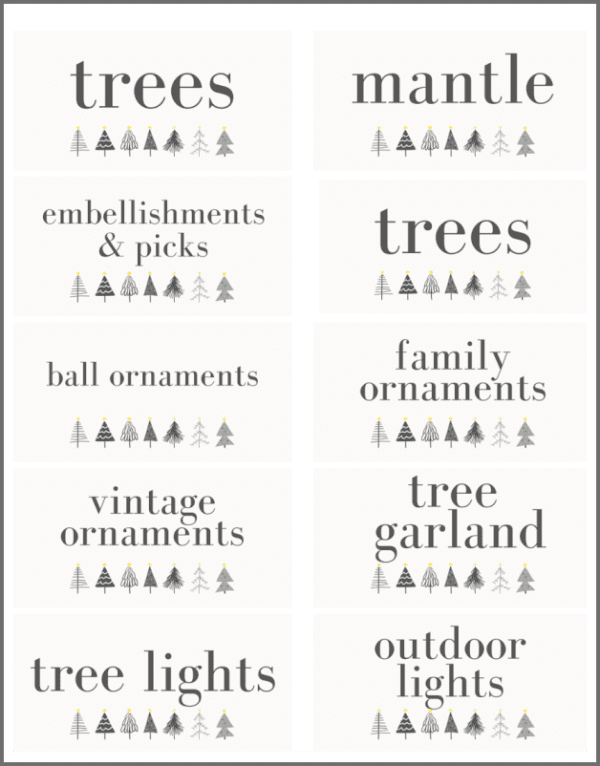 Trees (2x)
Mantle Decor
Embellishments & Picks
Ball Ornaments
Vintage Ornaments
Family Ornaments
Tree Garland
Tree Lights
Outdoor Lights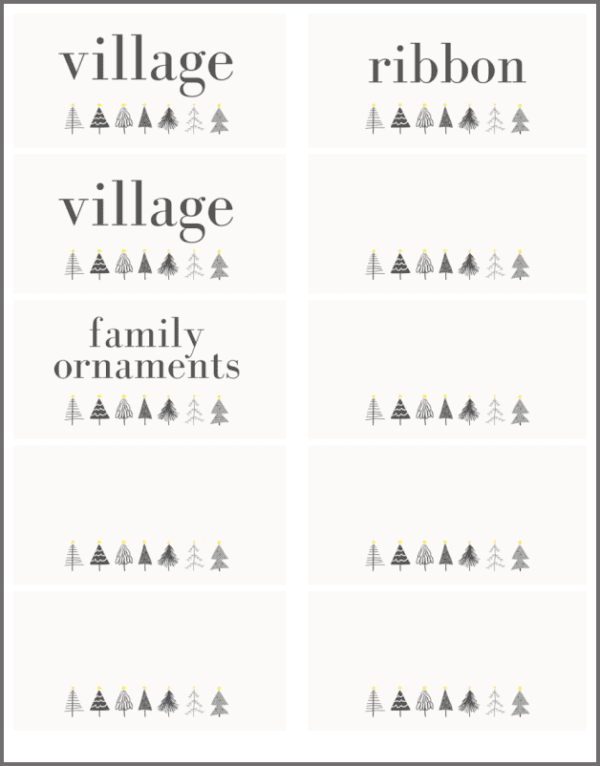 Village (3 total)
Family Ornaments (2 total)
Ribbon
Blanks
How to Print Christmas Storage Labels
When organizing for Christmas, you'll first want to print out your labels. You may need duplicates of some of them.
You're going to need:
Download free printable labels. You'll find these in the Printable Vault. Subscribers have free access. Subscribe here and your password will be sent to you. Check your spam folder.
Load the printer with your label sheets or full-size sticker paper. (depending on your printer, you'll need to know which direction to load the paper. Face up or down. You can run a test by making a pencil mark on a piece of paper in your paper tray and printing. This will help you understand which side of the paper will be printed on.
Open the download. Usually, you can just right-click and choose print.
Trim each label if you are using full-size sticker paper.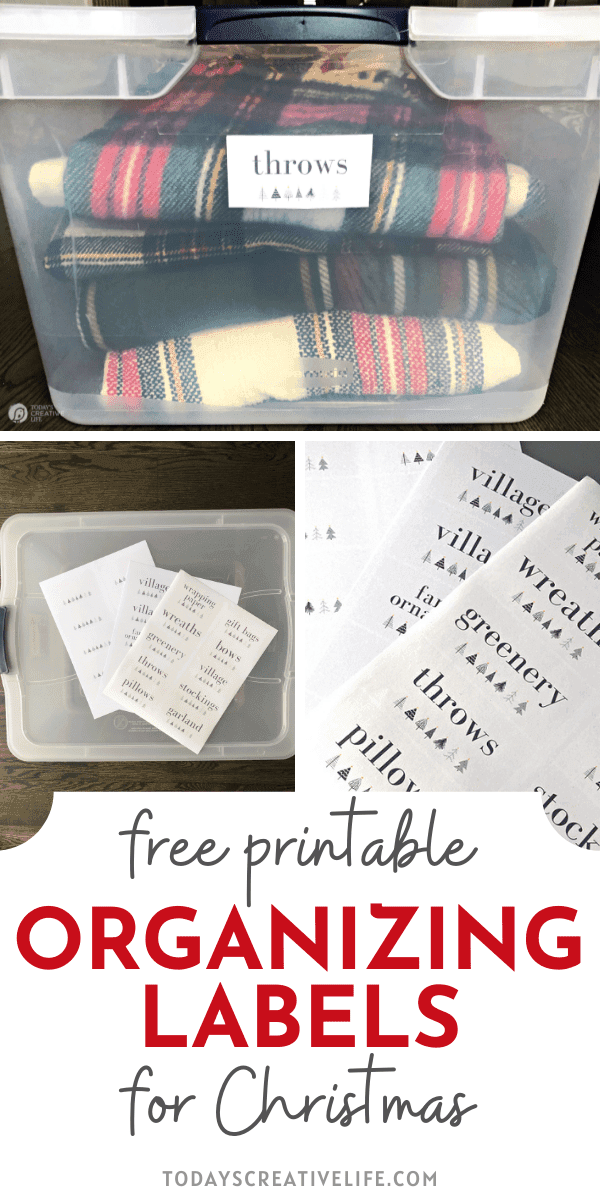 Organizing Ideas for Your Home
Simple and creative ways to organize your home.