With St. Patrick's Day here, I figured a few of you may be looking for a St. Patrick's Day crockpot Corned Beef recipe. So for Slow Cooker Sunday, I bring you Corned Beef. Stephanie, the crockpot queen has a Dijon Corned Beef.

I haven't tried this yet, but she swears it's good, and I trust her. I really do use her books more out of all my cook books. Her site has SO many great recipes too! She always shows you the ingredients that you're going to need and all of her recipes are gluten free………although you don't have to make it gluten free.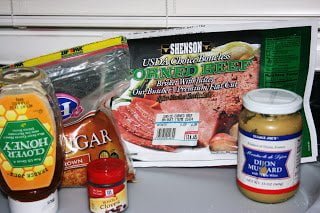 Seems like St. Patrick's Day is more celebrated than it was when I was growing up. It was my dad's birthday, but I don't remember the Leprechaun messing up the house or us trying to build a Leprechaun trap. It seems a lot more fun for kiddos now. Many families like to have a traditional Irish dinner to celebrate, like Corned Beef and Cabbage, or just Corned Beef like this recipe. How ever you choose to or choose not too………it's perfect.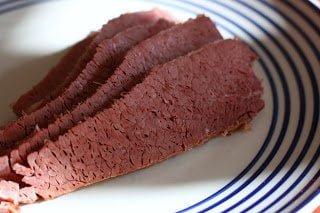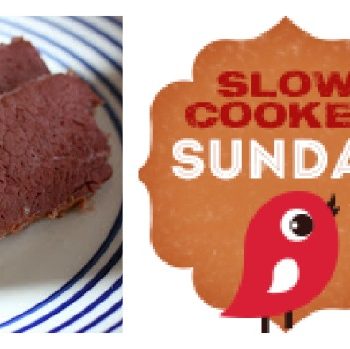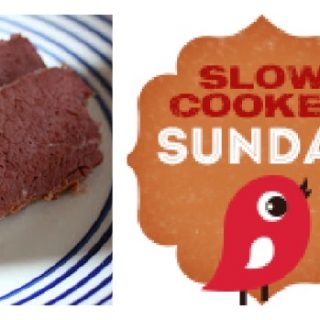 St. Patrick's Day Crockpot Corned Beef
Ingredients
3 pounds corned beef, trimmed of fat
1 tablespoon honey
2 tablespoons brown sugar
1 tablespoon prepared Dijon mustard
10 whole cloves (or you can use 1/2 teaspoon ground cloves)
Instructions
Use a 6-quart slow cooker. Unwrap the corned beef, and remove the seasoning packet (use it in another recipe, such as roasted cabbage and potatoes) and trim as much of the fat from the meat as you can. In a small bowl, make a paste of the honey, brown sugar, mustard, and cloves. Rub this mixture on all sides of the meat. Place the meat into your crockpot, and cover. Cook on low for 8 to 10 hours, or until meat pulls apart easily with a fork. Let sit for 15-20 minutes before slicing.
I prefer to cook my vegetables separately, but if you'd like everything in one pot, feel free to add quartered red potatoes, carrot chunks, and cabbage wedges around the meat. Again, no need to add additional liquid.
The Verdict
This sweet and salty glazed meat will shine on your St. Patrick's Day table. It's a winner, sure to please the picky leprechauns in your household. I like this meat so much, I'm going to pick up a few extra corned beef packages to freeze so we can have it much more often.
If you don't already have one or both of Stephanie's books……you really should if you like to use your Crockpot. I'm not being paid to say that. I really do love them!
Make it Fast, Cook it Slow #1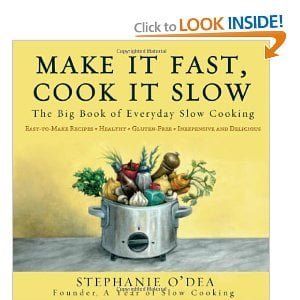 More Make It Fast, Cook It Slow: 200 Brand-New, Budget-Friendly, Slow-Cooker Recipes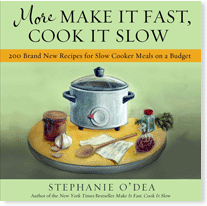 Don't miss out on all my other Slow Cooker Sunday Meals.