I've been poking around trying to decorate this craft room for over a year. Nothing like a request from a magazine for photos to get me moving. It's still not quite how I want it, but it's getting close.
Craft Room
I know how fortunate I am to have a craft space to create, to play, to scrapbook etc…I used to have my craft space in our office space downstairs and this room was my son's play room. Now that he's 13, he doesn't need a play room, so I quickly took over. I have pieced it together bit by bit, buying very little new. I didn't plan the colors, they just kind of unfolded with what I had on hand.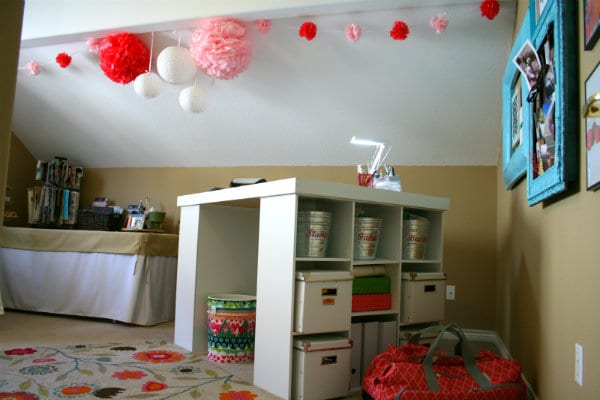 The tissue paper poms were sent to me for a past campaign, the rug was in my office downstairs, the paint and the table toppers were from campaigns, it's pure luck they ended up being the exact color. No planning on my part. Pure luck……I didn't even know I would use them in the same room. The pink and green boxes had Silhouette product in them, but since they matched my room, I'm using them as storage. My Silhouette bag is also the perfect matching pink. (I plan on painting the shelves I stole out of my son's room) You can see how I'm now organizing my Craft Paints.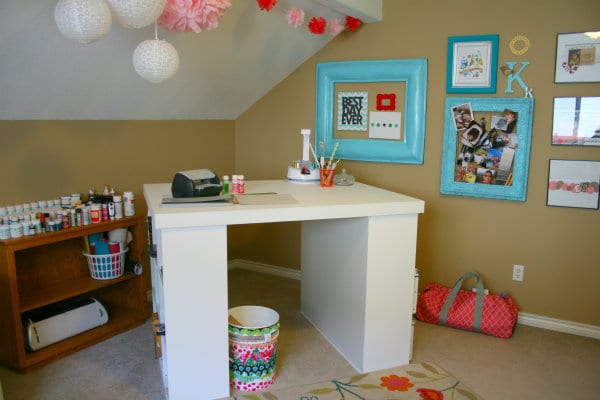 Home Craft Room
This home craft room is full of things that make ME happy. The frames are all garage sale items I've collected over the years. I just painted them with the can of spray paint I won from Mandy's Crafter Wars viewing party. (don't bother looking for me in the photos……..I must have left before they took them) I used what I had to place inside the frames including a signed art piece from Ellen and my "Best Day Ever" that Tauni said I needed! I love it. (it's made by Landie)
That big frame is actually cardboard……it was $5. Love it. The antique looking frame was only $1, I stuck a wire photo holding thingamagig inside to hold my favorite photos.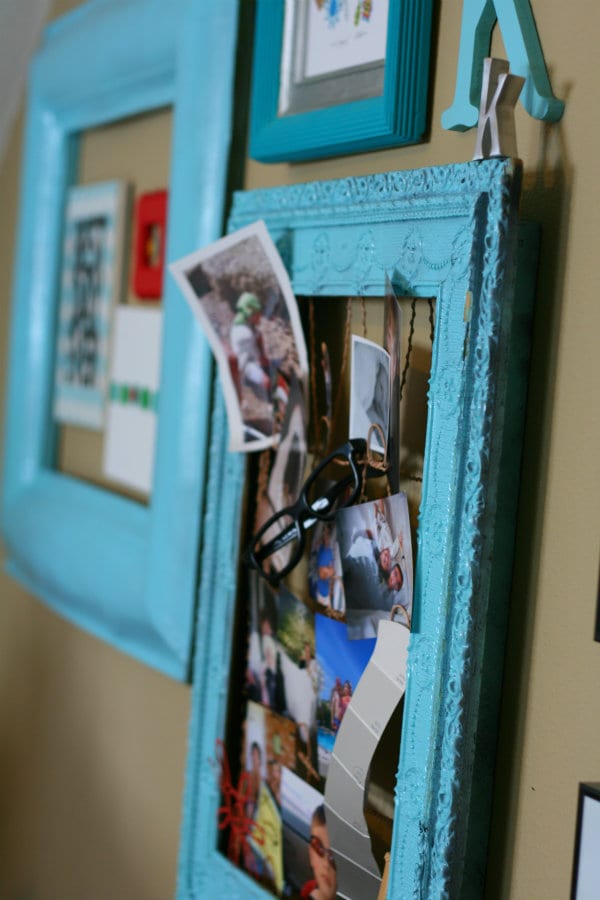 All storage items (except those cute green & pink boxes) are from IKEA.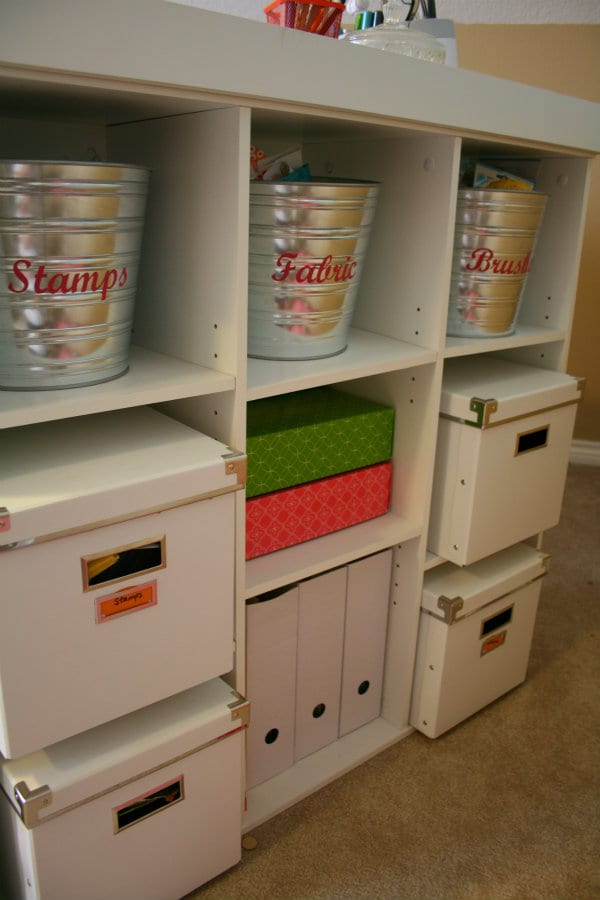 The other side of the room shows my messy stenciled project and a gift wrapping center. I love having everything I need, ready to go whenever I need to wrap something. Because, let's not fool anyone………most wrap jobs are done last minute and very quickly.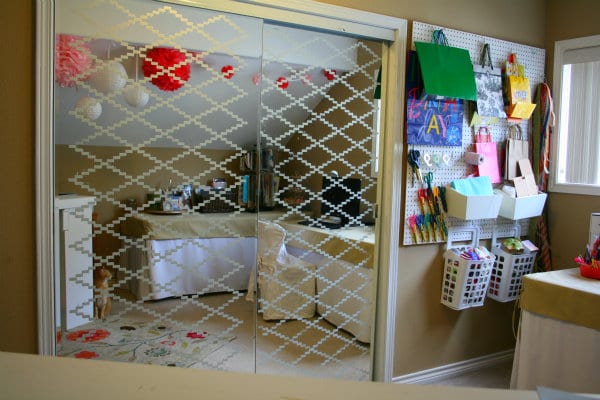 This east facing window brings in enough natural light for a comfortable feeling. I'm planning on a ripped fabric banner for a window treatment…….we'll see how motivated I get. Inside the closets are my paper racks, shelving with baskets. One side is clean, the other side is a disaster.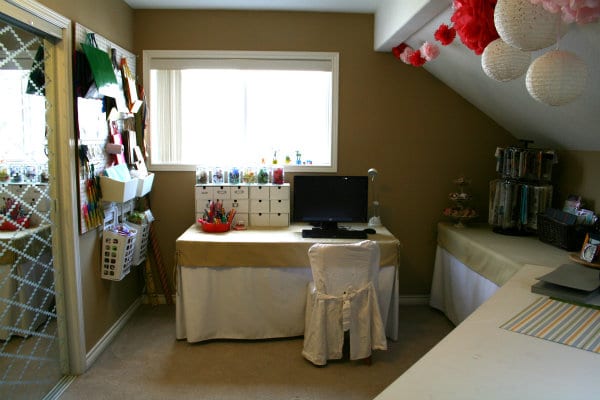 This room only stays this clean for about 5 min. It's meant to be cluttered. I'm thinking about having a messy craft space link up party sometime. Keepin it real.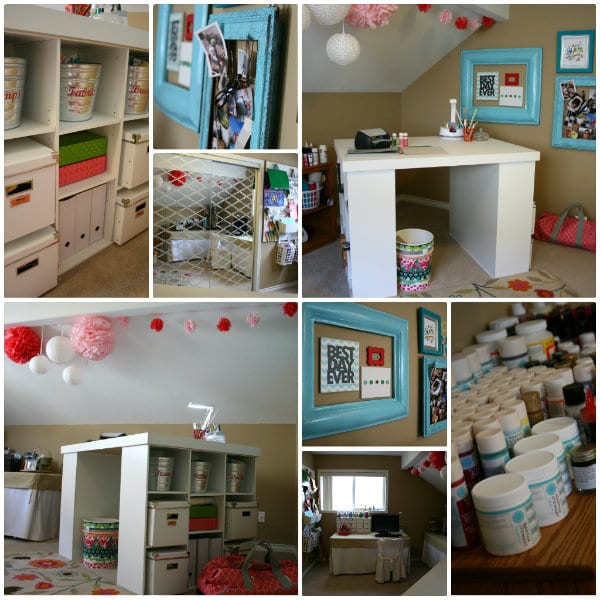 As I add more, I'll post more. I thought I'd better share while it was clean.
I'd love your comments on my sponsored post yesterday. There's even a rare photo of me.

Linking to I'm Lovin it!