This DIY Earth Day Crayon Craft is a simple Earth Day activity for kids. This easy idea is great for schools or at home. Free printable has been updated to reflect no date.
This guest post from a few years ago continues to be a great earth day kids craft year after year! You may also like these 30+ Stuck Inside Games for Kids for when you need more ideas! If you're looking for more great craft blogs like Stuffed Suitcase, check out this list of 50 Amazing Craft Blogs.
---
On April 22nd this year it will be the 45th annual Earth Day. This is a great time to take a moment to consider what your environmental footprint is, and perhaps even do a little activity like this DIY Earth Day Crayon Craft with your kids. Today I'm sharing a fun free printable and craft for you to do with your kids to celebrate Earth Day.
DIY Earth Day Crayon Craft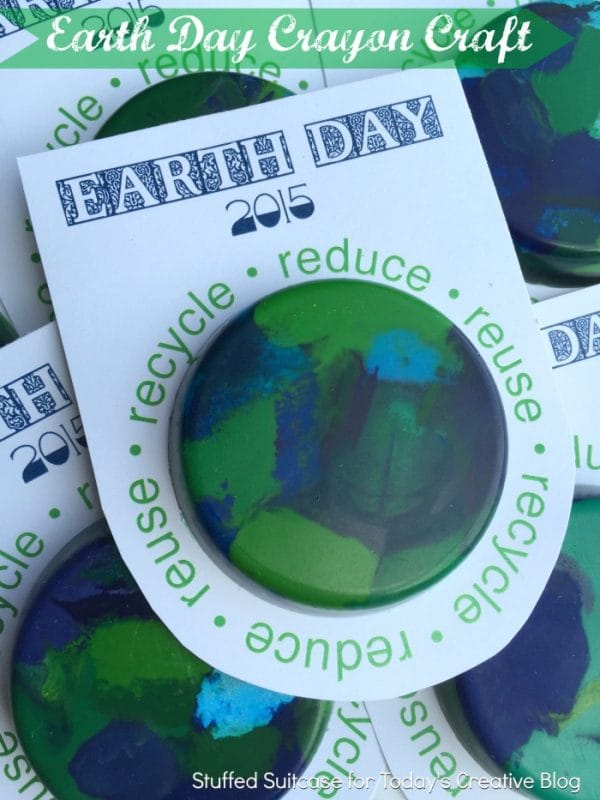 One of the big messages of environmental responsibility has always been to reduce, reuse, recycle, so my activity goes along with that slogan. We're going to make some earth day crayons from old broken blue and green crayons, then place them on a cute printable that is perfect for giving as a classroom gift or for friends.
DIY Earth Day Crayon Craft Tips
Muffin Baking Pan – I purchased a muffin tin for $5 so I wouldn't have to use our food-use one. It's up to you what you want to do. I really wanted the clean smooth edges which is why I purchased the tin. I've heard before that you can line the tin cups with foil, but I worried about whether the foil would get bent into the crayons. It was worth $5 to have a dedicated crayon-making tin. If you use a silicone one, the crayons will pop right out.
Crayons (Blues and Greens) The idea is to use up old crayons, but if you're wanting to make this craft and you don't have enough old crayons, then you can purchase sets of green or blue crayons.
Oven

Start off by collecting as many blue and green crayons as you can, then remove all the paper wrapping from them. It works best if you have a variety of blues and greens, not all the same color. You're going to break them up into small pieces, about 3/4″ pieces.
Melt in the oven – complete directions below on the How-To Card, which you can print off like a recipe card.
Allow cooling for about an hour.
Place in the freezer to help the wax contract, which allows for easy removal.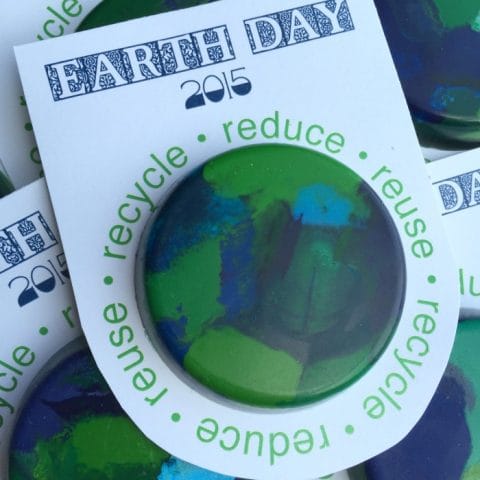 How to Make Earth Day Crayons
Yield: 12
Prep Time: 5 minutes
Active Time: 20 minutes
Total Time: 25 minutes
Difficulty: Easy
Easy Earth Day Activity for Kids
Materials
Green and Blue Crayon bits
White Cardstock
Muffin Tin - an old one.
Instructions
Heat your oven to 280 degrees.
Remove any paper from crayon bits.
Add your crayon pieces to the tins, I put around 15-20 1/2″ to 3/4″ pieces in each cup. The more you put in, the thicker the final crayon will be which will help prevent breaking.
Bake for 10-12 minutes.
Carefully remove from oven and allow to cool for about an hour.
Place in the freezer for about an hour. This will help contract the wax from the sides of the tin and the crayons will pop out. Just be sure you are careful or they could break when you flip them over to drop out. Perhaps you'll want to use a cookie sheet on top of the tin when you flip it, so the crayons only just drop out.
Allow them to rest for a couple of minutes then use a towel (paper towel or old towel in case of crayon marks) to remove condensation from the crayon.
Affix them with some tape to this cute Earth Day printable, and you've created a fun craft while also reusing something old!
Notes
Earth Day Printable has been updated to reflect no date so they can be used year after year.
Recommended Products
As an Amazon Associate and member of other affiliate programs, I earn from qualifying purchases.
How to Print Earth Day Crayon Printable

You'll need:

Inkjet printer
White Cardstock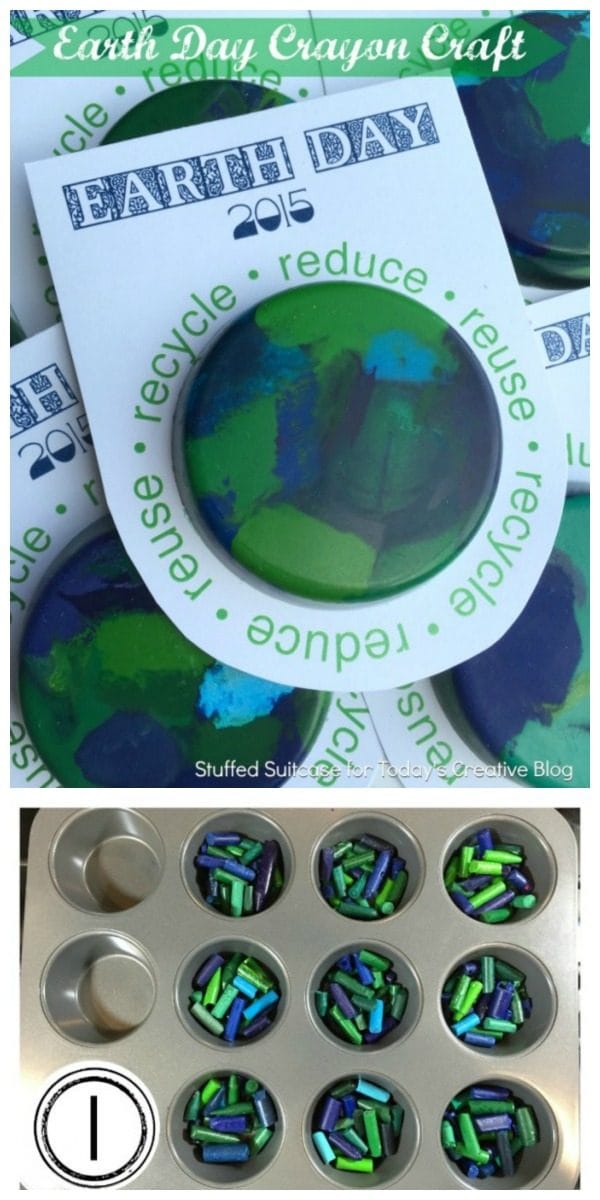 Hope you enjoy this fun Earth Day craft and that it helps you teach and remind your kids to be kind to our environment!
For more family fun, check out my posts about Campfire Conversation Starters, School Lunch Ideas, and my Big Hero 6 Family Night Dinner. I'd love to have you join and follow me at Stuffed Suitcase where I share tips for family travel and life between trips.
Easy Crafts for Kids
Craft ideas for kids. These activities for kids are for a variety of ages. Science crafts, Slime, Coloring, and more!
This slime recipe doesn't use Borax. Make up a batch for hours of play.
Kids science for all ages. This amazing project makes science fun!
Create decorative paper with bubble blowing. Use for art, cards, gift tags. Who knew bubbles could be long lasting.
Print and color. Create your own style.
This easy craft makes indoor or outdoor exercise fun.
Here's something they can make for their bedrooms. Solar system kids craft for learning more about planets.
Even little ones can get in on the crafting.
Great for so many ages. Dexterity activity for kids.