Please welcome Printable Contributor, Marlynn from UrbanBlissLife! You'll be extra organized for your next beach trip or Summer Travel Bucket list when you use this Free Printable Beach Vacation Packing List! Don't miss my College Dorm Room Packing list too!
Are you headed to the beach this summer? My family and I live just a little over an hour away from the Pacific Ocean, and let me tell you: we go to the beach a lot. A LOT.
You would think that by now, with years of beach-going under our belt, we'd have packing for day trips and weekend trips to the beach down pat. Yet as soon as our toes hit the sand, we almost always find we've forgotten something.
That's where this Beach Trip Packing List comes in handy.
Free Printable Beach Vacation Packing List
I was so excited to design this free beach packing list printable for Kim and all of you fabulous Today's Creative Life readers!
This list contains most of the packing essentials that my beach-loving family packs up for our trips. The extra bags are some of my prized packing possessions: we always carry a bag for trash, a bag for wet clothes and towels, ziplock bags to safely keep all of the seashells and rocks my kids find along the shore.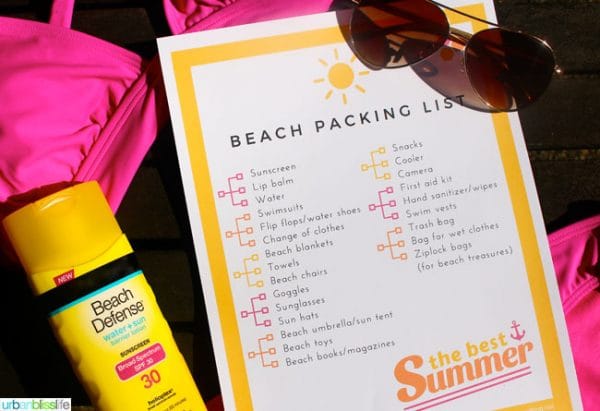 I also think a sun tent or beach umbrella is necessary to give families a shady spot to relax out of the sun's rays (and, at least along our coastline, tents protect us from the notorious northwest winds!) while still soaking up the fun of the beach. My friend has a great packing list for the Mediterranean.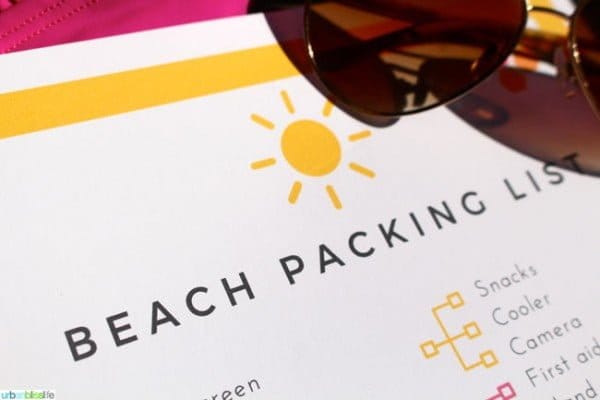 SIGN UP FOR FREE PRINTABLES BELOW

ALREADY have your password? Head straight to the Free Printable Vault.

Click here to download your Free Beach Packing List Printable.
How to Print Beach Packing List
1. Download the Free Beach Packing List Printable and save it on your desktop.
2. Print out onto a standard 8.5″ x 11″ piece of paper using a standard ink jet printer.
Then simply use it to keep yourself organized as you pack up to head to the beach!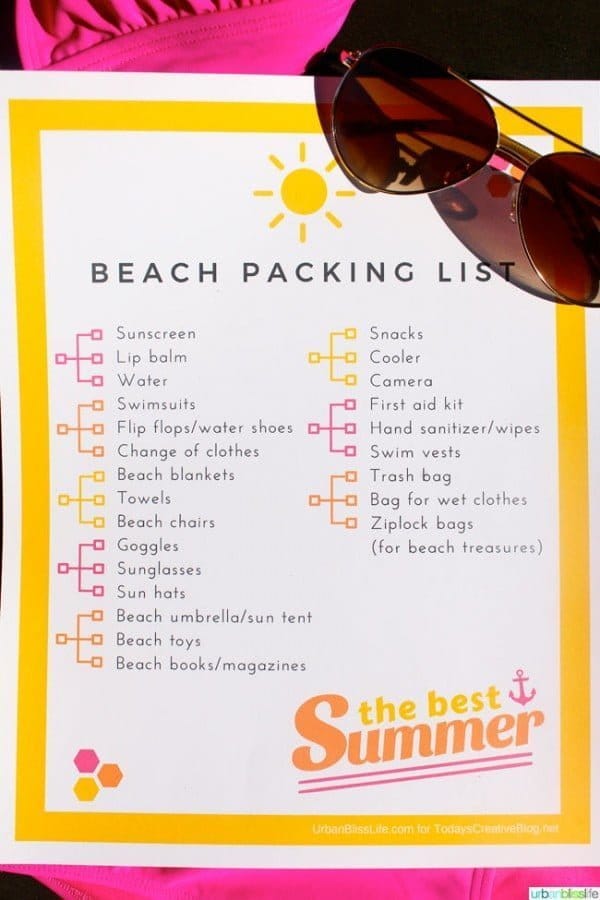 What additional items would you add to this beach packing checklist?
Travel Fun
Travel destinations for families, travel printables for packing or keeping the kids busy. TCL has it all.
This DIY travel game is fun to play on the road.
Ideas for a family trip to NOLA.
A must vacation for families.
Keep it simple with this Travel to-do list.
This screen-free activity is great for road trips.
Take the legos with you with this easy-to-make lego tote.
4 adults, and 5 teens all go to Yellowstone.
HIghlights for a family vacation to Yellowstone.
Download this free printable car game for the kids.