If you love Cereal Bars, then you're going to love these easy to make No Bake Captain Crunch Bars made with marshmallows. This simple recipe makes it easy to substitute your favorite cereal to suite your needs. Cereal is a great start to many delicious recipes. My

Christmas Crunch made with Crispix,

any a few other ingredients is mouth watering! Enjoy this guest post from

Jen at Craft-O-Maniac.
Captain Crunch Bars Recipe
Hello, Today's Creative Life Readers. Jen here from
Craft-O-Maniac
and I am thrilled to be visiting on Kim's lovely blog today.
I have a yummy treat for all of you. One that would be fun to make for all your kids that are out for the summer. I know my kids love them, so I am sure yours will too. Today I am sharing my "Captain Crunch Bars" .... and I tell you what? They push Rice Krispie Treats right out of the water. This recipe for Captain Crunch Cereal Bars will soon be a family favorite.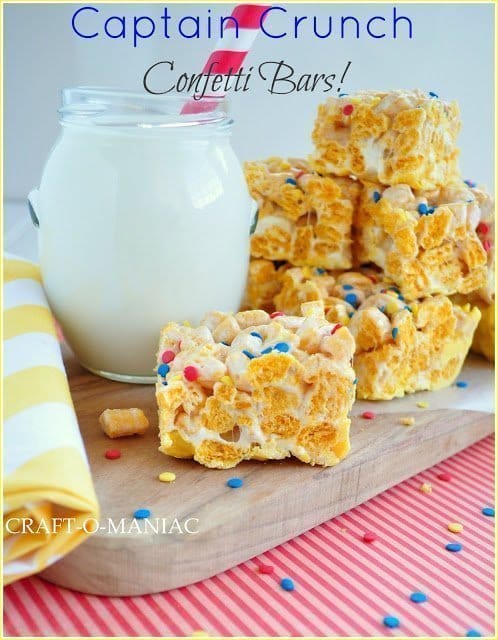 How to Make Captain Crunch Cereal Bars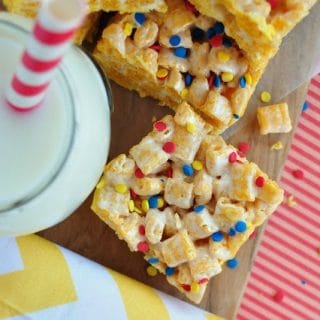 Captain Crunch Bars Recipe
Yield: 12
Prep Time: 5 minutes
Cook Time: 10 minutes
Additional Time: 25 minutes
Total Time: 40 minutes
Gooey, Captain Crunch Cereal Bars made with marshmallows, butter, candy melts and of course Captain Crunch Cereal.
Ingredients
1/2 bag of Captain Crunch Cereal about 4 1/2 c.
4 tbsp of butter
1 (10oz.) bag of mini marshmallows
1/2 a bag of yellow candy chocolate melts
confetti sprinkles
Instructions
Take your butter and place it in your pot on the stove, start melting your butter, add in your bag of marshmallows and stir. Then add in your Captain Crunch, mix really well.
Pour your mix into a greased 9 x 13 pan, use a sprayed with Pam, piece of wax paper to place over the top of the Captain Crunch mix. Press down on the mix to smooth out and even out the mix. Next take your confetti sprinkles (I picked out the red, yellow, and blue ones) and sprinkle them on top of the bars. Place the dish in the fridge for 25-30 minutes.
Then melt your candy melts, cut your bars into squares and dip the bottom of your bars into the melted candy melts, then place the bars sprinkle side down onto some sprayed wax paper. Continue this until all the bottom of the bars are dipped, place the bars back into the refrigerator to chill the candy chocolate melts, (approx. 15-20 min.)
Then take them out dive in and Enjoy!
Notes
Adjust the marshmallow/cereal ratio if needed. If it feels too gooey, add a bit more cereal. If it feels too dry, add more melted marshmallows.
Nutrition Information
Yield 12
Serving Size 1
Amount Per Serving
Calories 96
Total Fat 5g
Saturated Fat 3g
Trans Fat 0g
Unsaturated Fat 1g
Cholesterol 10mg
Sodium 133mg
Carbohydrates 13g
Fiber 0g
Sugar 7g
Protein 1g
We do our best to calculate, however, nutrition information may not be accurate.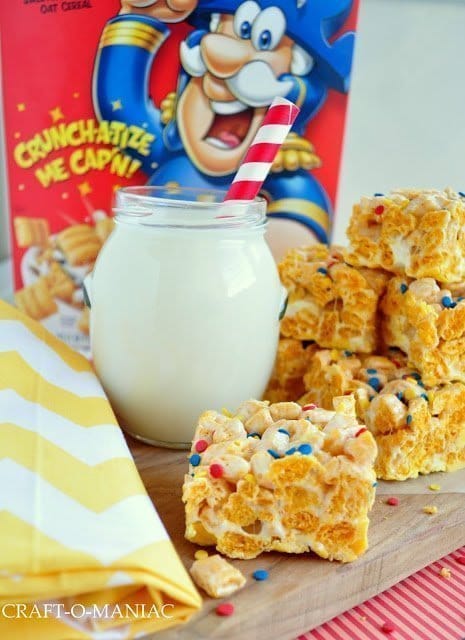 What Cereal Works for Cereal Bar Recipes?
If you've got a cereal that you love, chances are it will work great! However, anything flaky is not a good choice. It just won't hold up.
Here are a few of my favorites.
Rice Chex
Golden Grahams
Fruit Loops
Cocoa Puffs – try this recipe for Cocoa Puffs Cereal Bars.
Cheerios
Lucky Charms
If you're feeling adventurous, try mixing and matching a couple of varieties.
Not sure if your favorite cereal will work? If it's as firm as the beloved rice krispy cereal, then give it ago.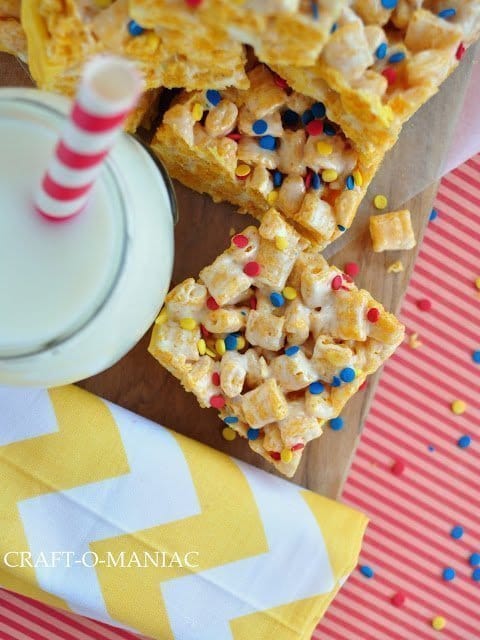 One thing is for sure, kids will LOVE it!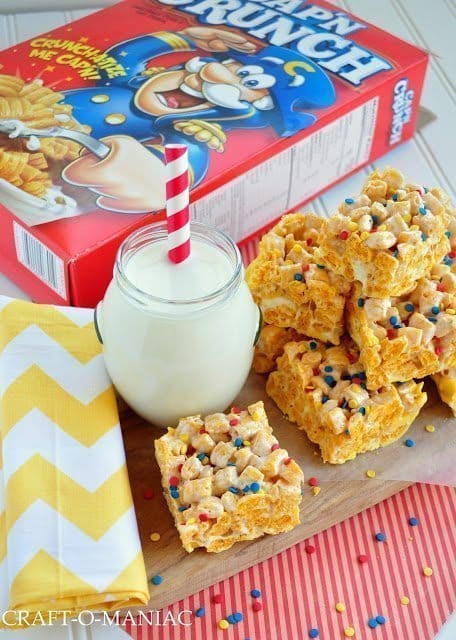 In fact, this is a great way to get kids excited about cooking. Captain Crunch Bars are easy enough for young kids to help and older kids to do on their own.
They'll be excited to bite into their creations!
Can I Use Marshmallow Cream?
When you're making marshmallow treats with any type of cereal, it's good to know the measurement difference between regular marshmallows, marshmallow cream, mini or small marshmallows. This way you're ready to bake with whatever you've got.
Conversions for Marshmallows and Marshmallow Creme
7 oz Marshmallow Creme = approximately 1-1/2 cups
13 oz Marshmallow Creme = approximately 3 cups
1 Regular Marshmallow = 13 Miniature Marshmallows
8 Regular Marshmallows = 1 cup
16 oz bag Miniature = 8 cups
10.5 oz bag Miniature = 5-1/2 cups
50 Miniature Marshmallows = 1/2 cup Miniature Marshmallows
5 Regular Marshmallows = 1/2 cup
64 Regular Marshmallows = 16 oz bag
More Bar Recipes
Find more easy-to-make bar recipes right here. Cake bars, Cookie Bars, Cereal Bars