DIY Confetti Painted Heart Mugs are one of my most popular craft tutorials!
I have been in love with Confetti glass for many years. My favorite drinking glass is one of those original confetti rimmed glasses, I had 4 and now I'm down to one. I just can't bear to get rid of it. They remind me of the Marbled Bottom Drink glasses I also made.
I've noticed people trying to replicate the Confetti Painted technique on mugs, glasses and plates and I thought I'd try DIY Confetti Painted Heart Mugs. Perfect for Valentines Day or maybe to show your love of coffee.
DIY Confetti Painted Heart Mugs
I was thrilled by how easy this was to do!
Supplies  Needed: 
Elmers Paint Markers
Sharpie Paint Pens – NOT MARKERS, but the paint pens.
White Mug
Contact Paper, Vinyl, or Stickers
(Images are clickable for purchase convenience and contain affiliate referral links)
I bought the Painters medium point markers in the neon colors but there are also other color choices. You can find them at Michaels.com or JoAnn.com
I also picked up the Sharpie Paint Pens. These are different than your regular sharpie marker. If you're using a regular sharpie, you'll have to bake the item after you apply your design. I've never made those, so I'd google for instructions.
I had a couple of white mugs to use and used my Cricut Explore™ to cut my heart image, but you could use a heart shaped sticker or cut your own using any self adhesive paper like Contact Paper.
How To Make Confetti Painted Heart Mugs:
After applying the heart to my clean mug, I took my first color and dabbed dots outlining the heart first.
Then I randomly dabbed for the confetti look.
After the first color was dry, I took my second color and filled in.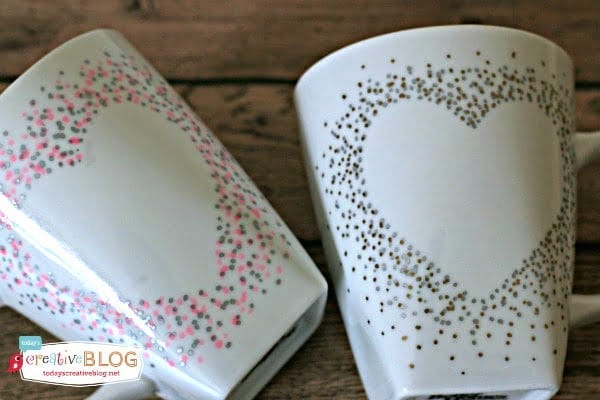 The Sharpie Paint Pens dried much faster, where as the Elmer's Painters Markers took about 5 to 10 minutes. The Elmer's Paint Markers bring a little texture, but the Sharpie does not.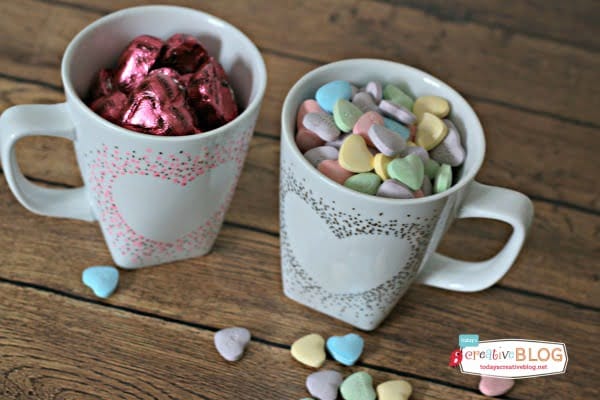 This craft would make a cute and quick Valentines Day gift, or just use them to show your love of coffee or hot chocolate.
Once I do something I love, you should know by now, that I'll over do it.
I suddenly needed all my white mugs to have confetti hearts.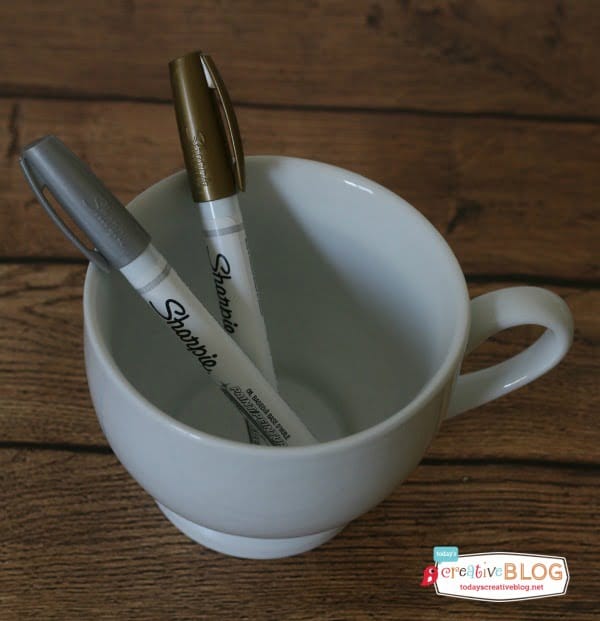 Isn't that adorable? Let's pretend that I didn't mess up my heart at the bottom. Besides…… Handmade is never perfect.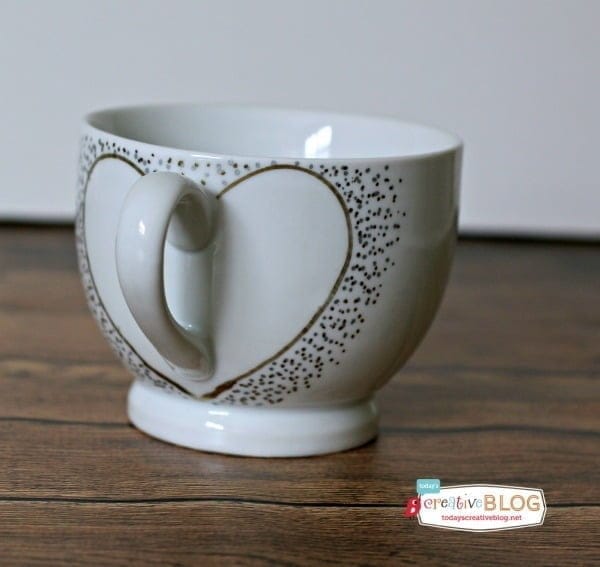 Then I couldn't help but also make a few Confetti Painted glasses.
Think how fun this would be for themed events or your next party. I should make some green and yellow ones for the big Oregon Duck National Championship game coming up January 12th!
My husband and his brother are MAJOR Duck fans. Both being U of O Alumni they get a little crazy for Duck football. They just took their 82 year old dad to the Rose Bowl and of course the Ducks won!!! They were even on the front page of the Oregonian! You may have seen me post all that on Instagram.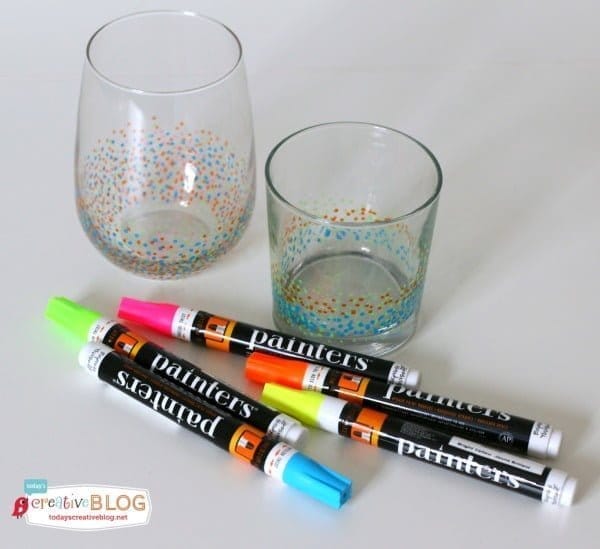 You'll be so surprised how easy this DIY craft is. It's really hard to mess this up. I did notice that I made better dots when I kept the pen completely vertical, making sure to use the tip of the marker.


You may also enjoy the DIY Marbled Glassware I made last year.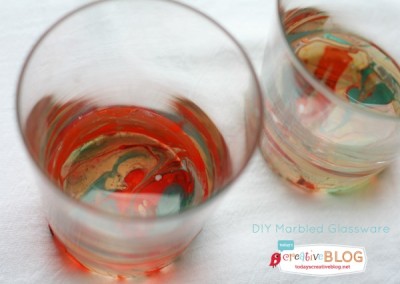 Here are more creative ideas!