Decorating in a beach or nautical theme is so HOT right now. My quick nautical DIY craft is perfect for a table centerpiece indoors or out. And it's CHEAP! I mean inexpensive! These dollar store candles make it easy to create quick and inexpensive decor. Check out this Beach Theme Hurricane and my spring table with paper wrapped candles.
Nautical Theme – Decorating with Shells
I found all my nautical theme items (except the twine) at my local Dollar Store. I only made 3, but I'm thinking if I made enough to line a walkway, I'd look pretty talented. You could even enlist the help of children who are old enough to use the glue gun. This project is all about the imperfection. No exact measuring, placement or skill needed.
In a rush………click here to pin for later.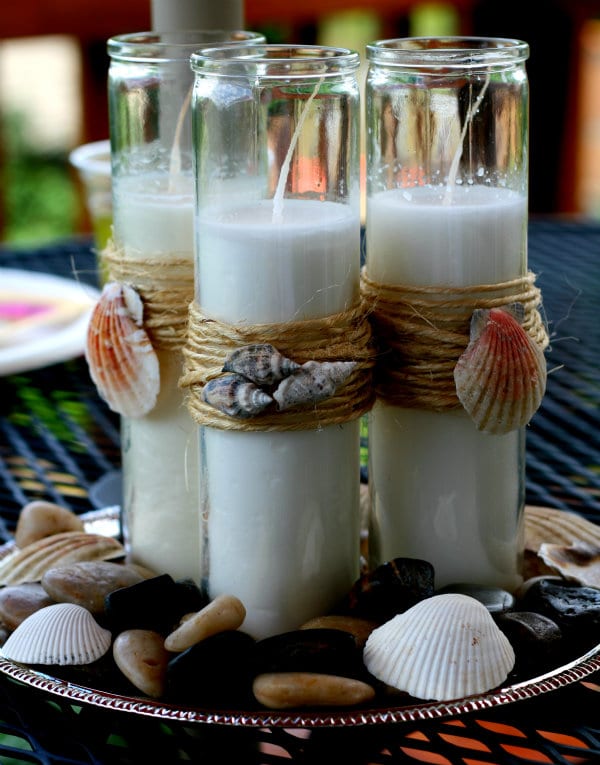 How to Make Nautical Theme Candles
You may already have all the items, or items that will work. I have included links for all products. (affiliate)
Candles (any pillar candle can work. I used the ones in a glass jar. If using a regular candle, place the twine low enough to prevent fire)
Twine– I grabbed the gigantic roll my husband keeps in the garage.
glue gun – Glue is very very hot. Don't get burned.
Silver platter – it's not real silver…….it's a cheap one from The Dollar Store.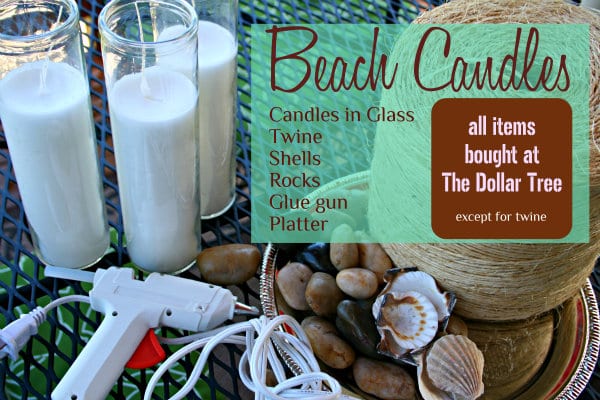 I took my twine and wrapped around and around until it looked the way I wanted. I used the glue gun to glue the end down. (the beginning end is wrapped over to keep it in place)
I glued a sea shell over the twine.
I placed my candles on the silver tray, then placed my rocks around it.
DONE!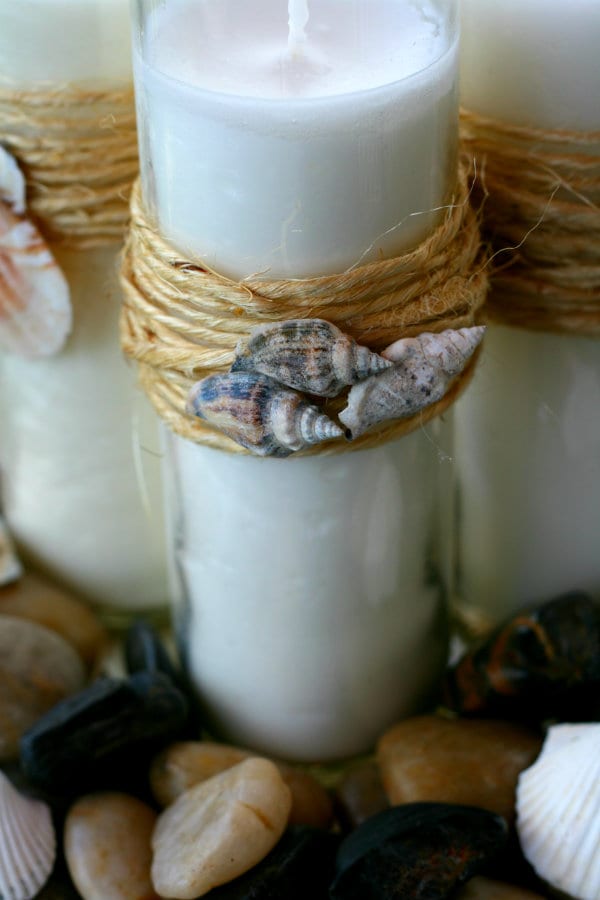 This DIY project took me less than 15 min. This is one of those projects that looks great, but didn't take a lot of time to complete. I was bragging to my husband how this was inspired by all the beach themed decor I see in the designer catalogs ……..his response……. "I'd pay $17.43. 🙂 He knows they look good, he just likes to tease me when I get tickled with myself creating a designer knock off.
What do you think? Feel free to pin, share on facebook, or tweet!
---
More fun outdoor decorating ideas!