I am always looking for Decoupage Ideas, especially on how to decoupage furniture. I transformed this small end table with Mod Podge, vintage maps and a foam craft brush! See the tutorial below.
It's no secret that my new obsession is using mod podge to decoupage my vintage maps on everything I can think of. I have so many decoupage ideas swimming around in my head that if you're looking for ideas on what to decoupage, check out my trash can! I tend to over do everything. Like my love of numbers. Right now my house is full of vintage maps and numbers. I LOVE maps and globes. If you do too, then check out this post on 18 of the Best DIY Globe Projects!
Decoupage Ideas

I've been dying to decoupage this little side table for a couple of years. I finally did it! I love it! It's not perfect…….a few tiny bubbles…….but it's perfect to me.
How to Decoupage a Table
First, you're going to need a few basic supplies.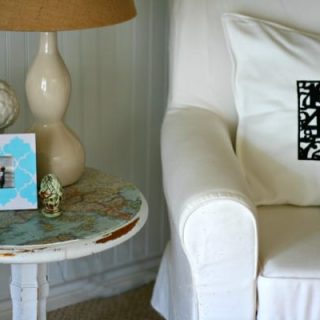 How to Decoupage Furniture
Yield: 1
Prep Time: 15 minutes
Active Time: 20 minutes
Additional Time: 1 day
Total Time: 1 day 35 minutes
Difficulty: intermediate
Estimated Cost: $20
Learn the basics on how to decoupage furniture.
Materials
Furniture Piece - I used a small end table and decoupaged the top only.
Vintage Map - or any decorative paper material you want to use.
Mod Podge - I used the Matte formula
Tools
Foam Craft Brushes
Brayer
Instructions
Clean furniture and allow it to completely dry.
Measure and cut the paper to the size of your furniture. I have cut a template first using wrapping paper and then used it as a guide for cutting the paper I'm using for my project.
Brush a light coat of Matte Mod Podge onto the top of the table, or wherever you want the paper to go.
Carefully lay your cut paper over the newly applied coat of Mod Podge. You can gently slide or move into position.
Brush a top coat onto the top. It will look cloudy but don't worry, it will dry clear.
Roll the brayer to smooth out wrinkles. (I admittedly did not do that on this project and you can tell).
Let it dry overnight before playing anything on top.
If you want a protective coat, you can spray with a spray acrylic spray.
Recommended Products
As an Amazon Associate and member of other affiliate programs, I earn from qualifying purchases.
I found this table at our local antique mall. Perfect to decoupage. I love the base which ironically is very similar to my dining room table legs. Reminds me of bell-bottom pants.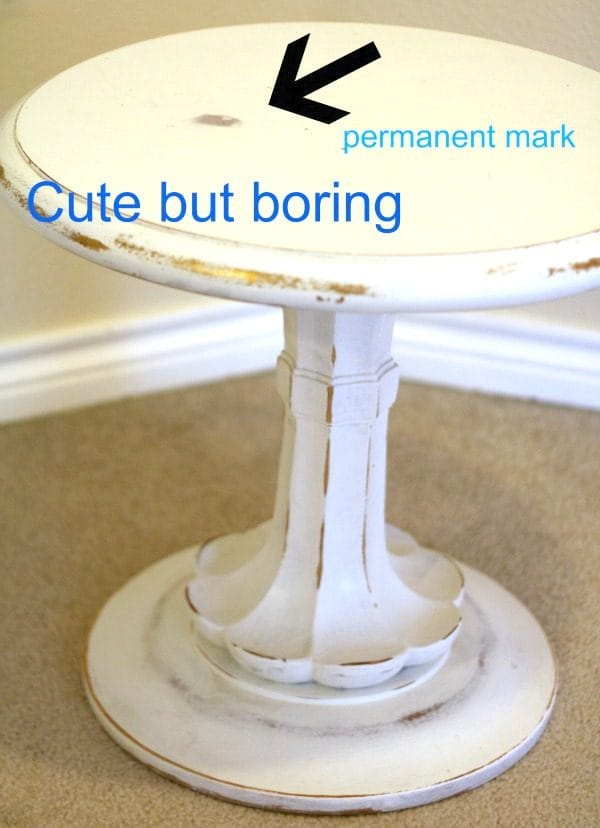 On a whim, I carried this baby upstairs to my craft room, wiped the dust off and started brushing on the Mod Podge. Within minutes, I had a new table. I used the outdoor Mod Podge for the top layer. I figured it would seal it better.
I called my son in to look at it because I knew he would think his mom was all cool……..his words were "so……you just……..(snapped) did this?" That made me feel like superwoman because we should all base our value on what a 13-year-old boy thinks of our craft projects.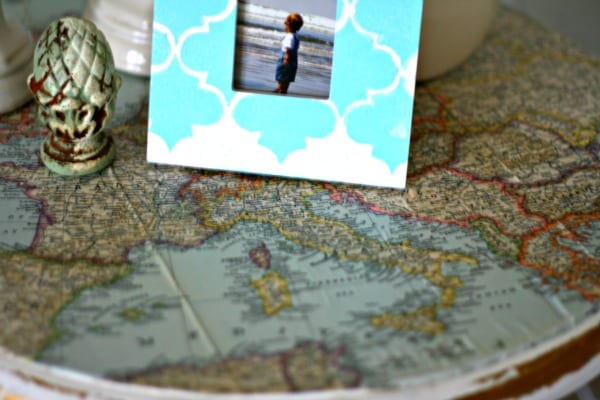 I think it's the perfect way to add vintage charm and a little bit of blue into my home.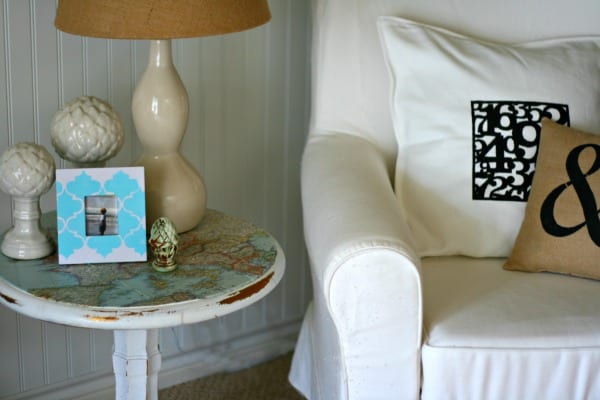 If you like this table, then you'd love these DIY Map Coasters too!
Follow me
Facebook | Pinterest | Instagram | Twitter
Decoupage Ideas and Projects
I created this garbage can with fabric and mod podge for my craft room. It's bright and colorful.
Create a decorative piece with a tray, a vintage map and mod podge.
Download these beautiful botanicals and create a set of coasters.
Ceramic Coasters with decoupaged paper make great gifts.
Vintage bug designs are a unique way to decorate for Halloween.
Make your Easter Eggs part of your decor!
Winter plaid coasters for a cozy home.