I've got so many great patriotic decorating ideas for you on Today's Creative Life. I love creating my own decor that I can use for the 4th of July, Memorial Day, and Labor Day. These fabric-painted star pillow covers are a great patriotic craft that is also perfect for DIY decor year after year.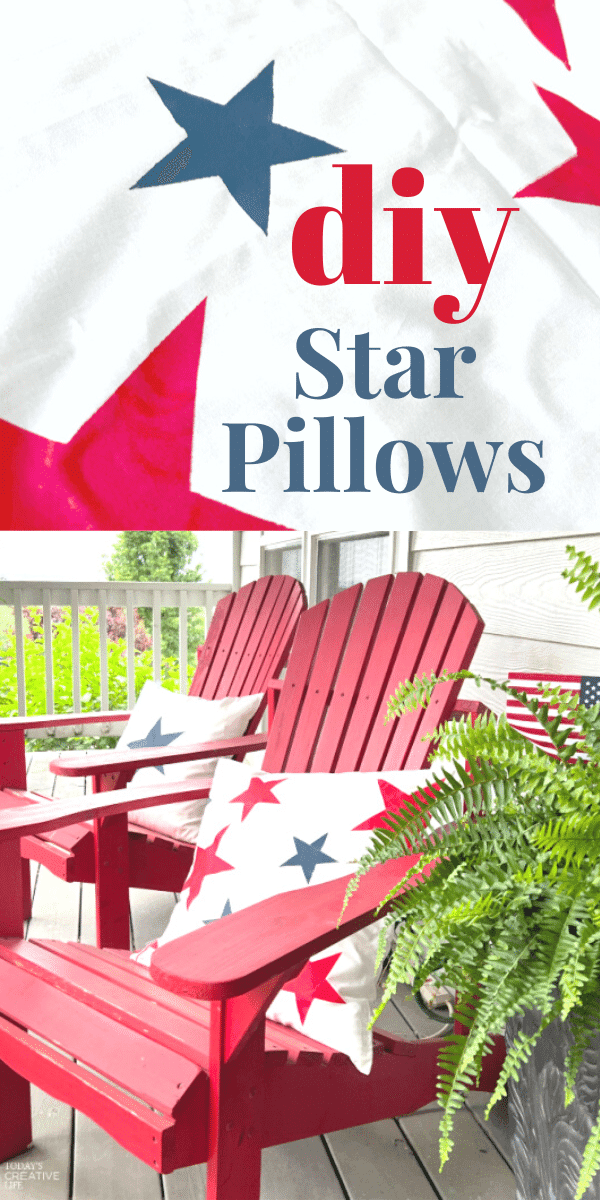 Patriotic Decorating Ideas
Painting on fabric is a great way to create your own custom look for any holiday, but super cute for patriotic decorating ideas. All you need for this 4th of July craft is:
White Cotten Blend Pillow Covers ( I used this same technique for making a fabric-painted patriotic table runner.
Star Stencil
Red and Blue Acrylic Paint
Fabric Medium
Paint Dauber
Piece of cardstock or cardboard
Iron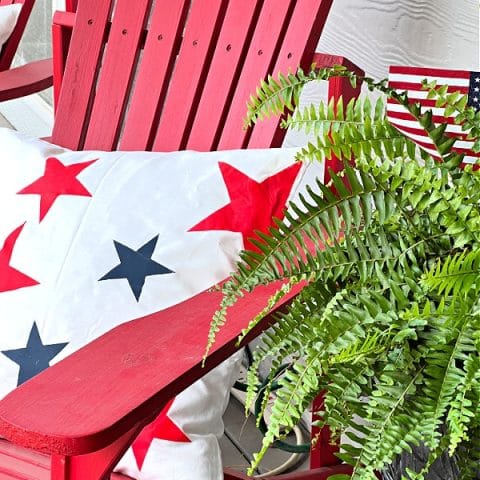 How to Make Patriotic Pillow Covers
Yield: 2
Prep Time: 15 minutes
Active Time: 15 minutes
Additional Time: 30 minutes
Total Time: 1 hour
Difficulty: Easy
Learn how to make fabric-painted star-stenciled pillow covers
Materials
Piece of cardstock or cardboard
Washi-tape or Fabric Tape
Instructions
Gather all your supplies.
Lay out the pillow cover and slip the piece of cardstock or cardboard inside so any paint will not bleed onto the back side of the cover.
Place the stencil where you want it. I used washi tape to secure the stencil.
Following the directions on the bottle, mix paint with the fabric medium in a small cup or right on a paper plate.
Load the paint dauber with paint and carefully daub up and down until the space is filled with paint.
Repeat until you have the design you want. Clean the stencil before using another color.
Let it dry for about 30 minutes before removing the cardstock from the inside.
When it's completely dry, place a tea towel or piece of parchment paper over the design and iron it with a hot (no steam) iron to set the design.
Place a pillow insert inside and enjoy!
Notes
This method can be used with any stencil. Use only cotton blend fabrics that are not textured.
If you use fabric paint, you do not need the fabric medium.
More Patriotic Decorating Ideas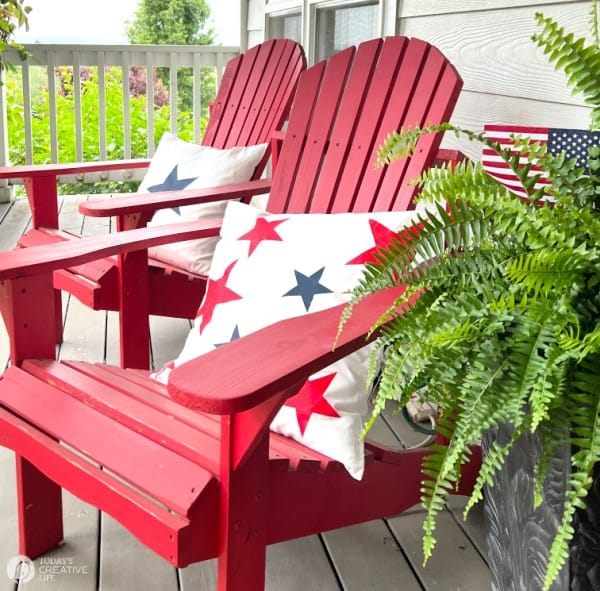 Can You Wash Painted Fabric?
Yes, you sure can wash painted fabric. That's why we add the fabric medium to acrylic paint. You can also skip that step and just purchase fabric paint. To set a painted design, you'll want to iron it with a hot, no-steam iron before washing and drying.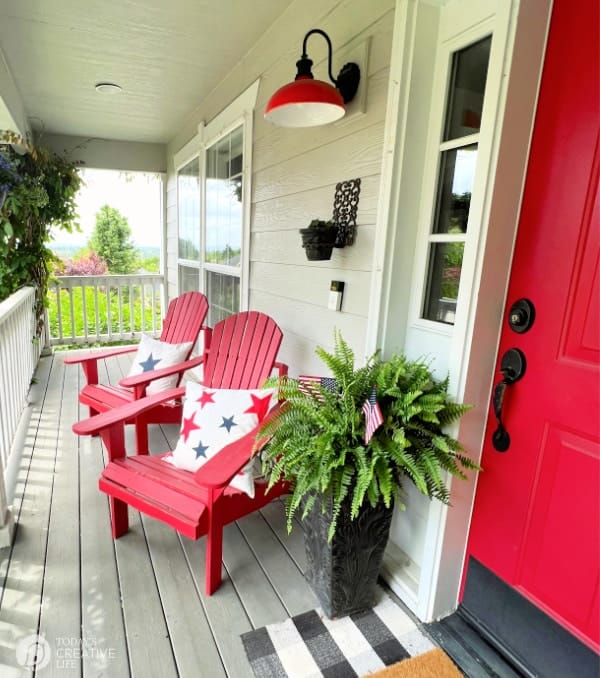 Patriotic Decorating Ideas for Your Porch
It helps that I have a red door and 2 red chairs on my porch, but even without the extra color boost, you can still give your porch a quick patriotic makeover! You can add a simple red, white and blue wreath and grab a few mini American flags to stick in your flower pots. Simply hanging an American flag is great too! Adding accents like my new star-stenciled painted pillows is a great 4th of July craft for home decor that you can use for all the patriotic holidays.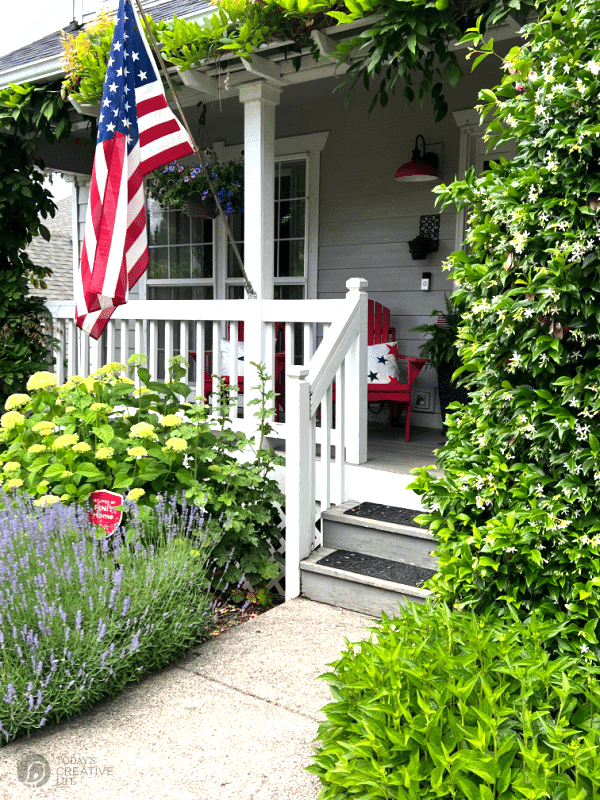 4th of July Craft Ideas
As mentioned, I love making my own seasonal holiday decor. Many times it's more budget-friendly, but I can customize it to what I love for a more original look.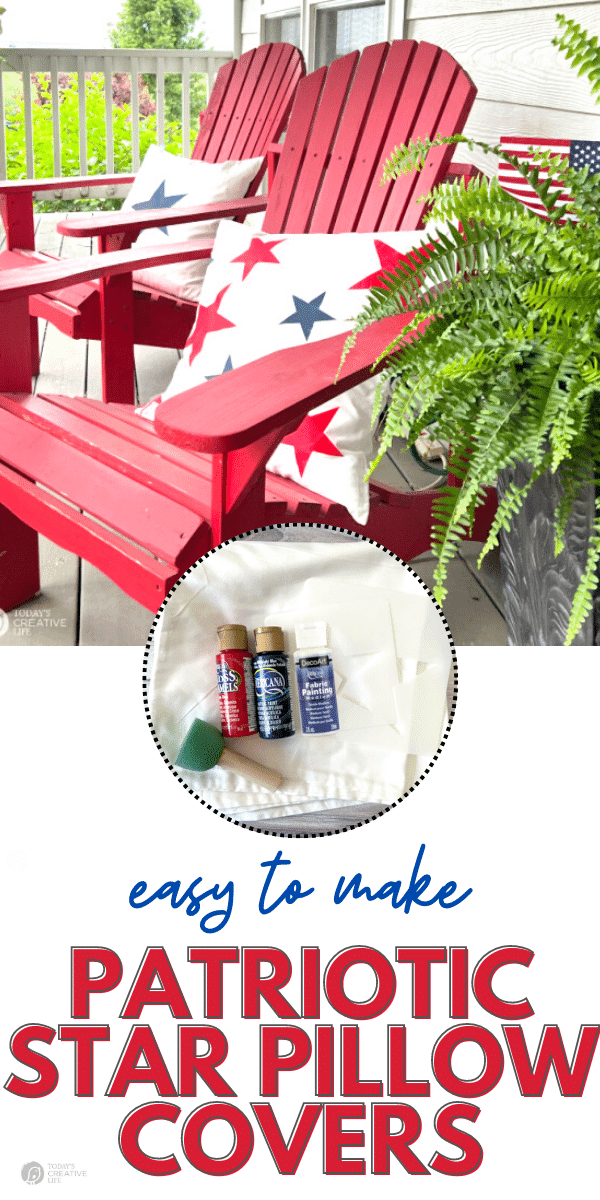 Patriotic DIY Ideas
Crafting and decorating ideas for all the Red, White, and Blue Holidays! 4th of July, Memorial Day, and Labor Day!
Free Patriotic holiday printables.
Create your own holiday star garland.
Grab a star-shaped ice cube tray and create patriotic drinks!
Grab your supplies and get busy!
More Red, White and Blue Printables.
Simple 4th of July decorations.
Simple sewing project for the holidays.
Sweet treat for your 4th of July parties!
Photo Credit: craftingintherain.com