If you're looking for powdered peanut butter recipes, I think you'll love these PB2 Banana Muffins! Using a peanut butter powder in recipes like these muffins and this PB2 Peanut Butter Pancake Recipe helps us add higher protein and healthier options.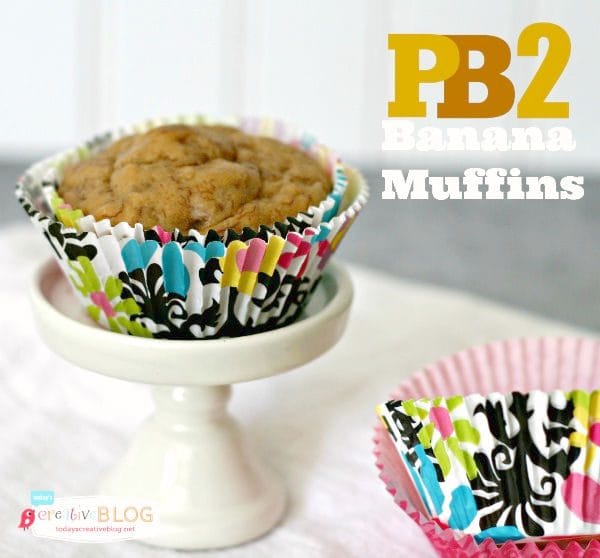 PB2 Banana Muffins Powdered Peanut Butter Recipe
I recently saw PB2 Peanut Butter for sale at the gym and picked some up and thought I'd try baking with it. How can you go wrong? I had a few overripe bananas just begging to be made into banana bread or muffins and yes, I could have made my Banana Praline bread or my Banana Mango Coconut bread, but I wanted something different. I wanted peanut butter, banana so I thought adding some of this PB2 to the batter instead of peanut butter would be delicious. Bananas and peanut butter have been going hand and hand for years.
Are PB2 Banana Muffins Healthy?
Not only is this PB2 supposed to be healthier, taking out a lot of the fat, but how great for food storage, or camping. I love that it's powdered, making it easy to add a peanut butter taste easily to recipes. I just sprinkled a little right into my oatmeal this morning and again……. delicious.
If you want to eat it like regular peanut butter, you just add a bit of water and stir. That's it! My jar is almost 1/2 gone. I've been adding it to greek yogurt, recipes, etc… it also comes in a peanut butter chocolate flavor. YUM!
Adding it to this banana muffin recipe was so easy! These muffins make a great grab and go breakfast for the kiddos, or a quick after-school snack. My son, of course, devoured them. I added walnuts for even more protein and added crunch.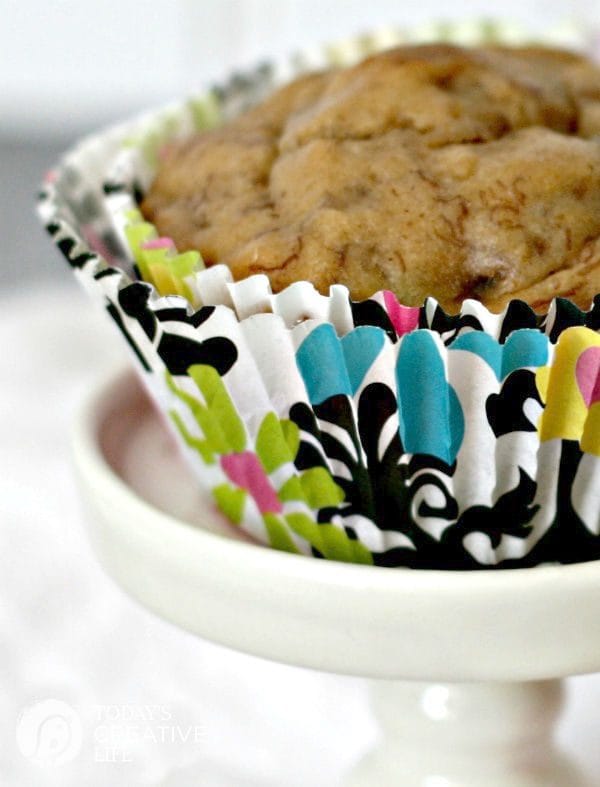 Powdered Peanut Butter Recipe
Print it out for later.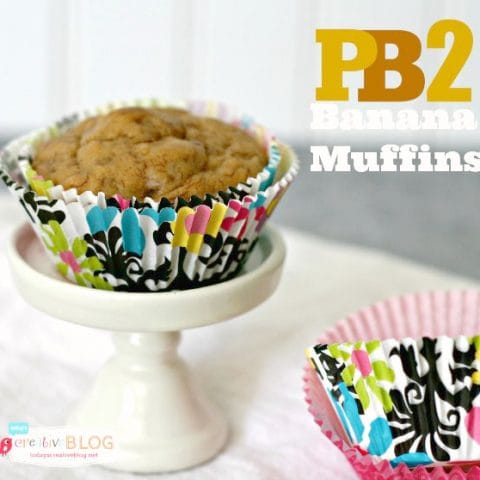 PB2 Banana Muffins
Yield: 12
Prep Time: 20 minutes
Cook Time: 25 minutes
Total Time: 45 minutes
Easy to Make Peanut Butter Banana Muffins using Powdered PB2.
Ingredients
Preheat oven 325° and line or grease your muffin tin.
3 overly ripe bananas
1/3 cup unsweetened applesauce
3/4 teaspoon baking soda
1/4 teaspoon salt
1 1/4 cup flour (you could try whole wheat if you want)
1/3 cup brown sugar (don't have any? Make your own brown sugar from my brown sugar recipe)
2 tablespoons softened butter
1 large egg
1 teaspoon vanilla
10 tablespoons PB2
Instructions
Combine dry ingredients in a separate bowl and stir.
Using your electric mixer, cream butter, and sugar.
Add the egg, mashed bananas, apple sauce, vanilla, and the PB2. Beat.
Add flour mixture and continue beating.
Fill muffin tins 3/4 way.
Option: Make up a little PB2 with water. Fill muffin tin halfway, place a small dollop of moistened PB2 in the center, top off each muffin tin with remaining batter.
Bake for about 20-25 minutes.
Notes
I thought it would be fun to mix up a bit of the PB2 adding it between batter fillings for a middle filling of PB2. I added 1/2 batter, then the mixed PB2, then more batter. The results were unnoticeable. So either I would leave it out, or just add more.
Nutrition Information
Yield 12
Serving Size 1
Amount Per Serving
Calories 174
Total Fat 5g
Saturated Fat 2g
Trans Fat 0g
Unsaturated Fat 3g
Cholesterol 24mg
Sodium 188mg
Carbohydrates 28g
Fiber 2g
Sugar 12g
Protein 6g
We do our best to calculate, however, nutrition information may not be accurate.
Can you Freeze Muffins?
Yes! If you have any left of course! Place completely cool muffins in a gallon-size freezer ziplock bag. I always try to arrange them so they will lay flat with the bottom of the muffin on the freezer shelf inside the baggy. Take one or more out about 30 minutes before eating. If you want a warm muffin, you can place it in the microwave for a short amount of time. Or wrap in foil and place in a warm oven.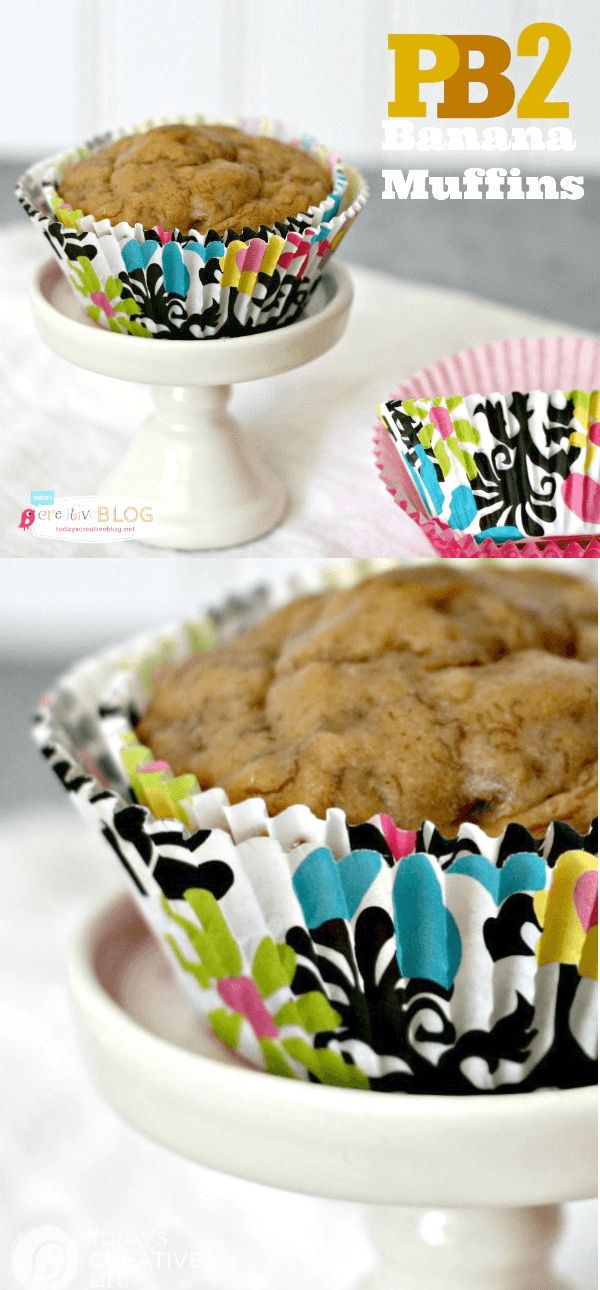 Where can I find Powdered Peanut Butter?
You can find powdered nut butter in most grocery stores. Here are my affiliate links for a few different brands and varieties.
Follow along on Instagram | Pinterest | Facebook
Muffin Recipes
Easy to Make Muffin Recipes. Savory or Sweet, you'll find both!
The taste of fall all in one muffin.
So delicious, you'll want them daily.
Healthy muffins for breakfast or snacks.
Easy to make savory muffins for soup, salad or snacking.
Spread with a fruit and honey spread!
Savory breakfast muffins are great for on the go!
Using powdered peanut butter for a rich taste.
Use leftover cranberry sauce for these delicious muffins!