Make this small DIY Fountain for your patio and garden in just 30 minutes. Perfect for your patio or garden for the soft sound of trickling water.
This Do It Yourself Fountain was one of the easiest DIY outdoor projects I've done. Here in the PNW, we only have about 4 months if we're lucky to enjoy outdoor living. But once we're outside, I want it to be inviting.
As one of Lowe's Creators & Influencers, this DIY Fountain water feature was my project for our outdoor fun challenge a few years ago. I had been wanting to make my own garden fountain for a while, as well as my DIY Tabletop Fire Bowl.
DIY Fountain Water Feature
This project was so simple. Once I had my main components, it was quick to assemble and I was enjoying it that afternoon. The pump does require electricity, so you'll want to plan for where you want to use it. We use a long extension cord and haven't had any issues.
I like creating simple projects for my patio, deck or garden for more personal style. Now that we've built our own DIY Fireplace, I may bring this fountain closer.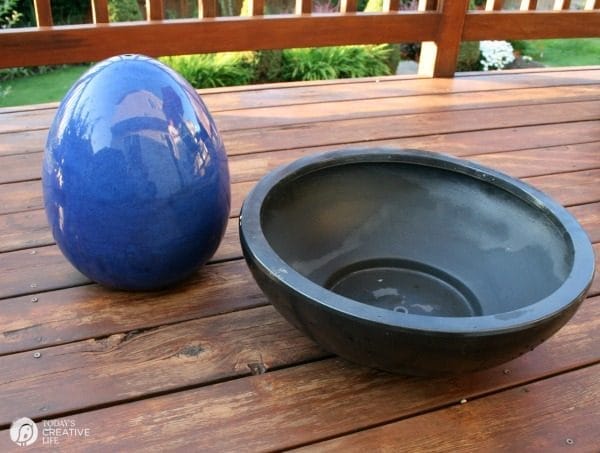 I wanted to choose a bottom portion large enough to hold the amount of water needed for good circulation. I placed my egg in to measure and it looked perfect to me.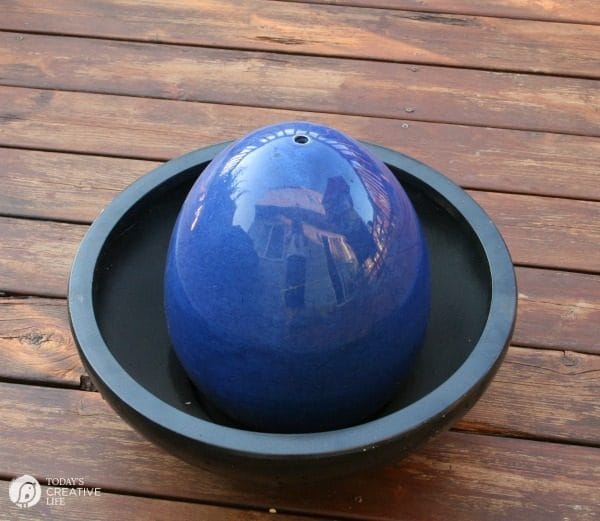 DIY Fountain Supplies
Affiliate links for products listed are for your convenience only. This costs you nothing extra. If you happen to purchase anything as a result of clicking, TCL will receive a small percentage. Thank you for your support. This allows me to continue to offer you free content.
A Ceramic Sphere Fountain Top that is pre-drilled- I found mine at a local nursery for $5! I asked my nursery where they got them or if they're getting more and they said they couldn't remember and no they weren't getting more. I did find a blogger friend who made her own. See her garden fountain here. If you're not crafty, you can find them on Etsy like the one below.
Fountain tube and pump – Found at Lowes.
Bowl– I plugged the hole in this ceramic planter and I also painted it with spray paint.
Water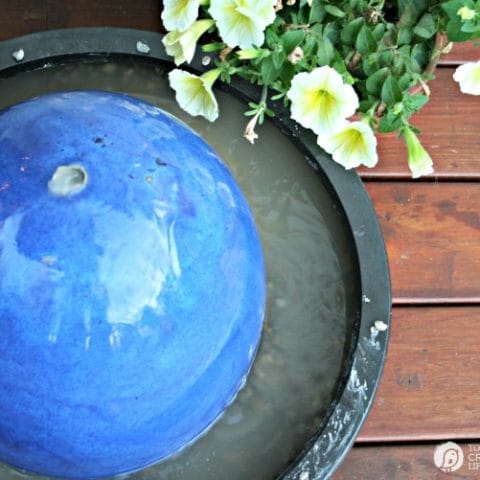 How to Make A DIY Water Fountain
Yield: 1
Prep Time: 5 minutes
Active Time: 20 minutes
Total Time: 25 minutes
Difficulty: Easy
Easy to make water fountain for a small space.
Materials
Piped Fountain Topper or Ball
Large Shallow Ceramic or Terracotta Planter Bowl
Small River Rock or Pea Gravel 
Small Fountain Pump with hose
Instructions
Gather your Supplies.
Rinse your rock or gravel. I made the mistake of not doing this and ended up with cloudy water for awhile.
Place the rocks in the bowl about 1/2 way full.
Thread the pump hose through your fountain top so the top of it is at the opening hole.
Keeping the pump upright and inside as you set the topper on the gravel.
Fill with water.
Plugin and enjoy!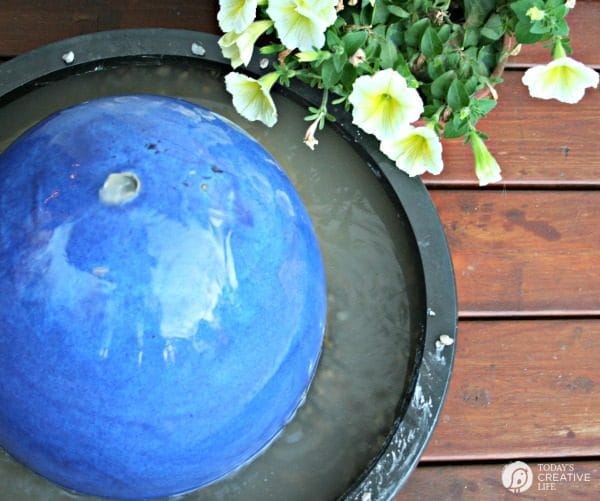 How to Keep Fountain Water Clean
There is a bit of upkeep to keep fountains free from algae and debris. First of all, if you're using any type of rock, be sure to rinse first. As you can see, I skipped this step and I ended up with murky water. I use this birdbath and fountain cleaner. It's safe for wildlife and keeps things from getting cloudy.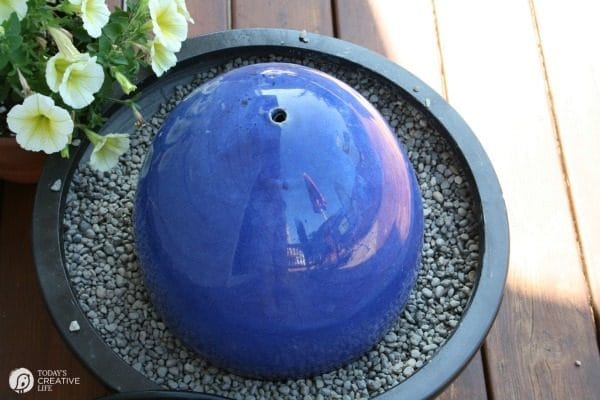 There are many products to keep fountains clean that you can pick up at your local garden store, however, I have also just used a brush to scrub off any algae that may build up and then I add a capful of chlorine bleach. You want to make sure you have it diluted properly to keep your pump healthy and to keep it safe for birds. For larger fountains, you'll want to use 1/4 chlorine bleach to 5 gallons water.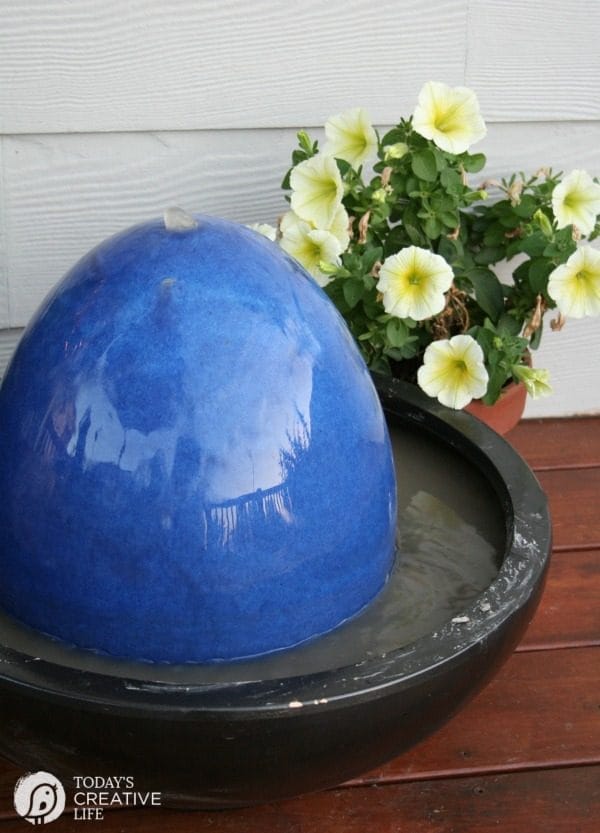 This DIY water feature took me about 15 minutes! I can now enjoy the soft sound of water, as well as enjoy my beautiful blue egg.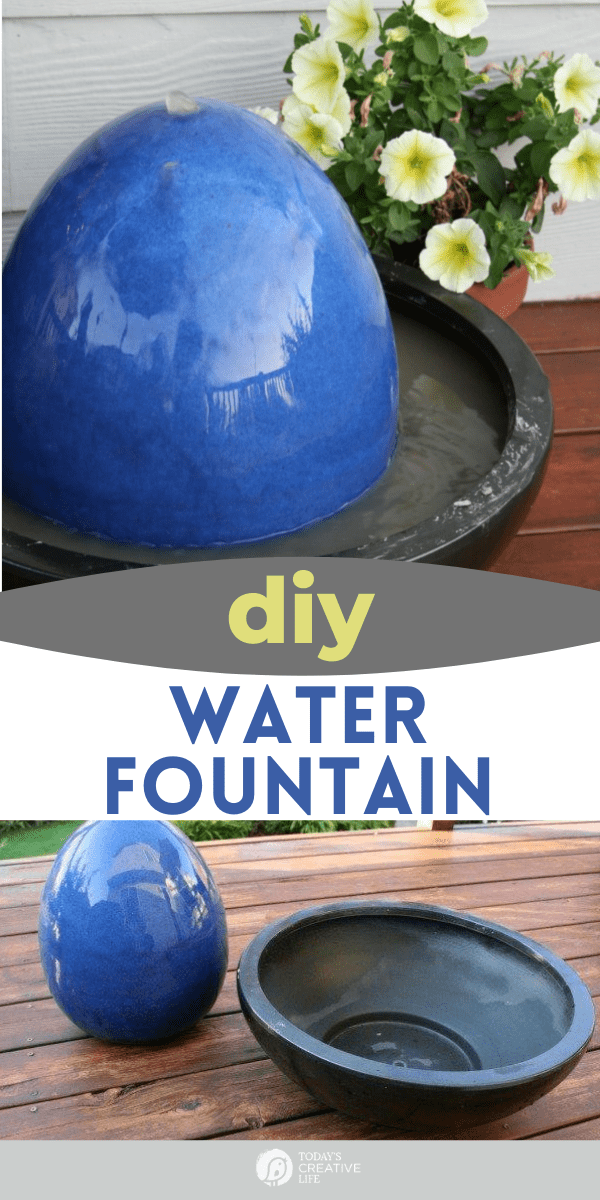 DIY Projects for Outdoor Living
Easy DIY Ideas for Outdoor Living. You'll find many stylish projects to create a better backyard.