Pinwheels are delicious, quick and easy snacks or appetizers, typically made with puff pastry. This recipe for Turkey and White Cheddar Pinwheels can be made with store-bought pizza dough or puff pastry is the perfect quick holiday appetizer for Christmas, New Years Eve, or even super bowl.
With back to school approaching and the holidays looming, my mind shifts into "quick snacks and appetizers" mode. These Turkey and White Cheddar Pinwheels are perfect for both! They kind of remind me of my Meat and Cheese Sliders. Both recipes are great for easy appetizer ideas.
You should also try these Puff Pastry Garlic Parmesan Spirals! So good!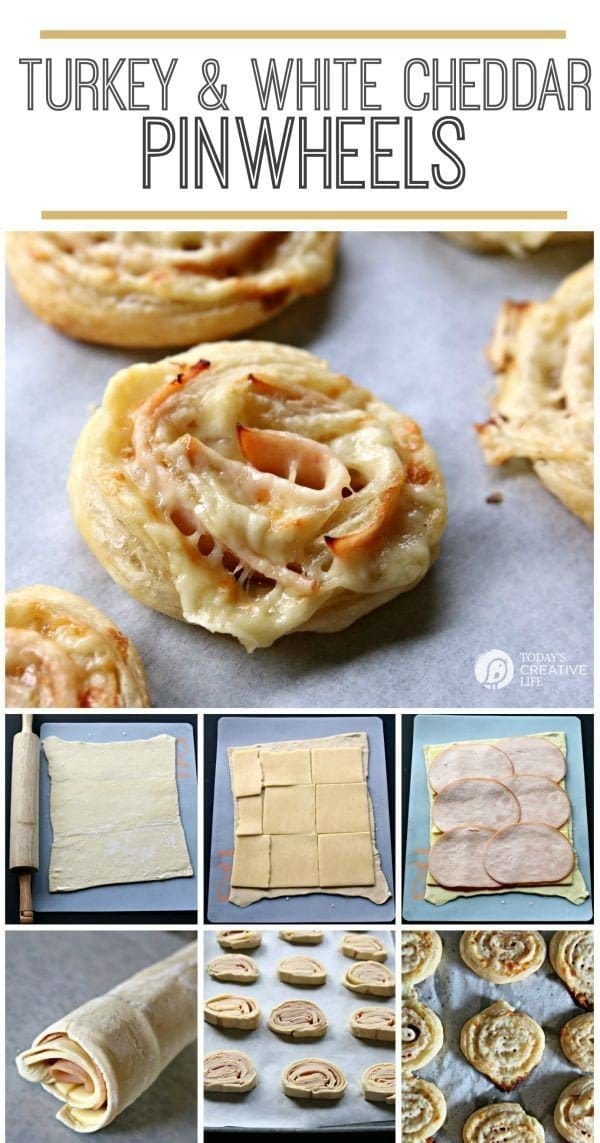 Turkey and White Cheddar Pinwheels
I am not the kind of person that spends a lot of time in the kitchen creating the perfect meal. Just like my DIY projects, I like quick and simple recipes that pack a punch. I need ideas I can keep on hand and have ready in minutes. I think a lot of you are just like me, right?
I am partnering up with Foster Farms All Natural Sliced Turkey to share one of my all-time favorite quick recipes.
Turkey and White Cheddar Pinwheels will steal your heart! Not only is this recipe quick, but it's SO darn tasty and I think it looks kind of fancy.
How to Make Puff Pastry Meat and Cheese Pinwheels
Roll Out The Dough
You can also use puff pastry or pizza dough for making pinwheels. Both taste great and are easy to work with. Puff pastry is found in the freezer section of your grocery and the refrigerated pizza dough in a tube works well.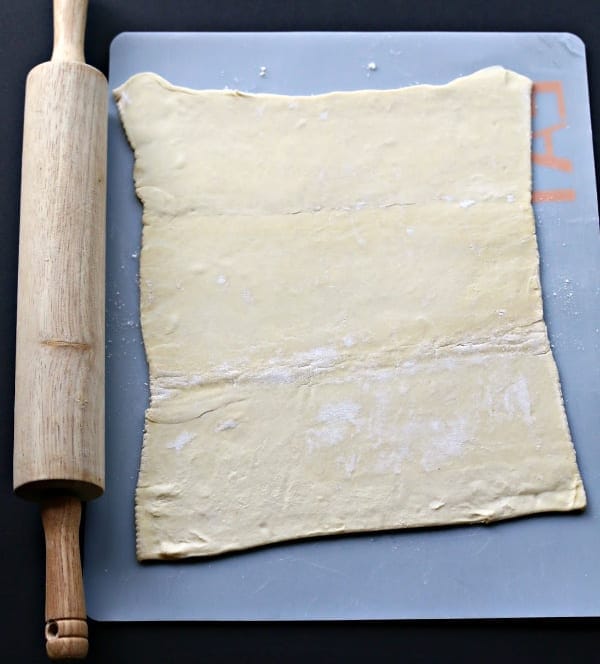 Layer the Cheese
I'm using white cheddar, but you can any type of cheese you decide. I used pre-sliced but I've also used shredded before.
Layer Meat Slices
Deli meat is best for this recipe. Try ham, roast beef or stick with turkey like I did.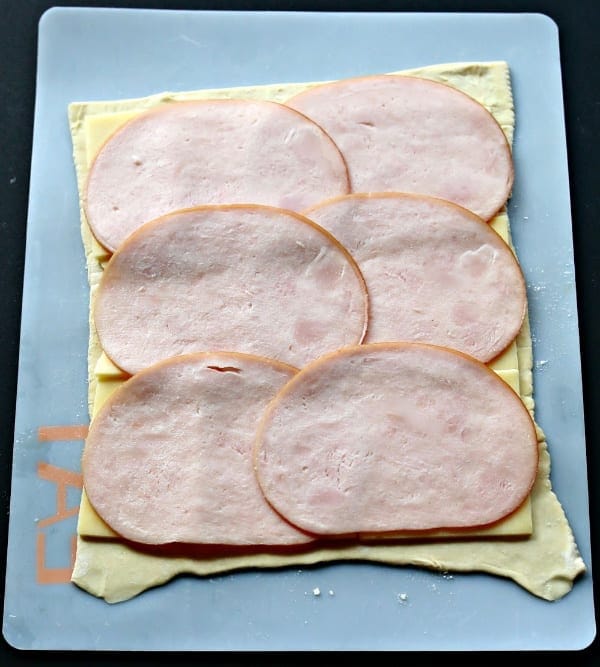 Roll It Up
Starting at one end, carefully roll the dough and use a sharp knife to cut.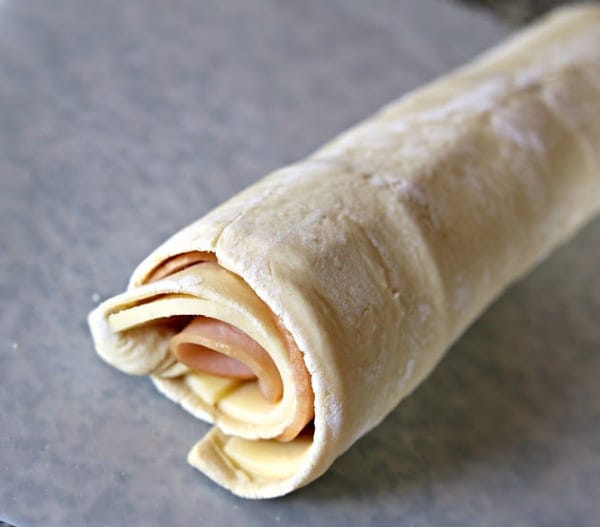 Try using a gentle sawing motion so you don't crush the dough as you slice.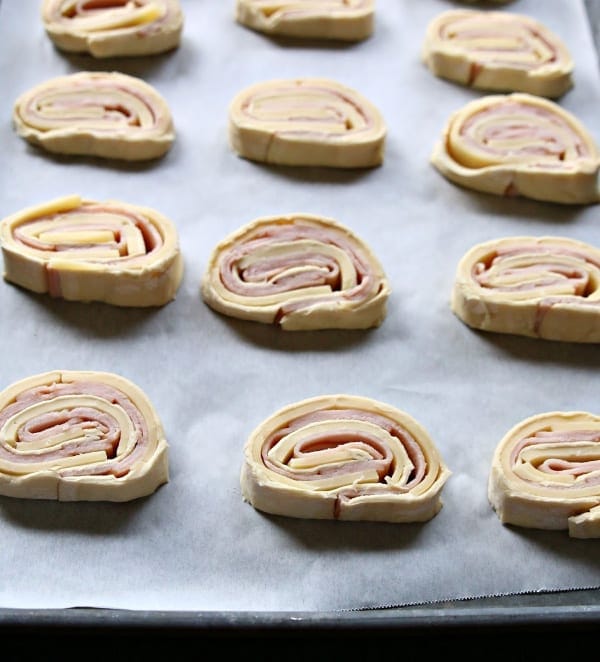 Line them up on a parchment paper prepped baking sheet. And bake.
There is a printable recipe below.
Easy to Make Party Appetizers
I haven't made these since my son was little, but was so tickled when I remembered them for a recent event.
Pinwheels of any kind are great for little hands. I like using either puff pastry or pizza dough. Both are delicious.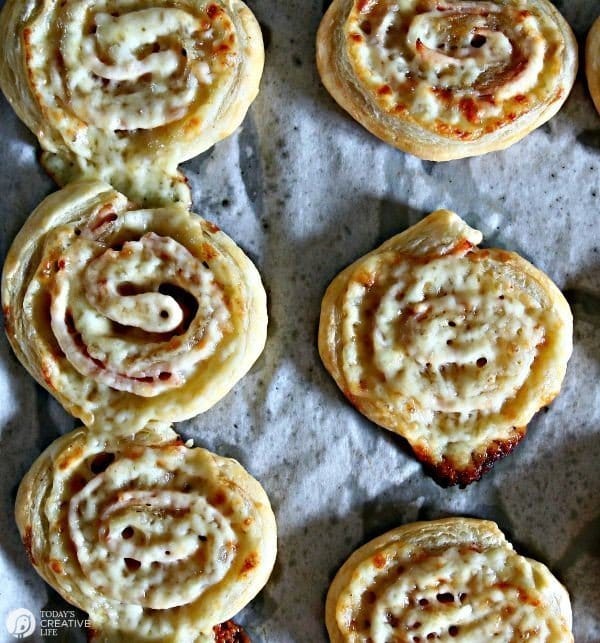 Now that I have a house full of teens, it's nice to have something to feed them that is not processed.
I try to keep our refrigerator stocked with healthy options like sliced turkey, so I can make a stack of sandwiches if needed, or something a little more creative like the pinwheel snacks. I swear, if you make something a little out of the ordinary, they will gobble it up even faster!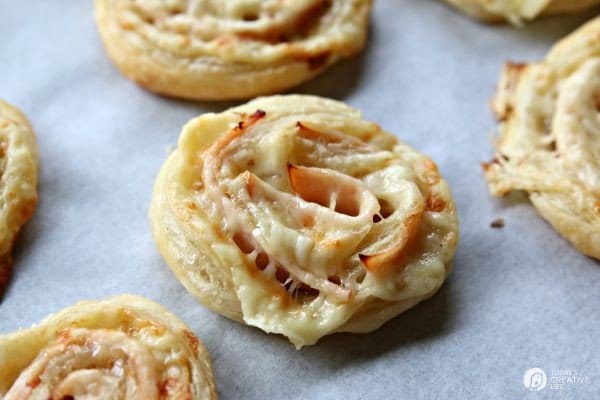 I like finding versatile lunch meat products high in protein that you can pretty much combine with any ingredient for a meal or snack. It's fantastic if you chop it up and add it to your morning scrambled eggs, or a grilled turkey and cheese, sliced for a delicious salad and of course appetizers.
Besides a sandwich….. what are your favorite ways to use turkey?
How to Make Turkey and White Cheddar Pinwheels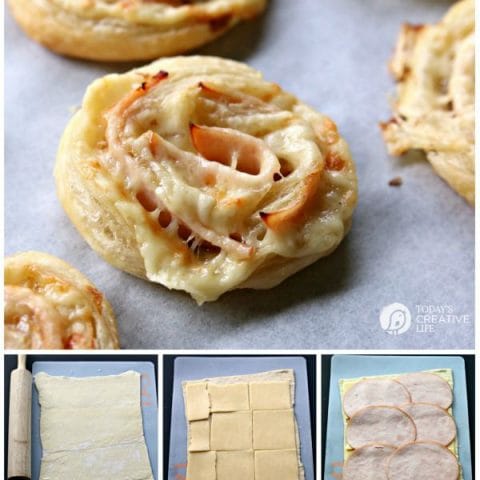 Turkey and White Cheddar Pinwheels
Yield: 12 pieces
Prep Time: 5 minutes
Cook Time: 15 minutes
Total Time: 20 minutes
Pinwheels are delicious, quick and easy snacks or appetizers, made with puff pastry. This recipe for Turkey and White Cheddar Pinwheels makes a great lunch for kids, too.
Ingredients
1 sheet puff pastry
6 slices of Sliced Turkey
7 or 8 slices of white cheddar cheese
Instructions
Preheat oven to 400°
Follow instructions on the puff pastry box for thawing out one sheet.
Place puff pastry on top of a floured cutting board. Using your rolling pin, roll out to create a larger rectangle.
Place sliced white cheddar cheese on top of the puff pastry, covering as much as you can. I ended up breaking slices in two to fill in the edges.
Lay the turkey slices on top of the cheese. Overlapping where needed.
Carefully roll the puff pastry into a long roll.
Slice into pinwheels with a sharp knife.
Arrange onto your baking sheet and bake for 15 min at 400°
Nutrition Information
Yield 12
Serving Size 1
Amount Per Serving
Calories 106
Total Fat 8g
Saturated Fat 4g
Trans Fat 0g
Unsaturated Fat 3g
Cholesterol 27mg
Sodium 317mg
Carbohydrates 3g
Fiber 0g
Sugar 1g
Protein 7g
Nutrition information isn't always accurate.
Enjoy!
---
Party Food Appetizer Ideas
Easy to Make appetizers for holiday parties and potlucks.
This is a sponsored post written by me on behalf of Foster Farms.