These Hash Brown Ham and Cheese Egg Cups are just one of the simple recipes I'm teaching my son to make for his first year in an apartment in college. Easy and quick breakfast recipes, freezer friendly and full of protein are high on my list.
I like these egg muffin cups because he can make up a batch on the weekend for easy grab and go breakfast ideas all week. They remind me of my Egg Biscuit Cups with Sausage which gives you great breakfast ideas using Pillsbury biscuits. Another favorite!
Hash Brown Ham and Cheese Egg Cups
It's basically like a breakfast casserole but in a muffin tin.
They are SO easy to make, and you can easily substitute out the ham for cooked bacon or sausage. I just used the ham cubes because it's something he can buy all ready to go.
If it's not convenient, he's not going to make it.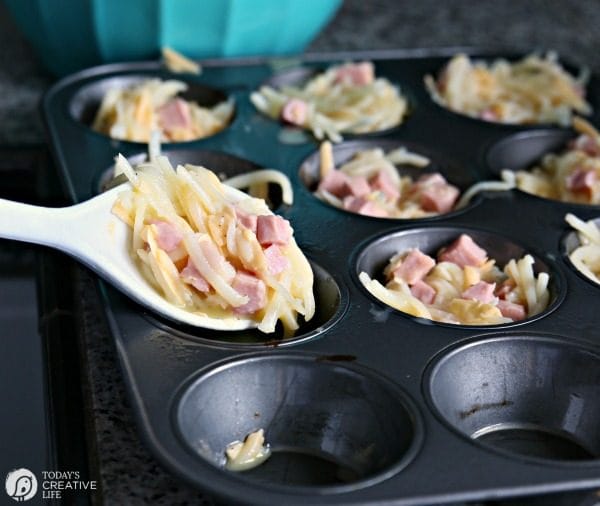 It's also got to be easy to make, something without a lot of steps to follow. You literally place all the ingredients in a bowl, and after mixing, you scoop it in the pan to bake!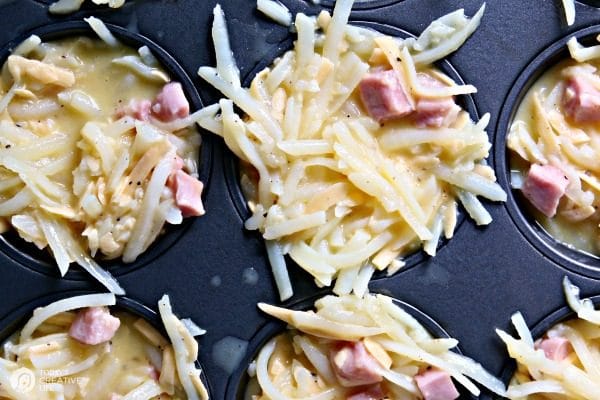 So simple!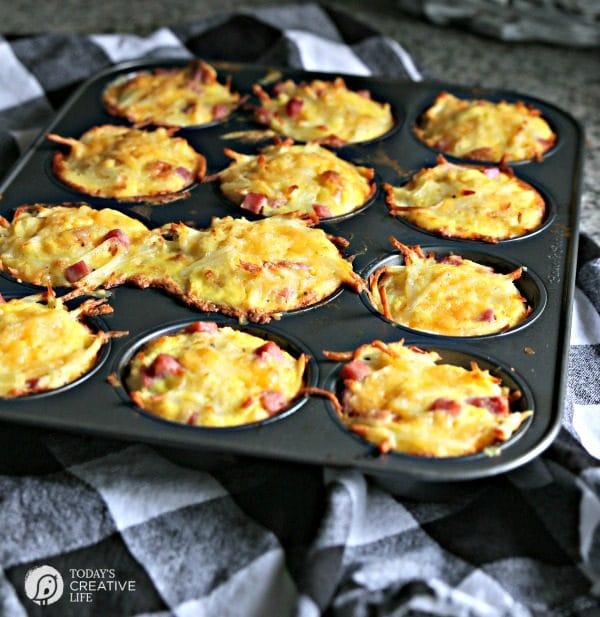 How to Make Egg and Cheese Muffins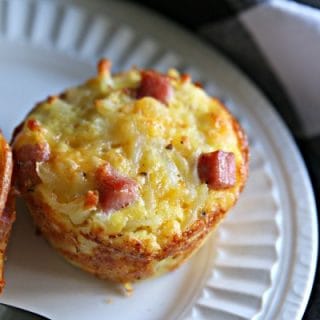 Hash Brown Ham and Cheese Egg Cups
Yield: 12
Prep Time: 5 minutes
Cook Time: 30 minutes
Total Time: 35 minutes
Grab & Go High Protein Breakfast ideas with Egg, cheese, ham, and potato muffin cups.
Ingredients
20 oz. refrigerated hash browns
1 1/2 cup grated cheddar cheese (save a little to sprinkle on top)
1 cup cubed ham
8 eggs
1 tsp. salt
1/2 tsp. fresh ground pepper
1/4 tsp. garlic powder
2 tbsp. milk or half & half
Instructions
Pre-heat oven 350 degrees.
In a medium-size bowl, stir all ingredients together until well blended.
Liberally grease the muffin tin.
Scoop mixture into each space trying to make sure you get enough of the egg liquids.
Sprinkle the tops with a little extra cheese.
Place in the oven on the middle rack for about 30 min, or until golden brown.
Notes
These come out of the pan easier when they've been allowed to cool just a bit. Use a butter knife to scrap around the edges and carefully lift out. Enjoy!
Nutrition Information
Yield 12
Serving Size 1
Amount Per Serving
Calories 252
Total Fat 17g
Saturated Fat 5g
Trans Fat 0g
Unsaturated Fat 10g
Cholesterol 146mg
Sodium 712mg
Carbohydrates 15g
Fiber 1g
Sugar 1g
Protein 11g
This helicopter momma is very happy!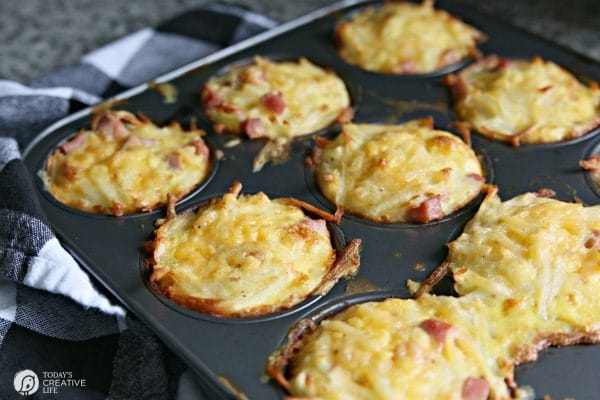 Can you Add Veggies to Hashbrown Egg Cups?
That's the beauty of this recipe! It's very versatile, making it easy to add veggies like mushrooms, onions, green or red peppers, broccoli, asparagus, and sweet potato. Pretty much any vegetable you love.
He made these all by himself and he actually liked them.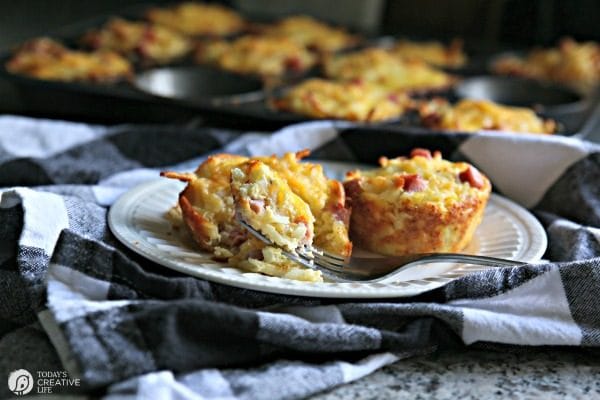 I'll be putting this Hash Brown Ham and Cheese Egg Cups recipe in his college recipe book.
Can you Freeze Hash Brown Ham and Cheese Egg Cups?
Yes! You sure can! Let each egg cup cool before placing in a ziplock freezer bag and lay flat in the freezer. This way they won't stick to each other when frozen. I like making up a couple of batches to freeze so he can just pull out one or two to microwave for a quick breakfast or snack.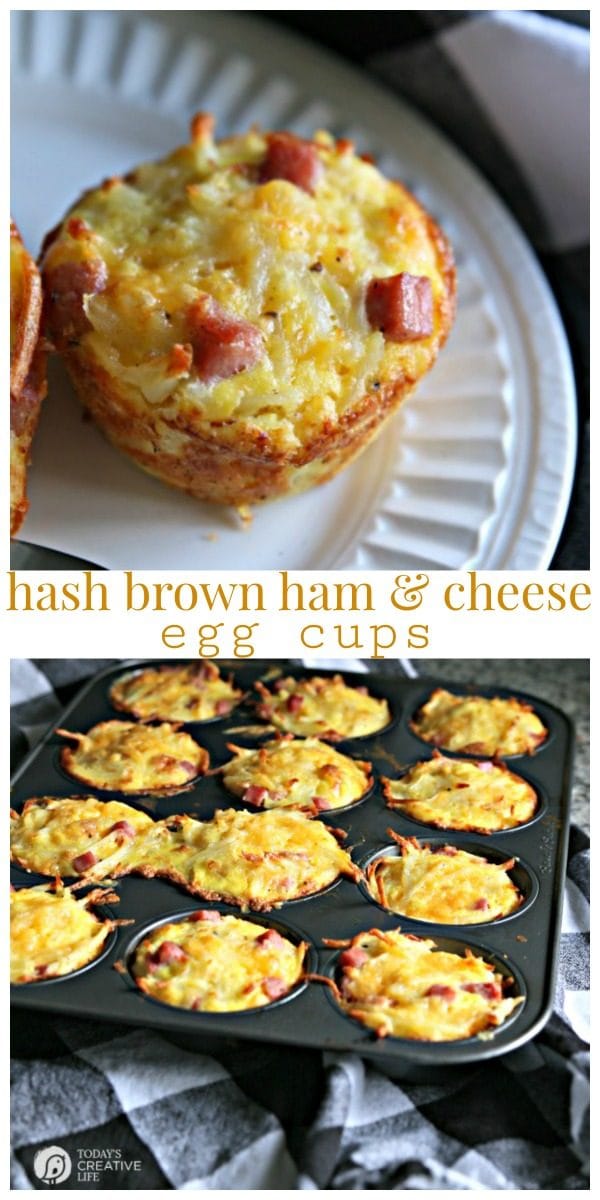 Using a muffin tin to make egg and cheese cups is a brilliant way to serve up individual breakfast ideas. It's just the right amount and kids love it!
Easy Breakfast Ideas
We all need easy, yet delicious breakfast ideas when toast or cereal isn't cutting it! Great for holidays, weekends or everyday!
This Breakfast Strata recipe is a healthy breakfast idea, packed with sausage and rye bread. A baked egg casserole that makes the perfect weekend breakfast.
Breakfast casserole recipes like this one are a great way to use up leftover holiday ham.
Photo Credit: thefoodcharlatan.com
Find your next favorite breakfast recipes all here.
Check out how Stephanie makes this gluten free.
Let the slow cooker do the heavy lifting!
Delicious grab and go or great to serve with brunch.
Easy to make scones are always a breakfast favorite.
Sausage Gravy and Biscuits is a southern specialty! This easy gravy recipe is made with pork sausage and drippings along with milk and flour, making up a thick creamy gravy to serve over fresh biscuits.
Savory muffins hit the spot!