This Homemade Body Wash was so simple to make and didn't take more than 5 minutes! Why haven't I been making DIY body soap all this time? Making homemade spa products… like this Orange Sugar Body Scrub saves money and you know exactly what ingredients you're using!
Homemade Body Wash Recipe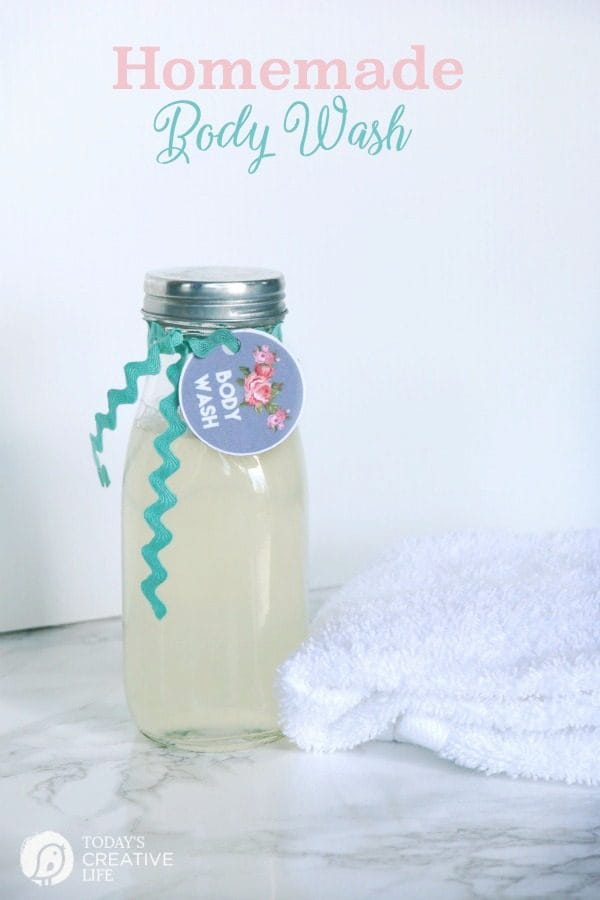 You may have noticed on Instagram that I recently had surgery. I had been diagnosed with Uterine cancer and had a complete hysterectomy 4 weeks ago. I haven't written about it here, but maybe someday. The important information is that I'm cancer-free.
The precautions they take to help prevent the spread of harmful germs leave you with really dry and flaky skin. They gave me these large sanitizing wipes to wipe down my entire body from neck to toes. Then, of course, the solution they wipe you down with once in the surgery room causes even more dryness. Even though I normally don't have sensitive skin, this has left me with really dry skin.
I used my sugar scrubs, which helped, but my skin would be dry and itchy by midday. After breaking out with hives one afternoon (still, haven't figured out why) I figured I'd try making a ph balanced DIY body soap using Castile soap. It couldn't hurt, right? See what else you can use Castile for!
I've been using this body wash and my homemade whipped body butter and my skin is getting better. While I'm at it, I may try this Chocolate Facial Mask too!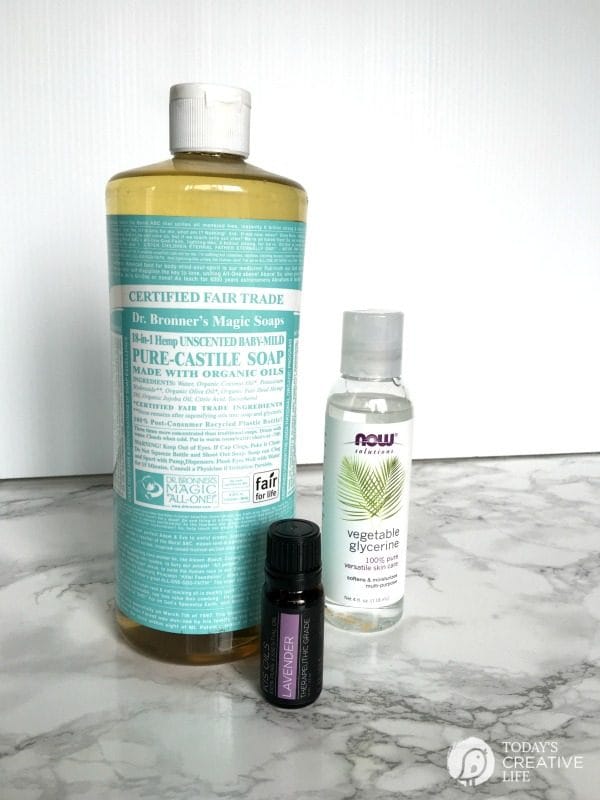 How to Make DIY Body Soap
Once you have the supplies, you'll be able to make several batches that will last you a month or more. Store in a shatter-proof bottle.
Homemade Body Wash Supplies
Affiliate links for products listed are for your convenience only. This costs you nothing extra. If you happen to purchase anything as a result of clicking, TCL will receive a small percentage. Thank you for your support. This allows me to continue to offer you free content.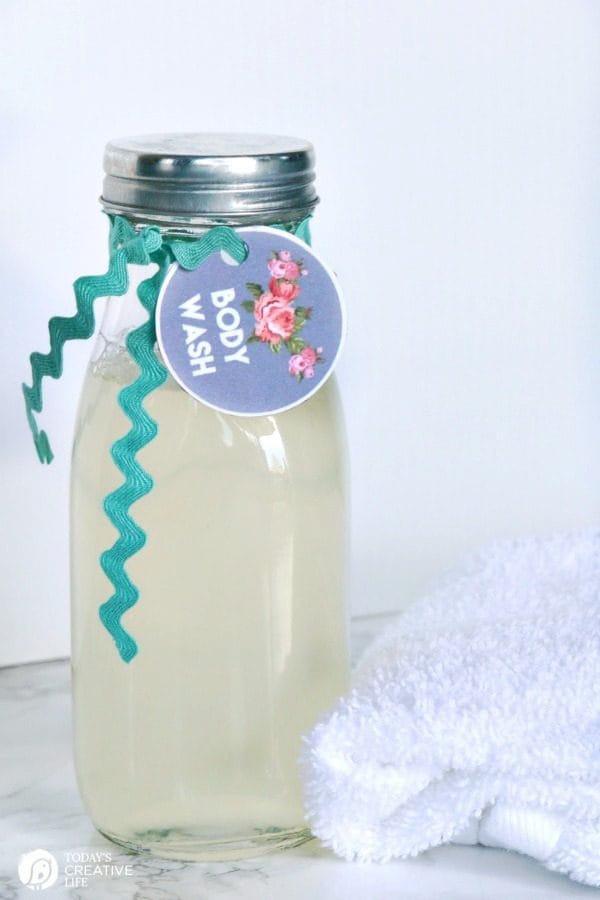 Instructions
(Printable Recipe with measurements near the bottom of the post)
Place filtered or distilled water (I get mine from my fridge dispenser) in a medium-size bowl.
Add Liquid Castile soap. (Recipe below with measurements)
Add vegetable glycerine – I found mine at New Seasons.
Add 10-15 drops essential oils. I used Lavender, but you can add any scent you'd like, or omit this step for unscented.
Stir gently and pour into a sealed container.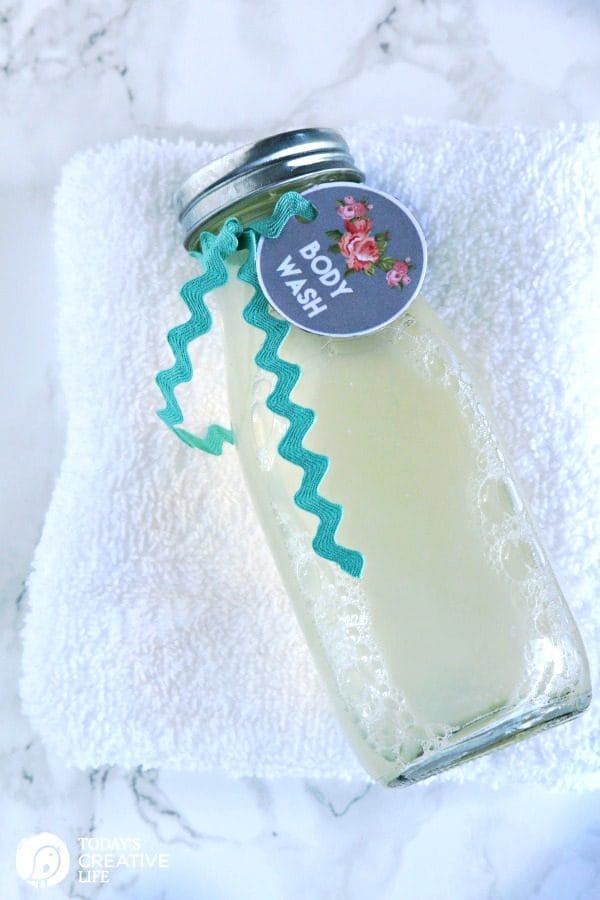 I put it in a cute glass bottle because well….. it's much cuter for photos this way. But I transferred it to a plastic travel toiletries bottle for the shower. No one needs broken glass in the shower, right?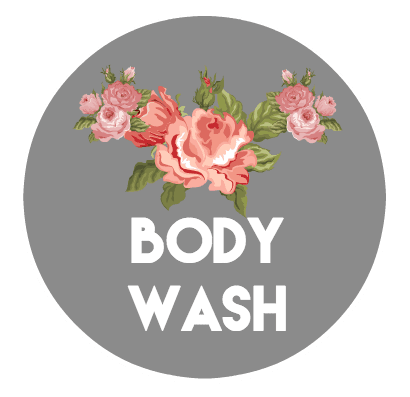 I also designed a quick and cute gift tag or label in case you'd like to make a batch for quick gifts. Find your labels in the Printable Vault.
Come the holidays, you'll be looking for inexpensive DIY gift ideas. You should pin this for later! A small plastic bottle of this would be great in a Blessing Bag.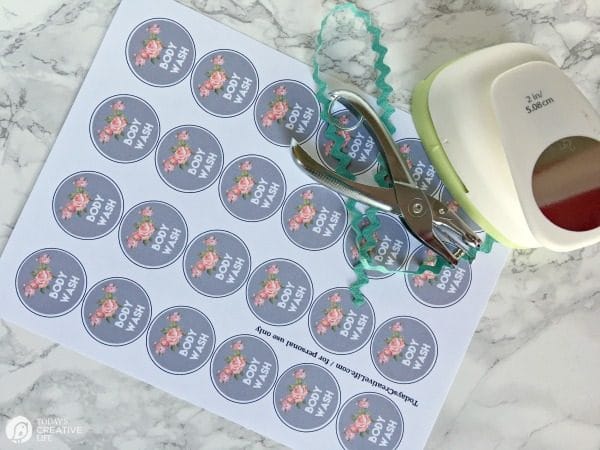 This body wash could also be used for your hand pump soap dispensers. Tailor the scents for each room or use.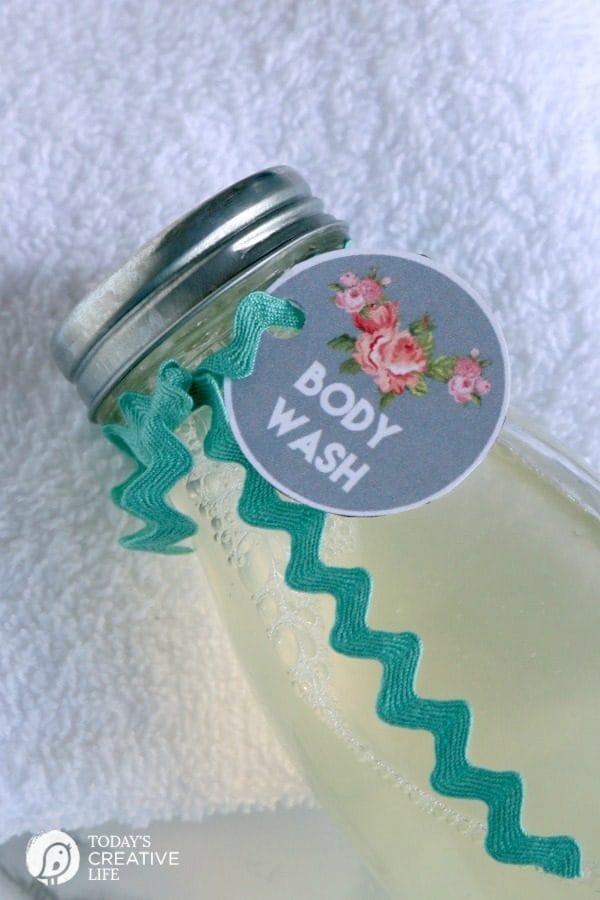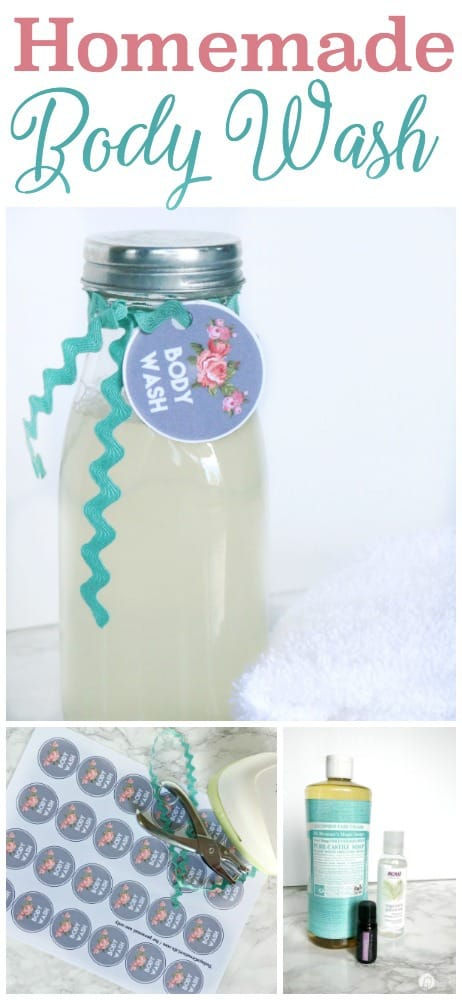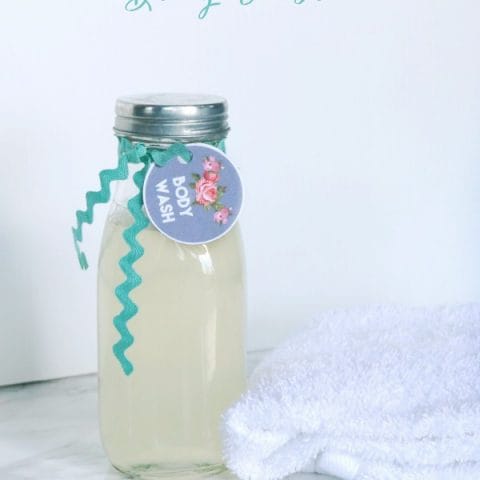 Homemade Body Wash
Ingredients
1 cup distilled or filtered water
1/4 cup Liquid Castile Soap Unscented
1 teaspoon vegetable glycerine
10- 15 drops essential oils. Any scent you like.
Instructions
Place all ingredients in a small bowl and mix.
Pour into a sealed non- breakable bottle or container.
Use as hand soap or body wash.
Notes
- I used unscented Castile soap since I was adding my own essential oils.
- I used a glass bottle for photos only. Transfer to a plastic or unbreakable container before using for the shower.
---
More DIY Homemade Beauty product ideas!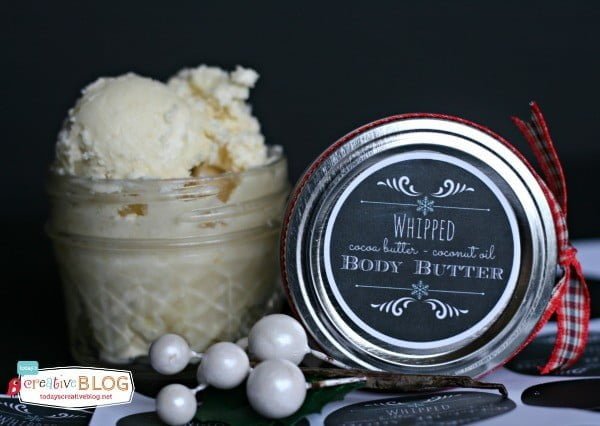 DIY Whipped Body Butter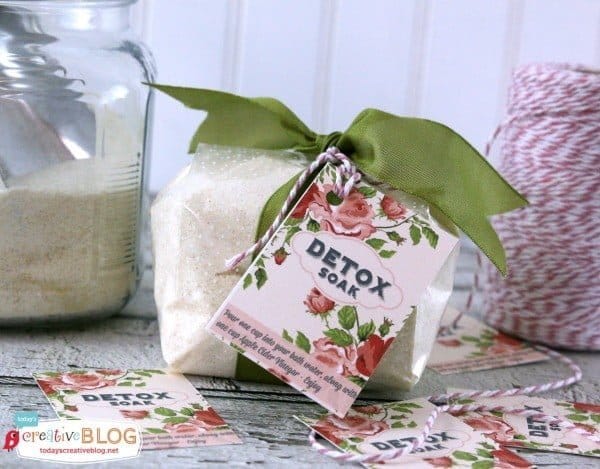 DIY Detox Bath Recipe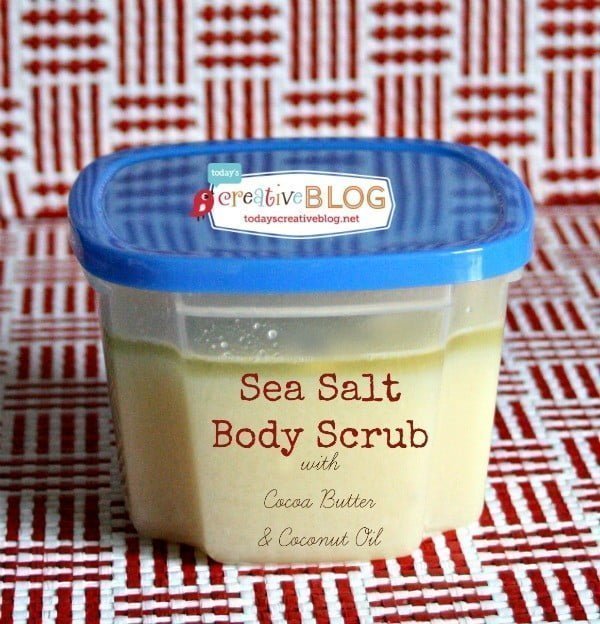 DIY Sea Salt Body Scrub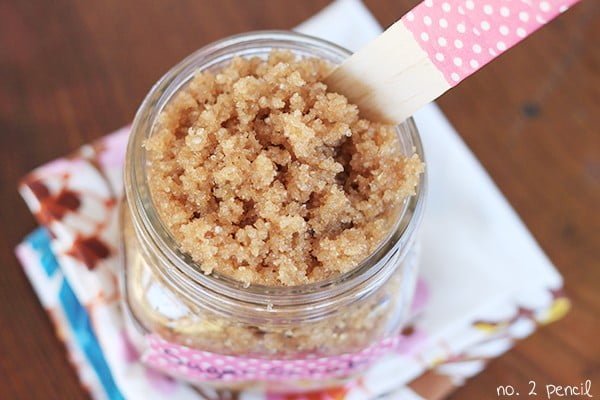 Warm Vanilla Sugar Scrub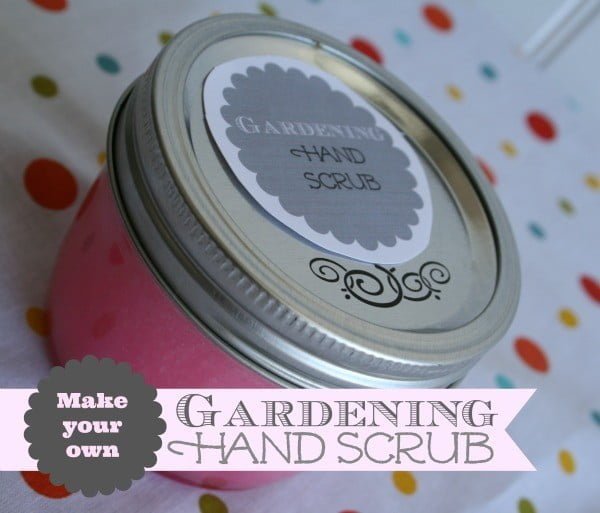 DIY Gardening Hand Scrub